In short, Yes.
Yes, it is.
And with yes, I mean, not really if you behave like a moth, flying at night on a highway.
South and central America indeed have a reputation of having some of the most dangerous cities in the world.
And yes, when you hear from the news stories about people being beheaded, kidnapped, robbed, killed, and so on, we can't avoid to think that those places are not the friendliest for foreigners, with most likely "no español" in their arsenal, to travel through with a motorcycle.
Instead, I'm here to tell you that you are making a mistake, first of all, if you believe at everything you watch on tv.
Second, you shouldn't watch tv in any case. It's poison for your brain.
Being completely honest with you, at the beginning of my trip, I was a bit scared of going to Latin America with my big adventure bike, because of course of what people and TV were telling me about some of the places I was about to visit.
"Don't leave your bike unattended!"
"Watch out in traffic! They drive like crazy!"
"Keep your belonging with you at all time!"
"Don't go in that neighborhood at night!"
"It's so dangerous!"
"They are going to kill you and steal your bike!"
I ended up coming to the realisation that, most of the recommendations I was receiving were pretty much based on personal opinion (and not direct experience), or by something that these people heard on TV.
In this sense, I have to give myself credit for NOT LISTENING TO ANYBODY, and wanting to get my own idea about the subject, instead of listening of the echoes of whoever went there and got their very personal opinion.
So, when I finally landed in South America and started riding, I was pleasantly surprised to notice that all this preoccupation that I somehow created in my head beforehand was completely unfounded. Well, technically you still have to be careful to ride in some parts of the countries, but doesn't this apply to any other big city in the world?
So the reality is that, if you use common sense, you will be just fine while riding your bike through Latin America.
I do understand, though, that the problem is that many people struggle in determine what "common sense" really is. Lots of people easily find the "sense" part, but struggle to define the "common" part, I guess.
So, let me start telling you that, in almost two years of riding through all Latin America and more than 60000km ridden overall, nothing got stolen from me, considering also that I ride with soft panniers and soft bags too (which apparently is considered unsafe).
Can't be just a coincidence. Did I find the "common" of common sense then?
Well, if you are struggling in finding it, let me reassure you that Latin America is safe. You can travel through it even if there are drug lords killing each other or some riots are happening in between police and civilians.
So, unless you do something really stupid like trying to go buy drugs, exploring the poorest neighborhoods of a foreign city at night, filming or taking a picture of some dodgy individuals with a massive camera, or walking around alone with a backpack looking lost, you should be alright.
Obviously, this doesn't mean that you are 100% safe but, as far as I know, nowhere really is.
I feel silly doing this but, at this point, let me give you some pieces of advice based on stories of people that I met that have been "scarred" by travelling through Latin America.
First of all, just keep your eyes open at all times and if your instinct tells you that there's something wrong, just stop and turn around or ask to some locals if it's a safe. Most of the time, if you look lost but attentive, people will give you a good tip about where to go and what to do to avoid unnecessary problems.
Keep your bike locked at night (you can always find accommodations with private parking, or park inside the accommodation itself), and your belongings in a secure location. Don't assume because you have hard panniers that your stuff is safe. It takes 15 seconds and a screwdriver to open a case, so don't leave anything attached to your bike and or unattended.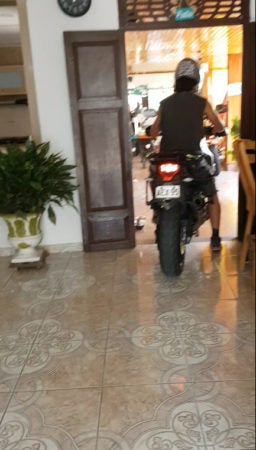 If you don't feel safe riding in a particular country, you should probably get your comprehensive vehicle insurance going. Every country has its own and it's obtainable with a little research on the internet.
Every country has its own "roads viability conditions" website too, usually run by the government. So before you hit the road, just check if roads are okay or not.
Don't walk around with big electronics and a backpack. You already look odd enough because you are not from there. Don't keep your cellphone out for half an hour while taking a photo in  crowded place or don't leave your backpack on the floor and start looking around. Don't fall asleep at the bus station or anywhere in a public and busy place, with your cellphone in your hands or hugging your backpack.
Don't follow your GPS blindly while riding. Always have a look at two maps and at the actual road. If it starts to "look weird," just stop and turn around or ask for directions to any local.
Don't walk around drunk at night. Avoid the beach if it's dark or if you don't know whether it's safe to walk alone at night. The safest places to stop (also at night, if you have to sleep outside) are gas stations. There's always somebody around looking, cameras, and they usually help motorists.
Generally speaking, you have to watch out particularly in big cities. Always wear a recording device (GoPro, Sena, whatever helmet/dashcam). This is usually very helpful in case of accidents/assault or even if police starts to ask for a "tip" for whatever reason.

Aside from this, I highly recommend everybody to RIDE THROUGH LATIN AMERICA. It's a wonderful experience and its people are amazing in terms of hospitality and generosity.
On top of this, it has some of the best roads in the world and it's basically an Adventure Motorcycling paradise.
But, like every new place you are going to explore, there are some things you may have to understand before feeling completely safe and at ease. But it's definitely a safe place and a wonderful part of the world to discover on a motorcycle.
Photos Credit: Paolo Cattaneo