Having had to change my Dakar plans due to the COVID-19 situation and slowly making my way South across Europe, I got an unexpected chance to attend a women's off-road campout in Western Poland. Invited by my friend Aleksandra, I wasn't sure what to expect: Polish women riders are out there exploring the world with names like Kinga "On Her Bike" Tanajewska, Marta from Look Around the Globe, and Anna from  Feel the World being among the most prominent female motorcyclists out there, while my buddy Aleksandra is a rally-racing, hard enduro-riding maniac who has ridden places like Afghanistan and founded her own motorcycle shipping and tours company. So what would happen if all this glorious badassery gathered in one place for one weekend to camp, ride some gnarly off-road trails, and hang out?
I was about to find out.
Campout Vibes
To get to the Baby na Motory event hosted by the group's founders Asia, Kasiek, Agnieszka, Emilia, and Elsa- all Polish riders with a passion for dirt – Aleksandra and I had to do over 400 kilometers from Warsaw, more than half of the distance off-road. With my bike loaded with camping gear, food, and beer supplies, and flimsy 50/50 tires, navigating the forest trails and muddy patches in the farm fields proved a little challenging, but when you're riding with Aleksandra, there's no time to hesitate – she tore cross country on her KTM690 keeping a sprightly pace, and I was soon sporting a dirt 'stache chasing after her in a wake of dust and mud splatter.
Arriving to the Baby na Motory campout at dusk, we were greeted by forty-odd women pitching their tents, sharing food and drinks, unloading dirt bikes off trailers, and parking their ADV motorcycles next to each other. The bikes varied just as much as their owners: there were small Huskies and KTM's, large BMW's, a couple of Honda Transalps, a SWM, a vintage scrambler with skinny tires, a little quad, and several Yamaha XT 660's among others, and the women – from a 23-year old quad rider to a fifty-something KTM owner who had discovered her passion for dirt biking just a few years ago – came from all walks of life.
Both Aleksandra and I immediately felt at home with this horde of hard-riding, moonshine-drinking, laughing women who welcomed us with hugs, shots of hard liquor, and a vibe of sisterhood and camaraderie. It's hard to describe just how incredible it feels to be at an all-female dirt bike event where, all of a sudden, you and the other women are the majority as opposed to always being the odd ones out.
Gathering around a huge bonfire, we exchanged hello's and our stories, while the group leaders explained tomorrow's schedule. There would be three routes available – a paved one for newbies and those who preferred tarmac, a "soft" off-road route for those who wanted to try their tires and mojo on dirt, and a "hard enduro" route for those prepared to suffer. Aleksandra and I decided to opt for the hard route; our bikes weren't exactly made for it, but we figured we'd give it a go and, if it turned out we couldn't do it, bail and join the "soft" dirt group later.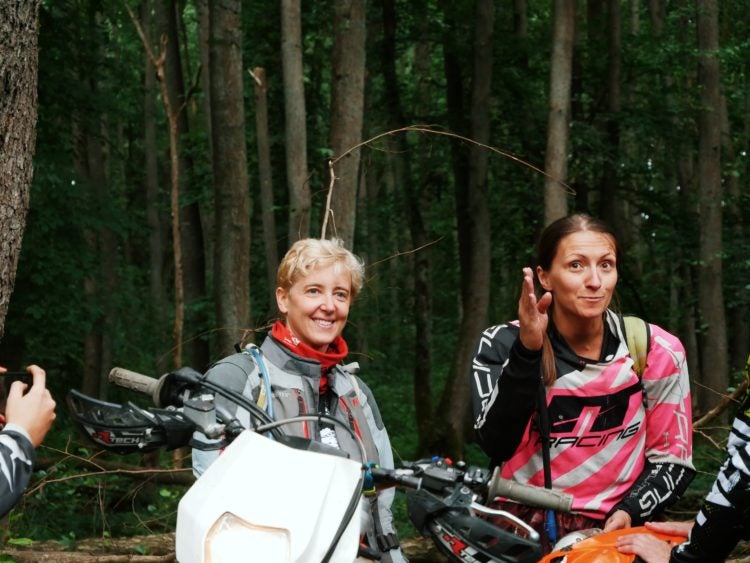 As I chatted with the other women, I realized just how diverse this group was. There was Monica, a gal who was planning to ride to Pakistan this summer after completing multiple rides across Central Asia and Europe; Isabella, the hilarious loudmouth on a BMW who danced around the fire in a pink robe dishing out homemade moonshine and graphic jokes; Hanna, a fiftysomething dentist who took up cross-country rally racing in cars a decade ago and was now curious about transitioning to motorcycles; Adrianna, a gal on a Husky who was dreaming of taking off on a long trip… all of these women had amazing stories to tell, and their humor was on par with their gnarliness.
She-Devils on Wheels
The next morning, joining the "hard" enduro group, Aleksandra and I braced for a challenge. Led by our kickass track designers, we took off as a raggedy band of twelve and tore across the local forest trails, fast-flowing sandy sections, and muddy single track. Karolina, the 23-year old quad rider, left me in the dust drifting around corners and doing donuts in the sand; our leaders clearly were experienced dirt demons, and as we traveled across the serene Polish countryside, I felt like I was part of a motley yet brilliant wolf pack.
Somewhere along the way, we rode across a tank base ("tanks make the best tracks, man, you get this wavy soft earth – it's so much fun", one of the leading gals explained) and chanced upon a band of NATO soldiers working on the tanks. It turned out they were an American unit, and it's still debatable who was happier to see who, but a swarm of dirt-bike riding women must have been a sight to behold as the soldiers came out to say hi and take photos with us: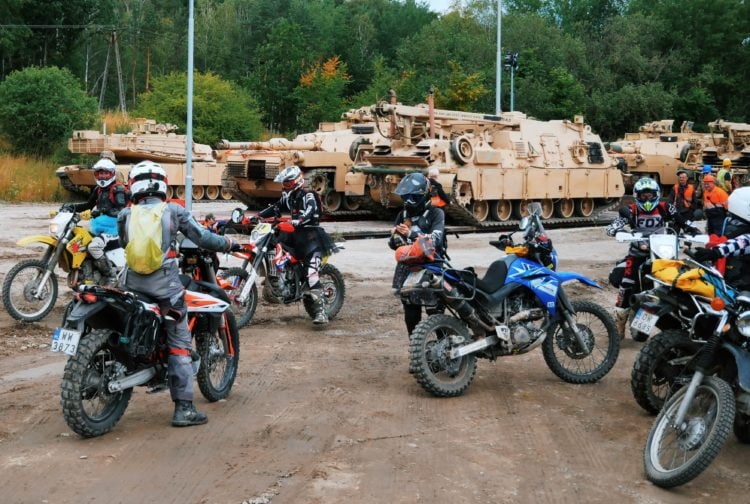 After riding the mangled tank ruts for a while, we finally hit some gnarly forest tracks, creeks, deep mud, and steep hillclimbs. Here, the going got slower as we helped each other across streams, up the slippery banks of creeks, and through slick mud.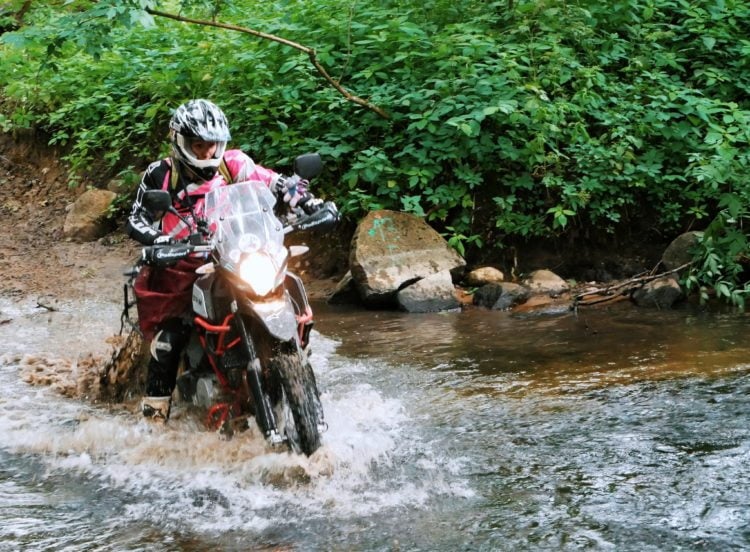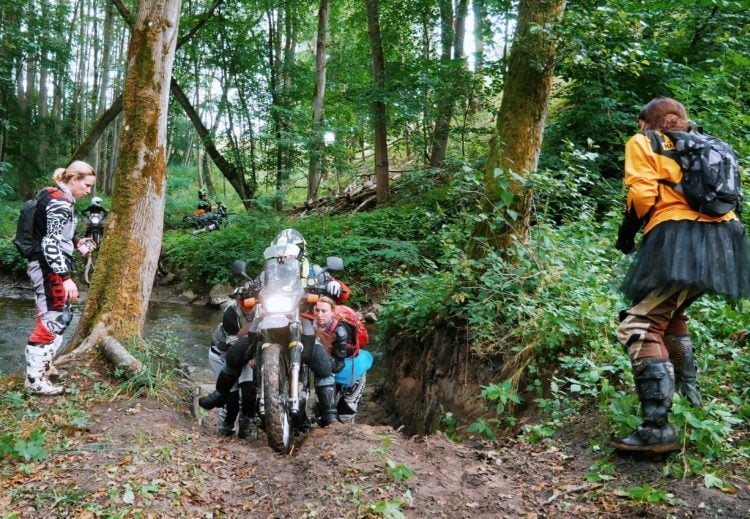 One drowned and rescued KTM later, we were back on the faster gravel tracks and endless meadow trails, chasing after each other like excited panther cubs; finally, we rolled up to a local pub for some hearty dinner. Covered in mud, leaves, and dust, we must have been a peculiar sight, but the pub owner promptly brought us beers and took our orders and, after a huge meal, we hit the trails again.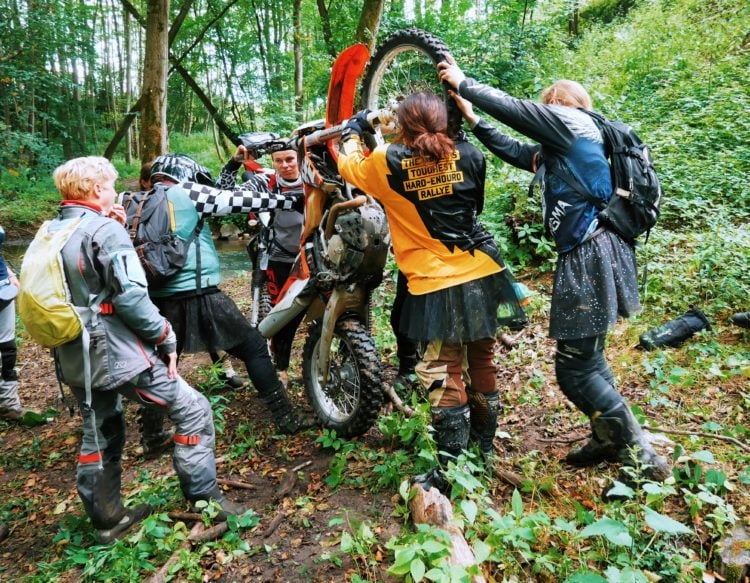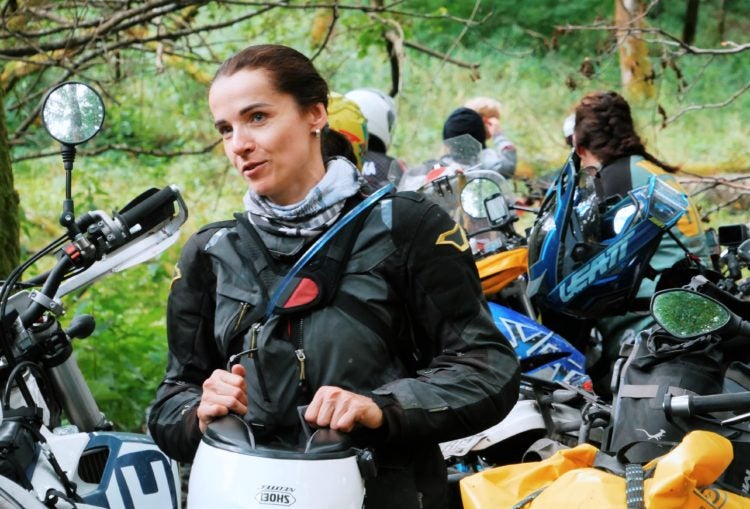 Back at camp, a few women were already loading their dirt bikes back onto the trailers getting ready for the journey home. Some of the gals had to cover 700+ kilometers on Sunday to make it back home in time to go to work on Monday; but most of the women stayed the night comparing bruises and exchanging stories from the day's ride. I couldn't help but be awed by the Polish women's hardiness and resilience: when asked whether there were shower facilities at the campsite, the gals just shrugged and pointed at the (freezing cold) lake; one woman was nursing her swollen knee (which, it later turned out, was fractured) – she had fallen crossing a railway line, but when I asked her what was she going to do, she giggled and said, "get a drink, duh"; these women rode hard and partied hard, all the while sneaking in a few minutes here and there to call their husbands left home with the children and check up on the kids. Lawyers, finance consultants, insurance brokers, doctors, saleswomen – these gals juggled work, family, dirt bikes, and fun with so much gusto and flair I wished the weekend would never end.
The atmosphere during the ride and back at the campsite was just impossible to describe: teamwork and camaraderie, jokes and giggles, sisterhood and connection, and complete, unbridled freedom to be… you, as you are, in your most natural form with no usual pressure to look a certain way, behave a certain way, ride a certain way. There was no competing and showing off, no watching what you're saying, just a completely natural, authentic, and simple way of being out there in the wild, with a pack of like-minded she-devils on wheels.
And when Aleksandra and I hit the trails the next day making our way back to Warsaw, our bikes covered in mud, grime, and happiness, I felt I'd just witnessed something truly special and spectacular.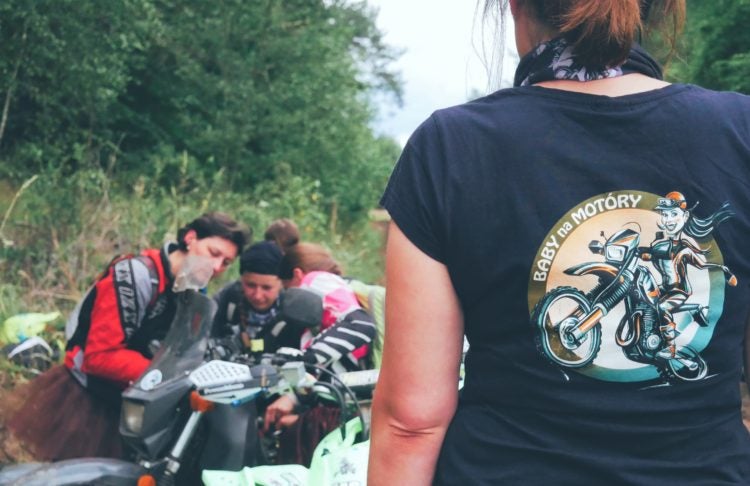 A massive thanks to all the women of Baby na Motory, and I hope to see you on the road again someday!