For me, finding a helmet that fits is always a tad difficult.
Having a fluffy mane like mine means I have to go for big helmet sizes, and most of the time, my options are somewhat limited: a lot of companies simply don't stock helmets in sizes large enough. As in, 3XL large!
So when I tried a Klim Krios Karbon helmet on, I knew I found the right one. It fit perfectly, but the best part was its incredible lightness.
Riding around the world often means long hours in the saddle, and a heavy helmet can quickly become an instrument of torture. With Klim Krios Karbon, I often forget I'm wearing a helmet at all. It's that comfy and lightweight.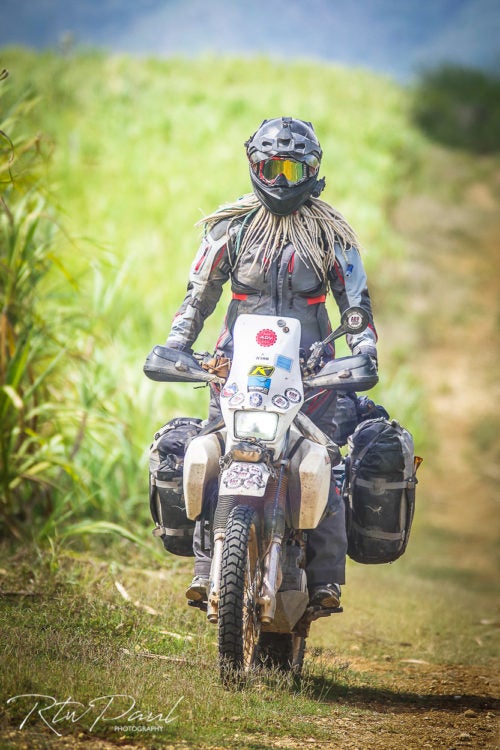 Since my partner Paul and I use Sena intercom while riding, noise reduction is really important. Klim Krios Karbon has a removable chin piece that looks and feels completely insignificant, but actually plays a huge role in reducing noise.
Klim Krios Karbon is available in a variety of different color schemes. I chose the stealth black matte, but if you love bolder designs and colors, there are plenty to choose from!
I wear my helmet with goggles. My eyes are very sensitive, plus I wear contact lenses, so for me, goggles just make sense, especially riding off road. It isn't necessary though. A visor might be enough for you.
Klim has never done an adventure helmet before, but with Krios Karbon, they definitely got it right!
If you're looking for a new adventure or dual sport helmet, consider a Klim Krios Karbon. The only downside of it is that it's a compromise between a dirt and a street helmet. But at the same time, it means you can both ride at highway speeds or tackle gnarly off road tracks wearing this helmet.
For a more in-depth Klim Krios Karbon review, check out this comprehensive episode by Revzilla: