The US is not the first country to get the KTM 390 Adventure. It's been released in a lot of countries already and subsequent articles detail it in just about every form a thesaurus could fathom.
Most articles are just rehashed tech sheets and some make you wonder if the bike was actually ever ridden…ad nauseam.
ADVrider inmates are a different bunch; a different kind of reader. We've had a thread about the KTM 390 since 2016 when it was first hinted about, and it's been commented on over 3000 times.
So, what can I tell you that's new? Well, first of all, the 390 wasn't a bike I had ever considered owning. It was never on my radar, so I never read the 390 thread, or the articles on other sites or in magazines, or watched ANY videos.
I knew the test ride was coming up for quite a while now. I felt it was best to go in with a completely unopinionated open mind.
The test rides were originally planned to be at KTM HQ last month in California.
COVID-19 put a halt to that, so I asked any chance they could bring a couple of bikes to me in Phoenix so the test could still happen? Yes, sure!
The KTM delivery van arrived, and two bikes were rolled out.
My initial reaction: it is a lot bigger than I expected!
I had seen the 390 variations and was expecting something in that stature. It's not. It is not the DUKE rehashed. Think a variation on the 790 Adventure. And it does use some of the same component family.
I was given two sets of keys, signed some paperwork and told, "see you tomorrow afternoon, have fun!"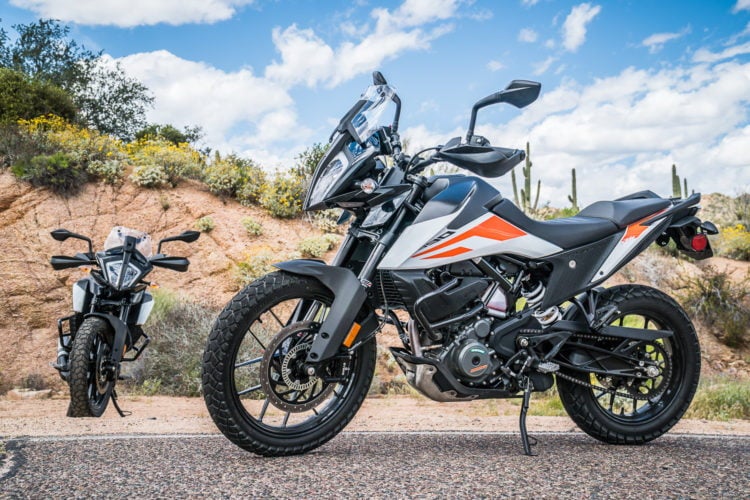 That is how a media test ride begins. You are given more freedom than a test ride from a dealership and I planned to make the most of a chance to take the 390 where all inmates would most likely ride it.
I had arranged for fellow inmate Dave6253 to join me on the ride. We thought about where YOU (the inmates) would ride this bike and this was our list:
Pavement
Highways
Tight twisty backroads
Sand
Bulldust/ Silt
Fire/ logging roads
Mildly graded tracks
Double track
Hill climbs/ descents
Baby heads
Basically everything you'd experience on the TAT or a BDR, the type of riding an ADVrider inmate loves to ride, and where KTM designed the bike to go.
We didn't plan for miles of sand dunes, jumps, boulder fields, wheelies or hours of freeway. KTM has other bikes for that.
On the pavement and the highway it's smooth, accelerates well, and keeps up with traffic with no problem; even at interstate speeds.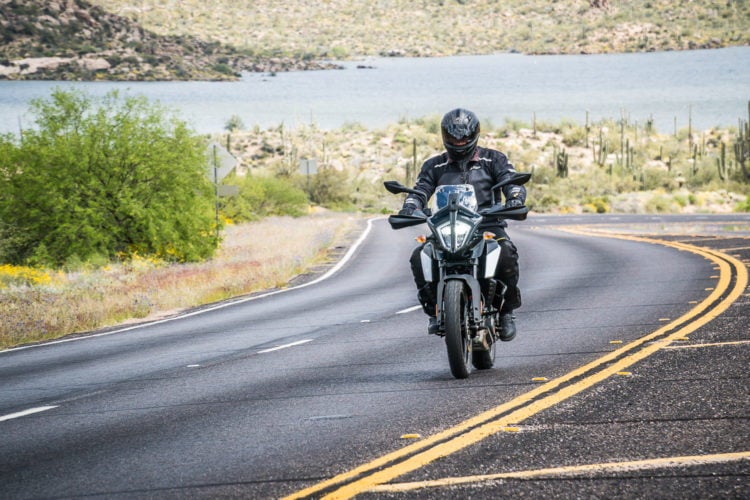 Jumping onto smaller back roads it feels more at home, feels firmly planted, drops into corners really well and is very stable and agile.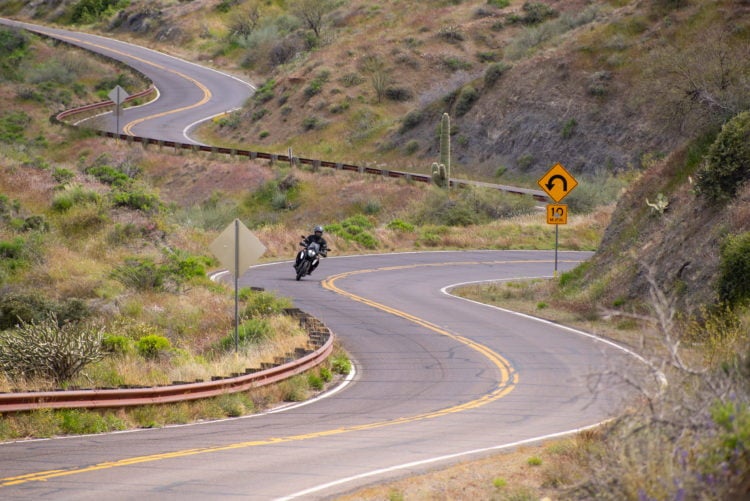 It's called a 390 Adventure and most riders agree adventure isn't found on a paved road. Time to hit the dirt.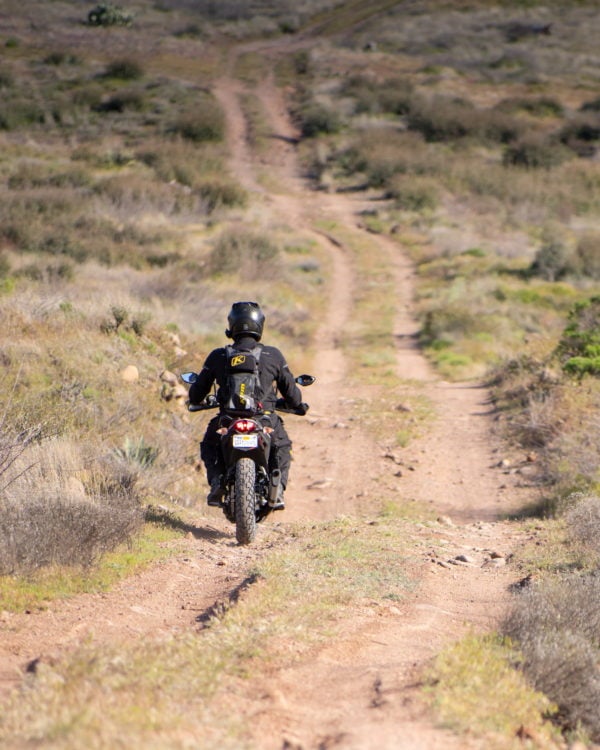 I made small adjustments to the suspension as we rode along and found a setting that suited me. I found this very easy to do with adjusters on top of the fork legs.
The initial feeling on dirt tracks is a frame that has a great mix of flex and stiffness. There is a great reason for this.  The frame on the 390 is based on the 450 rally trellis frame.
It gives confidence and allows you to push a little harder than you initially expected you could.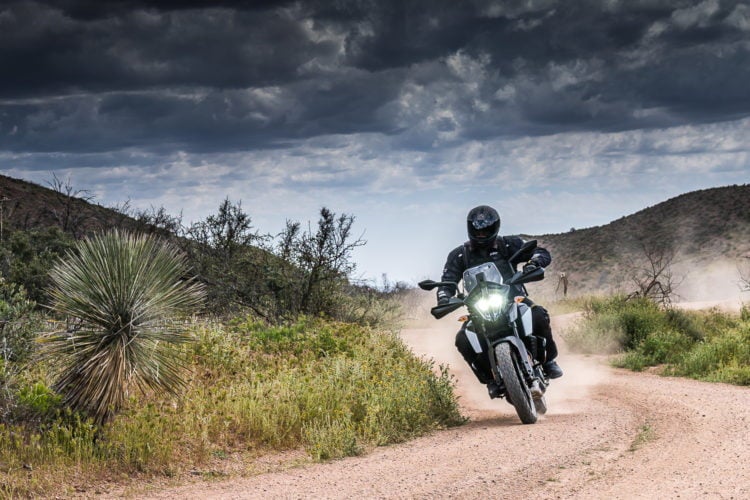 Take it up a notch or two; sand and baby-head sized rocks.
Surely it'll fail here. It didn't. Ground clearance isn't huge compared to a 500exc, but it's still good at 200mm/ 7.8″ and enough for where most riders will take this bike.
It was easy, almost too easy, to ride in these conditions. The 390 weighs in at 158 kg/ 348.3 lbs. dry. Our tanks were almost full (14.5 L / 3.8 US gal) so the bike probably weighed around 370lbs +/-. There was very little effort. It almost felt like cheating. It didn't feel the weight it actually is. It carries its weight very, very well; probably because the power delivery is so smooth.
Does it fit me – 6'1″, 32″ inseam, 240lbs in gear – Yes!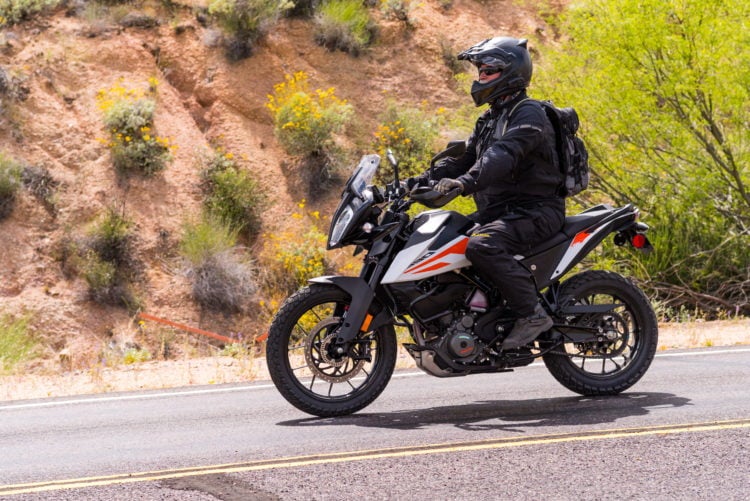 I was 'just' flat-footed with both feet. The seat is a little wider and  more comfortable than I had expected, but this made the bike feel taller.
At the end of the day, Dave's wife sat on it. At 5'3″ tall she could just touch the ground with one foot. If a lowering link was added she would have that foot flat on the ground.
What did I like about it?
It doesn't feel like an afterthought or a  bike just to fill a gap. The component level is high, and a lot of parts other manufacturers would offer as upgrades are standard on the KTM.
The LCD dash is clear, easy to use and understand, offering a lot of different options. Adjustments are made through the left side handlebar switches, including connecting to your phone via Bluetooth to use the KTM app.
It already has a mount for a GPS above the LCD and a 12volt outlet below
There are ABS and traction control, both of which are optional to turn off and on to match your riding style.
The steel subframe provides strength for carrying luggage, and a tank large enough to give you a range of 267 miles (430 km).
There is very little you need to do or add to this bike from the showroom floor to go on an adventure. The component level is high, you are getting a lot of bike for the price – $6199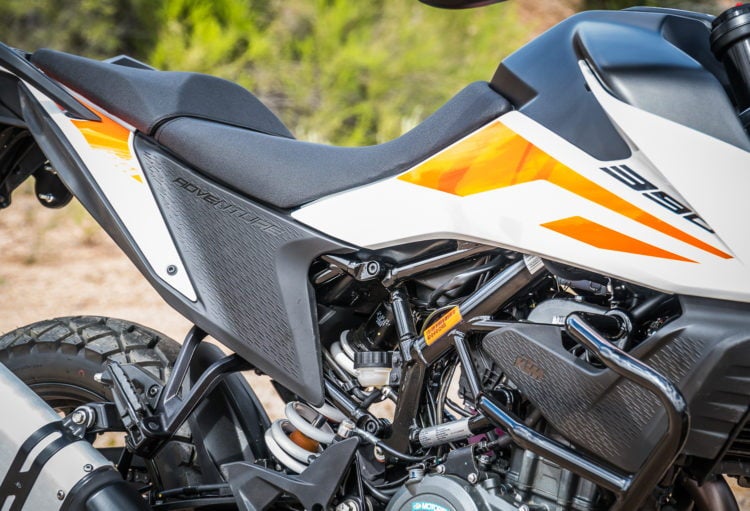 Could you ride it on the TAT, BDR or coast to coast straight from the factory floor…how about RTW?
A resounding yes!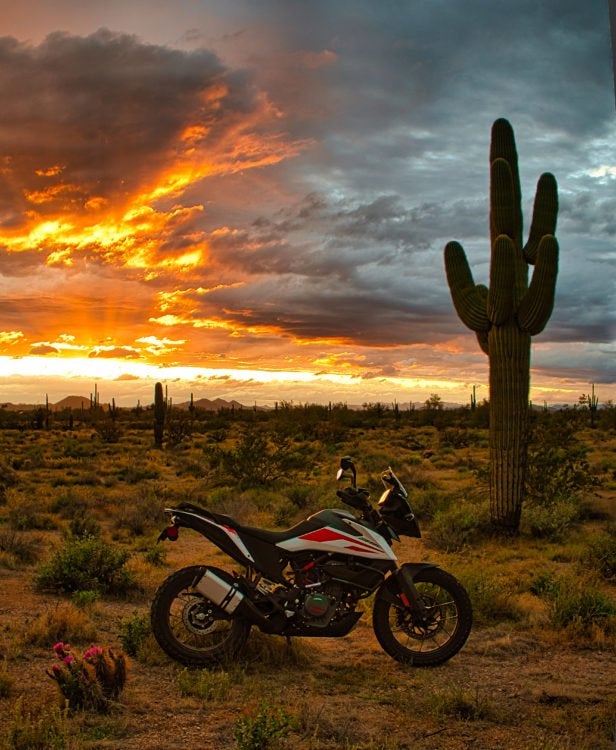 Is there anything I would change?
Personal opinions on what a bike needs and doesn't need, vary, but for me, I would like the following for how I like to ride:
21-inch front wheel
More aggressive tires
High front fender
Heavier bash plate
The Ergo Seat
Lower pegs/ handlebar risers to fit my ergonomics
A small rear rack
Stronger handguards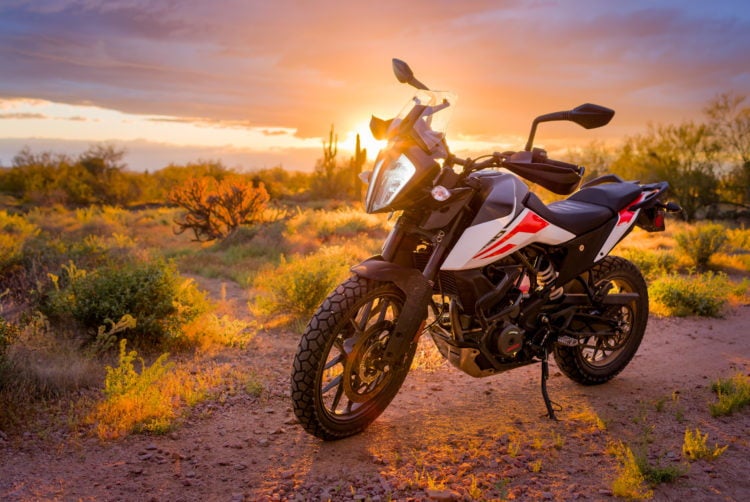 Most of that stuff we all change on a bike anyway, and a lot of that is already available in the KTM parts catalog. I'm told spoke wheels are an option that is coming. Sizes weren't confirmed. But at that point it is RTW ready for how I ride; all that is needed is throwing my luggage on the back!
SPECIFICATIONS
Engine Type: Single Cylinder, 4-Stroke, DOHC

Displacement: 373.2 cc

Bore/Stroke: 89/60 mm

Starter: Electric; 12V 8Ah

Transmission: 6 Gears

Fuel System: Bosch EFI, 46 mm Throttle Body

Lubrication: Wet Sump

Cooling: Liquid Cooling

Clutch: PASC Slipper Clutch, Mechanically Operated

Ignition: Bosch EMS with Ride-By-Wire

Frame: Steel Trellis

Subframe: Steel Trellis

Handlebar:  Aluminum, Tapered, Ø 26/22 mm

Front Suspension: WP APEX USD Ø 43 mm

Rear Suspension: WP APEX Monoshock

Suspension Travel Front/Rear: 170 mm/ 6.7 in; 177 mm/ 6.9 in

Front/Rear Brakes: Disc Brake 320 mm/230 mm

Front/Rear Wheels: 2.50 x 19", 3.50 x 17"

Front/Rear Tires: 100/90-19"; 130/80-17"

Steering Head Angle: 26.5º

Wheelbase: 1,430 mm ± 15.5 mm / 56.3 ± 0.6 in

Ground Clearance: 200 mm / 7.8 in

Seat Height: 855 mm / 33.6 in

Tank Capacity: 14.5 L / 3.8 gal

Dry Weight, Approx: 158 kg/ 348.3 lbs
For more details head to KTM.com.
Images – KTM, Dave6243, rtwPaul