We got to India in December. We had to wait a couple of months until the roads to Ladakh were open again.  I still remember Daryl and I before we left home, googling photos of places from our itinerary. Besides my overall excitement of going back to India, the country that gave me the travel bug, Ladakh was on top of our most awaited list.
In one year away from home, these three weeks riding up north felt like our biggest adventure so far.  No connection, wild camping, water, and river crossings and simply us. We rode through natural wonders where mountains come to life. Sometimes, the sky was so full of stars; it was hard to believe our own eyes. Most people follow offline maps.  But in most of our journey, ditching the maps and following the signs and the locals for directions was so much fun.
From riding off-road to perfectly laid out twisty roads, from valleys and gorges to high passes where the altitude took our breath away, Ladakh was one hell of a ride.
These were our highlights and the most reminisced experiences.
Kashmir – The land in between
After traveling through Pakistan and spending so many months in India, I was deeply curious about Kashmir; the land that was never left to rest.  The whole region, which is surrounded by China, India, Punjab and Pakistan has been a disputed territory since the British left India in 1947.  Passing through Kashmir valley felt like we have suddenly gone back in time.  Tangled in between many years of arguments and violence, Kashmir is a raw piece of beautiful land where life is simple, people are kind, and unlike what most think, it is a place where Hinduism and Islam differentiate and simultaneously blend in harmoniously.
On our way to Anantnag, I got bittersweet memories of Pakistan.  The military police stopped us as we were about to enter the city, and insisted that we should take the other road, as this one is not safe for us.
It was a long day, and we rode the Sinthan Top pass. We made it to Kishtwar, the village at the end of it when it was already dark.   We found a spot on the side road and pitched our tent to rest. As soon as we opened the tent the following morning, we found a couple staring at us,  probably lost in curious thoughts, of who will come out of this tent, set up underneath the pavement.  "Assalamu alaikum" is the only thing I could blurt out, and they immediately reciprocated – but we couldn't communicate further than that.  They watched attentively as we packed to leave, I gave them a couple of toffees and we left.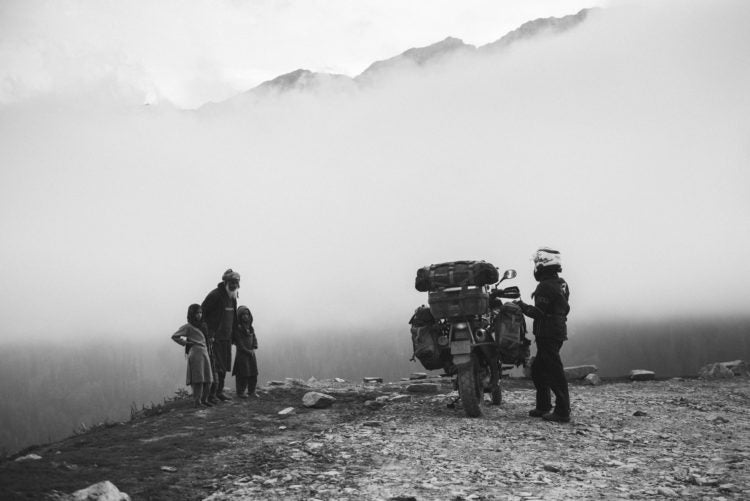 Spiti Valley and the Highest Post Office in the World
Spiti is a gem and is our favorite spot up there.  There is something about this valley, and riding it is simply spectacular.  Pin Valley is a thrill for every adventure rider and pillion alike! The scenery changes, the rock formations evolve, and even though we had already ridden here in March when it was all covered in snow, it was like discovering it all over again.  The mountains further Mud were so full of colors, they felt alive, and the trails are simply awesome.  Daryl couldn't stop riding!
We rode to Hikkim to see what is considered as the highest post office in the world.  Hikkim is a small, raw village and located at 15, 500 feet, this post office is nothing more than a tiny room in a house, where a family acually lives.   You just get postcards from the coffee shop next to it, buy the stamps, and put the postcards in the tiny letterbox hung to the barely painted wall. Our postcards haven't reached home yet, but in any case, it is worth a visit.
The 500-year-old Lama Mummy of Gue
Riding towards Gue was serene.  We didn't come across one single person going in or out of the village.  Locals had suggested visiting this place to see the Lama mummy.   We got next to an unfinished monastery, a small room, and a tiny tea shack.   Daryl parked the bike, and a soldier who was guarding the area happily greeted us.  He told us that the mountains surrounding the village, border India with Tibet, which is just 9km away.   Holding a pair of binoculars and a big smile on his face, the soldier was happy to have someone to interact with.
After we saw the mummy, the villager that owns the shack served us tea and pancakes and happily narrated myths related to the mummy and its village.  500 years old, unpreserved and still with its teeth intact, this is the mummy of a 15th-century Buddhist monk named Sangha Tenzin that made Gue relevant on the map, and an attraction to tourists roaming the area.
Turtuk – The last Indian village before Pakistan
While riding the northern states, you come across villages referred to as 'the last Indian village'. These all border India with the surrounding countries. An interesting one to visit is TurTuk, a few kilometers away from Pakistan.  I started walking through this picturesque village, with small houses and an endless number of apricot trees.
A young gentleman approached me. I took the opportunity to ask him about his sentiments on living in a village that is so close to Pakistan.  He told me that some of his relatives are on the other side, and they haven't met in years!   He explained that the mountains we were looking at were those of Gilgit Baltistan. We had visited there a few months back.
It feels so ironic, thinking about all the bikers we've met from both countries. They are the travelers who are stuck behind borders because of political disputes and a perception that has been haunting them for years.
The best thing about this region is that it is awesome for wild camping and felt safe.  We wild camped every day for almost three weeks and it was an incredible experience.
If you're restricted with time, you can easily rent a Royal Enfield and do it like the locals! It is a guaranteed amusing ride.