ATGATT ( All the gear, all the time) means different things to different riders, whether they're weekend adventurers, travelers, or motocross or rally racers. For me, ATGATT now always includes a Leatt neck brace – and it has actually already saved my neck.
However, I was always curious about the background and science of neck braces, so I chatted with Dr. Chris Leatt, founder of the now world-famous South African action sports gear company. Dr. Leatt confesses his favorite type of riding isn't motocross – it's exploring the trails on his KTM 990, as well as mountain biking. He also told me he's still sometimes taken aback seeing the Leatt logo at races, events, and different motorcycle gear shops around the world. "I never set out to create a global motorcycle and bike gear company – I just wanted to help riders prevent neck injury", Dr. Leatt explained.
It all began fifteen years ago when, attending a local enduro event, Dr. Leatt witnessed a rider fall and pass away due to a severe neck injury. "I had a four-year-old son who was just beginning to ride at the time, and I knew I had to protect him. I'd studied medicine at the University of Cape Town and interned as a general and an orthopedic surgeon then was on my way to becoming a neurosurgeon. I'd seen a lot of trauma, and as an avid rider myself, I knew just what the risks were. So I set out to design a neck brace that would prevent some of the most serious neck and spine injuries", Dr. Leatt told me.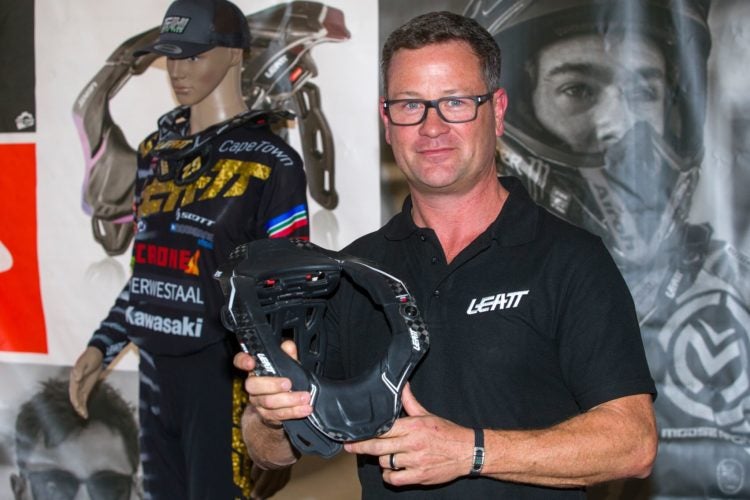 Ever since, Leatt has been developing new protective gear to help riders across different disciplines ranging from mountain biking to motocross, rally and enduro racing, and adventure riding. To this day, Leatt products are designed and developed in Leatt labs aided by biomechanics specialists and scientists; technology, research, and science remain at the core of all Leatt product development.
Dr. Leatt, what was it like to develop a neck brace fifteen years ago?
The process of developing new protective gear now is very different than back then. It's much easier to test prototypes, there are so many more reliable safety standards now. Fifteen years ago, when I began researching my neck brace project, I thought, I'd look around and find an already existing product I could work on, but there was nothing.
I knew very little about building prototypes back then. Making molds, as an example, was something I'd never done before… The human body is so complex, so to design a piece of protective gear and feel confident about it is no easy task.  Testing without existing standards means that you have to foresee so many potential shortcomings, so many possible mistakes. At the same time, it was a very exciting period.
Did you set out to create a global action sports gear company, or was it all about the neck braces at first?
Neck injuries are a very serious problem, so I just zeroed into solving a very specific problem. Of course, developing a product costs a lot of money, so eventually, I did create a business, but the core focus is always the science behind the gear.
How did you introduce the neck brace to riders?
There is a big riding community in South Africa, so first, we introduced it to our friends and asked for feedback. We listened to the feedback, developed the product, and it gradually spread in South Africa, then globally. To this day, we still send out samples to riders across different disciplines and countries, get their feedback, and work on that.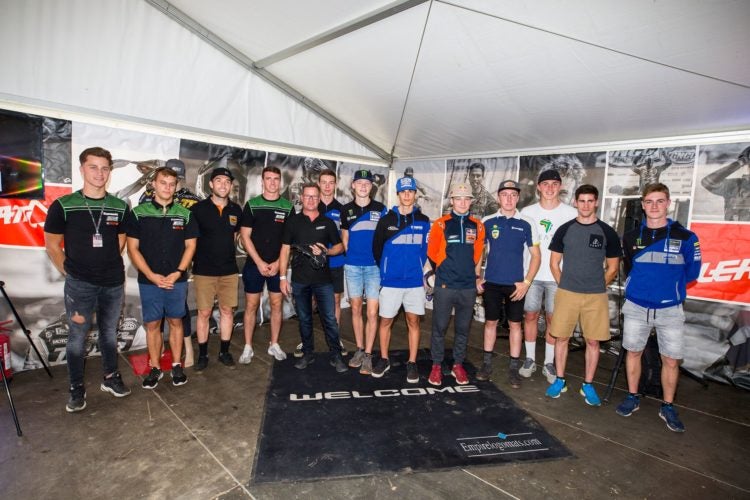 Another big thing is rider and especially trainer education. Some motocross trainers still have opinions that you'll go faster without the neck brace, for example. So we try working with them, with racing teams, and we are finally changing that message. The growing body of scientific research and data about the effectiveness of neck braces is solid, and I'm excited to see that the FIM is now developing a new safety standard for neck braces. That's a very big step forward.
So how does a neck brace work exactly?
To put it simply, when you fall, the impact force that would have gone through your neck now goes through the neck brace. If you land on your head, the neck brace helps redirect that force from the base of your skull to the brace, which then distributes it across your body. So instead of the impact force going from your helmet straight to the base of your skull and your neck, it now travels through the neck brace.
Should adventure riders wear neck braces, too, or is it more for motocross and rally racers?
Where does the action happen? Statistically, close to home. In South Africa, the adventure riding scene is very big and diverse, and I would say about 80% of adventure riders here wear neck braces. It's not about the speed, it's the force of the crash, and adventure riders see plenty of action out on the trails.
Leatt now makes knee braces, helmets, body armor, and other products. Are they developed the same way as the neck braces?
We have two biomechanical engineers as well as people with design and engineering backgrounds. We have a team working on new products that need rigorous lab testing and research, and another that's working on bettering existing products.
Often, we build things from scratch, so we rely on the expertise of medical professionals and scientists to help us. For example, developing our knee braces, we went to the top knee surgeon in South Africa to help design the product. The knee is actually a very complex joint, so we enlisted the best people to help us.
Another big problem among riders is dislocated shoulders. When we were developing our shoulder braces, we asked ourselves, how do you dislocate a shoulder? Typically, it's caused by a forward and/or downward movement. So, we enlisted the help of a top shoulder surgeon and developed a brace that would prevent it.
We don't accept the status quo. If the industry has always done something a certain way, it doesn't mean it's the right way, so we always go back to the origins, zero in on a specific problem, and try to solve it. Designing and developing protective motorcycle gear means you shouldn't just aim to comply with the safety standards, you should always try and go above and beyond. Our helmets, for example, have an integrated turbine system that helps prevent head injury from rotational forces. It isn't even in the safety standard yet, but it doesn't mean we shouldn't try and protect riders as much as possible.
How is your riding apparel – pants, gloves, jackets – designed? 
We are a very technical company, but unless you are cool, nobody's interested, so we do need to pay attention to style and color schemes because that's what riders want. At the same time, we always use 3D technology when designing riding gear to see where and how the garment needs to stretch, how well it fits, and so on. Quality materials is another big priority.
Do you have any plans of designing gear aimed at women riders?
I have a daughter who rides, so I'm very aware that female riders lack quality, well-fitting gear. On the one hand, as a company, we need to be careful and see where we can get the most traction in the market. On the other hand, there are more and more extraordinary female riders out there now, and it's obviously a growing segment. So, yes, we do have some exciting new products aimed at women riders coming out soon.
Do you think motorcycling is changing as a sport?  How does that influence the creation of new products?
It's very interesting: we have seen peaks and drops, I think motorcycling has had a tough time in 2008 during the recession for example. When the times are tough, expensive toys such as motorcycles are the first to go. On the other hand, the growth in the motorcycle industry has been significant since. We are also seeing a big shift towards e-bikes now. Areas where motorcycles can be ridden are diminishing, so people are trying out new things, new markets are emerging.
Motorcycles are getting quicker and more powerful; roost guards and high-quality goggles, as an example, are very important now because of this.
As the sport evolves, there's an uptick in safety standards of protective apparel, which is great news. Hopefully, there's going to be a neck brace safety standard soon.
What's the most rewarding part about your work?
I don't have "typical days" at work anymore – sometimes, I'm at the workshop working on long-term projects or looking at marketing, innovation, or product development. I have a fantastic team and I'm not doing everything myself now, which is amazing.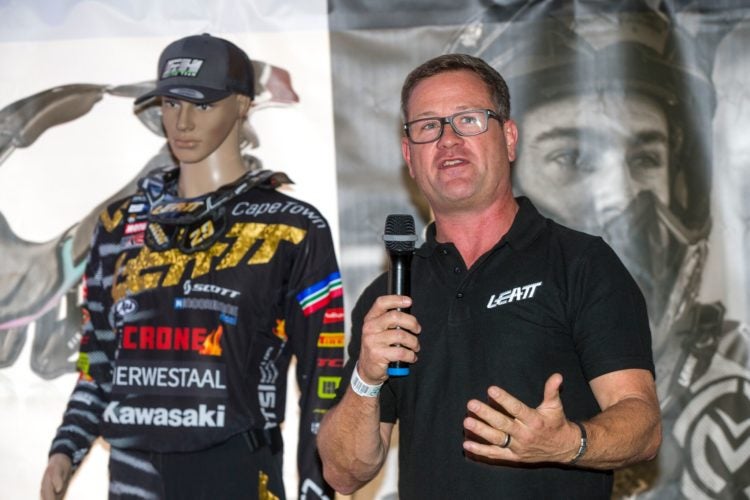 For me, the most rewarding thing are the testimonials and independent studies about the effectiveness of our products. I know I keep people out of wheelchairs, and sometimes I have to pinch myself – it's really an incredibly rewarding feeling.
Images: Ray Archer