I've been told that lighter is better by so many ADV, dual-sport, and rally riders now that it seems like fact rather than opinion. But knowing something in theory and actually trying it out yourself is a whole different story. Recently, I had the opportunity to try out a Yamaha WR250F on some dirt trails for a couple of days, and aside from enjoying the hell out of riding it, I think I've finally seen the light of small dirt bikes myself. So here's my Yamaha WR250F review.
Hillclimbs
While riding enduro in Transylvania, I was given a 2014 Yamaha WR250F, which at the beginning felt more like a bicycle than a motorbike. I'm traveling on a DR650, but have had the opportunity to try a KTM 300 out on the trails in Peru, as well as a KTM450 during the Trans Alentejo Rally in Portugal. The KTM300 remains my favorite, but the WR250F, once we left gravel roads and headed for the woods and single track, felt more than capable of doing harder off-road stuff – especially hill climbs.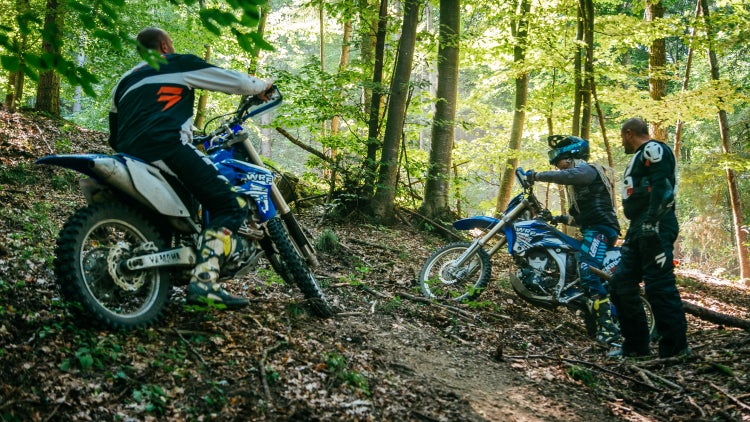 When it comes to steep hills, my DR just barely makes it, the KTM450 felt powerful but a tad on the heavy side, whereas the WR250 seemed like it wanted to go even when the hillclimbs felt like they were almost vertical. It's so amazingly light that you can send it up and over anything without much effort – just keep on the throttle, and the bike will do its thing. For me, this was a first, as I was used to making a lot more effort on my pack mule, the DR650, as well as the nimble but still heavy KTM450.
The Yamaha WR250F, on the other hand, felt like it was flying – up hills, over forest floor littered with rocks, roots and fallen branches, off bumps and small hilltops, through sandy track, wet meadows, and everything in between. At the beginning, the feather-light weight felt very unusual and a little unsteady for me, but after getting used to it, it made a huge difference.
Rocks and Boulders
Another area where the WR250F shone was narrow rocky tracks and babyhead rocks. As an ex-horse rider, showjumper, and cross-country rider, I have an OK balance, so even my unwieldy DR650 does fine over rocks and boulder-y river crossings. However, the WR250F felt like I was barely making any effort when it came to rocky tracks. Loose rocks, rocky steps, fine pebble-y stuff – the Yamaha rolled over everything with ease. It was also very smooth when hopping from one berm of the track to another.
Suspension
I'm no expert, but the suspension on the WR250F felt amazing on any terrain, and especially over the harder, rocky trails as well as when jumping. In comparison, the KTM450 felt hard and stiff, whereas the WR250F was much softer (but without being bouncy or feeling unstable).
Needless to say, it's also very light to pick up, and it feels great on fast-flowing tracks as it flies around curves so effortessly I was finally able to keep up with the rest of the pack with ease instead of plodding along behind everyone else. For me, the WR250F gave me a huge confidence boost as well as an idea for a new challenge – the Redbull Romaniacs 2020.
Would a WR250F make a good ADV bike? Probably not, as it lacks speed on pavement and I'm not sure it would be much fun when loaded up (although I'm sure all sorts of mods can be done to improve it). Out on the dirt trails, though, this bike is awesome, especially over the slower, more technical stuff. I have a feeling it would do well in an amateur cross-country rally conditions, too, especially the newer model which allegedly has an "angrier" engine and is more race-y than the mellower 2014 model.
Whether you're looking to switch to a lighter bike or not, the Yamaha WR250F is just pure, unadulterated dirt biking fun. It might be worth renting it for a few days to take out on the trails, or doing some enduro training as the skills you gain on the small dirt bike will transfer to your big ADV bike skills, too. The WR250F is also cheap and mechanically simple, making it easy to maintain and fix on the roadside.
Yamaha WR250F specs:
Engine type: liquid-cooled, 4-stroke, DOHC, 5-valves, Forward-inclined single cylinder
Displacement: 250cc
Bore x stroke: 77.0 mm x 53.6 mm
Compression ratio: 12.5 : 1
Lubrication system: Dry sump
Clutch Type: Wet, Multiple Disc
Ignition system: CDI
Starter system: Electric and kick
Transmission system: Constant Mesh, 5-speed
Final transmission: Chain
Carburettor: Keihin FCR-MX39/1
Overall length: 2,190 mm
Overall width: 825 mm
Overall height: 1,305 mm
Seat height@ 990 mm
Wheel base@ 1,485 mm
Minimum ground clearance: 375 mm
Wet weight (including full oil and fuel tank): 117 kg
Fuel tank capacity: 8.0litres
Images: Rockafella Pictures