The pinnacle event at the KTM Rally is the Ultimate Race. This event is held in 6 countries around the world, for this year they are USA, Canada, Italy, Australia, South Africa, and New Zealand
It is open to a large variety of riders if you feel you fit the requirements:
ULTIMATE RACE QUALIFIER Guidelines

Rider and Bike Regulation

Rider must be 18 years or older.
2-Cylinder KTM ADVENTURE motorcycles (790cc –1290cc) are required to participate in the ULTIMATE RACE QUALIFIER.
Riders must be the registered owner of their motorcycle.
The motorcycle must be street legal and in good working order with proper street legal, off-road tires.
Participant must be an amateur rider not having held a professional racing license or having competed at the professional level within the past 10 years in any motorcycle racing organization including but not limited to: FIM, AMA, CMA, CMRC, MRS, CHN, PNWMA
Riders must supply current, functioning GPS unit (a second backup unit is recommended)
Riders must supply their own personal locator beacon (SPOT, Delorme, Garmin).
KTM Employees and their family members are not eligible to participate.
Rider has to be from the country / continent the KTM ADVENTURE RALLY takes place.

Riding Skills

Racing: Rider must be expert level with advanced skill on a motorcycle.
Technique: Rider must have the ability to master difficult terrain and obstacles on a motorcycle.

Coordination Skills

Navigation: Rider must be able to navigate to a designated point through a designated route while riding and using a navigation system or road book.
Orientation: Rider must have the ability to evaluate difficult terrain and landscape marks.

Physical and Mental Condition

Strength: Rider must be able to lift up grounded KTM ADVENTURE motorcycle.
Endurance: Rider must be able to endure and compete on technical terrain with adverse situations.

Mechanical Skills

Motorcycle: Riders must have the ability to fix damages on motorcycle (flat tires / break & clutch lever) without assistance.
Here in Breckenridge, the riders were sent out on Friday morning to navigate a few areas and then once all had been accomplished the destination was Leadville MX Park  around an hour away from Breckenridge. This is a high elevation facility run by Kim and her husband
She was there to help coordinate the event with KTM, The park normally used as a family location for single track, MX track, and high elevation training in summer and in winter it has been used as a Timbersled training facility for X-Games athletes.
Officially signposted as a 'Fun Place' by the county, today it will see how many of the Ultimate Race contenders will agree with the sign by the front gate!
For the event, the track had been reworked Kim told me
They will be riding the single track and a large portion of the MX track.
Here are some images of the competitors as they vie with each other to get the best time, each rider had to complete two separate laps, a break between each one, to post a fast time as part of the qualifier.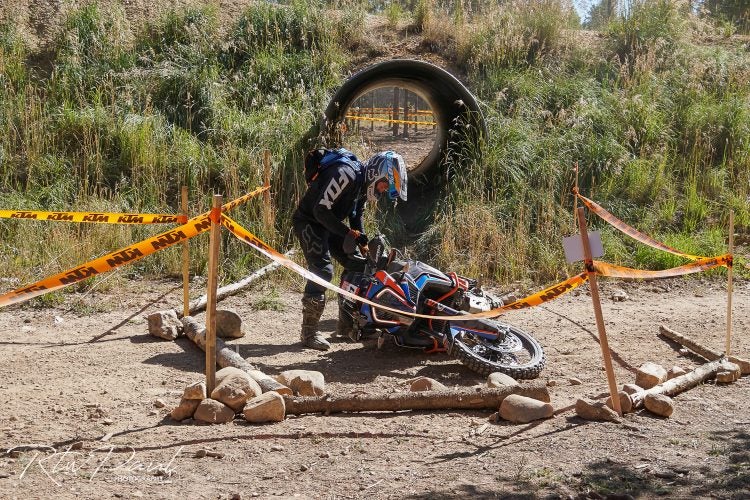 The reason and motivation for the event are very clear; to have the opportunity of an all-expenses-paid entry and to be part of the Merzouga Rally in Morocco which is also part of the Dakar Series…only two riders from each rally will get this honor.
It is explained in more detail in the video if you'd like to be part of the Ultimate Race next season
the day finished with a quick mechanical skill test for the riders, the remove a rear wheel, run around the bike with the wheel, then replace and finish the task by pum the rear brake pedal…times were in the one minute range if you'd like to try this at home