Giant Loop is a very well established brand, their motto is Go Light. Go Fast Go Far. is followed by more than a few riders, riding long-distance are sporting Giant Loop in one way or another and testing the product to its absolute limits
– Jenny JMo (& piglet) using the Coyote on all her travels
Noah Horak on his RTW a few years back
Egle – EvergreenE on her continuing RTW is abusing some pannier pockets
I ran the Great Basin on one of my RTW's on a KTM 625
…and right now if you're not following Aaron.S on his RTW, maybe you should, he is riding his KTM 500exc and running Giant Loop too…
So Giant Loop is well respected by world travelers, but what about the company, I spoke with Harold and the crew to get a little more inside information.
Tell us about Giant Loop, what were your humble beginnings?
Giant Loop was born in 2008 during the depths of the Great Recession.
Thanks to ADV Rider, we knew our horseshoe Saddlebag was a unique problem solver for riders who embraced small bike travel and minimalist design and packing – we had inmates requesting them as soon as they saw photos and ride reports of the one-off designs a friend at a local climbing gear company sewed for us.
With Harold's life savings of $5000, he built a website and ordered 150 original Giant Loop Saddlebags. ADV Rider Inmates were the majority of our early customers, and thanks to the forum, within months we connected with two of our best customers and importers, Adventure Moto In Australia and Adventure-spec In the UK.
Can you give us a basic shop tour?
Giant Loop started in Harold's office in downtown Bend, but we quickly outgrew the space and moved into our first 1300 sq ft warehouse bay in 2010. Since then, we've expanded into two more adjacent warehouse bays and connected them together.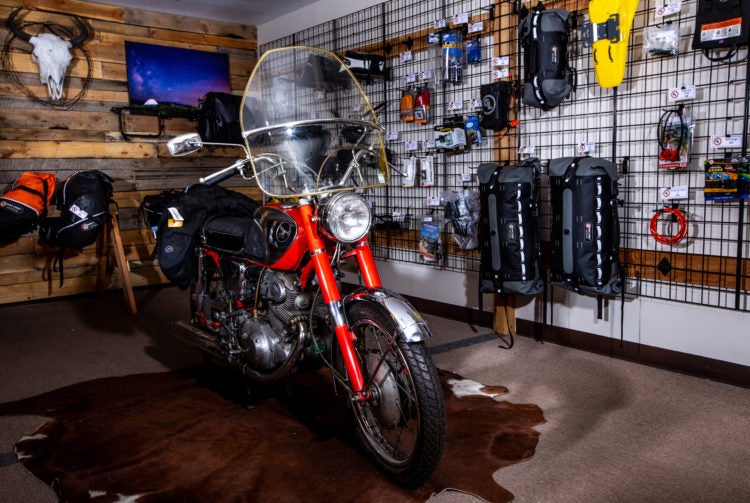 At the front of the building is our retail showroom, the GL ADV Shop. The sales and marketing team workstations, our motorcycle work bay and equipment for events fill out the front bay.
The bay directly behind the GL ADV Shop is dedicated to receiving, inspecting and assembling products, as well as back stock storage.
Adjoining the receiving bay is our first warehouse bay. This is where inspected, assembled products are picked, packed and shipped. Two small offices provide work stations for production, operations, and bookkeeping.
Our favorite part of the building is our tiny design lab. Sewing machine, cutting table, samples, and magic live here.
What was your first product, and do you still make it/ sell it or something like it?
We launched Giant Loop in 2008 with our pioneering horseshoe-shaped design, the original bolt-on Giant Loop Saddlebag. Our Coyote Saddlebag is its direct descendant, and the Great Basin Saddlebag and MoJavi Saddlebag are its cousins.
How do you test your products before offering them for sale, any unique methods?
Of c0urse, riding is our favorite product testing method! We love punishing prototypes. But sometimes science comes in to play when testing the extremes, as we don't often have any volunteers for crash testing or submerging motorcycles.
Virtually every component, fastener and critical assembly used in our products have been subjected to failure testing in a laboratory local friends at dog gear company Ruffwear let us use – linear-pull strength, abrasion resistance, etc. We've also taken products to our parks and recreation district swimming pool for waterproof testing. Our dedication to continually improve means-testing never stops.
Where do you get your inspiration, your thoughts, and ideas, do you accept suggestions from customers/ friends?
From the beginning, Giant Loop has been an outgrowth of our own riding. But inspiration comes from many sources, including ADV Rider inmates, customers, friends and supported riders – especially those who push limits and take on crazy challenges.
We've also always looked outside of the Powersports industry for design, construction and materials cues – Powersports moves and changes slowly, lagging behind other markets and industries in terms of technology and innovation. Everyone directly involved with our design and development process rides motorcycles.
Do you have a product in your line that you feel is genius, but the public doesn't buy too many of but you feel they should, could you highlight that?
Our Pannier Mounts set the standard for quick release, lockable soft luggage installation. They're super lightweight yet rugged, feature only two moving parts, leave nothing behind on the bike when removed and can be accessed without having to open panniers and reach inside.
We produced a couple of small batches last season and sold out of them. This season we think our unique offering will hit its stride and win more converts to our minimalist solution.
How many different unique products do you sell/ make?
Not counting color and size options, Giant Loop's current product line consists of about 25 unique soft luggage and hard parts offerings.
We sell many other products in our GL ADV Shop warehouse showroom and online, including tools, camping equipment, and accessories that complement our own products and support our "go light, go fast, go far" philosophy of motorcycle adventure.
Which product is your best seller?
In terms of units sold, our handy little Zigzag Handlebar Bag is our top seller. The MoJavi Saddlebag is tops by gross dollars generated.
Are any/all your products made in house?
All of our design and testing is done at our shop. Most of Giant Loop's product line is developed in-house and manufactured for us by various contractors. But we also brand some of our favorite products made by friends and colleagues, like our new neck gaitor, made by Bend-based BlackStrap.
How long does it take from an idea, to design, to prototype, to the final product on the shelf?
Great ideas have always been the easy part for us – our product development is long and never gets shorter. Because of our limited access to working capital, the road from idea to final product often spans years.
For example, I've ridden with prototypes of our new Tail Rack for nearly five years before we were able to pay for the tooling and commit to the large minimum orders required to make this product feasible.
It took more than four years to get our Gas Bags into production.
As we've incrementally grown, we've moved toward a two-year product development cycle, and because we produce relatively small batches, it is easy for Giant Loop to make ongoing updates and improvements short term. Feedback from Inmates is a key component in our product development process.
Could you say that all or a large part of your product line is US made?
Giant Loop has manufactured in the USA since the very beginning. Currently, all of our sewn goods but one are made in the USA.
Do ADVrider and its inmates play a big part in your business, do you offer any kind of incentive or discount for inmates?
It's no exaggeration to say that Giant Loop exists because of ADV Rider. This forum has been our number one source of inspiration, for several years even before we launched in 2008.
We are very grateful that Baldy and team created this worldwide community. Inmates are often the first to get notifications about new product developments, deals on seconds, closeouts and blems.
Any Inmate who mentions ADV Rider and gives us a t-shirt size when ordering gets a free t-shirt. Call or email us for the inside scoop!
Harold Olaf Cecil
971-832-3164
Bend, Oregon USA
Photos/ video courtesy of Giant Loop, Jenny Morgan, Noah Horak, Aaron S and me