Green Chile Adventure Gear has come up with a unique lightweight solution for packing that works on virtually any motorcycle. Co-owner Adam Owens explains.
Tell us about Green Chile ADV, what were your humble beginnings?
Green Chile Adventure Gear was started in 2014 by Adam Owens and Ben Rainchild. We met in a KLR650 Facebook group. Both of us were looking for a luggage solution that didn't exist. I'm a scuba diver and Ben is a whitewater guide. We both had a closet full of dry bags but no way to put them on our motorcycles. I didn't want to be forced to buy a $400 "motorcycle dry bag" that was loaded with plastic hardware. It took us about 3 months going back and forth with ideas and it got to the point that we either needed to do something about it, or just drop it.
We found a refurbished industrial bar tacking machine. I went home and told my wife I wanted to run something by her and I agree with every reason she will say no. Then I said, I want to buy a $2000 sewing machine and ship it to this guy in New Mexico that I've never met, but we have chatted a lot on Facebook. We both agreed that it was a dumb and crazy idea, but we did it anyway and that's how we got our machine to start prototyping.
Recently, Nate Johnson came onboard as a partner. He has been a great resource for Green Chile and with his help, we will be able to attend more events and introduce more people to our products. Nate, along with his business partner, has successfully grown his holster manufacturing company, N82 Tactical. He brings a lot of experience with growing dealer networks and scaling a small manufacturing company.
Green Chile Adventure Gear has grown a lot since it started, but it is truly a homespun family business.
Can you give us a basic shop tour? (Photos are great for this to let readers get a feel for your shop size and how you operate, making them feel familiar and comfortable with buying from you)
Our shop is very humble. We have a standard bar tacking machine, an automatic webbing cutter, CNC programmable sewing machine, hot cutter, and a steam press. Those are our main tools for production. To keep some fun in the shop we also have a 1963 Chevrolet Nova parked in there!
What was your first product, and do you still make it/ sell it or something like it?
Our first product was our Uprising Soft Rack. It was originally built out of surplus military webbing. We sold about 10 of them and then we had a redesigned version within a few weeks. It was so much better that we sent a new one to every single customer that bought the first version. It just didn't seem right not to replace them. We still sell that version today.
How do you test your products before offering them for sale? Any unique methods?
Every single one of our products is thoroughly tested in the real world before we sell them. We have a small network of riders that we trust to give honest feedback and put the gear through its paces. We also test them beyond reasonable use. For example, our Z-Drag was tested by rescuing loaded whitewater rafts. The weight of the raft, its passengers, and the force of the water acting on the raft far exceeds any load a motorcycle recovery would require.
Video courtesy of Everide, via YouTube.
Where do you get your inspiration, your thoughts, and ideas? Do you accept suggestions from customers/friends?
Most of our products were born from our own frustrations. We are riders and we like to push it just like our customers do. Learning to see inconveniences and frustrations as opportunities are what helps us come up with new ideas. We have also gotten some good ideas from friends and customers. I can't promise every idea will become a product, but we love to hear what people think and always open to new ideas.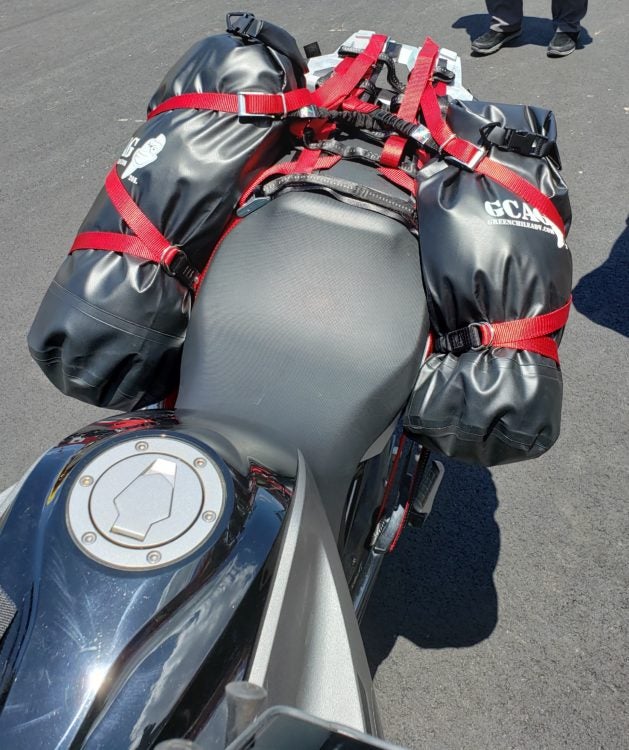 Our Hardcore Soft Rack was created because we wanted an easy way to moto camp from an enduro bike.
Our Z-Drag was created because I wanted a self-recovery tool that was fast to use and fast to put back up. Since I don't work with ropes and pulleys often, I knew if I pulled out a traditional kit I would be there for at least an hour.
Do you have a product in your line that you feel is genius, but the public doesn't buy too many of? Could you highlight that?
Most of our products are innovative and most of them sell pretty well. I think our approach to luggage is not often understood without some research. Here are a few things I would like people to understand about our gear.
Everything we build is heavy duty but lightweight. We want to provide gear options that will not fail. You can see this priority in our build quality and our materials. That quality is often hard to convey on a website.
We have a modular approach. We believe you should be able to use anything you want as motorcycle luggage and you should be able to set your luggage up for your ride. Our system can be set up for a day ride all the way up to an expedition. With some of our competitors, if you get a camping setup it's always that big even if you are just riding for the day.
The tensioners we build into our strap kits have elastics custom woven inside tubular webbing. This gives you the benefit of elastics, but the full strength and load-bearing capacity of a solid strap.
How many different unique products do you sell/ make?
We currently have about 13 different products that we manufacture with several more in development.
Which product is your best seller?
We sell more Mondo Straps than anything else, but it's closely followed by the Hardcore Soft Rack and Z-Drag.
Are any/all your products made in house?
All Green Chile Adventure Gear products are made in house in our South Carolina shop.
How long does it take from an idea, to design, to prototype, to the final product on the shelf?
This varies by the product. Our Hardcore Soft Rack took about 1.5 years to go from idea to a finished product.
Make sure you watch the video (click link) to understand how this system works and how easy and lightweight it is
That was probably our longest development cycle. One of our shortest cycles was our Dynatow Dynamic Tow Strap. It was about 3 months from idea to product. Rarely does a prototype work well the first try, but the Dynatow only needed minor tweaks after testing.
Could you say that all or a large part of your product line is US made?
All of our products are made in the USA and 95% of our materials are made in the USA as well. I am constantly looking for ways to make that 100%, but it's difficult to do these days.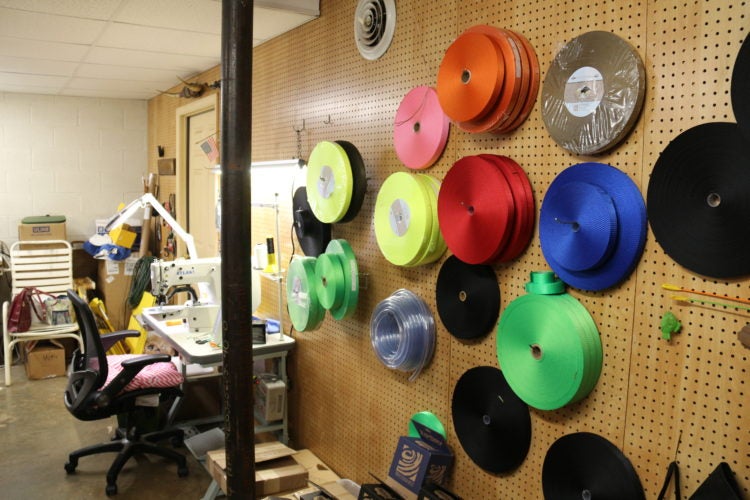 Do ADVrider and its inmates play a big part in your business? Do you offer any kind of incentive or discount for inmates?
ADVRider has been a great resource. We are able to have great discussions with other riders and get feedback about our products. We have a good vendor thread going on ADVRider also. We do have a standing 10% discount for inmates. Code: "ADVRIDER"
Video – https://www.youtube.com/watch?v=Y5-TWNW51L4
Relevant Links:
Facebook – https://www.facebook.com/GreenChileADV/
Facebook Riders Group – https://www.facebook.com/groups/GreenChileRiders/
Instagram – https://www.instagram.com/greenchileadv/
Twitter – https://twitter.com/greenchileadv
ADVRider Vendor Thread – https://advrider.com/f/threads/green-chile-adventure-gear-luggage-system-and-accessories.1017613/
All images courtesy of GCAG unless otherwise noted.