If there was ever a shop that you could call and get a straight-up honest answer, quick shipping, and great product selection at great prices, that would be ProCycle. 
Jeff or Carl know their stuff and you feel comfortable when you get them on the phone, or email whether you are round the corner or around the world they are there to help whether you are buying parts of not. That type of customer service is disappearing fast, but not from them.
Inmates for 12 years, you know they aren't going anywhere and if you frequent the Thumper section of the forum you'll find literally hundreds of comments from them that are just straight, simple and to the point…just what you need.
Tell us about your company, what were your humble beginnings?
ProCycle was in business for several years before I bought my first DR650.

We did a pretty substantial business in high performance 'play bike' stuff. Mods for TTR125, DRZ125, CRF150F, etc.

Offering parts for play bikes gave us a model – find everything you can for a particular (underserved) machine and put it in one place for the buying public. Deep instead of broad. When I got into dualsport riding the DR was the natural choice and it fit the model extremely well.
ProCycle got started when the fabrication and machine shop I was running out of my 2-car garage ran out of space. I moved the operation into a leased commercial unit and decided to add motorcycle parts and service to help pay rent.
At that point, I had several years of motorcycle dealership experience under my belt. I had actually got burned out on the motorcycle business but thought maybe if I was running my own show things would be better. That was a good call.
Can you give us a basic shop tour?
ProCycle is very much a Mom & Pop type operation. My wife Susan and I are the owners and the crew consists of 9 employees. We think of them as family.
We have grown into a 5,000 sq./ft building that handles our day to day operations, and we still maintain our 5,800 sq./ft R&D shop for developing and testing new ideas.
What was your first product, and do you still make it/ sell it or something like it?
Probably the first unique ProCycle product was a wire harness for converting a dirt bike to a dualsport bike. That wire harness has gone through a couple of revisions but we still sell them for those folks who are lucky enough to live in a state where they can get a license plate for a dirt bike.
How do you test your products before offering them for sale, any unique methods?
I guess that depends on the product. Some items might go through several prototype changes and be installed on my test mule or one of the employee's bikes. Nothing unique about it. We have to put a product to work to understand how it performs.
Where do you get your inspiration, your thoughts, and ideas, do you accept suggestions from customers/ friends?
More than a few ideas have come from internet forum posts. We're always willing to listen to ideas for new things. This is where the idea came from for offering the first adventure wheel setup for the DR650 utilizing a 19" front wheel, as well as the replacement 3rd gear set, and the countershaft seal retainer.
Of course, having an idea is the easy part. Turning it into a usable product at a price that folks will pay is where the real work is.
Do you have a product in your line that you feel is genius, but the public doesn't buy too many of but you feel they should, could you highlight that?
Yeah, there are a few things that I think go underappreciated.
The first thing that comes to mind is Motul Hands Clean. It's an amazing product. Everyone should have a tube in their tool kit.
The DG RST Muffler – Something I've been lobbying the Exhaust manufacturers about for many years. A quiet aftermarket exhaust. DG has done a great job with this. I wish the other brands would take notice.
Then there's our Tri-Fold Hat. The good folks at Moto-Skiveez make these for us. I find it very convenient to have a hat that fits easily into a pocket, not taking up a lot of space.
How many different unique products do you sell/ make?
There are probably more than 100 things we make, have made for us, or kit up from existing pieces. From jet kits, to fender brackets, tidy tail kits, tool tubes, low foot pegs, side and tail racks, the new SS1 Exhaust and Pro-Flow Header for the DR650, the TM40 carburetor for the DR650 and the XR650L, to name a few.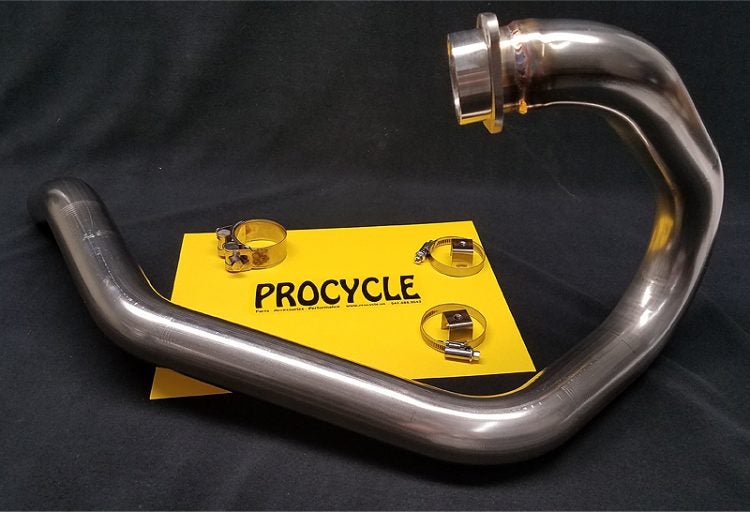 We have also worked very closely over the years with other companies to influence, design, develop, and test useful aftermarket products for the dual sport and adventure bike community.
Including the 5.3 and 6.6 gallon Acerbis tanks for the DR650, the Acerbis composite skidplate, the Leo Vince X3 Muffler, the polyurethane cush drive dampeners for the DR650 and now the KLR650, as well as the Warp9 Triple clamp for the XR650L.
Which product is your best seller?
The #1 item that consistently tops our sales reports is the TM40 pumper carburetor kit for the DR650. There are other items that sell in larger quantities (like DR650 oil filters) but the TM40 goes a long way toward keeping our doors open.
Are any/all your products made in house?
No. We typically do our own prototyping and maybe the production of items that only move in small quantities. As soon as we can farm out production of any item we hand it off to one of our local suppliers. I don't want ProCycle to be in the manufacturing business. That is much better left to suppliers who do that as their main business.
How long does it take from an idea, to design, to prototype, to the final product on the shelf?
Some simple items can go from idea to product in a week. More complicated products can take months or even years. Most of the time an idea never makes it through the whole process to become a product. Lots of great ideas just don't pencil out.
Could you say that all or a large part of your product line is US made?
Everything we have made specifically for us is done by local companies or other companies in the US.
Do ADVrider and its inmates play a big part in your business, do you offer any kind of incentive or discount for inmates?
We don't offer specific discounts to any special groups. Instead, we offer to calculate a discount based on a 'package deal' for any large order. The available discount would depend on how large the single order is and what items are on the list. Some items have more margin available to carve a discount from. Other items have very skinny margins and can't be discounted at all. The larger the order the more we have to work with as far as discounts go. We believe this is the fairest way to offer discounts to anybody without penalizing people who are not forum members, club members, military, police, teachers, students, racers, AMA members, etc.
ProCycle has also recently started a YouTube, please check it out and subscribe
All images – ProCycle