Tell us about Rade Garage, what were your humble beginnings?
In the beginning, it was Rade's desire to travel through interesting places like the Balkans, Africa, etc. He wanted to have a practical setup that would allow for extended camping, while keeping the bike's ability for harder offroad sections.
At that time there were many accessories for BMW bike's but many only for pavement based touring or very easy gravel roads. He started to make the items he needed. They looked horrible but worked very well.
How long have you been in business?
I published a travel blog and people started asking me about all the modifications I have done. 4 years ago I decided that if I can make the items with higher quality and better looking, there would be enough demand.
I left my job a management job in a large corporation and RADE/GARAGE was born. Lukas joined me as the main designer and Dan was helping with setups and mechanical challenges.
Why do you make parts for motorcycles, what inspired the passion?
Adventure riding!
Rade and the whole team loves to moto travel and discovering new places, cultures, etc. If along the way we will be going through hard terrain and push our and our bike's limits, even better.
Rade was always improving the items he used, to make them smaller, better fit and more comfortable.
Now we have a large customer base and test riders around the world that we are so thankful for. And of course ADVRider forums – we take the feedback seriously!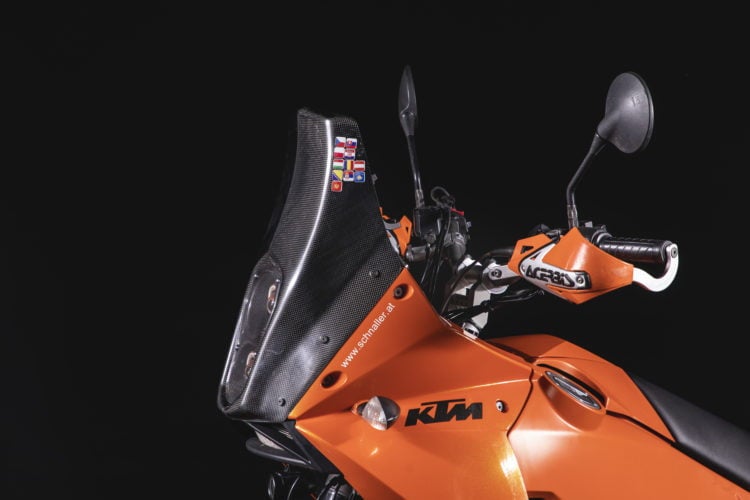 Can you give us a basic shop tour?
Pictures are worth a thousand words, so just a few comments. We moved in November 2019 to a larger space to accommodate larger stock levels and to better serve our customers, but most importantly the newly purchased a CNC mill so we can make more items inhouse. Here is a walkthrough video so ADVrider inmates can see where and how we work:
We have now separate spaces for design/prototyping, productions, and logistics
And Rade loves things that look great so he is collecting Ducati bikes. And in turn, they collect dust but make the design space look nice
What was your first product, and do you still make it/ sell it or something like it?
Carbon fiber windshield for KTM 990 and yes, we absolutely still make it – in much higher quality, available with a full LED lights rally kit. And it's now available in a transparent version as well.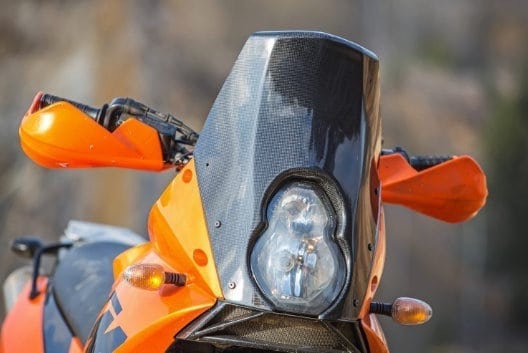 This was the beginning where Rade wanted to have more space for navigation equipment, better wind protection, and more powerful lights. And of course, it must look good – like a rally beast!
How do you test your products before offering them for sale, any unique methods?
We follow our own strict process. The first versions are tested by the team outside our shop. We have both a major highway and an offroad area and we make modifications like new 3D prints, welds and/removing mass from material until we are 100% satisfied.
Next are specific racers and selected test riders around the world. Usually, they take the prototypes to a race or first production on their major trips.
And Rade/team members try to find time for at least 1 or 2 major trips themselves. All of these are opportunities to test and verify before we make items available to our customers.
Where do you get your inspiration, your thoughts, and ideas, do you accept suggestions from customers/ friends?
At R/G we are convinced that we can only make improvements and parts when we know the specific motorcycle inside out.
As an example, we published one of the first videos looking at the new KTM 790 after we took delivery.
Next is, of course, riding the bike, fully loaded, racing, etc. We love customer feedback and are using the vendor section of ADVRider. Direct customer contact is one of the reasons why we don't sell via dealers but direct.
We are also very unique in a way where we spend a lot of time (and money) trying to incorporate improvements in a way our customers could upgrade without throwing way the previous products.
A great example is our 701 rally kit. Based on the feedback we designed and made available the shaders for existing customers at a fraction of the cost for a new rally kit. Sometimes this is not possible, but we try, and always try hard!
Do you have a product in your line that you feel is genius, but the public doesn't buy too many of but you feel they should, could you highlight that?
That could be our KTM EXC / Husqvarna FE rally kit. They were used during the 2019 and 2020 Dakar race by multiple Czech racers. It's very robust but thanks to the carbon fiber light tower being very light.
We make a rally version with setup for a tripmaster, roadbook, etc. and "adventure" version with a bar for GPS. Both provide excellent lighting and wind protection for the rider.
https://www.radegarage.com/parts-us/#section-husqvarna-fe
https://www.radegarage.com/parts-us/#section-ktm-exc
You are known for your rally kits, but there is a lot more in your product line up, can you highlight a few of those items?
The auxiliary tanks for KTM 690 and Husqvarna 701 increasing fuel range by 50% are very convenient and popular.
We cannot forget our low pegs giving more comfort but also better control of the bike.
And of course all the different skid plates – for KTM 690 and 701 with space for tools, for the KTM 790 our carbon tank and engine protectors.
Has the development of new technology changed the way you can produce your products?
Absolutely – we went a long way from the hand made models and fitting. Everything now starts with a full 3D scan of the specific model. We have upgraded our setup multiple times and it includes 3D print, CNC Hermle. We make our own forms these days and it allows us to shorten the time to market.
Our logistics uses a lean engineering process and our goal is to always improve. We make mistakes like everyone else, but we thrive to learn from them and improve. In design, manufacturing, materials and customer service.
But we wanted to keep the GARAGE in our name. In reminds us of the humble beginnings and where we came from.
You have recently released a video about a 450 rally build for Dakar, can you give us the details of the build, photos, and video links and explain why Rade Garage set up is different than others on the market?
The racer, Jan Vesely wanted something simple and much more affordable compared to the factory Rally Replica.
Together we came up with the solution: R/G Rally kit, under-seat tank, frame modification, suspension setup, etc. It sounds easy but there were many technical challenges.
They were solved but not in a way that can be replicated over and over as required for production. It is very different doing a one-off, in our garage and come up with something our customers can somewhat easily do on their own. For those that have not seen the video, it is here:
But we love doing these things so we got an idea based around the KTM 790. If there is time, we may have an interesting surprise, later this year.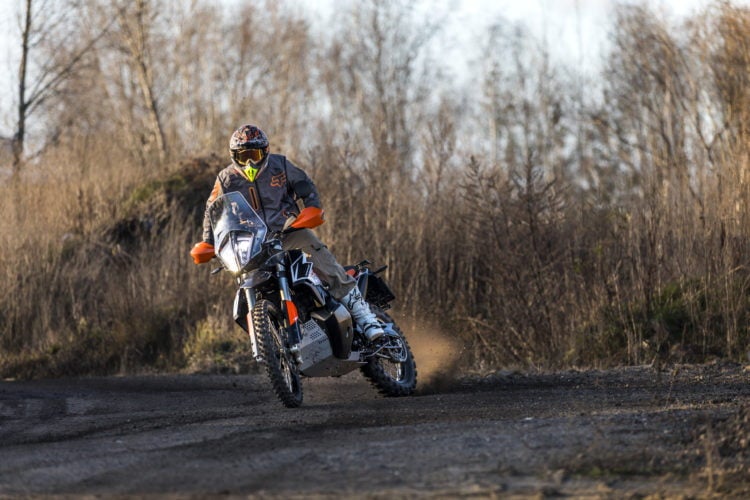 How many different unique products do you sell/ make?
Our goal is not quantity but functional and complete solutions. We have that for KTM 690 and Husqvarna 701, including the 2020 models.
We added parts for the KTM 790 and of course, cover the KTM EXC and Husqvarna FE line from 2017 up. Those products were improved based on the Dakar work we did this year.
Where is your product line designed and made?
Everything is made in Europe, specifically in the Czech Republic with few exceptions in Germany. In the US we have Tomas, who is helping us to understand the North American market, the type of riding and needs, communication, customer service expectations, etc.
We have US return address making it easier for customers to ship back to us, but we hope those are rare occasions. Our goal is for the customer who doesn't know or care where we shipped from or made the item. 100% satisfaction, quality, and experience, that's what is important to us.
We have anecdotal feedback that with our recent improvement we have delivered faster than US-based companies. And that's the way we like it!
How long does it take from an idea, to design, to prototype, to the final product on the shelf?
From the idea to the first prototype, which includes drawings, 3D scanning, programming the CNC may take 14 days.
But that is just the start – the part is mounted and we start improving, making other versions and modifications for a better fit.
In about 4 weeks we have a prototype that we can take out riding. After those tests, we improve other aspects, not visible when stationary and we finalize the design.
Next is mold making and the first batch in manufacturing. Verification on the bike, material quality, etc.
…And only after that volume production, taking stock and ability to ship. Start to end usually 4 -5 months. It starts with having the bike in our garage, ready and available.
Do you have any new products coming out for the 2020 bikes that are unique, interesting or that has been a challenge?
Worth mentioning is the new F4 fairing for Husqvarna 2020 that will fit previous years as well. (Unfortunately not as an upgrade for previous customers, even though we tried very hard, the mounting points are just very different.)
The EXC and FE kits are improved based on the Dakar experiences mentioned above and finally, we are planning new parts for the KTM 790 and also have a few other ideas for different brands
How do we find you on the internet?
On ADVrider our username is RADE/GARAGE
As mentioned above we are very active in the forums. We have threads in the Vendor section for each bike and even inmates initiated threads. Some of them are –
RADE/GARAGE kits and accessories for Husqvarna 701
Website – www.radegarage.com
Facebook – Rade/ Garage on FB
Instagram – Rade/Garage on IG
Do ADVrider and its inmates play a big part in your business, do you offer any kind of incentive or discount for inmates?
We would like to offer ADVrider inmates a 10% discount until April 30th.

They can use the discount code – ADVRIDERS-10