Have you ever watched adventure movies featuring motorcycles and it made you inspired to ride a certain area and thinking that they must have brought in some random film company to do the work?
Chances are the answer to that is no!
Inmate and ADVrider and filmmaker Sterling Noren might have had a hand in or been 'the man' who made that movie who enticed you to go and take that ride.
What is your inmate name?
When did you start riding?
I started riding when I was 8 years old. I got a little Honda 50 for my birthday and began exploring the blueberry farm where we lived in West Michigan.
Pretty soon I was taking off on longer rides – about 5 miles into the woods and trails around the area. I would pack a lunch in my backpack and head out on an adventure!
This is where it all started. I had a Yamaha 360 Enduro as a teenager and then my riding stopped until after college.
My mom was very adamant that I would not ride a street motorcycle as both my grandfather and father had been in motorcycle accidents and she felt they were too dangerous – surprising considering that she was so supportive in the beginning. But I guess I can understand – a little trail 50 in the woods is very different than a motorcycle on the street.
I didn't ride again until after college when I moved to Seattle. I lived without a vehicle during my first year in the big city, and then I purchased a 1972 BMW R50/5.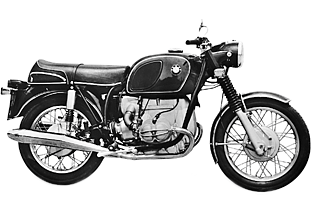 I quickly learned that I loved motorcycle riding more on the back roads of the northwest than in the city traffic, so I spent a few years touring on my vintage BMW.
By 1998 I was at a plateau in my riding when the BMW F650GS (The "Funduro") came out. I bought one of those and quickly realized that I loved the combination of being able to ride on the street and the dirt. It brought back a lot of memories and feelings of being a youngster on my early bikes as a kid.
I met Helge Pedersen in 1998, a Norwegian who was living in Seattle and making a name for himself in the nascent adventure motorcycling community. His ten-year ride around the world as a photographer was very inspiring to me. It planted a seed to see what I could do in a similar fashion with my video background.
I've been riding BMW GS motorcycles for 21 years. During that time I have only had 3 motorcycles – the 650GS, the 800GS and now the 1200GS Rally. I've used and abused each of them thoroughly over the years.
How and when did you get into adventure film making?
I learned how to shoot and edit videos when I was 16 years old. I had the good fortune of going to a high school with a media productions class.
We created a cable tv show and I learned the basic mechanics of filming and editing. Pretty soon, I realized that this was something I enjoyed doing and would like to pursue as a career, so I enrolled in a film and video production program at the local university and started there.
One of my first jobs after college was filming and editing a fishing show for television. That taught me a lot about filming in the outdoors under a variety of conditions. And it taught me a lot about creating a program from start to finish – I was the cameraman and the editor.
From there, I worked in the industry in a variety of roles, mostly as an editor, cameraman, and producer.
Eventually, I began making motorcycling movies in my free time and they kind of took off.
My first motorcycle film (Closer to the World, 1998) was about Helge Pedersen who had just returned from riding around the world for 10 years on a BMW.
I was interested in his story and how he managed to do a trip like that. I think he liked my seriousness and enthusiasm and we began working together on projects.
Our first big project (The Iceland Expedition, 2001) solidified our working relationship and he invited me on more trips with his new motorcycle touring company called GlobeRiders.
Where do you get your motivation from?
I'm very curious about the world we live in and have always wanted to see and experience as much of it as I could.
I love to travel and adventure and I love to tell stories about it. I've always been inspired by filmmakers like Bruce Brown (The Endless Summer) or Warren Miller (ski movies) because they seemed like down-to-earth people living adventurous lifestyles and making movies about it.
Today, a lot of that stuff is happening online and I get a lot of inspiration from other YouTube creators.
A lot has changed since I started doing this work and it's amazing what kinds of videos are being produced by ordinary people with little or no official background or training in film and video.
Sometimes I feel like the "old dog" who has to learn new tricks in order to keep up. I mean, I've been doing things a certain way for a long time and have been trying to expand my creative capabilities and take them to new levels. But in the end, it has always been about having a real adventure first and foremost – go for the experience!
How many films have you made to date?
Here is my filmography: All are clickable links to movies and trailers
Which film was the most memorable?
Actually, the most memorable film I have made was my only non-motorcycling project, something completely independent and life-changing for me.
It is the story of an American ultra-marathon runner named Micah True who went to live and run with the Tarahumara Indians in Mexico's Copper Canyon.
I met him while I was motorcycling there in 2009 and he invited me to film a 50-mile foot race that was taking place that weekend. He befriended me and showed me the race, which was his creation.
I told him that I would make a short film about it, and give it to him, so that he could use it to promote the race. His vision was to attract more international runners to come to Mexico and run with the Tarahumara Indians, a tribe of primitive stone-age people known to be some of the best runners in the world.
I returned to the canyons a few years later to see what had become of him and the race. By then, he was a kind of an international celebrity because of the book "Born to Run" which made him and the race famous.
Nonetheless, we spent three weeks together in 2012 with him showing me around the area and telling me part of his life story. And then tragically a month later he died while running – and I was left with the only footage of him and the story that he told me.
I crafted his legacy as the movie "Run Free – the True Story of Caballo Blanco" and I feel very good about it. It has screened around the world and now is on the Sundance Channel.
The whole experience was a very organic adventure, from the moment I met him until the film was finished.
This is not a motorcycling film, although it grew out of an initial encounter I had while motorcycling.
Which was film the most challenging?
There are a variety of challenges I've encountered along the way depending on the journey, each one different, some predictable and some unexpected.
The GlobeRiders films were challenging because I was basically documenting luxury adventure tours – and the challenge was to find the right balance between making the movie and letting the clients enjoy their ride. Different priorities I guess.
As a filmmaker, my main concern is getting enough of the right kinds of footage, and people who are basically paying a lot of money to be on vacation are not always interested in being filmed or interviewed as much as I would like.
Don't get me wrong, they are all great people and were very accommodating, but the conditions of an itinerary-based ride don't allow a lot of extra room for filmmaking along the way.
I knew that going into these projects and felt honored to participate, but the inability at times to do my job the way I wanted to was a challenge.
The BDR films are always challenging in a different way. They are challenging because BDR routes can be very difficult sometimes!
There are always some pretty hard technical sections, and we camp in the backcountry a lot. So a lot of preparation goes into these routes and you have to be prepared, as a rider and someone who knows how to live, camp and cook-off of a motorcycle.
Is there one particular road or track that stands out above all the rest?
I think that riding along the Silk Road in Asia stands out as being very memorable for me because of the history and cultures we encountered along the way.
Seven of the countries that we traveled through are Muslim countries and it was interesting to see these places first hand.
The country of Turkmenistan (which some call the North Korea of Central Asia), for example, stands out as being one of the most unusual places I have ever traveled.
The Expedition 65 project (65 days from Cartegena, Colombia to Ushuaia, Argentina) stand out as being one of the longest and most fulfilling adventures because of the immense terrain of the Andes that we traveled through.
The ride to the bottom of the world in South America is such a classic route and something I always wanted to do.
One of the toughest days of riding I've ever experienced was in Southern Chile. We spent the entire day battling 80+ mph winds on dirt roads. It was all I could do to keep my bike upright! It was thrilling and I was exhausted at the end of the day.
On a more personal note, I think my solo travels in Mexico were particularly special because I was alone – filming and riding all by myself.
I wanted to do that kind of thing for a long time and finally made it happen. A lot of people tell me that Riding Solo in Mexico is their favorite film I have made.
A dream location to ride to that you have yet to visit?
I've always wanted to ride through India and the Himalayas.
Scariest moment on your travels?
I've never published the footage I took of this occurrence, but this the scariest moment for me happened on the Oregon BDR a few years back.
I was riding at dusk through the woods and the next thing I know I am lying in the dirt with my bike in pieces. I crashed but didn't know what happened.
It was only when I was picking up the pieces that I noticed a spear of wood had pierced my pannier like a lance and caused me to crash.
It went completely through the metal and then broke off before ripping the pannier from my bike and causing me to crash. If it had been a few inches to the left it would have gone through my leg and I could have died on the trail.
As it was, I thought I might have injured my neck – I was having difficulty breathing and swallowing and so I went into the emergency room that night.
Everything turned out ok and I finished the ride. I still have all of the footage from that trip and plan on editing it into a movie, but it's not an official "BDR" project so it hasn't been a priority.
You have ridden quite a few of the BDR's during your film work, did you have a favorite, and have you returned to re-ride any without having to film or plan to?
I have ridden the Oregon BDR several times and parts of many of the other routes on several occasions. I live in Arizona and ride pieces of that route each year. I think that I really enjoyed the Idaho BDR a lot.
Even though it is one of the easier routes it is very long with a lot to see and do along the way including forest lookouts, hot springs, cool small towns, etc.
One of the things I have noticed is that I prefer to experience the little things along the way as much as the riding. I like seeing places, meeting people and having these kinds of travel experiences as much the actual riding.
It seems to me that a lot of adventure riders these days really like to experience the technical challenges of the BDR routes and push themselves on that level. I can do that, but I like to travel slowly and absorb things along the way.
Can you give some basic tips for other riders to make their films interesting for others to watch? 
 – If you see something that you think is interesting, unique or representative of your journey stop and film it right away. You might never have another chance. All too often I see things start to appear and think to myself "Oh, I should get a shot of that!" and then I don't stop to film right away, and these things disappear.
When the going gets tough – start filming! This takes a lot of practice and dedication, because when the going gets tough our natural instinct is to try and get through the situation as quickly as possible. We put all of our resources into surviving the ordeal, whatever it may be, and yet these moments, in particular, are often the most valuable because they are dramatic. For me, this has meant that I've had to become a very good rider because I need to get through the challenging sections without any problems so that I can have the ability to do the filming. In a difficult situation, I often have to go first, to get ahead of everyone else, to do the filming. If I am crashing or struggling then I can't do my job. I love the challenging sections because that's where the drama is, but it can't be dramatic for me at the same time. So I try to be a solid, non-dramatic rider with the ability to get the job done. When things get tough – get out the camera!
It's all in the editing. No matter how much footage you come back with, be prepared to spend weeks or months editing the footage in order to craft a truly memorable video.
If you plan on filming a ride you need to commit right from the start and see it through all of the way. You can't make a good movie if there are pieces of the story that are missing. Start filming interviews with the main characters even before the ride begins, and get their stories at every point along the way. You need to be continuous and dedicated about it – and it takes a lot of work.
Realize that making a film about your journey will change everything about the journey. You will no longer be just enjoying the ride, but will feel the pressure to get shots and stories and interviews along the way. This changes everything!
Communicate very clearly your intentions in regard to filing with all of your riding partners right at the start. If you are going to be filming the ride with a group, you will need to reach an agreement on what this means, because it will change everything. If the rest of the group just wants to enjoy the ride and you are always stopping and filming or asking them to participate in the filming they might not feel so good about it.
On the other hand, if you are riding with the right people and these intentions are there from the beginning you could have a great time – and a great video.
Your newest short film series "Riding The Wall" is a very hot topic right now, how did the idea come about?
I've ridden bits and pieces of the US/Mexico border wall over the years and when I recently moved to Arizona I began thinking about it more and more.
How far does it go? Could I ride the length of it? Who lives there and what would I see? Then I realized that 2019 would be the ten year anniversary of my film Beyond the Border – Riding Solo in Mexico (2009) and I thought it would make a good project so I decided to do it.
Of course, the timing was interesting with all of the focus on the border wall right now, and so it seemed like a good idea to have a closer look at this part of the country.
I wanted to see it and experience it myself from a first-hand perspective and bring my viewers along for the ride.
Any challenges doing that ride that were unexpected?
Actually, it was quite the opposite. It was a lot easier than I thought to find the right roads and get close to the wall.
A lot of the area is pretty remote and unpopulated so you can pretty much ride right up to the wall and have a look.
The U.S. Border Patrol was never a problem and I was able to ride from San Diego, CA back to my home in Bisbee, AZ, which is about 1/3 of the total distance.
The biggest challenge is the Camino del Diablo which is a restricted area in Southern Arizona that is very remote. You have to go to a website and watch a video about all of the dangers (unexploded ordinance, dehydration, drug smuggling, etc) before you can get a permit to cross through it. And then you have to fill out a liability waiver from the government saying it's not their fault if you die.
It's about 160 miles of barren desert with no food or gas or services whatsoever. You have to be prepared. Although it is not very technical (about 50 miles of semi-deep sand riding) I think that it is one of the most severe adventure routes in the USA.
Currently, there are six episodes, when do you plan to release more and how many more do you expect to make?
I'm not sure. I would like to continue the journey east through New Mexico and Texas to the Gulf of Mexico but it is pretty hot over there right now in the summer. Perhaps this winter I will return and finish the project. I appreciate all of the viewers and new subscribers who have tuned in along the way.
On a side note – one of the reasons I did the project was because I wanted to create something special for my YouTube channel. Most of the projects I have done in the past have been these long documentaries and I wanted to be able to make something shorter and see what would happen.
I really think that YouTube is where it is at now in terms of viewership and the opportunities in that realm are pretty amazing. It's very exciting and challenging for me to embrace that platform but I have done things the old-school way for so long and everything is different now.
I feel like I need to re-think my methods of production and content creation to keep up with the way things are done now. I'd really like to "open up" my channel and show other things too.
Motorcycling is a big part of my life but just a part of it. I'd like to start sharing stories about the other adventures in my life, including the amazing town that I live in, and the vintage motel that I purchased and run with my incredible girlfriend.
I'm interested in what my audience thinks of this. Would that be a good thing? If you have any thought on this, please go to my YouTube channel and leave a suggestion. Thanks!
Anything else in the works you can tell us about and the best way to find you?
The biggest thing going on in my life right now is that I moved from Seattle, WA (my home since 1993) to Bisbee, Arizona. My girlfriend and I bought a vintage motel (The Jonquil Motel) and we are creating something special for our motorcycling friends – a place to visit and see our part of the world.
Bisbee is a small historic mining town in the Mule Mountains of southern Arizona, about 10 miles from Mexico. Because of its elevation (it's the southernmost mile-high city in the USA), the climate is amazing – about 15 degrees cooler than Tucson or Phoenix.
The mines closed in the 1970s and now it is a funky artsy tourist town. There are a lot of amazing buildings here from the mining era and a resident population of about 5,000 people.
It has everything I want from a big city like good food, music, and art – without any of the big city problems.
There are no traffic jams. The cost of living is relatively low. The riding is enjoyable. I like the slow pace of life. It's very conducive to being a creative artist and I feel a little removed from the rest of the world but in a good way. Come visit us!
all images, movies, and links provided by and property of Sterling Noren