Trail Tech is a company that has always seemed to be here, but like so many companies in this genre of motorcycling it had very small beginnings
Tell us about your company, what were your humble beginnings?
Trail Tech was founded in 2001 by an HP mechanical engineer, Geoff Wotton, who was passionate about riding motorcycles, more specifically KTM off-road motorcycles.
He spent most of his free time riding single track here in the Pacific Northwest. He began designing & manufacturing a variety of motorcycle and ATV accessories from home, and before he knew it, Trail Tech was born.
He quit his HP day job and invested his money and time growing the Trail Tech brand. We now manufacture parts for several OEM's, while supporting a full aftermarket product line.
What was your first product, and do you still make it/ sell it or something like it?
Trail Tech launched a simple speed/trip meter called the Endurance back in 2001. The Endurance was designed for easy installation on vehicles that didn't include a speedometer from the factory (MX bikes and sport quads).
Trail Tech has since updated the mechanical design, and improved functionality and durability.
Nearly 19 years later and the Endurance II speedometer remains one of our best-selling products!
How do you test your products before offering them for sale, any unique methods?
We have a team of engineers who are passionate about this industry. They spend countless hours out in the field testing and tweaking designs before we ever go to market.
We also lean on several industry friends who are always happy to lend a hand when it comes to testing new technology.
Where do you get your inspiration, your thoughts, and ideas, do you accept suggestions from customers/ friends?
Just like it all started back in 2001, we rely heavily on consumer feedback and real-life experience when developing new products.
The trick is finding problems our consumers have and solving them with a new solution. This has always been the key to success for Trail Tech.
Do you have a product in your line that you feel is genius, but the public doesn't buy too many of but you feel they should, could you highlight that?
We offer a variety of small digital gauges that we call our TTO line. They come in a variety of colors and display either tach/hour, temperature, or battery voltage depending on the version you select.
We sell thousands of the temp and tach/hour meters, but don't sell many voltmeters.
If you have ever been stuck on the trail with a dead battery, or like to ride with your fan, lights, grip heaters, phone charging, etc., then you know how important it is to keep an eye on battery levels.
The retail price is under $50, and it takes less than 5 minutes to install.
How many different unique products do you sell/ make?
We offer 500+ part numbers covering 10 product lines, ranging from GPS systems, digital gauges, radiator fan kits, radiator guards, kickstands, and other electrical accessories.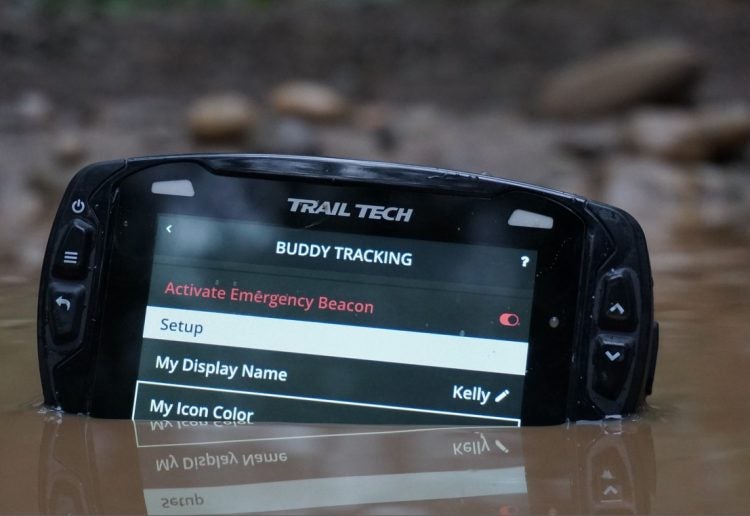 Which product is your best seller?
The Vapor speedometer/tachometer has been our #1 selling product historically, but the radiator fan kits have moved to the top of the list the past few years.
The built-in TTO gauge shows coolant temperature, allowing you to program exactly when the fan kicks on, keeping you on the trail or road, depending on where you ride. There's nothing on the market like it!
Are any/all your products made in house?
We purchase components from outside vendors, but do all assembly and testing of our products at our facility in Battle Ground, WA USA.
How long does it take from an idea, to design, to prototype, to the final product on the shelf?
This can be a long process for our team due to the complexity of our technology. The typical time is 6 to 24 months from concept to launch, depending on the complexity of the product.
Could you say that all or a large part of your product line is U.S. made?
We do all final assembly and testing in the USA. This may change in the future, but it's been core to our business success.
If you ride predominantly offroad the new Voyager Pro is a great unit to use, especially if you aren't a solo rider, not only does it have offroad navigation but also a way to track your riding buddies so you don't have to eat dust.
Do ADVrider and its inmates play a big part in your business, do you offer any kind of incentive or discount for inmates?
As the manufacturer, we must follow our own MAP policy, and therefore do not advertise any discounts online or in print. We do run some specials throughout the year at shows and through our dealers, especially during the holiday season.
If you want to read more about Trail Tech in the forum they recently did a build thread on a KTM 500exc in 'Thumpers – Trail Tech "Rally" KTM 500 build
If you have any direct questions for them about a product you can do it through the forum and the user name is TThelper
or
On their contact page via their website
All images and video – Trail Tech