Wolfman Luggage has been around for years, one of the best-known names in Dual Sport and Adventure Luggage, the backstory is very interesting if you've never heard it first hand from Eric.
Tell us about Wolfman, what were your humble beginnings?
I have a Degree in Apparel Production from Colorado State University. I never liked making clothing.
Backpacks, and bags were more my style. I started Wolfman in the mountains near Nederland Colorado. We had a two-bedroom house at the time and I used the spare Bedroom.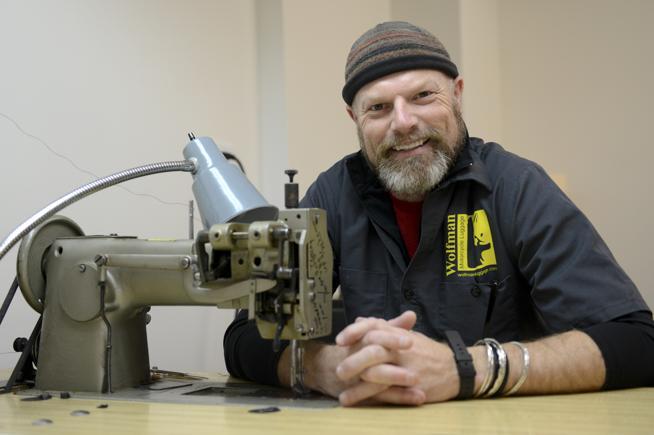 How long have you been in business?
In 2020 Wolfman will be 27 years old, at which point I will have owned Wolfman for half of my life. (For the record, there was no Internet when I started Wolfman, hard to believe.)
I have been told by someone that I was making Dual Sport Luggage before Dual Sport was cool.
The Grandfather of Adventure Luggage.
Why do you make parts for motorcycles, what inspired the passion?
I love making things. I love Sewing. I love motorcycles. An easy match.
Can you give us a basic shop tour? 
This is hard to do now.  We have changed the Wolfman business model to be a remote Business. (We copied this Business model from Kurt and Martha forget of Black Dog Cycle Works). I have a Design Studio in our Basement in our house in Colorado. We manufacture and use Fulfillment centers in the US and Asia to store and ship our products anywhere in the world.  It is best to see all that goes on via the following:
What was your first product, and do you still make it/ sell it or something like it?
The first product I ever made was a Fanny pack to carry books. I still use the design today for personal use. The first Motorcycle product was a tank bag that converted into a Full-size Fanny Pack. We have not made that is 15 years or so. It was way ahead of its time.
How do you test your products before offering them for sale, any unique methods?
Firstly, since I have an extensive background in sewing and RF welding.
All products begin with patterns. I am a classically trained pattern maker. All of the Wolfman Patterns are made by hand. I like patterns rather than just cutting out fabric and hoping that it all will fit together.
I sew the sample, making sure all the pieces fit the webbing and zipper, etc. Then test it. Check the fit on multiple bikes. Check mounting etc. Then use it. Go and ride, beat it up, break it. Then review the bag, and make it better.
Once the initial test is complete, I will ask a friend or one of our Ambassadors to use the product. I'll get their feedback if applicable and improve the product. Then move the product into production.
I personally like simple products and make them as durable as possible for years of use. I have figured out the "Special Sauce" of putting together a durable product. This philosophy of quality build first has served us very well.
I also worked with all of our manufactures instilling this concept into their manufacturing.
Where do you get your inspiration, your thoughts, and ideas, do you accept suggestions from customers/ friends?
I get inspiration from everywhere; I can look at a lady's handbag and see some new technique of how a zipper was set. I look at the outdoor industry often.
Great designs and concepts are never static and should be built upon. I feel I have created a great foundation of products for Wolfman and I build on that. Subtle improvements along the way without changing the core of the product.
I have used suggestions from customers and riders. In the early days, there was no one really doing adventure luggage, we were making some of it up as we went along. We took suggestions from riders. There is a good and bad to this sometimes the person who made the suggestion wants ownership….
Do you have a product in your line that you feel is genius, but the public doesn't buy too many of but you feel they should, could you highlight that? 
My at the moment all-time favorite luggage is the UnRack System, especially the 2020 Series. The UnRack system does not need side racks, in fact, it works best without them.
It also gives a dirt bike a complete bag carrying system. I made the foundation of this series with the Rolie Saddlebag Mount in 2010. Yes, in 2010.
I was working on a saddle bag project, we wanted to Add Color to the saddlebags and my son said you should make a 303 Rolie into a saddlebag…. I told him I did that years ago and showed him a Rolie Saddlebag Mount.
He said, "make this work." So, I did. The first E and B Bases had over 30 sewing operations so they are very labor-intensive. For 2020 I went in a much simpler and more stable direction.
The Versatility of the UnRack System is amazing. Since it is completely customizable for your riding needs. Most of us do day rides, so I can add 3 small rolie bags for a day ride. I can also add up to 6 liters of fuel to the bases. Using the 2020 Large Rolies I can get an easy 60 liters for the B-Base.
The customers who have the current system have really enjoyed the versatility, ease of use and stability.
You are one of the first major sellers of soft luggage, how have adapted to the challenges of constant release of new models, does this affect you too much or are most of your product reasonably universal?
Making Universal Luggage is way more difficult than bike specific. When I built the luggage for Buell Motorcycles in the early days, the luggage was easy as I only had to focus on a single bike all the mounting points, etc.
With Universal Luggage you must be very creative on fit, mounting, and design. You are making a tank bag fit 20 motorcycles, not just one. We have set the stage for most current luggage on the market with our designs and products.
Has the development of new technology changed the way you can produce your products?
Absolutely, sewing is a very basic method to join materials. It is easy and can be very durable if done correctly.
RF Welding (Radio Frequency) welding is a method of joining compatible materials together with radio waves at a molecular level. The radio waves excite the molecules of each material and they intermingle and bond. It is very strong and waterproof.
The RF machines are very big much larger than a sewing machine and require special tooling.
Each design has its own tooling so the capital upfront cost is high. Also, you better like your design or it will cost you. Also, we now have access to laser fabric cutters, we are not die cutting any more it is done by laser. It is so cool to see the machines in this process.
You have recently made a big change to your product line, can you explain this, and why it happened?
Is this Waterproof? Is the first question we get asked.
In the past, no. For 2020 yes.
I hate rain covers; I could never make them fit correctly. So, I needed to make a change to our business as we could not get enough products from our US manufacturers.
We even had to create in-house sewing production for the last 4 years. I wanted to make everything waterproof.
We sourced an RF Welding company out of China. I began the journey on January 7th, 2019 redesigning the entire line. I lived in China for most of April 2019, setting up production.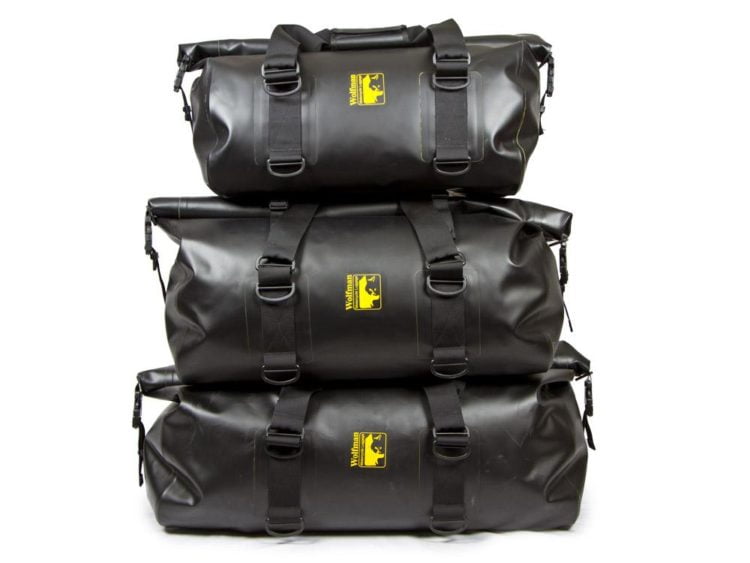 I spent the summer testing and checking the bags. My son and I returned in late July to finalize the line.
How many different unique products do you sell/ make?
I condensed the line for 2020. I looked at our line and strategically chose what would stay and go. The Current 2020 line has 18 Core products, 6 replacement part kits, and a few carry over items.
Which product is your best seller? 
Our Tank Bags, Tail Bags, and Saddles are our bread and butter. All universal fit for adventure bikes.
Could you say that all or a large part of your product line is US-designed /made?
I do all the design in my basement studio in Longmont, Colorado. The manufacturing is done in China. We chose China not for cost reasons, but the manufacturing they offer. The fabric we are using, I have it custom made. It is one of the most expensive fabrics I have ever used.
How long does it take from an idea, to design, to prototype, to the final product on the shelf?
Well, I designed and introduced 18 items in about 8 months. This is a huge undertaking. Our first production run was completed a few weeks ago. With RF Welding, it takes about 90 days to get one simple product done.
Do you have any new products coming out for the 2020 bikes that are unique, interesting or that has been a challenge?
I used all of our sewn products as the base for the 2020 line. So, all of it will be unique and now waterproof.
Do ADVrider and its inmates play a big part in your business, do you offer any kind of incentive or discount for inmates? (what is your user name and main vendor thread link)
I am a relatively private person, so I am learning to be much more involved in our "World of Wolfman" Vendor Thread. My user name is Wolfmanluggage.
I just want to thank all the riders who have supported Wolfman all these years.  I hope to all of you who have let Wolfman carry your life, you have gone places you would have never gone, and you have gained experiences you never would have.
All with the joy of motorcycle travel. We hope you will take us along on your next adventure where ever that may be.
Woof!e
Our website: www.wolfmanluggage.com
Facebook page: Wolfman Luggage
Instagram: wolfmanluggage
ADVrider: Vendor Forum: The World of Wolfman
all images Wolman Luggage