Michael aka: Maikel65535 like so many riders who were on the road was stopped in his tracks by COVID-19 causing travel restrictions and border closures. I got a chance to chat with him about this and the many adventurers he's ridden in the past
I know COVID-19 stopped you in your tracks, where were you supposed to riding right now?
That's true. I just started my next big journey "Mush to Africa" which now can't happen like planned.  I will not give up on it, follow the ride report, and stay tuned.
The rough idea was to ride south from Egpyt via Sudan, Ethiopia, Kenya, Tanzania to Zambia.
A thing I haven't published anywhere was that I was in contact with the local Riders for Health Team. I wanted to ride with them for a week or two. The idea was to do some documentation of their work to actually help them to create more donations for their awesome project.
Actually that was the major thing my heart was beating for on that trip. It also was the one thing that finally made my decision to skip South America and ride Africa instead.
After Zambia, the plans were very open. Namibia and South Africa would have been the final destinations to transport the bike home.
What is your current bike?
At the moment I just own a single vehicle and that's a Husqvarna 701 Enduro from 2019. The most obvious modification is the Aurora Super 701 Tank Kit. There are many more modifications you can check them out in the Bike Build posts on our Website.
Is owning a primarily off-road bike in Germany rare, riding dirt there is a little difficult can you explain why this is? 
It is, when you look at the German 701 Facebook group you feel really weird among all the SuperMoto guys.
The law situation depends a lot on the German State you are in, but in general, driving on the unpaved ground is nearly illegal everywhere.
Firstly, Germany is small and nearly every single house in the country is accessible via a paved road. Backcountry roads like they are used for the American BDR, TAT or the Canadian TCAT simply don't exist they are paved.
What is left, is mostly dual track for farming and forest service.
The forest protection law in my state says: All roads that don't have a continuous surface of at least 3m wide are prohibited for all vehicles…no joke!
That includes even bicycles but they are at least tolerated. So all offroading here happens secretly because in it's best-case, is tolerated. Therefore a dual-sport bike like a 701 doesn't make much sense because all you can do legally is ride closed tracks that are made for smaller dirtbikes.
When did you get into riding adventure bikes, and why?
2012 was a turning point in my motorcycle career. On my favorite route, I ended up twice in the grass because I simply was driving faster and faster every time I rode it. That approach to motorcycling was clearly wrong from that point on.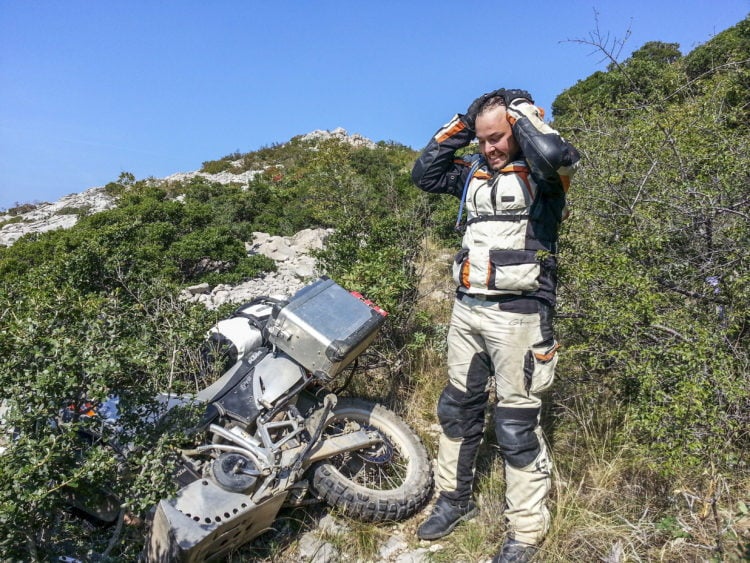 My team leader at work made me curious telling me stories about gravel roads in the Alps and so I bought my first "Motorrad Abenteuer" Magazine (most famous German Magazine about Motorcycle Adventures).
It didn't take long until I found inspiration with an article about Iceland and realized I want to try that. So I bought a KTM 640 Enduro, booked a training session, and started to plan my first long ride.
Where was your first 'adventure ride'?
Crossing Iceland, through rivers, and deserts scared me at that point, so I decided for something easier first.
The plan was, take a ferry to Greece and drive home via Albania, Montenegro, Croatia, Slovenia, and Austria.
I was looking for riding buddies via the internet and we finally started with a group of 3 and none of us had any experience or idea what to expect.
This obviously excited you to go on more trips, can you highlight some of your travels?
A quick overview you can have a look at the "Lines Map" where most tracks are published and existing reports are linked.
(***click this link go to an interactive version)
My personal highlights are a difficult topic.
Every journey I made had it's unique challenges and beauties. My skill and experience level was improving through all of them and the challenge of yesterday turned into a piece of cake on the next one.
"Murphys Silkroad" the one I learned most started already, with a delayed passport and a missed flight. 2 dangerous accidents and several minor issues later I was stuck in Kazakhstan with a broken Engine.
I hitchhiked with the bike more than 1000kms, rebuild the engine just to see it fail a second time. I finished without the bike, but couldn't really enjoy the remaining countries Uzbekistan and Iran.
Home again a car crashed into me because the driver was not obeying simple road rules, the crash was into my second bike and it was totaled. Two months later I got the info that the guy where I parked my bike in Kazakhstan, sold it in parts! This was luckily the last bad thing for 2017. One year 2 bikes lost, nothing I want to repeat."
In the end, I was happy to be alive and unharmed, but I found myself in the deepest depression of my life.
The thing that helped me from going insane was the kindness of strangers I experienced along the way. In such a short time so many people helped me out, welcomed me without any expectations, it was just amazing.
As examples Nurlan and his family who picked me up on the road or my Kirgiz truck drivers, I was stuck with for 2 days because one of their trucks broke.
Through that journey I lost all my remaining fears, my always thinking head, calmed and I can totally relax in a desperate situation because I know something good is going to happen. It would have been nice to learn that differently, but I'm afraid sometimes you need to learn that the hard way.
I also had many positive and scenic highlights during my travels through Europe, Russia, Egypt, Morocco, Central, and North America but nothing was comparable to that.
It was the situation that made this so unique, not the place. It could have happened anywhere you go, I never visited a country where I haven't met amazing people. It was always the challenges, the hard days that made the best memories. It's the experience of how you managed them, this feeling of success, that's why you look back to them as my favorite memories.
Where would you consider the toughest area you've ridden?
The most challenging was definitely Iceland and Siberia.
I'll never forget crossing the highlands. Razorblade sharp lava stones, several big rivers with strong current, sand, and because this is not enough we had fresh snow.
A couple of days later our route was covered with Ash from the eruption of Bárðarbunga Volcano which made it even more adventurous.
Siberia was luckily not cold in Summer when I followed the western BAM Road. To my confusion, it wasn't the off-roading that really challenges you there.
The challenge was continuity, being wet and dirty for at least a week doesn't sound too bad.
Riding on or next to a railway that is in use every day was it for me. I will never forget the railway bridge where I spotted the train coming towards me.
In the last few meters before I escaped into safety. I could see the train operator filming me with his cellphone.
I can't blame him for that, but definitely one of the reasons why you never see me gasping.
I have to admit that we had extremely high water. Most BAM riders won't be riding right next to the railroad as much as we were.
My buddy Kai rode the BAM again the next year and said it was far less time on the rails.
Are there any areas you look forward to returning to, or are you always looking for new adventurers?
In the past, I rarely returned to places, but getting older and realizing that the life I prefer, will not allow me to explore the whole world lets me more and more think about my priorities.
The top of the bucket list is definitely Kazakhstan. Mostly to see some of the people again, that helped me in 2017 and bring some presents to show my appreciation for what they have done for me.
There are also some legendary routes left to ride in Siberia and the USA. We'll see after Africa what attracts me the most.
Where is your favorite country to ride and why, and which other two round out your top three?
The top country is Albania for me to ride. It has awesome possibilities for trails and it's not crazy expensive to travel and get there from Germany. The landscape is just stunning and the people are extremely welcoming.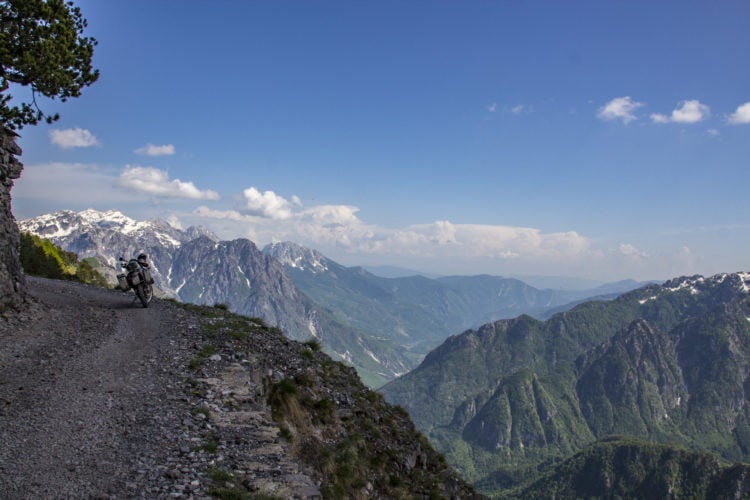 The next two are more difficult. Russia is definitely among them because it just crazy big and feels so unique harsh and wild.
The last must be something with a desert and dunes I'm afraid it will be Namibia but don't know it for sure yet.
A dream location to ride to that you have yet to visit?
That's definitely Africa. That continent has so many locations that seem to be awesome places to ride and travel that I have to visit it.
Scariest moment on your travels?
The already mentioned moment in Siberia was one but there was another one in Canada. A dead tree was hanging into the trail I was riding. It somehow threaded between my throttle and the handguards and turned the handlebar around.
Luckily because of that, it broke quickly after it hit me in my belly. Otherwise, it could have easily pierced me. I was lying on the ground for at least 5 minutes trying to catch my breath again.
The next paved road was 150km away, and the nearest hospital 500km. I was thinking about hitting the SOS button on my InReach because the straight line to the hospital was just 150km away.
It wasn't unlikely that I could have torn my liver through that, but if I had I would have died on that day anyway. I decided to ride on, but trust me, every kilometer felt like ten!
You'll actually find that moment in this video, it happened at 07:59, but watch it all if you want to see some offroad riding in Eastern Canada
Most memorable day?
Actually that wasn't during travel, it was more when talking about travel.
I gave a presentation in my village and it was the first time my parents had seen me doing that. Many people in the audience knew whose son I was and addressed a lot of positive feedback to them as well.
It made them proud and helped them a lot to understand why I'm doing what I do. It was one of the best days that confirmed to me, my life is going exactly the way it's supposed to be.
Do you have a dream bike, if you had an unlimited budget?
That's an easy one I would try a Husqvarna FR 450 Rally.
But even with an unlimited budget, I can imagine that I would fall back to a new Husqvarna 701 LR because it's more convenient for traveling.
Do you think more people should travel and why?
No, I just think more people should be brave enough to follow their hearts.
Especially where people are wealthy enough and free to travel, they are in my opinion responsible to realize their dreams. In so many countries people simply can't, so stop using excuses!
If you dreamed of your own business, then do it, if you always wanted to own a house, buy it, if you love your partner and love kids, you've found your family.
No matter how hard it is and how often you fail as long you live your dream, your life will always be happier than if you just follow the crowd.
If you don't know what you are dreaming about like me, start with something that might work. You still can take a step left, right, or reverse if it was wrong. It's not the dream itself that makes you happy, it's the way of fulfilling it.
I'm at the moment happy to support my friend Oliver's dream of a school project called "Adventure Happiness" to find out more check out this short introduction:
Top 3 tips for a new rider?
First start small, and make your adventures bigger, step by step. It's not impossible to directly start with long-term travel, but it will be more enjoyable if you can figure out your lessons learned at home and prepare in a familiar environment for the next one.
Second; a smaller bike is bigger fun. The big bikes make the transits more bearable which aren't fun anyway. The small bikes make the small windy road or the dual-track so much more fun and that what you want to ride isn't it? Last but not least it's safer. A heavy bike has so much more impact energy and will more likely break your bones if things go wrong.
Third, don't think too much, just start and all will be fine. If you don't start you will never find out that this is true.
When you aren't riding what do you do for a job?
I'm a test engineer and develop gearboxes for commercial vehicles. The balance between this bourgeois job and my life on two wheels is what I love. Right now I can't imagine doing just the one thing, but I would love to move more time towards life on two wheels.
What does the word 'adventure' mean to you?
It's an inflationary used word that I don't like.
Even guided tours on paved roads are promoted as adventure nowadays.  It seems like everything that doesn't mean – I go to work – today is an Adventure.
People started now to use the word expedition to differentiate from adventures. I actually don't understand that you need to rate what you are doing. If what you are doing deserves respect you get it. If not, it will not help to use fancy words.
What are some of your favorite photos from all your travels?
All pictures so far have been old travels so let's focus on my favorites of last year.
Baja California: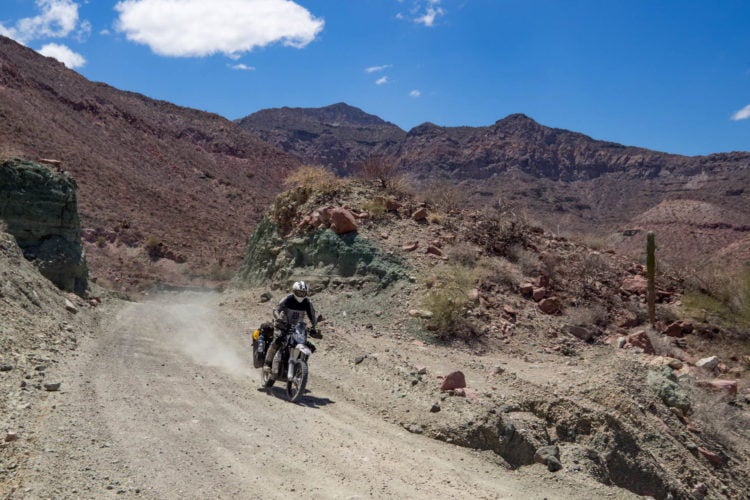 Camping in Wyoming with my new American buddy Greg
Camping in Tennesee, with an amazing sundown and my buddy Oliver, who surprised me with an ice-cold beer.
Short Rideout with Luis in Costa Rica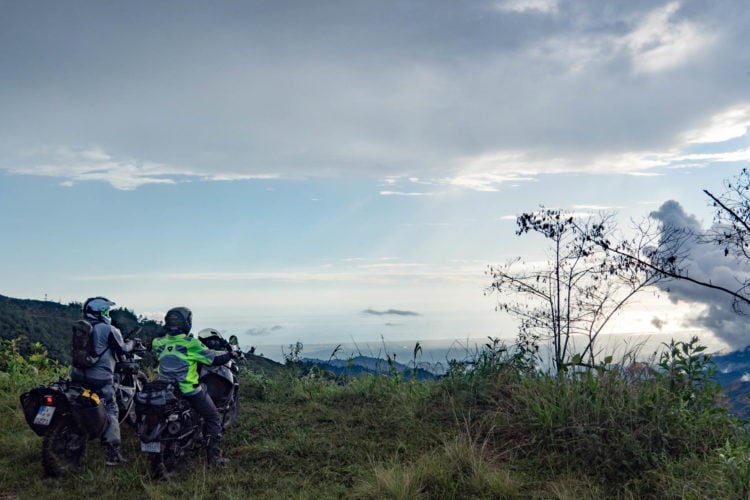 Any countries you regret going to?
Egpyt to a certain extent, the country is beautiful with amazing history, but I struggle with the people. It feels like every single person that just greets you expects money from you.
When it comes to business, nearly all of them try to rip you off as good as they can. It's extremely difficult to differentiate if a person is honestly happy to see you and just want to chat or help.
There are nice people in-between and I love to think back to my times in Egypt especially with some local motorcyclists, and these guys helped me love Egypt in a different way, and made the country great again.
+++++++++++++++++++++++
You can find more about Michael and Lines on Maps with the following social links
Website – www.Linesonmaps.com
Instagram – linesonmapsblog
Facebook – Lines on Maps
YouTube – Lines on Maps
Images – Maikel65535 and Husqvarna