If you count yourself as a fan of Supercross, then NBC has good news for you in the United States.  NBC Sports Group (NBC) and Feld Motorsports (Supercross' producer) jointly announced that they have signed an exclusive multi-year media deal which will make NBC Sports Group the home of Monster Energy Supercross (and Monster Jam trucks if you are so inclined).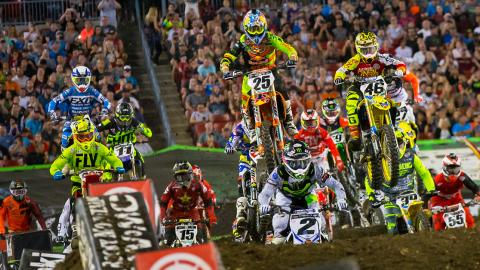 Several of NBC's properties will broadcast the action.  NBC, NBCSN and NBCSports.com will handle the duties for the 2019 season.  Coverage will include all of the Supercross Heats, Last Chance Qualifiers, and Main Events.
NBC will also offer enhanced coverage via NBC Sports Gold.  For $74.99 fans can get a "Supercross Pass".  The pass will provide coverage of all Supercross Qualifiers and races live without commercial interruption.  It also gives subscribers full "on demand" replays.
Vicki Silver, Chief Marketing Officer for Feld Entertainment said:
"With the rise in attendance and viewership of our Supercross and Monster Jam properties, moving to The Home of Motorsports with NBC Sports Group for our media coverage is a natural fit.  More than 70 percent of our fan base is from the millennial age group, and with NBC Sports Gold and our new partnership, we will offer viewing flexibility and exclusive content to Supercross fans.
NBC Sports will begin its 2019 coverage on Saturday, January 5, 2019, bringing live coverage from Angel Stadium of Anaheim.  It will be the first of 15 consecutive weeks of coverage.