Ever since I chased the Dakar, I've been bitten by the rally bug. I tried to ignore it at first: when Nathan Rafferty, a US Dakar privateer, said to me, "why don't you try a rally yourself? You know, a smaller, entry level one?", – I paused, but brushed the thought aside. When the Dakar was over and I stayed in Lima trying to decide where to ride next, I got a message from Gee Motzkin, a Dakar rookie who had chased the rally on his bike last year and raced it this year, saying "you should check out the Sonora rally in Mexico, or Serres rally in Greece, I think they have an ADV class", – I googled both rallies, but chickened out when I got to the registration pages.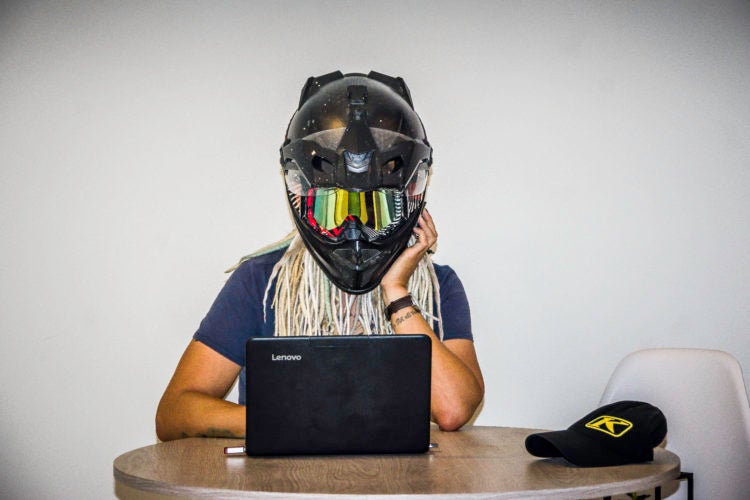 To Rally Or Not to Rally
But the universe was clearly trying to tell me something: I learned that a friend of mine was shipping a container full of bikes from Valparaiso, Chile, to Poland, Europe, and as luck would have it, there was one spot left. And just about then, I read a blog post written by Tim Hewitt (calling himself the Dirt Bike Jesus, ever so modestly) about racing his first rally and coming from adventure riding background with no previous enduro or motocross experience.
Wanting to find out more, I talked to Tim about his experience, then called Meletis Stamatis, organizer of the Hellas Rally in Greece – the biggest of the kind in Europe. "Why don't you come and race in the Hellas Lite class? You won't get a trophy, but you'll get a good taste of what rally is all about", – Meletis invited me.
That was it. I now had a way to get my bike from South America to Europe, a vague idea of what racing in a cross-country navigation rally would mean, and an invitation to Hellas Rally in Greece.
What I did not have, on the other hand, was all sorts of fancy stuff like a navigation tower, a clue about roadbooks, enduro gear, enduro experience, or a flashy Husqvarna 701 or some similar awesomeness. Still, I thought I could get away with riding my DR650, and the rest, well – I'd figure it out as I went along.
Motocross Training in the Snow
As I'm waiting for Lucy the Bike to arrive from Chile, I decided I could use this time to try and understand roadbook navigation and get some training. Winter still lingers in Lithuania, with temperatures below zero and snow and ice covering the ground, but May – my deadline for Hellas – is approaching soon, and I've got no time to waste.
Using friends' recommendations, I found motocross coach Mykolas based near Vilnius.
Mykolas isn't into rallies; instead, he does the impossible at races like the Erzberg Rodeo and Red Bull Romaniacs, defeating gravity and redefining human endurance. Waiting for the snow to melt and my bike to arrive, I figured I could use some help from Mykolas and get some motocross training – after all, it's all about balance and stamina, and I still lack both.
I met Mykolas at the track, a large area in the woods near Vilnius. Some of the tracks ran up and down steep hills still covered in ice and snow, while other formed little "waves" for jumps. Mykolas had also prepared a couple of log hurdles.
My steed for the day was a Suzuki 125, an incredibly light but feisty little bike which proved to be more than enough for me. At first, Mykolas asked me to ride a few laps on the track standing on the pegs to warm up. It was weird at the beginning, as I'm used to riding my trusty, steady beast of burden, the DR650. When a Peruvian Dakar rider, Sebastian Cavallero, invited me for a ride on the trails back in Arequipa, I got used to his KTM350 fairly quickly. The Suzuki 125 just felt suspiciously light and springy.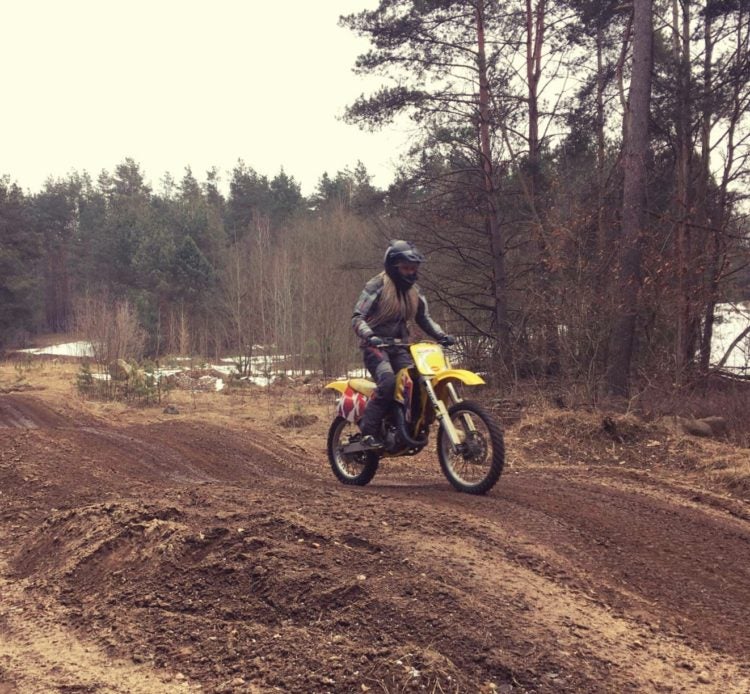 After a few laps, Mykolas had some feedback for me. "You're standing on your toes, by the looks of it, and that will tire your muscles and tendons out very quickly. During the rally, you'll be standing on the pegs all day long, so you need to make sure your position is right or else you'll be out before you begin".
Shifting my position and standing on the balls of my feet, I did a few figures of eight in the soft earth. It was still covered in snow in patches. I rode as slowly as I could at first, my brain going,  SLIPPERY!! SOFT!! SNOW!!! UNSPEAKABLE INJURIES AWAIT!!! But the little Suzuki eagerly dug into the track and carried me forward, showing no signs of slipping, getting bogged down or tipping over. This was so different from anything I'd ridden before. My confidence grew with each lap.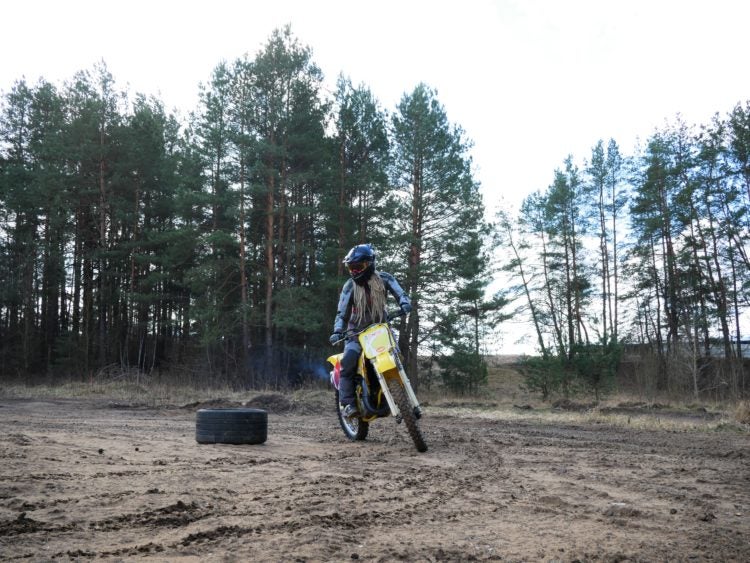 "Now, let's work on your balance. You need to really engage your abs and back, and don't ever hold on to the handlebars because you'll wear yourself out fast. Do the same figure of eight now but put one hand behind your back".
Oh great, one hand behind my back – I was feeling so smug about not falling over on the soft ground and snow, and now this?..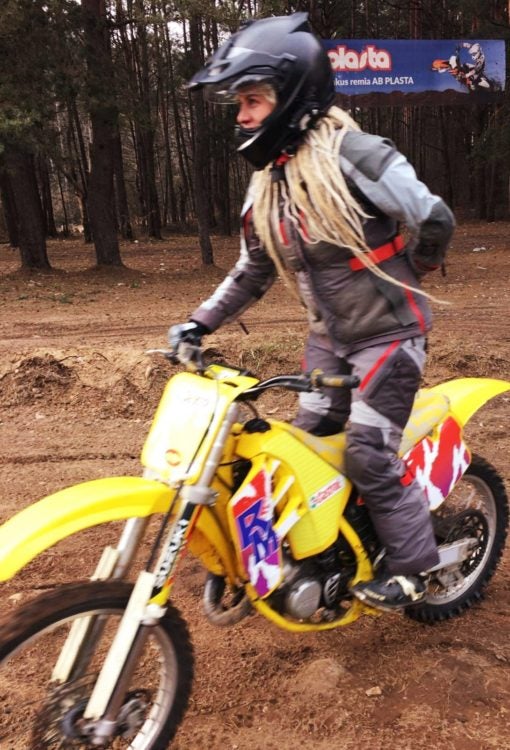 But it wasn't as scary as I imagined. I bimbled along the tracks as slowly as I could, trying to steer the bike with my knees and by shifting my weight, and the bike obliged. Next, I had to fix my throttle control – I'd jerk forward, then roll almost to a stop, then jerk forward again instead of riding in a steady, smooth speed.
Finally, it was time to do the same over the little "waves" – a series of tiny hills designed for jumps and balance training.
"Same principle: look where you're going, steady throttle, steer with your weight and body position and forget the handlebars. Off you go!", – Mykolas said.
Holy smokes. I'd had some off-road training back in New Mexico and Colorado with Dusty Wessels, and it had helped me tremendously. But now, riding this cheeky little motocross bike on soft ground, over these weird "waves", one-handed – this was something I'd never done before, and I prayed to the imaginary gods of motocross I'd make it.
Oddly enough, I did – and had stupid fun in the process. After a few extra slowly attempts, I felt I had this, and as I rolled over the "waves" over and over again, I suddenly felt like everything was going to be OK – better than OK, in fact, I totally rocked this, I could already picture myself crossing the finish line at Hellas Lite, a winged demon of  enduro, a goddess of kickass motocross tricks, a flying flurry of serious off road badassery! Yeee-haw!
In reality, of course, I merely looked like this:
But in my helmet, I was yelling war cries and woo-hoo's, and life was great.
Towards the end of the session, Mykolas said I could try getting over logs. "First, let's see if you can lift the front of the bike a little, sort of like doing a mini-wheelie", he said, and showed me the ropes. Push the front forks down, then, as the suspension springs back, release the clutch and add throttle at the same time. Easy.
Except I just couldn't get the clutch and throttle right. I'd push the front of the bike down but then, I would either forget to release the clutch all the way or add too little throttle.
Mykolas put a few small logs down to make it easier for me. A small hurdle would act as a visual cue to release the clutch and twist the throttle; after a few attempts, I finally got the gist of it. I still wasn't able to lift the front tire as much as I needed to, but with each time, it did come off the ground a little. For me, this was glorious victory – I'd never attempted wheelies, mini or otherwise, before.
Then came the bigger log. Mykolas got on the bike again and showed me the principle; he popped over the log so elegantly I thought it wouldn't be all that different from the small logs.
I just had to get the front end a tad higher, that's all. No worries.
I got on the bike, aimed for the middle of the log, rolled up to it, pushed the front end down, released the clutch and throttle and… BAM. Searing pain shot across my shoulders and collarbone; I didn't lift the front tire high enough and pretty much slammed right into the log. The front wheel got over it somehow, but now, I was stuck, balancing on the skid plate, front wheel almost on the ground, rear wheel dangling in the air.
Great. Winged demon of hard enduro, indeed.
After a few more clumsy attempts, I finally managed to get over the log, but just barely. I still wasn't lifting the front wheel high enough and more scrambled over than jumped over the log, each time getting a kickback on the rear end and only just managing to stay upright. Clearly, this was something to work on. On the other hand, I did get over to the other side of the log, albeit with the grace and flair of a confused penguin.
After those three hours in the dirt on the 125, I realized RedBull Romaniacs probably wasn't in my near future, nor was any rally-winning glory, but I had a ridiculous amount of fun and learned what I needed to improve. More workouts for my abs and back; perhaps a mountain bike for balance and stamina; and of course, more dirt bike training.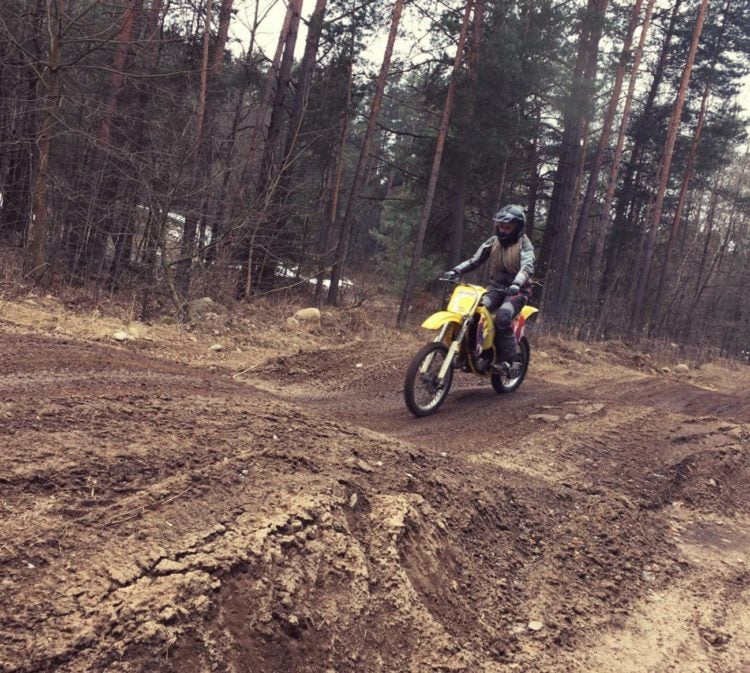 Can Mykolas and the Suzuki 125 get me into rally-ready shape before my bike clears customs in Poland and I ride south to try my hand – and wheels – at Hellas Lite?
Stay tuned to find out.