Few months back, after chasing the Dakar in Peru, I found myself somewhat stuck in Lima. I was still recovering after the intensity of chasing the rally, and I knew that continuing to ride South America would make sense, especially financially. The Andes were beautiful, the people were awesome, and the gas was cheap.
But something was already gnawing at me: a rally bug. I'd been bitten, and the universe was clearly trying to tell me something as I got two invitations to race two European rallies a couple of weeks after the Dakar chase.
The only trouble was the Atlantic Ocean. To get to Europe, I'd need to ship Lucy, and I always assumed this was a very complicated and costly matter. I couldn't afford to spend $2,000 or so, as I thought this would more or less be the cost, plus my own flights… it seemed out of reach.
Just about then, I got a message from my friend Aleksandra "Ola" Trzaskowska whom I met back in Poland in 2016. Ola races enduro, rides off road all over the world, and runs a bike shipping and tours company MotoBirds. "Hey, I've still got a few spaces left on a container bound to Europe in a couple of weeks. Any chance you're headed that way and need your bike to be transported?", Ola's message said.
Anxiously, I asked her what the price would be, expecting to hear something like $2-2,500. "1,100 euros", a reply came.
This was too good. Besides, I already had flights to Vilnius, courtesy of my publishers in Lithuania. I could leave my bike with Ola, fly out, and wait for Lucy to arrive in Poland.
Except, my flight to Vilnius was in ten days, and Valparaiso was nearly 3,500 kilometers away. No way I'd make it there in time and get back to Lima to catch my flight.
"No worries, just get to Arica, find Luis, leave the bike with him, and he'll get it to me in Valparaiso by truck", – Ola said. This would cut my riding distance in half. "Go to Arica, find Luis and leave the bike with him" sounded a little sketchy, but this was Ola, and I knew I could trust her. Done; I'd ride to the Chilean border, leave Lucy there, and still catch my European flights.
My glorious plan was nearly destroyed by a rainy season that began unusually early in Peru, resulting in washed out bridges and flooded roads. But, after getting a ride in an excavator, I made it through, got to Arica, and found Luis. Luis runs a small transport company in Arica, Chile, and he partners up with Ola whenever someone – like myself – can't make it to Valparaiso in time.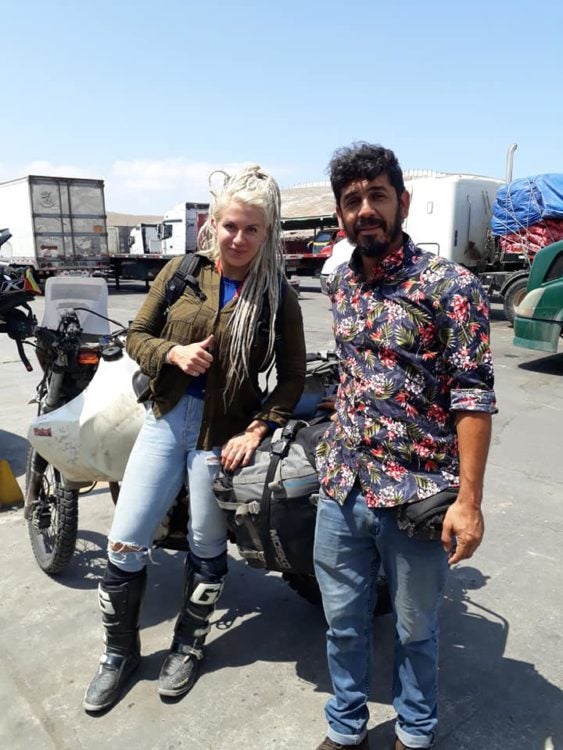 Luis took all the paperwork from me, zip tied the keys on to the handlebars, and loaded Lucy onto a truck. "It should be in Valparaiso in a few days", he told me.
I spent a couple of days in Arica hanging out, saying my goodbyes to South America, and sampling local mojitos at the beach. After all, this was a goodbye to an era… and a hello to a new one. I caught my flights to Europe, signed a new book deal, and began waiting for my bike. In the meantime, Ola told me the bike arrived safely to Valparaiso and was being packed up into a shipping container.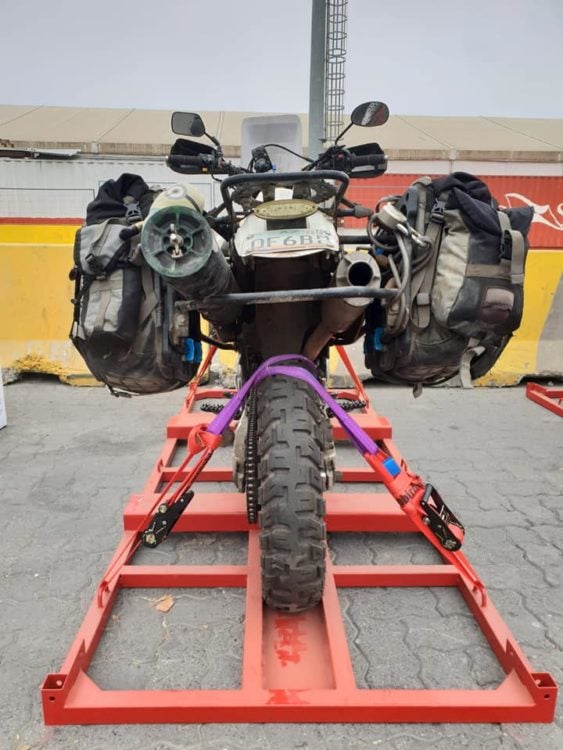 A few days later, the ship left the port of Valparaiso and headed for Europe.
At this point, all I had to do was hand the bike over, leave all the paperwork (Chilean TVIP, bike title and registration, copy of my passport and Chilean visa, and a POA for Ola to handle my bike while in transit) with Luis and Ola, pay for shipping, and wait. Ola did all the prep and packing, as well as all of the customs paperwork on the Chilean and EU sides.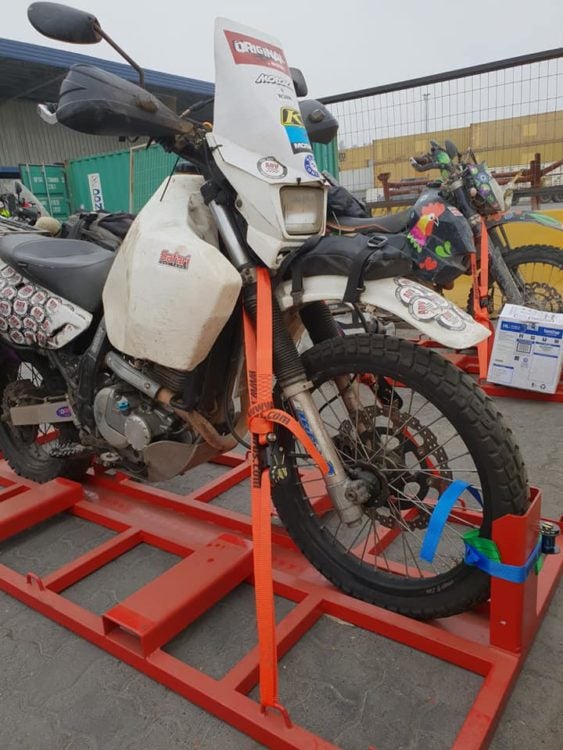 A little over a month later, I picked my bike up from Warsaw. I had to leave 465 euros with the Polish customs officials as I have an EU passport but the bike is US-registered (if you're an EU citizen on an EU bike, or US/other citizen on US/other bike, you wouldn't need to do this), so I had several options: get a temporary transit permit, which would mean I'd have to leave the EU with the bike within seven days; import my bike permanently; or, leave a deposit of 465 with EU customs, which they will send back to me when I leave EU borders. I chose the latter as I hadn't decided yet what I was going to do after the rally season. Ola, again, took care of all the paperwork – all I had to do was wire the money and then download the documents she forwarded to me.
Before I could ride off, I also needed to get EU "green card" insurance. Luckily, I know Lesley Thompson, a kickass British lady who runs Stara Elena, a biker hotel in Bulgaria. As a side hustle, Lesley also does EU insurance for non-European registered bikes. A quick Facebook chat, and my EU "green card" was mailed to me to Ola's house where my bike was already waiting for me.
Last week, I finally picked Lucy up, and hit the road heading to Greece for the Hellas Rally.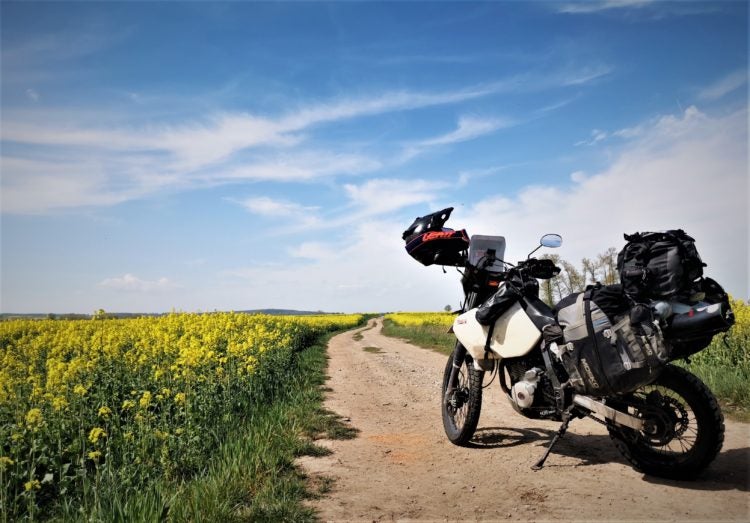 I haven't shipped a motorcycle before, so I can't compare with other methods (like air freight) or companies, but what I really loved about Ola's help was that she found solutions where I thought there were none (like Luis in Arica), and I didn't have to deal with any of it – customs, packing the bike up, port officials, none of it. Just hand the bike and paperwork over, fly home, and wait for your bike to arrive – that was it, and I really appreciate how fast and how efficiently everything was done.