I've already talked about solo female travel, but the topic of safety on the road comes up a lot in conversations. I get questions like, "aren't you afraid", "isn't it dangerous", "do you carry a pepper spray", and so on, over and over again. So I figured, I'd list my scariest travel experiences so far to document just how "dangerous" world travel really is. Or how lucky I am – I guess it depends on how you look at it. In six years on the road, here are the top five scary scenarios that actually happened.
Hypothermia
This was entirely my own fault. Having arrived in Tierra del Fuego in early September, I got caught in some nasty weather. Ushuaia was covered in snow and, not enjoying being holed up in a damp hostel dorm, I decided to leave. As I neared the city limits, I was stopped by the local police who advised me to wait the snow out. They told me the weather could turn bad at any moment, and that I should not attempt the Garibaldi Pass that day. Being young, dumb, and fed up, I went anyway. Sure enough, a snowstorm started, and I promptly got soaked through (I had no real riding gear back then). I got cold, then colder, then freezing cold, until I stopped on the side of the road to get off the bike a little. I sat down and suddenly, felt I wasn't cold anymore. Next thing I knew, there was an ambulance arriving, and I ended up in a hospital in Tolhuin. Bad case of hypothermia, brought on by sheer stupidity.
Lesson: listen to police warnings; don't be an arrogant fool.
Drunk Patagonian Dudes
This one definitely falls into the "scary" category, but was I ever in any actual danger, I won't ever know. I was on the Ruta 40 somewhere between Tres Lagos and Bajo Caracoles. I'd finally finished the gravel section and was now on paved road, but it was already getting dark, and I was cold and hungry. I saw lights twinkling on the side of the road and a sign that said "motel".  I rolled up to a gravel yard and a building that looked like it might become a hotel one day. But instead of a reception, there was a bar with six or seven very tipsy guys in it. It was New Year's eve, so no wonder; but something in the way they looked me sent alarm bells off in my head. Still, I asked whether there were any rooms available. "Sure we got rooms, he, he", one of the men sneered. I hastily made my retreat, jumped back on the bike, and put some distance between them and me. I slept in my tent on the side of the road that night. It's entirely possible that those guys were just celebrating New Years, and I might have gotten a perfectly nice and safe room; but for some reason, my gut instinct told me to get out of there, and I don't regret doing just that.
Lesson: listen to your gut instinct.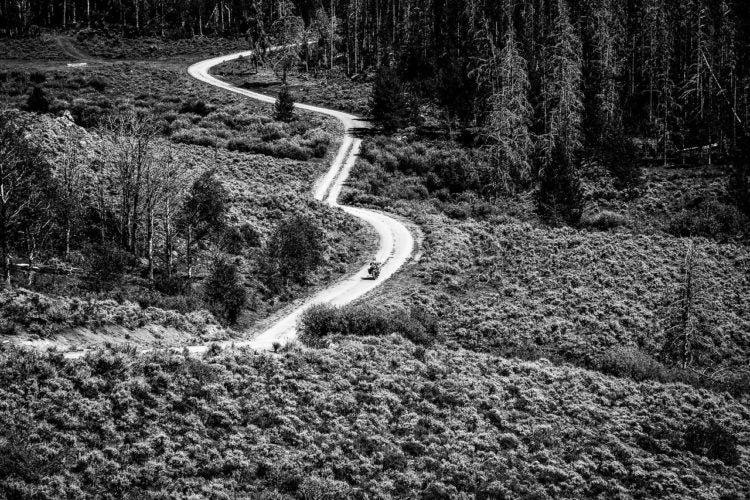 Being Robbed
I got robbed twice, both times in Ecuador, in 2014. The first time, somebody cut the straps and took a bag off my bike while it was parked inside a locked up hotel courtyard. I didn't have anything of real value in the bag, but it was annoying and made me feel vulnerable. The second time it happened in a city; my backpack was stolen, along with cash, phone, and a small laptop notebook in it. That was painful – but not critical.
Lesson: carry your valuables in an inner jacket pocket; never let your backpack out of sight.
Almost Running into FARC
Trying to get off the road and onto some obscure off-road track in the Popayan-Pitalito area, I was stopped at a Colombian military checkpoint. The soldiers advised not to travel further because of increased turf wars between the remainders (or dissidents, maybe) of FARC/ELN and local drug lords. I turned around. Whether I was in any real danger or not at that point, I'll never know, but to put a serious emphasis on the warning, the commanding officer shoved his phone in my face, showing photos of dead bodies with bullet holes. Colombia is generally a safe country to travel now, but if you get a warning about a particular area from the local police or military, don't ignore it.
Lesson: listen to people in uniform.
Curious Bear
While camping near Ouray, Colorado, a bear tried to break into my pannier. Apparently, I had left a tiny piece of cucumber in it and forgotten about it. The bear wanted to check it out but politely walked away upon seeing a flashlight. It was a friendly black bear and I'm sure I wasn't in any real danger, but then, wild animals are unpredictable.
Lesson: never leave food out while in bear country.
So, is solo travel dangerous? It's up to each of us to decide.