Could riding a totally inappropriate motorcycle half around the planet be an inspiration to others?…well meet Nathan Millward, (aka Nathanthepostman) and the answer is yes!
A few years back I was riding one of the BDR's, at the end of the day setting up my tent two little red bikes appeared on the horizon, as they slowly came towards me and stopped to say hello. I commented "unique choice of a motorcycle?" They replied, "Nathan made it look so much fun we had to try for ourselves, and we smile all day long, and see so much more than if we were riding a big bike…because, well, they are really slow!!!"
His ride report is one of the most read ever and proves a BIG adventure can be had on the smallest bike –
Your ride from Australia was a few years ago now, do you ever find yourself daydreaming about it, are those dreams positive or negative?
Yeah, it's almost ten years since I set off from Sydney on the 105cc postie bike heading back to the UK. I don't daydream about it at all, to be honest. It was just one of those moments in time when suddenly the idea of riding 23,000 miles across the world made a lot of sense. I was just in the right frame of mind, nothing to lose, everything to gain. A once in a lifetime moment I suppose. I'm definitely glad that I took it. I would have kicked myself for a long time had I not done it, as I know myself well enough to know that I'd never have done it otherwise.
Obviously, with any trip, there are positives and negatives. That trip gave me a whole new outlook on life. It tested me in a way that not much else could have done. I met some great people and I came back with a story to tell. The negatives were that by the end of it I realized that all I'd been doing for the last nine months was running away from my problems, which is no good really. So no, I don't daydream about it. I'm glad that I did it. But I wouldn't ever wish to do it again.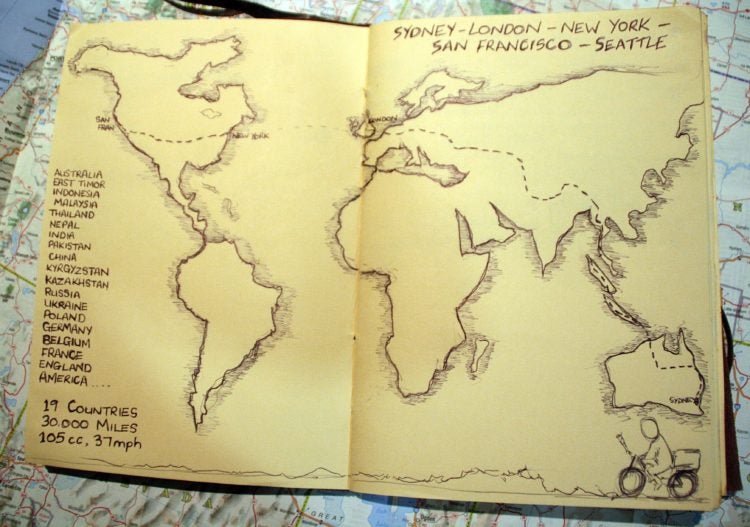 How long did you plan until you pulled out of your driveway?
Two and a half days from deciding to ride home from Australia on a bike and heading off on the trip, so not a lot of time really. But I'd done a bit of research in the year leading up to that. I'd looked at what visas I might need, researched what a Carnet de Passage was, I explored the options around Iran if I couldn't get a visa, so I wasn't setting off naïve or with no planning. I just never thought I'd do it, but then the moment came; my visa's ending, I've got a plane ticket to fly home, but I've also got a bike and this pipe dream to ride across the world on a small bike.
So on a Thursday afternoon, I decided to do it, and on Sunday morning I was riding out of Sydney on what became a 9 month and 23,000-mile adventure. Two weeks later I was in East Timor having done 4500 kilometers from Sydney to Darwin. Even on a 105cc bike, you can cover a lot of ground when you focus the mind.
If you were to do the trip again with a reasonably larger budget, say triple the amount where would you spend that extra money?
I wouldn't know what to do with triple the amount. All up it probably cost me £9000 to buy the bike, get the documentation, live on the road for 9 months, pay for a guide through China… if I had £27,000 I wouldn't know where to spend it and not sure it's possible. I'd still go with a cheaper bike (although I would love to have taken the R1200 GS I've just sold on a trip like that) and I'd still wild camp a fair bit as that's what I like.
Visas and flights would cost the same no matter what your budget, so I'd be looking for ways to blow £20,000 on the road and I'm not sure I'd manage it. More likely, I'd do the trip for around £12,000 then save the rest for when I got home so that I didn't have that horrible moment when you get home to no money, house, car etc.
How did your life change in the first year returning to England and subsequent years since?
I was alright for a while as I had a book to write, a fortuitous chance encounter with a book publisher in Australia who read a little update on my trip that had been in one of the Sydney papers. As soon as I got home I had that to write, which was good as it distracted me for a while. Once it was written and published that's when the dust settled and I really took it out on myself.
I felt very bitter that I'd run from my problems, bitter at what that running had cost me. Bitter that a trip like doesn't solve all your problems as I'd hoped it might. I came back from this exciting adventure expecting to be on a high but it was a bit of a massive low instead, which lasted about three years until I finally got my act together and put the postie bike on a plane to New York and rode across to San Francisco and up to Alaska.
It felt different this time, as though I was in charge, and I was running towards something rather than away from something. That second trip across the States was far more rewarding than the trip from Sydney to London. By the end of that trip, I'd got my head sorted and ever since then there's been some ups and downs but I've got a lot more figured out. I understand myself better, which is good.
How many horsepower did your postie bike have, and if you could have asked for a few more how many would have made your life easier? 
The postie has a mighty 7bhp or thereabouts, which over the Himalayas was a bit inadequate. I rode the Manali to Leh road in preparation for the KKH in northern Pakistan and the bike just needed pushing up some of it. And obviously, at those altitudes, you've got a banging headache, to begin with and the last thing you want is to get off and push your bike.
It was the same over Cinnamon Pass in Colorado as well; just not enough power to get up and over on its own steam. About 25bhp would just about do it, which is handy as I now ride a Royal Enfield Himalayan. Some people call that bike slow, but they should try riding a postie bike over the Himalayas slow before knocking 24.5bhp.
Skip forward to the current day, tell us about your magazine and the motivation to write it?
After my American trip, I started working on Adventure Bike Rider Magazine here in the UK. I edited it for about a year until I got sacked for being an inappropriate fit, or too mouthy, for the publisher, my boss.
It was a bit of a kick in the teeth because I put blood, sweat, and tears into that magazine. I really wanted to make it succeed as I'm passionate about bikes and about travel and I love the stories that people have to tell.
Sadly I was hugely under-resourced whilst I was there and I guess my impatience with the situation came through in my attitude and the next minute I'd got the sack. I was a bit bitter, especially as I quite liked the editing of a magazine. After that job, I freelanced for some UK bike titles which was fine, but I just missed having my own editorial input and control, so came up with the idea of Getting into Adventure.
My Getting into Adventure website – www.gettingintoadventure.com
I positioned it as a free magazine to give away at general motorcycle shows. My thought process was that the adventure sector is so self-serving. It preaches to itself. So my aim was to try and communicate with regular bikes; sports bike riders, tourers, scooter riders, and by giving it away – supported by advertising – I was forcing an adventure title into the hands of people who otherwise wouldn't have considered themselves adventurers.
To me, if you're out on your bike and you're out of your comfort zone then you're on an adventure, even if that's only 50 miles from home, or even if it's only a day ride. So the magazine was stories of people who were challenging their comfort zone, designed to encourage others to do the same. I've published 3 issues so far. It's hard to get a magazine off the ground and I've been busy with other things so sadly it's been on the back burner, but I'm working on issue 4 in time for the London bike show in February where I organize and host the adventure stage.
Can US readers get a hard copy or a PDF copy anywhere?
There is a free digital copy you can flick through here:
https://www.yumpu.com/s/pVu7lMzaG6b2ATxJ
You had a lot of issues along the way, in hindsight is there anything you'd change?
Issues with the trip? Yeah, quite a few. Dark places are often found after a big trip. I think some still try to deny that, presenting the big trip as this amazing thing everyone should do. I don't see it that way and I think a lot of people in the adventure 'trade' are lying to themselves and to others. There's nothing heroic about running away from your problems, no matter how glamorous the pictures might look at the end.
Are you riding anywhere right now or planning to go next?
Yeah, I'm still riding. More than ever really. I'm doing my own tours of sorts. A bit like the motivation for the magazine, I want to get people riding, so I do UK tours that last a week, or in some cases a weekend.
They're cheap and cheerful, organic in nature with camping most of the way. I take people from Land's End to John O'Groats – the Garbage Run –
My Garbage Run website – https://www.thegarbagerun.com/
or around Cornwall or Wales. Next year I'm taking people around Ireland, also to the Isle of Man and a longer trip back from Bulgaria.
I'm also taking 8 novice adventurers across Australia on postie bikes in May, which is my biggest challenge for the year.
I've just got back from guiding 11 riders across the US, coast to coast. I like doing it. It gives me a challenge, to get a group of people from one point to another in safety and hopefully they enjoy it too.
I don't ride much for myself now, but these trips give me a reason to ride, and it's not about me and where I've been, it's about the people I'm taking and what they get out of it. Most of them are just a bit apprehensive about doing a trip, or they're busy and don't have the time to organize something.
I don't insist on obedience or that they follow me. They're adventure rides. I encourage people to ride their own ride, at their own pace, and hopefully, by the end of it have the confidence to do their own thing and not need me next time. I've also met some brilliant friends through it, which has probably been the best part about it.
What is your current bike?
I now ride a Royal Enfield Himalayan. I was curious about the bike when it came to the UK. I'd heard all the bad reports from the Indians but the price was right and it looked to be that perfect blend of simplicity, charm and capability.
So far I've done 16,000 miles on it this year and I've been blown away by how good it is. It just does the job. Okay, it's not the fastest, but it does it, highways and off-roading. It's also been reliable, bar some dry head bearings. I think Royal Enfield has built us a brilliant overland machine. It's just a shame there are some bike snobs who won't give it a chance, but that's up to them. I'm very happy with mine and will use it again for the tours next year.
Do you have a dream bike that isn't your current bike – if you had an unlimited budget?
I'd love an AJP PR7.
I've got my eye on one but they're a bit of a stretch financially at the minute. But I want to do some off-road events and reckon that could be a great bike for dual purpose use. I've tried the engine in the SWM Super Dual and it's a lovely unit. The AJP just looks that bit more resolved and focussed than the SWM, so that's what I'd be buying if money was no object.
That and another BMW R1200 GS after I had to sell the last one to settle some credit card debt. People love to knock that bike but as an overall workhorse I loved it.
Where is your favorite country to ride and why, and which other two round out your top three?
An impossible question to answer but I'll go with America. You guys have got some great roads, great scenery, great food, and some great people. I'm coming back in 2020 with another bunch of Garbage Runners and already looking forward to it.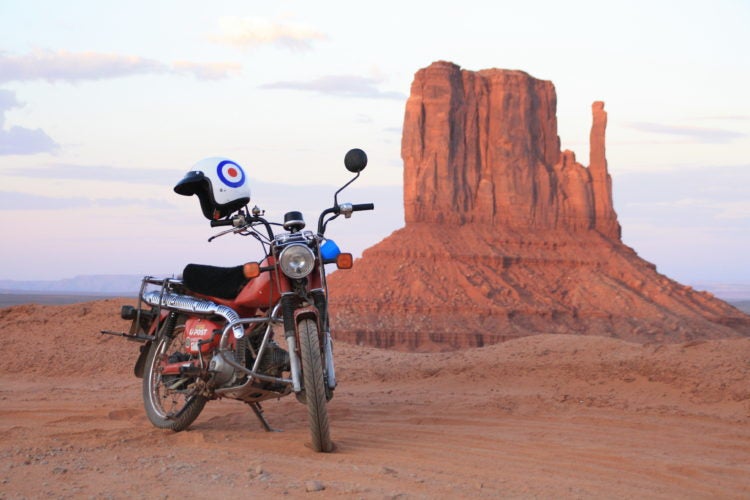 Second place would be Australia, simply because the Outback is the most enchanting place I've been, mainly because there's nothing in it, and I like that.
After that, it'd be the UK, because it's right outside my door and there are some brilliant roads and scenery to see and ride.
Is there one particular road or track that stands out above all the rest?
Not really, but there is a stretch of road on the north Devon coast that hugs the cliffs and is one vehicle wide, shaded by really thick trees and shrub. It twists and turns along the coast, you get glimpses of the sea, then emerge at the little hill top town of Lynton where you get a bacon butty and a cup of tea. I do that road on my Land's End to John O'Groats run and everyone loves it.
A dream location to ride to that you have yet to visit?
I'd like to ride New Zealand. I hear great things about it and from friends who live and ride there it looks to be full of great unpaved trails to explore. I've been to Australia half a dozen times or more but never made it across to NZ so one day plan to.
Also Morocco. I know so many people who love the place but so far it's eluded me.
Third, I'd like to explore more of Alaska. I barely scratched the surface when I rode up there on the postie bike so would love more time to head off and explore the place.
Scariest moment on your travels?
To be honest, the worst moment I've had on the bike was about 15 miles from home, on the motorway heading to a bike show when I didn't anticipate the cars stopping in front of me in the outside lane and smacked into the back of them and came off and landed in the middle lane.
Thankfully I got away with a broken ankle, but it just goes to show that on a big trip or one a long way from home you're far more alert than you're likely to be closer to home.
On the Sydney to London run I did get side-swiped by a truck in Indonesia which rattled me a bit, and riding the postie bike out of JFK and onto the freeway down into Manhatten, complete with a slow puncture, was probably one ride I wouldn't want to relive.
Most memorable day?
I'd have to say getting married in Las Vegas on a two-up bike trip across the States on my 1200 GS. We'd not planned it, only proposed two days before, so we high-tailed it back to Vegas and got married by Elvis in the Little White Chapel.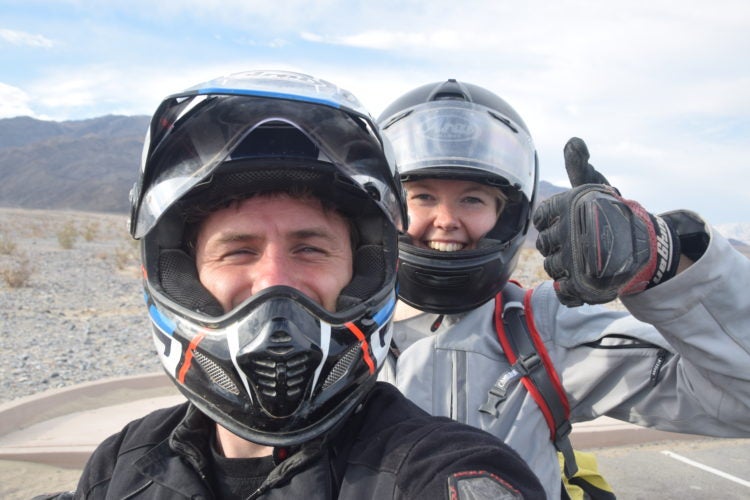 To me that's what adventures about, taking the plunge and moving forward with life. I do like the way that being out on the bike gives you clarity. My head can get so cloudy when I'm stationary for too long.
Do you think more people should travel and why?
No, I don't think they should, not unless they want to. Some people are quite happy where they are and so suggesting that traveling is somehow more worthy than working a regular job isn't something I go by.
I'll certainly encourage anyone who shows interest, but I'm too realistic about the pros and cons of traveling to suggest that it's for everyone. It's why I don't quite like the way some people try to sell adventure, as though it's a universally amazing thing.
They romanticize it and paper over the negative stuff. It's all a bit dishonest in my opinion but we all have to make a living I suppose, and I'm probably just as guilty. 
Top 3 tips for a new rider?
Be cautious who and where you ask for advice. Not all advice is good advice and you can easily become overburdened by bad advice.
Start small and don't feel like you have to conquer the world. So what if your big first trip is a half day ride to the seaside. Adventure isn't a competition.
Lastly, avoid the adventure forums on Facebook; they're often full of negativity which you could best do without.
What do you do for a job?
My job is riding. Either writing for the magazines, or my own magazine or leading and planning the tours. Riding is my life now, rather than my hobby which can take the shine off of it a bit.
Thankfully I still have a passion for it although I only tend to ride for a purpose rather than just the pleasure of it. I'll get bored of it eventually and further down the line I'll look for something more sustainable, although I'm not entirely sure what.
What does the word 'adventure' mean to you and do you think its overused?
No, I don't think it's over-used at all, more than its hijacked by people who want to sell the idea of adventure as only being about the big global trip. Adventure is relative to each individual and I think as long as people are challenging their current comfort zone then it's an adventure, irrespective of where they're going or how long they're gone for.
And as I know myself, after a month on the road the adventure soon becomes routine anyway and life on the road can become quite boring after a while. Who cares what adventure means as long as you're out there riding.
What is your one favorite photo ever from all your travels?
The one taken on the day I set off from Sydney, outside the house where I'd been living. I was there on my postie bike, hastily lashed together, milk crate on the back, a new pair of Converse trainers, blind naivety in my helmet. I was right at the beginning of my adventure that day and little did I know what lay ahead or where I'd end up. It's an image of pure 'seat of your pants' recklessness.
Any countries you regret going to?
Iceland. I just didn't like it but I wouldn't say as I regret going as I wouldn't have known I didn't like it had I not gone.
If you want to read more about Nathan, here are a few choice links – 
More digital issues of Getting into Adventure
======================================================================
For more interviews and a small look into the life of some other inmates make sure you check out the Interview Series in the forum that has been running since 2007 – 
you can find it here