Ned (aka Neduro) and I have met more than a few times at various events and functions around the country and one thing that stands out about him is that he is a world-class guy, very approachable, knowledgable and of course an amazing rider.
That last point, if you ride with Ned you will not get to see much and he disappears into the distance and you are asking yourself how did he do that…then he's gone!
When did you first ride a motorcycle?
I first rode a motorcycle after college. My parents weren't big fans of motorcycles, with many of the misconceptions that non-riders often have, but I always knew that's what I wanted to do.
I graduated and immediately bought a CBR 600F3 to learn to ride on (not recommended!) and somehow survived the first 6 months. As I started pushing the pace on the road, I realized that was a bad path to take, so I bought a KTM 620 dualsport and found my true love.
When did just riding turn to racing?
For me, riding was always about getting better and improving what I could do. Racing was a way to expand, and it was clear to me that the best riders raced, so I wanted to follow their example.
My motivation was never really about competition, though- more about self-discovery and adventure, putting myself in situations that I wasn't quite sure how they would turn out.
I started with enduros, did a little desert racing, and then decided to do at least one interesting thing a year on a motorcycle.
That led to the Pikes Peak hill climb (when it was dirt!), traveling in the US and abroad, riding and racing in Baja, and beyond.
When did 'just racing' turn to bigger dreams? Dakar, Baja etc? 
Sometime around 2004, I was on the phone with my best friend, thinking about what to do next.
We decided that an obvious course of action was to race Vegas to Reno solo, then race the Baja 500, then the 1000, then go to Dakar.
That conversation took about 30 minutes, but it took me 8 years to follow through. I had no idea how much those 30 minutes would shape my life.
The first part of the plan went well- I raced Vegas to Reno and had a blast.
***Read about it in this thread – 2004 BITD Vegas to Reno Race Report
Then I went to Baja and did the 500 solo, with an ace crew of inmates as my pit crew, which was one of my best days ever on a motorcycle.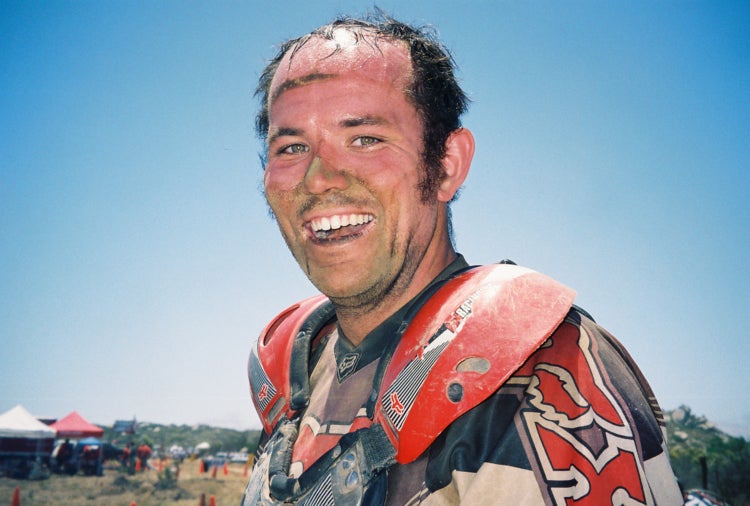 What made it amazing was how scared I was, and then how well it went- to me, the best thing in racing is when you can exceed your expectations.
***Read about that race in this thread – The Advrider Baja 500 Caper
I did the Baja 1000 that fall with the wrong people, and learned that it wasn't about the event, it was about who I share it with.
After that, I did the 1000 again with the right people (Hilslamer and Pyndon, on a KTM 950). I still occasionally see the shirts we sold for that race- it was a true advrider adventure!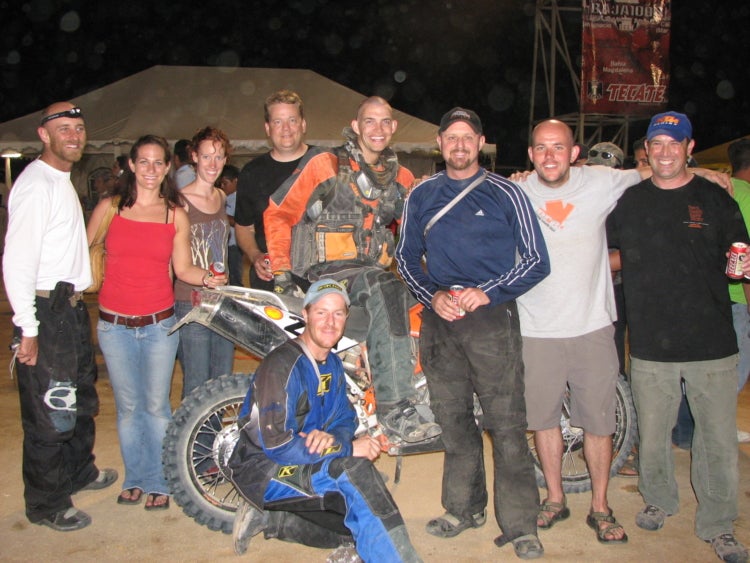 ***Read about that race here – two cylinders = twice the stupidity…
The big one that remained was Dakar. I followed preparation closely in 06 and 07, and when Elmer Symons died in 2007, it made me take a step back.
The 2008 Dakar was canceled, and I thought I'd escaped the pull. But I was kidding myself, and in 2011 I decided to take the plunge (for the 2012 race, right at the beginning of the year).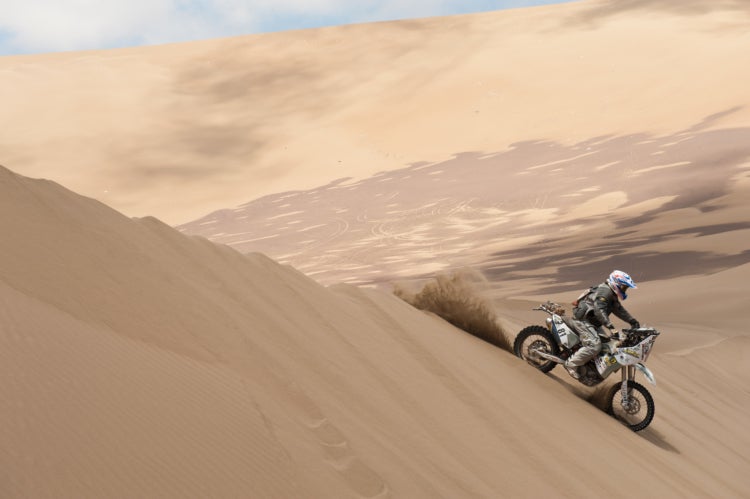 ***This is a long read but well worth your time – The time has come… Neduro DID Dakar!
That race was a dream for me. I had so many doubts about myself and my ability to perform at that level, and the biggest takeaway from the race was to believe in myself, and not to be afraid to try.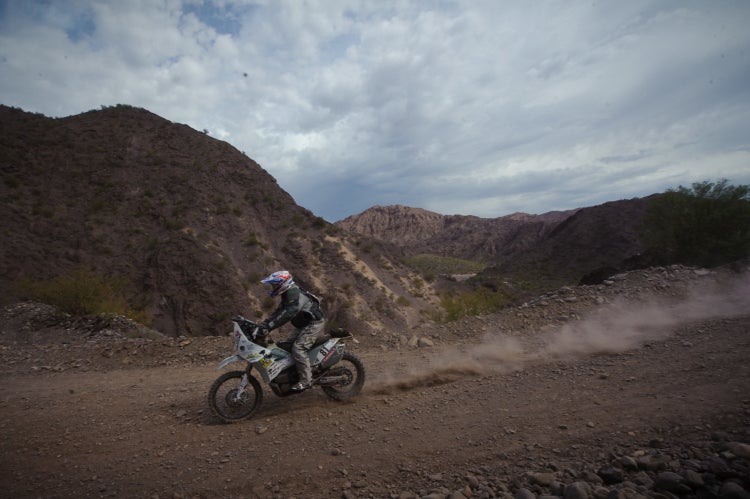 The common thread through all of these great experiences was ADVrider. So many people did so much to help me, by manning pit stops, buying shirts, giving me hi-fives, it would not have happened any other way.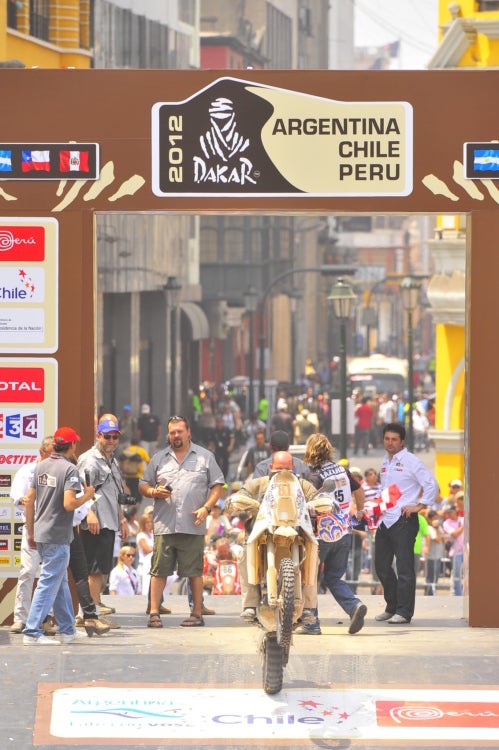 One inmate I have to mention by name is Deadly99. (He is watching intently, with toes pointed inwards as Ned leaves the podium)
He paid for a ride in our support truck just to experience the race, and put so much energy into helping that it transformed the race for me.
Plus, he has a totally twisted sense of humor that makes me laugh every single time.
Explain how the ADVrider community helped with both and the involvement of the inmates?
It is impossible to overstate how much inmates have been involved in every part of not just my riding, but my life.
Whenever I have an idea, it seems like I know someone from the motorcycling world (and usually, that I met through ADV) that would know about the subject.
ADVriders have been generous, kind, supportive, and honest- the best of what a community can be.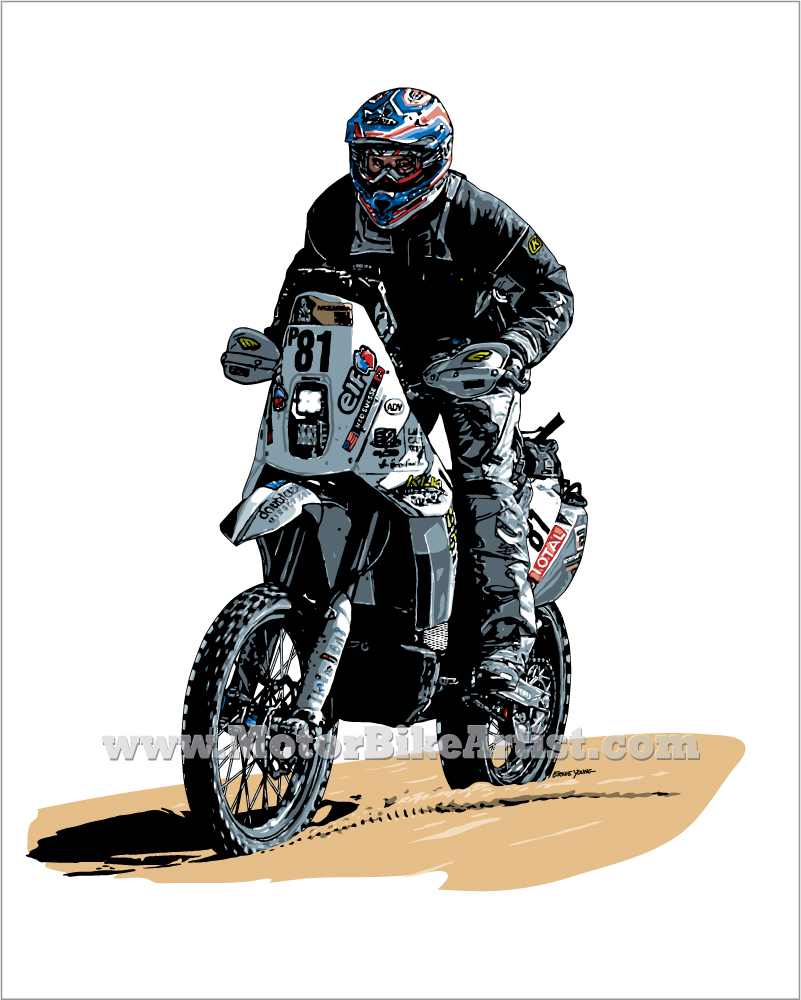 When you aren't racing and working, I know you enjoy passing on your knowledge to help others can you say something about that? 
My life has benefited so much from other riders in general and ADV in particular, I am always looking for a way to give back or be helpful. Not because there is a score to keep, but because if we all do what we can, good things happen.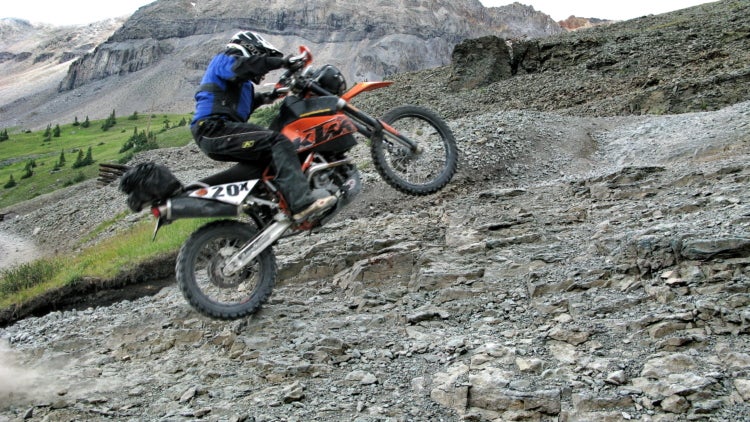 A good example is a tire changing thread I posted in 2004, which still gets used today.
I spent a bunch of years as a moderator on ADV, trying to help find the balance between open discussion and total chaos. That is a tough and thankless job, so thanks to those who continue to do it!
For a time, I did a bunch of riding clinics, which raised money for my racing but also helped people learn to ride better.
Those led to a riding instruction DVD I made with SpringOly, which was another really positive experience- I can't tell you how great it feels to get a message from a customer sharing a ride they did where they used skills the DVD helped them to learn.
We stopped selling the DVD a while back (who has a DVD player these days?) but it was a fun project.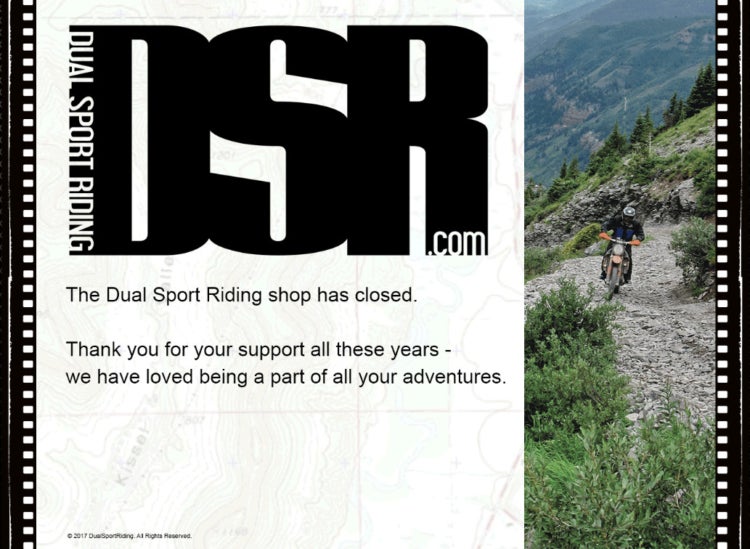 Lately, I've been spending a lot of energy on maintaining motorized access to public lands. I think many riders don't understand how much work it takes to keep riding opportunities open, but with a steady stream of planning exercises, lawsuits, and Wilderness proposals (Wilderness, as defined by congress, does not allow any mechanized access, so no bicycles or motos allowed), we keep having opportunities chipped away.
To that end, I'm on the board of the Colorado Trail Preservation Alliance, and the board of my local club, the Central Colorado Mountain Riders, and together, we are working to save and even improve access to the trails and roads that we all enjoy exploring.
http://centralcoloradomountainriders.com/
What area of the country do you live and what is your favorite type of riding these days from home and what bike?
I'm super fortunate to live in Salida, CO, which is right in the heart of some great riding, both dualsport, and trail.
It's a coin toss which option I choose, but most often, it's a dirtbike with a plate because I can get to some incredible and remote places within a few hours of my front door.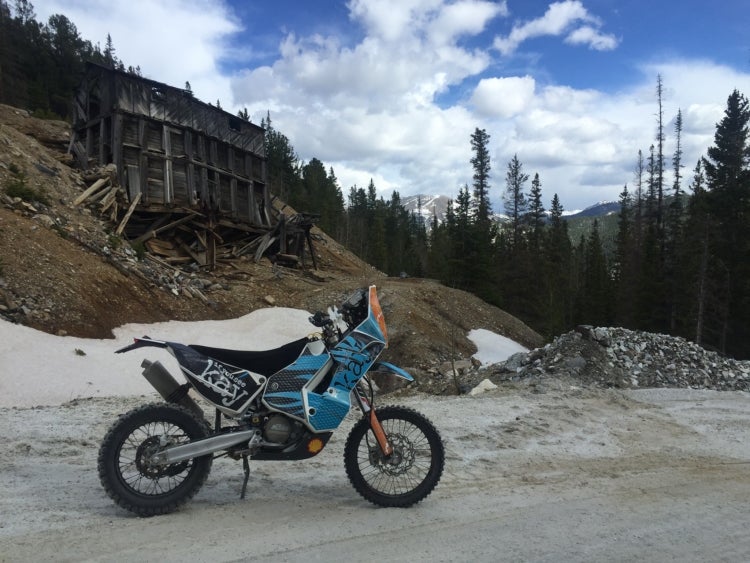 Where is your favorite area of the country to ride and why, other than your local area?
I have a soft spot for the Sierras in California. I love heading out there on my adventure bike and riding everything from twisty pavement to bad dirt roads- so many great places to explore and visit. The only problem is I always run out of tires before I make it back home!
Do you have a dream bike that isn't your current bike – if you had an unlimited budget?
I own a KTM factory rally bike, which is pretty much my dream machine. I'd like to ride the latest version, but there's something about the raw simplicity of my old 450RR that is intoxicating to me every single time I start it.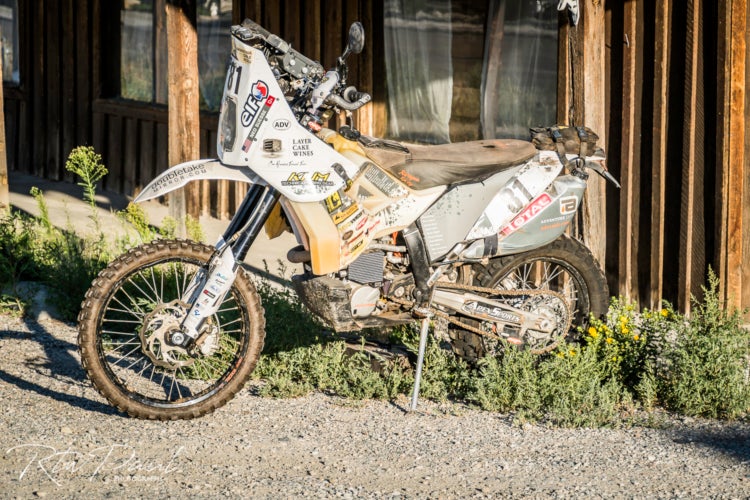 Is there one particular road or track that stands out above all the rest?
There are a few places that I know, which make my soul feel alive every single time I ride there. Some are in the mountains, some are in the desert, and no, I'm not telling where!
For me, the best part of a road or trail is how unexpected it is. I love it when you are following a track and trying to figure out how it will get across the next mountain, and it surprises you. That's the most motivational thing for me in riding.
A dream location to ride to that you have yet to visit?
I really want to ride more in South Africa/ Lesotho/ Namibia. I did a magazine test on the Africa Twin in South Africa, which whet my appetite, but I want to go back with some time and nowhere that I have to be.
Scariest moment on your travels or racing?
I've been really lucky- I've had a few near misses that went my way through no fault of my own.
But often, scary is in the eye of the beholder.
One time in Morocco, Pyndon and Ant Ware and I came into a group of soldiers where we (apparently) were not supposed to be. They were yelling at us in French and Arabic (which we don't speak), pointing guns, and things seemed to be escalating in a bad direction.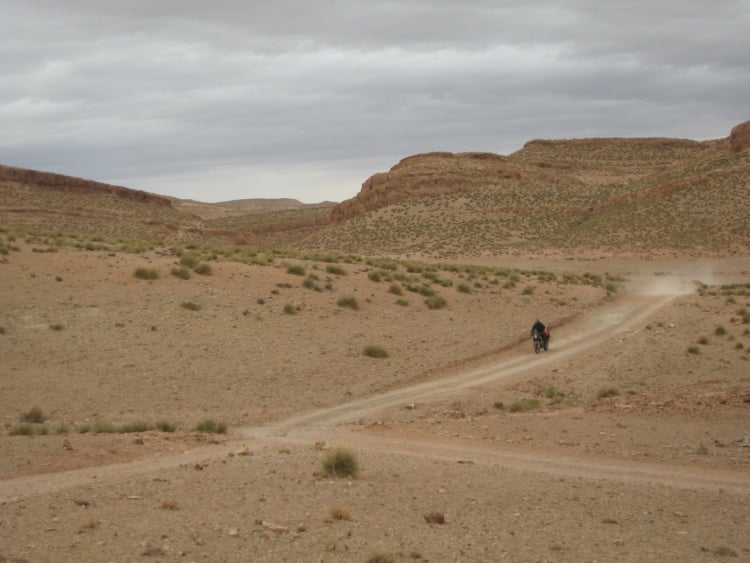 Luckily, they were all wearing football memorabilia, so Ant Ware pulled his Manchester United hat and made friends. Soon they were drawing us a map in the sand, and it's one of my favorite stories.
Most memorable day?
It has to be the start of the Dakar. I was so scared and overwhelmed, with the pressure of my own goals, all the people who had helped me get there, the fear of failure, and more resting on my shoulders.
I remember pulling up to the line nearly in tears, and then when the flag dropped and I started riding, it all went away. I felt like I was where I should be, doing what I meant to, and that feeling stayed with me for the rest of the race.
Do you think more people should try racing, and do you have any suggestions for new riders wanting to race or do enduros how to start?
As I am writing this, I took a few minutes to look at some of my old ride reports, and here's what I wrote in 2005 after racing the Baja 500:
First and foremost, racing is about being honest. To understand what it is to race, I had to start by admitting to myself that this was really important to me, and commit to give it my best shot.
In most of life, it's easy to do what is reasonable and call it good enough. Racing, by definition, is not reasonable, so there is no boundary that can be drawn around it. Racing is not a kind mistress, but she is an unerringly honest bitch, and when she gives you a kind word, it means something.
2005 was a long time ago, but I still think those words are true. I think anyone who wants to race, should give it a try, but I don't think people should feel like they need to for validation. Ride your own ride, and if that includes the intensity of a start line, go for it!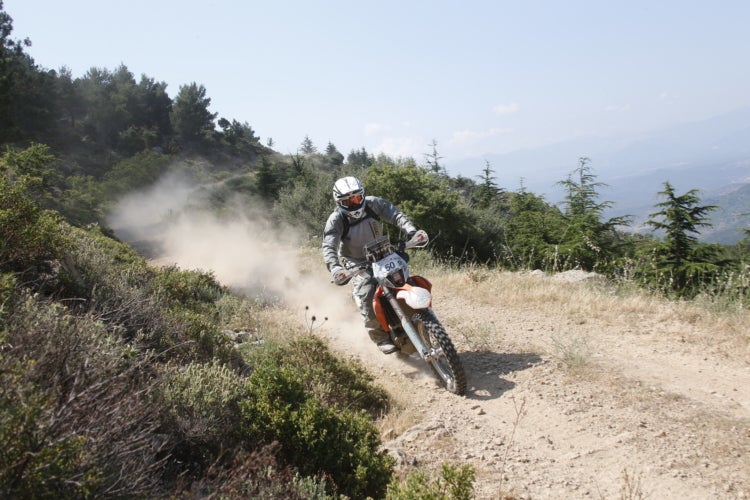 Racing is different than any trail ride or adventure ride can ever be. Start small- do a local enduro or hare scramble. If you like the feeling of sitting on the start line, and the satisfaction of finishing, know that you can go as far down that rabbit hole as you want to.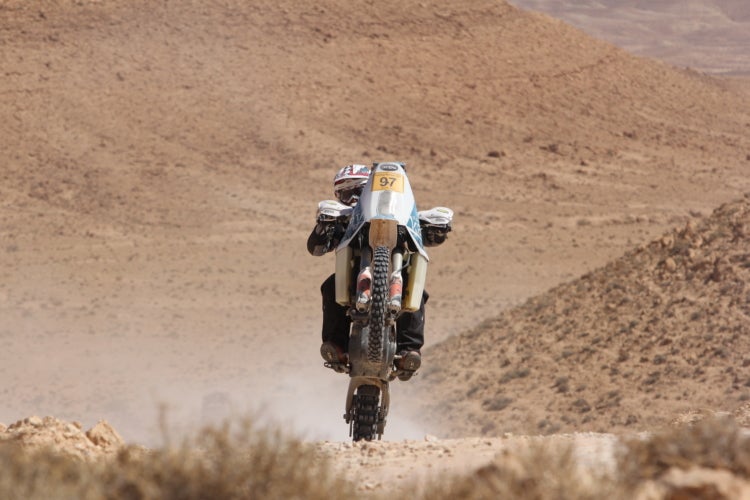 Top 3 tips for a new rider?
Get some training. The mistakes we make while riding are all the same, and you can shortcut the learning process by having someone show you good technique. Good technique is safer, more enjoyable, and will grow your horizons.
The best thing you can buy for your bike is gas. Sure, there are lots of things to buy that will improve the experience, but start by getting out there and enjoying it, rather than thinking you need to have all the stuff before you take your first trip.
The people in motorcycling are the best part. All over the world, there are fun people using two wheels to go to places. Whatever you are doing, wherever you find yourself, it's always fun to meet riders and learn their stories.
When you aren't riding what do you do for a job? 
I guess I'm an entrepreneur. When I first joined ADV, I was attempting to be an adult, complete with teleconferences and a cubicle. Something about it didn't agree with me, so back in 2006, I quit and struck out on my own.
I started a used car dealership (which I still own), then started doing rider training, which led to the Dualsport Riding Techniques DVD, and that led to a fuel tank business, and that led to Doubletake Mirror.
To this day, it doesn't feel like a job. I get to interact with other riders, I get to make stuff that solves a problem I have, and I get to work on whatever I think is important that day.
What does the word 'adventure' mean to you?
Adventure means exploring with uncertainty and adversity. I think many people forget that adventure is just as often unpleasant in the moment as it is joyous or fulfilling. You can't get rid of the hard parts without also losing the most pleasing.
What is your one favorite photo ever from all your travels?
It feels cliché, but the finish line at Dakar.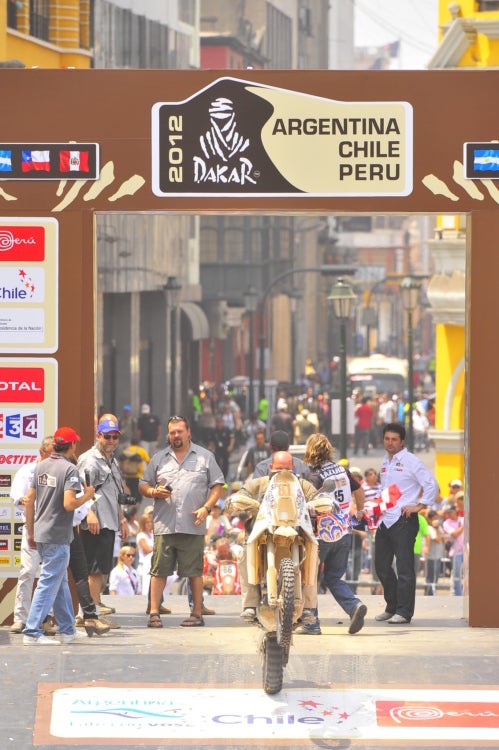 How do you feel your involvement with ADVrider has influenced your life and the people you know and ride with?
The influence ADVrider has had on my life can't be overstated. I've met the best people, had the best experiences, and been inspired to the ends of the earth by inmates and their stories.
With that said, I've become much less involved over the last few years. I'm really hopeful that Rudy can bring a new flavor to the front page, that manages the negative tone that has crept in, and makes it easy to find the inspiration and information we come for.
More Neduro goodness in photos here
All photographs courtesy Ned Suesse