Nick Sanders a rider known to a lot of us, for his exploits and world travel on two wheels is a Yamaha Ambassador and rider. He was part of the Yamaha T7 World Raid, riding in the Euro leg of testing and promotion.
It took a while for the T7, (Ténéré – ten-ur-ray) to be released and now it's being tested for real.
Nick was chosen by Yamaha to take it on a long ride, a RTW ride, and quite rightly so, and I caught up with him digitally while he was sitting at the airport in Sydney Australia to talk about his RTW so far.
Tell me about the T7?
My bike that I'm riding was officially one of the first bikes off the production line – I was the first person in the world to get one
It's a black mid-ranged adventure bike with a 689cc parallel-twin engine lifted straight from the MT-07.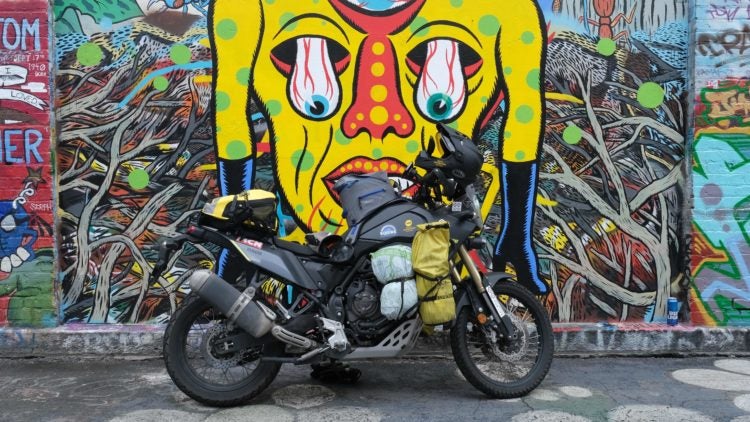 For the technical minded; it has a re-shaped air-box and exhaust, a 280-degree crank, eight-valve, 689cc parallel-twin giving 72bhp and 50lb.ft of torque. This power train is lower than some other adventure bikes but the motor is blast-proof and will never break down – dare I say that? Well, so far it hasn't, after 40,000km/ 25,000miles
The motor is narrow and light to ride – chirpy you might say and super forgiving – you can set off in 4th, more from standing should you mess up and end up a hill in the wrong gear.
The road testers will tell you more but whilst I know little about the cross-plane crankshaft philosophy – the later R1's had this as part of their functionality – the pistons don't rise and fall together but stagger. It's basically to do with balance and the fact it creates hardly any vibration without losing it's "grunty" character. You'll see what I mean when you eventually get to ride it.
Did Yamaha give you any specific instructions? 
Yes, I'm scheduled to ride one-hundred-thousand KM and I will. The other instruction was to ride around the world, and I am.
What is your timeframe for the whole ride and how many countries will you have been through once you get home?
The time frame is 8 months of continuous riding around the world. Even though this is long for me it's quite compromising compared to the years + itinerary some riders achieve.
I can't say a number of countries because of the COVID-19, that has now become an unknown
For me it's not in any way compromising; I am paid to deliver social reports not to have an extended vacation which if anyone puts their property on the market to achieve, they 100% deserve.
What countries have you ridden through to date? 
France, Spain, Morocco, Mauritania, Senegal, UK, USA, Mexico, Guatemala, Honduras, El Salvador, Nicaragua, Costa Rica, Panama, Colombia, Ecuador, Peru, Bolivia, Argentina, Chile, Australia
How many km/ miles are you averaging a day?
Maybe 400kms/ 250 miles, but this is light for me, however, I film for 4 hours a day and when I get into my motel I work until midnight to edit that day's films.
You are not the tallest rider out there how are you finding the bike, any unique characteristics that you like or don't like, and rideability as it appears a tall machine?
I'm 5ft 8inches. As for the bike, it's easy for anyone my size, easier perhaps for someone taller. Not a problem at all, I don't regard it as a tall bike.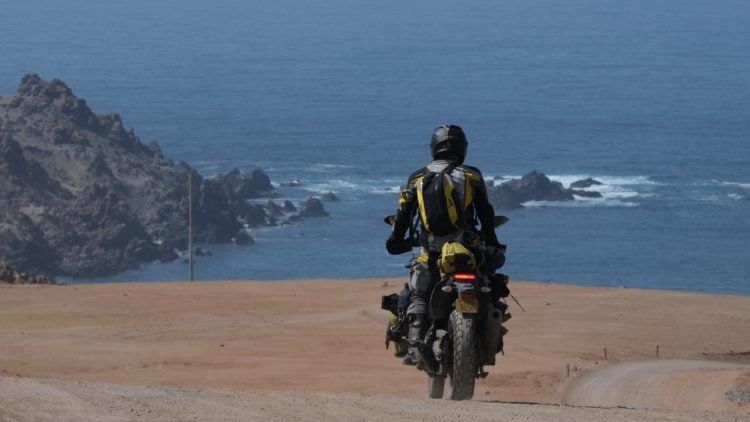 Unique characteristics are it's as good off-road as on-road. One word describes it generally as "robust."
It is great for your confidence to know it'll withstand most of what nature puts in your way on trails, but it likes gravel, hard-packed dirt, corrugations are fine and rocky stuff it manages well.
It's not the bike that doesn't like this stuff it's the rider.
Is the bike easy to work on in regards to oil and filter servicing, cleaning the air filter?
Yes, very easy, it couldn't be simpler. Please check the manual people because I'm not quoting the Haynes guide but I watch my guy do it in Medellin in Colombia and again here in Australia at Yamaha and it took minutes and not much unscrewing.
When you first got the bike what was in your mind for a route?
I got the first bike off the production line from the factory in Paris, France and rode immediately to Dakar, Senegal and back, on and off-road.
Two months after getting back I set off in November to ride around the world and I am now in Sydney and will be back in the UK four months riding days from now.
***note Nick said riding days, this is all dependent on COVID-19 and restrictions on travel
Is the bike completely stock or are there any changes you made prior to your trip?
100% completely stock as it comes from the factory.
You appear to be very lightly packed, would you share what you carry with you on a ride like this?
In my tank bag, I carry my photo equipment, I favor the Fuji XT3 with its superb 4k videography capability, two lens and microphone also and paper maps in the sleeve.
In my yellow Touratech bags situated usually on the front crash-bars are some print books, which I've replaced with a Kindle, innertubes and a small selection of tools, enough to take off wheels and repair a puncture or replace innertubes and tires.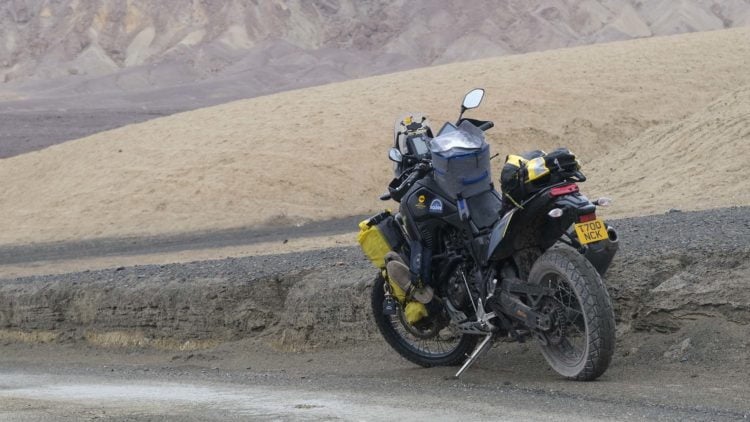 Camping gear to include a tiny tent, a stick-stove (check-it out) a small light sleeping bag and a minute roll sleeping mat (essential). For clothes just the basics, one pair of socks, one pair of undies, 2 tee-shirts and my trusty Campanero suit from Touratech.
My Bell helmet has MIPS Multi-Directional Impact Protection System which allows a little rotational movement should you have a crash and minimize my chances of concussion. The science is excellent, safety first, right?
And for security, I have a bloody big lock from SQUIRE – after all if you get your bike nicked you're going home on the bus
How has COVID-19 affected the ride so far?
It's temporarily stopped the journey in its tracks, I got as far as Australia. For now, I'm returning to the UK because of travel restrictions and social distancing and of course to be safe.
I've got the last seat on the last flight out of Australia this week and I'll restart from where I left asap I can.
Along the way, Nick has completed a few short videos and is sharing them in various places but mainly on YouTube, there are a lot of short clips of the ride so far, here
While in Australia Nick joined forces with Motorcycle Adventure Dirtbike TV (MADTV) to produce a feature-length video of the ride so far
This is the trailer on Nicks Channel –
…and the feature on MAD TV
***I will complete a part 2 to this story once Nick has finshed his ride home and the bike has the 100k on the clock, and then we can get his final feelings on the bike, and the ride as a whole.
for more on the life of Nick Sanders, click on the photo to link to his book, it is an interesting read