I first heard of Nora Nijkamp, creator of the Adventurism Life YouTube channel and vlog, some three years ago when she was riding her Suzuki VStrom from Amsterdam to Bali.
Along the way, Nora met her boyfriend Jojo and continued to travel with him before shipping the bikes back to Europe and deciding to ride from Nordkapp (Norway) to Cape Town (South Africa) last year. According to Nora, the African leg of the journey was certainly much more adventurous… but not in the way you'd expect.
Currently, Nora and Jojo are once again back in Europe planning to ride locally for a little while. I caught up with Nora to talk about her big news, getting arrested in Kenya, and forging your own path.
-After riding from Amsterdam to Bali, why did you pick Africa as your next destination?
Jojo and I figured we could go anywhere at that point – the Americas, Australia, Russia… but we thought that Africa was the continent that would change the most in the next ten years, and we wanted to see and experience it as it is right now. The initial idea was to ride the East Coast first and circumnavigate the entire continent.
– How was this trip different from your solo adventures?
Traveling with a partner is very different from traveling alone. There are advantages and disadvantages for both, but I think if you're traveling with the right person, life gets a lot easier. You don't always have to fix everything by yourself, if you're having a bad day, you've got somebody to rely on. It was very natural teamwork right off the bat, and it really cemented our relationship. Of course, when you're solo, you're a lot more open, you get in contact with the locals much more, but I'm really happy we did Africa together with Jojo.
We decided to start in Nordkapp, rode through Europe, and from Italy, we shipped the bikes to Israel. Then, we rode across Jordan, Egypt, Sudan, and Ethiopia. That's where the first troubles began: we had some serious issues crossing into Ethiopia because both bikes were in my name, and you can't enter Ethiopia with two vehicles registered to you. We were stuck in a tiny border town for seven days trying to figure it all out, and it was just pure nightmare.
Ethiopia turned out to be stunning, however. We loved riding there! Before leaving the country, we did the Lake Turkana route on the eastern side of the lake. The area is fairly remote, and it was such an amazing time for both of us – this was the first time in Ethiopia that felt like complete bliss, being in nature alone, not being surrounded by crowds, we loved that part. It was extremely hot, however, so we'd get up before sunrise, have breakfast and leave at first light. The riding was just out of this world.
Next, we crossed into Kenya, except there was no actual border crossing, just sand and bush. We actually had to check our GPS whether we were already on the Kenyan side. That was a pretty unique experience!
-How did you end up getting arrested in Kenya?
The thing with Kenya is, as long as you have your visa and your bike documents in order, you can cross the border anywhere and then get your entry stamp at the nearest city or town (or even Nairobi). So we didn't think anything of our border crossing from Ethiopia to Kenya – we figured we'd just get the necessary stamps in Nairobi, and that'd be that.
However, two days later, we got stopped by the police and they told us we entered the country illegally. Since we didn't have the entry stamps, we actually got arrested and spent three days sleeping in police stations. This was a complete nightmare scenario! Some of the police officers were really aggressive, threatening us with guns, it was surreal. They even sent an anti-terrorist unit for us suspecting us to be potential terrorists. Finally, they took us to a local immigration office. There, the immigration officer explained that we were within our rights to enter Kenya as we did and that we could indeed just get our entry stamps in the nearest city or town that had immigration office. The immigration officer stamped our passports there and then, and the police let us go – just like that.
-And then something even more adventurous happened, didn't it?
For sure. I'd been feeling pretty sick for a while at that point, so, suspecting malaria, I decided I should see a doctor just in case. We went to a local clinic and the doctor there told me it didn't look like malaria at all. After I told him about my symptoms, he said, "is there any chance you could be pregnant?".
There was. And I was indeed pregnant.
For Jojo and I, this was happy news. We'd been talking about it for a while and although I didn't expect it to happen so soon, I was thrilled.
We figured we'd probably need to end our Africa trip a little sooner, but we still wanted to get to South Africa. As I was feeling a little tired and sick, we shortened our daily mileage, but we still rode through  Uganda, Tanzania, Zambia, Botswana, and finally, South Africa.
The idea to ride back through the West Coast crossed our minds, but we realized we would only be doing it for the sake of doing it. We were happy with the journey so far – we rode from Cape to Cape, as we initially planned – and we just realized it was time to go home. In May 2019, we got back to Europe, and in September 2019, I gave birth to a beautiful baby girl.
-How is the way you travel going to change now?
Even before Coronavirus hit, Jojo and I were talking about how we would travel Europe for a little because it's so beautiful and diverse. During our Africa trip, we realized how much we loved riding off-road, especially the more technical trails, and we just don't want to do much pavement now, definitely not long-distance, as it just doesn't interest us anymore. We bought a van and we'll probably get a couple of dirt bikes and just focus on wandering around Europe, riding off-road, and maybe getting into rally racing a bit, too.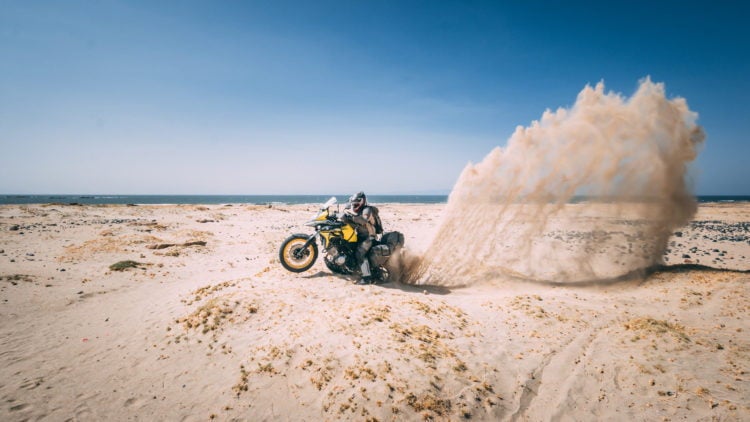 This is a brand-new challenge for me, for sure. I can't take my child on the V-Strom, and although people love making sidecar jokes, I just don't feel it's realistic for me, so a van and two dirt bikes will have to do for now. The thing is, I think both Jojo and I have had enough of overlanding, you know? It gets old after a while – the routine of getting up, packing, and riding again, crossing yet another border, seeing yet another giraffe… It's all very exciting at first, but after years on the road, overlanding becomes normal at some point, you get into a certain routine, and days just kind of blur into one.
So right now, I'm really happy to start something new, something I haven't done yet, something I'm not good at yet. I'm excited about being a beginner at something again!
-What's going to happen to your Adventurism Life vlog?
I started the vlog for a couple of reasons. I'm very passionate about showing different sides of femininity on YouTube. I was fascinated with this platform from the get-go: young people don't watch TV anymore, they just watch YouTube, and I noticed that when it came to female YouTube personalities, back in 2015-2016, it was mostly pretty girls sharing their beauty routines. I wanted to show that women can do different content, too, not just makeup and beauty stuff, so I created Adventurism Life.
When I left in 2016, I had no female ADV role models, nobody to look up to. It wasn't because they didn't exist, but they were hard to find, they didn't post or write about their adventures, they weren't on social media as much. So that's why I wanted to create the Adventurism Life channel. And I think I succeeded in this mission, in a way: right now, you've got so many women creating ADV content, and that's amazing.
In the end, though, I think you should follow your own path. You can look at so many people on social these days and think that's the way it's supposed to be, or that's the way it has to be done. But you have to find your own way There is no right or wrong, it just has to be your own.