Joel aka NSFW is a stand up guy when it comes to Adventure riding, organizing and generally having a great time, locally or internationally.
He has been running Death Valley Noobs Rally for 13 years, if your not familiar you might want to go when you read these linked threads
ADV Noobs Rally Ride Reports
2018
2017
2016
2015
2014
2013
2012
2011
2010
2009
2008
2007
ADV Pahrump Rally Ride Reports
2018
2017
2016
2015
Tell us about the Death Valley Noobs Rally and Basecamp4adv.com, how long have you been involved?
Back in the days, many rallies were focused on partying and socializing. There was some riding, but was way above our skill level nor got the feeling we don't fit in and be left out. So, the Death Valley Noobs Rally (DVNR) was created, that was in 2007, the only rally in the world dedicated to noobs.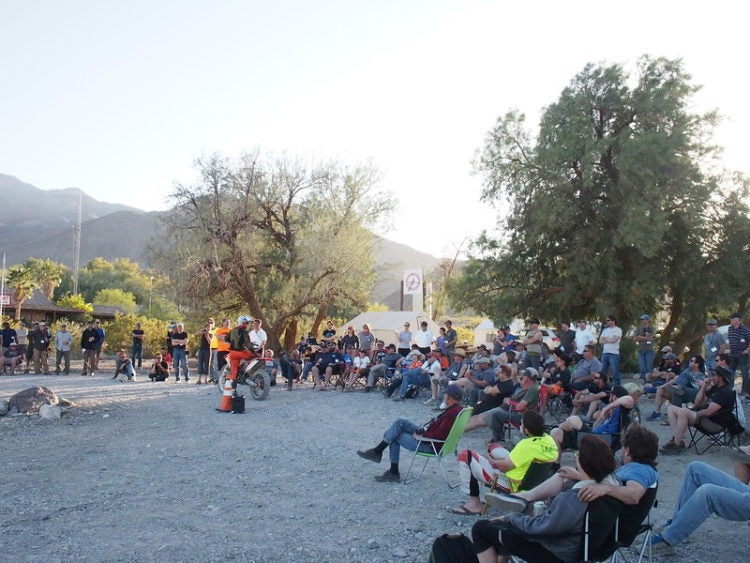 13 years later, we're still firm to our belief, the noobs come first because who else would love them. This is one opportunity in the year where a noob has a place in the sun at least for a few days. They get the attention, respect, and support. The only place one can ask what tires or oil to use without getting hammered.
We didn't really stop there, and so we took advantage of the event's popularity to support another cause. With about 250 riders in participation, it is hard to ignore there's a great opportunity to make riders aware of land stewardship and riding area closures.
We hold a charity fundraising by having a raffle for the past 9 years or so. The money raised is 100% donated to organizations who work on land use sharing where motorized vehicles have equal rights to enjoy public lands.
We have been sending financial support to Blue Ribbon Coalition, California Off-Road Vehicle Association, Stewards of the Sierras, Stewards of the Sierra National Forest and volunteers of the Angeles National Forest.
Moto related manufacturers and vendors are our big partners in raising funds. They donate high quality and useful products and services which attract more people to buy raffle tickets. In return, we buy from them and put honest good words.
In reality, the noobs are a big market for businesses since there are more noobs than advanced riders. They always need proper gear, bike parts, and of course, they're always fixing something.
Basecamp4adv.com, for now, is simply a website to handle registration and payments. It also has links to pertinent information to make the rally operate in a smoother fashion. In the future, I would like to add as many rallies and moto related events in the menu so people could just go to one place and see what's happening in the community to plan their next adventure.
What about other rallies and rides you set up, how do you go about that, and how can more inmates get involved?
The DVNR is our spring event and for Fall, we have the ADV Pahrump (Nevada) Rally. November this year will be our 5th.
Great location and camping; just between Las Vegas and Death Valley and a good dirt riding is right across from the campground. The Town of Pahrump has been supportive of our event; they give us the top billing of the week and the Chamber of Commerce send us gift bags.
Both rallies are ADV events and upcoming events are found at the Rallies Section. No one can miss it, I have them back to back and would like to add a 3rd one in September, assuming there's still a window that's not taken by various groups.
Lots of inmates' support both events by volunteering. The rallies are not riding events, but more of a meetup and camping event (for liability reason). The veterans of the events volunteer to organize the various rides, which is an outside activity and I have no control.
Riding is what people do after they leave the campground, which still provides help in terms of giving them advice, info and in an emergency a helping hand to missing or injured riders.
In general, riders need to be united, we are an underdog and the scapegoat. Everyone needs to be more active in the community, come out to rallies, volunteer, make friends, be stewards of our riding areas and the ambassador of our sport.
One of the most successful and popular threads in the forum is the L.A. ADVenture Ride, in the West Regional. It has 3.7M views, contains a decent amount of substance and a place to find a ride in Southern California. We host people looking for local rides and a place for riders from other regions to ask questions and guidance.
How is it riding and being associated with Jimmy Lewis?
A lot of people are not lucky to have families and friends to introduce them to riding and help them become better riders. I have friends who wanted me to become a better rider but none of them have the patience or knowledge of how to teach.
I heard of the Jimmy Lewis class, and at the time I was too cheap to spend $700 which is the admission fee. I am fortunate to have a good friend who helped me pay for the class.
Learning to ride definitely took me to another level, and crash less. It was well worth it and I ended up taking 2 more classes; didn't really turn me into an advanced rider, but it gave me the confidence and tools. Now I enjoy the rides much more and have the ability to analyze the situation that confronts me.
Jimmy and I are constantly in touch. He's very supportive and offers a special class a few days before the DVNR and Pahrump rallies. He comes to the events to do demos and Q&A. It also promotes his school and people get to know him. His communication skill makes him a standout. Jimmy also donates money to organizations that are involved in land use issue which is very aligned with our cause.
I know there are several very good teachers out there, but we're really fortunate to have someone relatively local like Jimmy and operates in an ideal location in Pahrump to learn how to ride.
How was riding in Europe?
The ride report is here – riding a thumper, Europe is bigger than I thought
In the past, I enjoyed visiting the EU big cities but wanted something different. So, in 2017, I bought a used BMW G650X Country and last year shipped it to Heidelberg. Several months later, I flew over and picked up my bike. The only plan was to avoid major highways, big cities and take as much country roads.
Rode over 3K miles, mostly back roads in Germany and France which is a more relaxing pace. It really amazes me how clean and beautiful the countryside, where the people are nice and friendly.
It was a mix of camping and staying in hotels (to do my laundry). The G650XCo was the perfect bike for rural roads and with great fuel economy @ 70 mpg. An average day's ride is about 120 miles on roads with 30 and 70 KPH speed limit. Really slow by California standard. I have a ride report about it, and yes, it's true, Europe is bigger than I thought on a big thumper.
Are you riding anywhere right now or planning to go next?
Living in Southern California allows me to ride pretty much year-round. There's also Baja which is just over a couple of hours from my house. Early this month, we did an organized ride to the desert memorializing one of our riding buddies who passed away a few years ago. This was our 3rd annual event and participated by several dozens of riders. The desert is a beautiful place to go in the winter time.
Next big ride is to take 2 – 3 months and continue my European travel. Pick up the X-Country in Dusseldorf, explore southern Europe, find mountain roads such as the Dolomites and head down to southern Italy. Somewhere, have to cross the Adriatic to Greece and end it in Croatia. Look for a place to store the bike in Zagreb until the summer of 2020, then take another 3 months finding new places.
What is your current bike?
The oldest one is a 2003 Honda XR400, 2006 BMW HP2, 2009 BMW G650X Country, 2016 Honda Africa Twin and most current is the 2018 Husqvarna 701E. I had other bikes in between models but so far, it's the XR400 that seems to be the bike I will continue to own for the longest time.
Do you have a dream bike that isn't your current bike – if you had an unlimited budget?
For a long time, my dream is a KTM 700 Enduro with a twin cylinder. Not surprised to hear last year that KTM is coming with a 790. It may take a few years before I get one since I already have the bikes that I'm very happy with.
Where is your favorite country to ride and why, and which other two round out your top three?
There are too many of them but I would say it's in the US, specifically California and the neighboring states.
The riding season is long and it's a big state with lots of public lands, and so many beautiful and varying landscapes. Even with lots of public land closures, there are still many places to ride and enjoy.
Mexico would be a strong second due to its proximity, economics, the beauty of the land and people. Actually, anywhere south is a great place to go.
Ireland because of its greenery, quiet countryside, friendly people and a good opportunity to visit friends.
Is there one particular road or track that stands out above all the rest?
Death Valley National Park. It's so vast and varied, the awesome landscape that is constantly changing. Ride as much as I can, go as far as I want given there's enough fuel and water.
If I come unprepared, a misfortune can make the ride a challenge for survival. It is so rugged even though it's not that far from populated areas; the nearest help is at least an hour away. People actually die in Death Valley but good planning with a backup help defy the odds.
A dream location to ride to that you have yet to visit?
Riding from Colombia to the tip of South America is a dream. Thanks to all who share their travels and posting their ride reports. A lot of them are epic, and just about all got me motivated to do the same.
Scariest moment on your travels?
That was when I had a tank slapper at a high speed on Surprise Valley Road, southwest of Gerlach Nevada. I instantly knew it is going to hurt. Didn't have time to panic, first thought was low side is better than high side.
I remember the discussions we had in the past on how to lay the bike down. Don't jump off the bike, instead stay with the bike until it hits the ground, then kick the bike away so it doesn't land on me.
The bike, Honda Africa Twin and I part ways into 2 different directions. When I got up, not a single scratch, good for me it was a smooth gravel road and my backpack took most of the abrasion and provided a cushion.
My Arai XD4 helmet got scratched up but no crack (which I later disposed of), it pays to have a high-quality gear. The bike didn't sustain mechanical damage so I was able to ride it for 4 more days into Northwest Nevada and part of Oregon then home.
Most memorable day?
Getting stuck on Great St. Bernard Pass at the Swiss Alps. The bike won't start, no cell service, getting late and cold. Did everything I know to fix it and no luck.
I was prepared to spend the night until someone told me that he heard the Tour de France riders coast while racing down to the next town of Aosta, Italy. So, I did and it was so surreal, rolling down at a speed faster than I can ride with the engine running.
It reminds of Alpine skiing, making turns on twisty roads and all I hear is the sound of the wind. Pure bliss for about 25 kilometers.
Ran out of downhill roads and the bike stopped several km from the motorcycle repair shop. With my fortune, I looked up to my right and there's Hotel Mignon waiting for me. Got my room and fired up the laptop. Logged on to advrider.com and to the XCountry forum. Soon answers are pouring in, and before midnight we found what the problem was. I may be riding solo but having access to advrider.com, I will never be alone.
Do you think more people should travel and why?
I'm sure people love to. The place we live in is not the same as other places. Do not rely on the media, people and the land are different and through meeting and being there, we get a better understanding of other cultures and higher appreciation of the human race.
Top 3 tips for a new rider?
Taking a riding lesson is where the money is best spent. Makes a better and safer rider.
Keep the bike in good mechanical condition. Do your own service and maintenance, including minor repair jobs. Use the tools in your tool kit, not from the big toolbox. This practice familiarizes with what tools are most needed and what you don't have. Knowing you have them makes many trailside repairs less daunting.
Meet other riders and make friends. Not just fun and memorable, but a group works better in solving problems.
When you aren't riding what do you do for a job?
I am an Engineer at a French Aerospace Company that is 5 minutes from my house. I enjoy my job and never complain about the commute. It feels I have the ideal job due to minimum stress, even I if am doing the work of 2 people. Making money is good but not important at this point; finding the time to ride and explore different places is the priority.
What does the word 'adventure' mean to you?
Adventure is venturing outside my normal and routine life; travel in foreign places, see different cultures, make friends and eat different food. It makes me adapt, see something new and expect surprises, which at the end equates to unusual and memorable experiences.
What is your one favorite photo ever from all your travels?
On my bike facing Mont St. Michel in Normandy. At a distance it's a spire on a rock, then the closer I get, it becomes a magnificent sight in the middle of a dry ocean.
==================================================================================
For more interviews and a small look into the life of some inmates make sure you check out the Interview Series in the forum that has been running since 2007 – you can find it here