For some reason, death has crept into my consciousness recently.  I'm really not sure why.  Whether it was serendipity or something else, Kim and I were out riding the other day and came across the Hope Cemetery.  It's in the town of Barre, VT (population 8,600).
I know you are thinking.  Big deal, there are cemeteries all over the world.  That's true, but there's more to Barre's Hope Cemetary than almost all other cemeteries.
What's so unusual about Hope cemetery?  Hope cemetery's monuments are made from Barre grey granite.  Barre grey granite is quarried in Barre (hence its name) and arguably the highest grade monumental (i.e. "gravestone") granite in the world.
As the Barre grey grew in popularity, talented stonecutters from all over the world came to Barre to work in the quarry and carve monuments.  Large numbers of Italians and Scots who could trace their family stone cutting/carving roots back many hundreds of years flocked to Barre.
And the work they did and do here is nothing short of amazing.  The stone carvers saw memorials as more than a grave marker.  They saw memorial monuments as art.  And it shows.
Barre's Hope Cemetery has many "ordinary" monuments, but it also features many unusual and spectacular markers that are truly works of art.  Monuments that reflect the deeds, beliefs, and love of the people commemorated.
So what do these monuments look like?  Here's more of what you will see inside.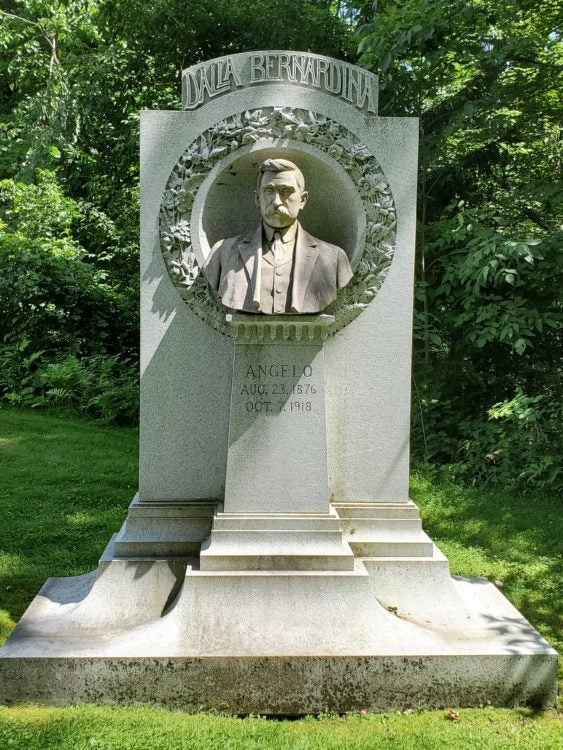 All photo credits: Mike Botan