Editor's Note: Our Adventure Riding in Ecuador series was kindly sponsored by Court and his team at Ecuador Freedom Bike Rental in Quito. Ecuador Freedom offers Bike and 4×4 Rentals, Self-Guided Tours of Ecuador as well as all-inclusive Guided Tours. 
If you're looking for a dirt-filled adventure getaway in South America, look no further: Ecuador has some of the most spectacular dirt tracks crisscrossing this entire Andean country. Off-road riding in Ecuador is practically limitless, with mind-blowing scenery of the high Andean passes, dewy Amazonian trails, and obscure little beach towns right at your fingertips. If you're planning to ride off-road and camp in Ecuador, here's what you need to know.
The Pacific
If tearing across a sandy beach on your bike is something you've always wanted to do, Ecuador is a great place to give it a go. The Pacific Coast in Ecuador is still largely undeveloped, and there are plenty of wild beaches where riding a motorcycle is perfectly legal.
However, always be mindful and respect the local communities. If you're staying at a small fishing village and want to feel like a Dakar star at the mass start of the rally, always ask the locals if riding on the beach is OK. Ideally, choose a spot away from the village or town, make sure you aren't bothering anyone, and only ride if the beach is completely empty.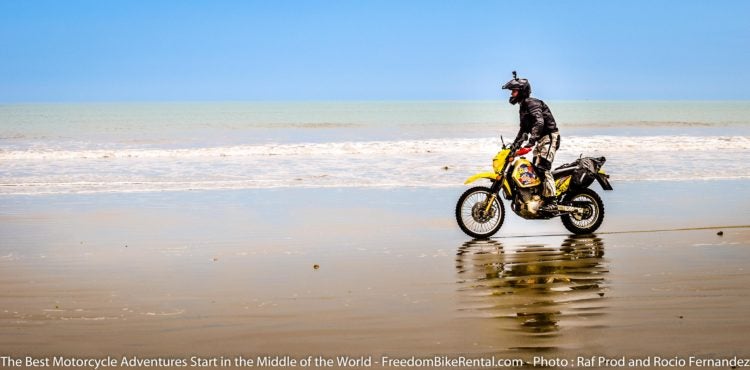 Needless to say, make sure your bike isn't leaking oil or gas, don't leave any rubbish behind, and don't annoy the locals with loud pipes. Before you ride the beach, ask the locals about tides – it's no fun getting your motorcycle stuck in salty water!
The Andes
This is where the off-road riding in Ecuador is truly awe-inspiring. Because many of the roads local people use are still gravel or dirt tracks, the notion of "off-road" isn't really a thing – if you can get your bike up a narrow dirt trail, that means the locals do, too, and you're good to go.
Some of the most spectacular off-road riding in the Ecuadorian Andes can be found near the volcano Chimborazo (Ambato area), Lake Quilotoa, Alausi, and Salinas. The easiest way to find dirt tracks is to simply zoom in on Google Earth; alternatively, you can always ask for off-road riding recommendations at the Ecuador Freedom shop based in Quito, or chat to the locals.
When riding off-road in the Andes, keep in mind that most of these trails are still actively used by the locals. It may be tempting to just open the throttle wide, but be aware that there might be oncoming traffic, wild or domestic animals, children, and landslides on the road. Go easy and enjoy the scenery!
Inca Royal Roads
Another great way to explore the Ecuadorian Andes is following the ancient Inca Roads. Ecuador was once a part of the mighty Inca Empire, and an intricate network of the old cobblestone roads connecting the Andean passes still remain. Some of these ancient Inca roads are still in relatively good contidion, but do expect large potholes, washed-out portions, and local traffic. Some of the Royal Inca Roads start right outside of the capital Quito, while others will take you deeper into the highland country.
National Parks
Ecuador is dotted with wild, breath-taking national parks containing snow-capped volcanoes, curious wildlife, and some of the most beautiful scenery on the planet. Most of these parks are connected and crisscrossed with dirt trails, and you can ride most of them except for the Cotopaxi and Coca- Cayambe National Parks. To ride here, you'll need to obtain a special permit .
The Amazon
On the Eastern side of the Andes, the mountains give way to a lush, green, and seemingly boundless Amazon rainforest. The weather here is sitcky and hot, but the riding is simply out of this world.  There are plenty of dirt trails to choose from, many of them leading to remote cacao and fruit farms where you can sample local chocolate and have a glass of heavenly Ecuadorian fruit or sugarcane juice.
When riding off-road in the rainforest region, beware of mud and landslides and carry insect repellent as well as generous water supplies.
Camping
Generally, Ecuador has very few organized campsites. Accommodation here is still very affordable, and if you can't find a camping spot, you can always stay in one of the beautiful eco lodges or cabins, often nearby a natural hot springs or a swimming hole.
When it comes to wild-camping in Ecuador, it's mostly accepted on public lands. If you tuck your tent away from sight, you may camp just about anywhere. However, use caution when wild-camping solo in very remote areas, and always be mindful and respectful of local indigenous communities. Often, the boundaries of their land aren't clearly marked or fenced off, and you may find yourself intruding on someone's animal pasture or ancestral lands that are off-limits to foreginers.
For more ideas about adventure riding destinations in Ecuador, see this article.