There are several things I envy riders who have a home: decent coffee, plumbing, and the ability to take training courses and tours. Ever since taking beginner and intermediate off-road riding classes with West38Moto in New Mexico and Colorado, I've been longing for more riding lessons and training.
This summer, I've done three cross-country rallies with zero preparation. It was stupid fun, a steep learning curve, and a fantastic experience. However, I always had this thought at the back of my mind: would I have done better at the Hellas Rally Raid, for example, if I'd had more training?.. The answer is an obvious yes. But, being quite literally homeless and on the road full-time, I simply don't have the same opportunities to book riding classes or take part in training sessions.
So when my Bosnia Rally buddy Gabriella Linford and I got an unexpected invite to ride enduro for three days in Transylvania, we both jumped at the opportunity. The invite came from Enduro Escape, a new riding and training tours company based in Targu Secuiesc, Romania. Located right in the very heart of Transylvania, Enduro Escape consists of three friends, Istvan, Toni, and Sanyi, who own a bunch of dirtbikes and have one of the most spectacular off-road riding playgrounds right in their back yard. At the time, I was in Bosnia, a mere 1,000km away, so riding to Romania and taking part in a training tour seemed like a no brainer.
The idea was simple: we'd get to the town of Targu Secuiesc, meet the Enduro Escape guides Toni and Sanyi, and ride the mountains and forests on WR250's for three days. That's all Gabriella and I knew, and to us, that was more than enough. Dirt bikes, limitless off-road riding in the Carpathian Mountains, and two coaches who have both been riding for decades and participated in the Romaniacs: what could possibly go wrong?
Day One: It's Not Water
Crossing Romania and gunning for Targu Secuiesc, I crossed the stunning Carpathian Mountains via the old Transalpina road, then carried on riding regional roads and a gravel track here and there.
The weather was still hot, and upon arrival to Targu Secuiesc, I felt like I was stewing in my riding suit. Parched, I found my hotel room and saw a small bottle of water placed on the TV table. Brilliant, I thought, they left some water for me, grabbed the bottle, opened it, and took a big gulp, feeling something very strange happening – the water smelled funny and felt extraordinarily hot traveling down my throat.
It wasn't water. it was palinka, local Romanian moonshine similar to grappa or sljivovica. The hotel management, instructed by our off-road coaches, left small bottles of palinka for us to try out, but, being tired, hot, and thirsty, I didn't notice the black Sharpie pen letters on the bottle and mistook it for water.
This felt like a true Transylvanian welcome, and after dinner, I found myself getting more and more excited about the upcoming training tour. In the morning, I'd see Gabriella who was flying in from England, and we'd finally meet Toni and Sanyi, our guides and coaches.
Women vs Hills
Toni came to meet us at the hotel in the morning and take us to base, which was Sanyi's back yard in a village nearby. Chatty and smiley, Toni seemed in good spirits as he explained the idea behind Enduro Escape, which was simple: a bunch of friends having stupid fun on dirtbikes in the mountains. "Some of our friends are going to join the tour today", Toni explained as we drove.
Sanyi was already waiting for us with the bikes parked on the lawn and gear piled on the porch. One by one, three more guys arrived on their own bikes. As we geared up, Toni adjusted Gabriella's bike a little, while I eyed my new pony: the Yamaha WR250. In theory, of course, I knew that the lighter the bike, the better, but, not having had any other options, I'd completed Hellas Rally Raid and Bosnia Rally on my DR650. How would it feel to ride the 250 for a while?
As we headed out, Toni, Sanyi and their buddies first took us on a graded dirt track meandering across some farm fields. Noticing we had no trouble keeping up, they soon hopped off the graded dirt road and onto a narrower path leading into the hills. Seeing as we were fine with that,Toni and Sanyi steered the our two-wheeled horde towards the dark, dense Transylvanian forest.
Here, the challenge began. Steeper and steeper hill climbs, picking our lines through the thick woods, negotiating slippery, leaf-covered slopes, rocky trails, and wet alpine meadows, we battled our way through climbing ever higher. At one of the short break stops, we noticed Toni and Sanyi were grinning from ear to ear. "You guys can ride, eh? No woman has ever ridden this far with us, and this last hill is usually a challenge for most riders, including some of the more experienced men", Toni explained. Needless to say, Gabriella and I were more than happy to be The First Women of the No-Women Hill, and we were thrilled to keep going.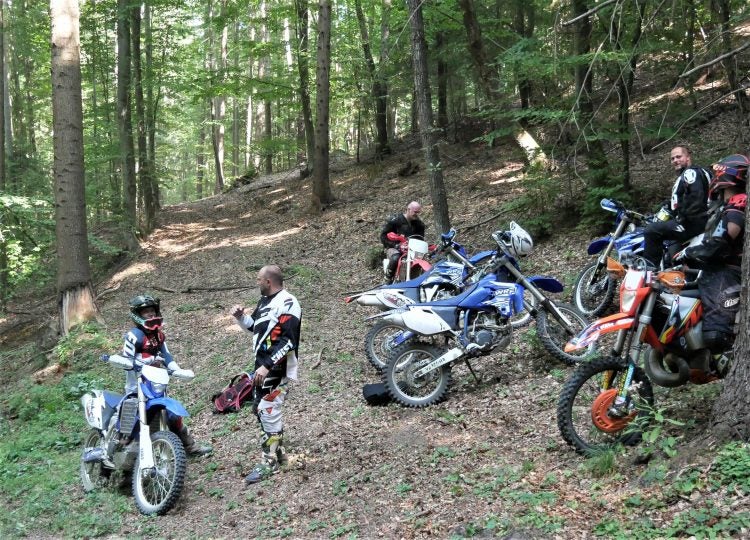 Because Toni and Sanyi increased the gnarliness level gradually, keeping an eye on how we were doing, we kept up with the rest of the posse just fine, and we both got a major confidence boost. For me, it was pretty hard work as I wasn't used to this type of terrain or this type of riding, but the WR250 felt feather-light and very capable. There was no way I could have kept up or tackled some of that day's trails on the DR650; but the WR250 jumped forward at every hill climb and every gnarly single track, ditch, and rocky inferno.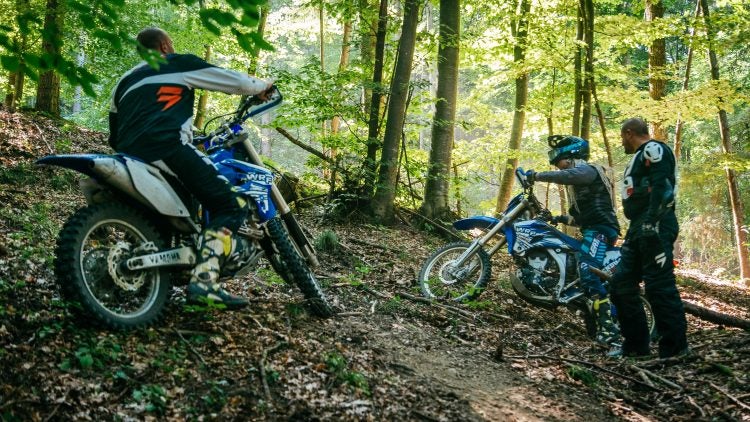 Day two: Flight Over the Bars
On Day Two, Gabriella and I felt like we were riding with friends rather than coaches or guides. Toni and Sanyi had both warmed up to us, and we warmed up to them – after all, spending some seven or eight hours on dirtbikes in the woods will bring people together faster than anything else. Day Two felt even more exciting as we tackled more and more technical trails. While Day One felt like hard work for me, Day Two was pure bliss: I trusted the bike a lot more and some of the steep hill climbs that seemed monstrous the day before, we now flew up without even thinking about it. Mid-day, we asked Toni and Sanyi to teach us to jump off things; mostly because it looked cool, but also because we got curious what else was possible.
After a short theory lesson about compressing forks and throttle blips, Gabriella and I were sent off a curb first, then small bumps in the ground, then little hilltops. We both felt like kids on a carousel, riding in circles and jumping off small hills yelling woo-hoo. The feeling of momentarily being airborne on a bike was a first for me, and I was enjoying the hell out of myself that day. Judging by the huge grins on Toni and Sanyi's faces, they were happy with their new students just as much as we were excited to be doing the jumps.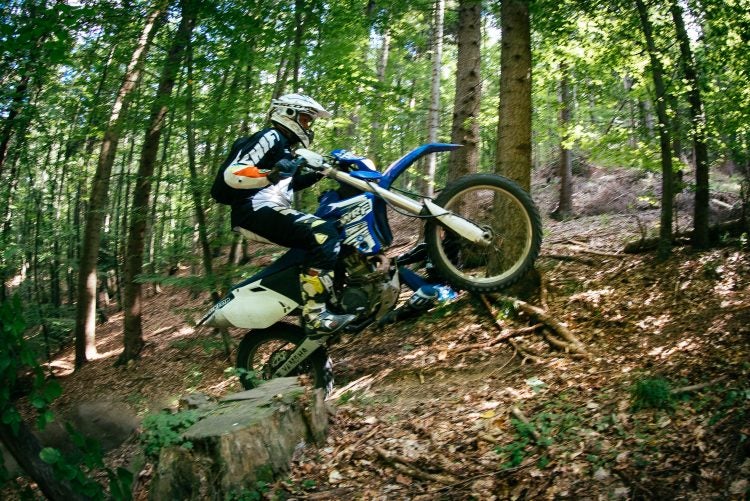 Feeling on top of the world, I was following Sanyi and Gabriella as we continued riding the trails. Suddenly, there was a barrier across the track, and the only way round it was a small but steep rise in the ground. Thinking nothing of it, I went at it at speed, and the next thing I knew, I saw the world go upside down. Turns out, there was a narrow but steep ditch right after the rise, and in my bike went, nose first, sending me flying over the bars and landing on my head.
Thanks to my helmet and neck brace, I got away with just a mild concussion and a sprained hand, but for that day, my ride was over. Cursing myself for making such a silly mistake, I waited as the guys took my bike back and brought the car to take me to the hospital – my hand had swollen so much I could only see two of my knuckles, and we figured I might have fractured something.
Luckily, it turned out to be a sprain, and while my head was a little loopy, I was more or less unscathed. Still, I felt green with envy as Gabriella left with the guys on Day Three to complete the ride, while I was stuck in the hotel with a useless hand and a dizzy head. In the afternoon, when everyone got back, we set off on a short sightseeing tour in the nearby town of Bran where the world-famous Dracula Castle still looks like it could totally be inhabited by vampires.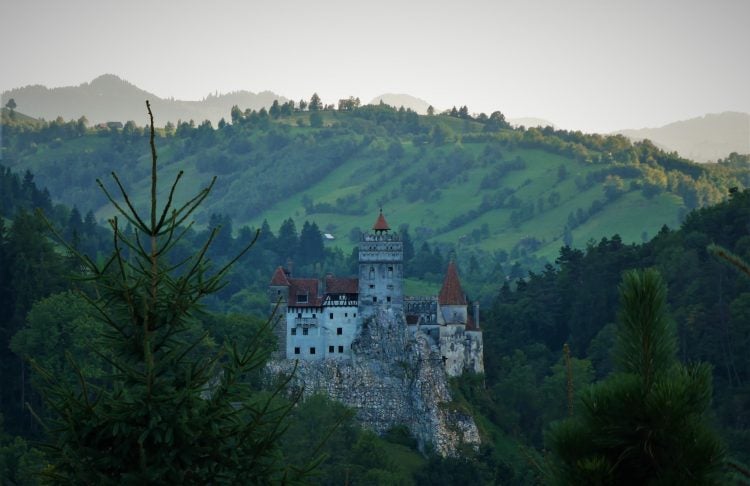 Although I only completed a day and a half instead of the full three days of the training tour, I learned so much I'm still buzzing when I think about it. The lightweight WR250 was so easy and fun to handle, and being able to keep up and tackle all the technical trails with Toni, Sanyi and their dirtbike nutcase friends was a major confidence boost. In fact – and sure, this might just be the concussion talking – I have already began plotting my Romaniacs debut next year, because this enduro and hard enduro business, it turns out, is just ridiculous fun.
I have also seen the light when it comes to smaller bikes. As I'll be racing the Hellas Rally Raid again, I think Lucy, my DR650, will have to wait that one out – I'm hoping to rent a KTM 350 or something similar at the rally and race on that instead of trying to bulldozer though on the DR.
But most of all, I fell madly and hopelessly in love with Transylvania. It's not just the dramatic scenery of the Carpathian Mountains, the vampire legends, the multi-layered history and culture, the wild wild mountain country, the dark woods and the lethal palinka. It's the heart and hospitality that were shown to us in the best way imaginable, genuinely and without expecting anything in return. Before I left, Sanyi fixed my leaky front sprocket seal, and we had one more coffee with him, Toni, and their buddies, scheming the next Enduro Escape.
I'm not sure when or howe, but I know I'll be back here as soon as I can.
Photos: Egle/Gabriella Linford
Bikes, trails, palinka, and training: Enduro Escape