After finishing my Dakar in Photos posts, I thought this was it: I said all that I wanted to say in my Dakar articles, the rally is long over, and it's time to move on now.
But the Dakar had just one more surprise in store for me before leaving Peru.
Right after the rally in Lima, I briefly interviewed Sebastian Cavallero, a Peruvian rider who finished 41st this year – his personal best so far and second best among all the other Peruvian Dakar riders. The finish was even more spectacular because during the Dakar Series in the fall of 2018, Sebastian suffered a serious injury breaking three vertebrae in his spine. "I injured my back in September, which meant I couldn't do anything till about mid-November when the doctors finally cleared me to go back to the gym. I was not allowed to ride a motorcycle until the end of December, though, so I literally just had a few days to ride and then the Dakar started", – Sebastian told me.
He rides bikes as a hobby, runs a B2B car rental business in his home town of Arequipa, and used to race karts and trucks. Now, Sebastian is thinking of getting into hard enduro and trying an event like the Romaniacs…unless, of course, the Dakar 2020 will be held in Peru again.
Just before he left Lima, Sebastian told me to give him a call if I'm ever in Arequipa. "You should see all the awesome canyon beds and mountain trails we have out there. Let me know if you're ever traveling through Arequipa, and we'll go for a ride!".
So when I recently found myself headed for the Chilean border in the South, I decided to make a quick detour inland. I had very little time, so when I texted Sebastian announcing I had only one day in his home city, I didn't expect he'd be able to pull it off.
"How's 10am tomorrow?", – a reply came.
Not quite able to believe this was really happening, I suited up and headed for the MotoMarket bike shop the following morning, where Sebastian was waiting with two KTM's. I'd never ridden a dirt bike before, let alone on rocky trails, let alone with a Dakar rider, and I had no idea what to expect.  I decided my goal was simple – not to break Sebastian's bike, and, ideally, not to break any bones because I needed to be in Chile the following day. Other than that, I was prepared for anything.
I already talked about how cool all the Dakar riders were; but Sebastian's cool is a whole another level. He patiently matched my sluggish speed, turned his engine off while rolling past a confused herd of llamas so as not to spook the animals, and when it started raining (and then snowing, hail, and lightning), he made sure I was OK with the crazy weather, shrugged his shoulders happily and tore off across the trail like it was just a casual sunny Tuesday morning despite being soaked through.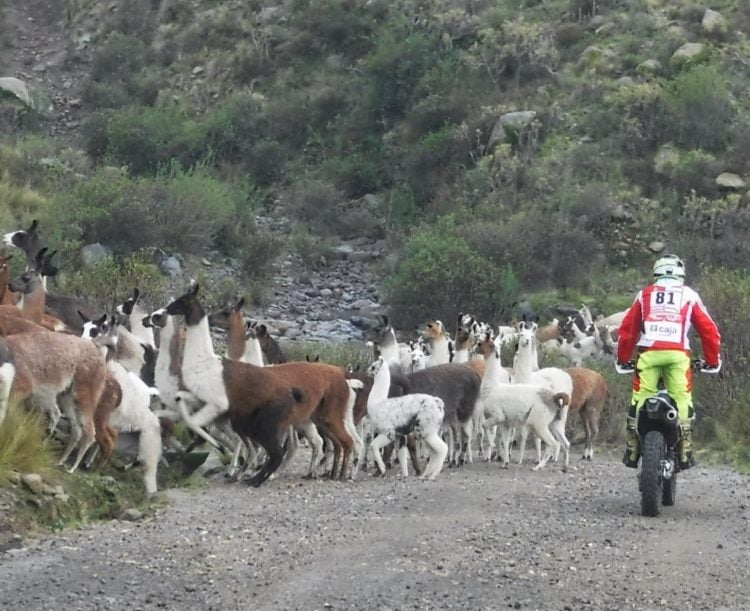 We traveled through beautiful countryside just outside of Arequipa, surrounded by snow-capped volcano peaks and dotted with tiny campesino villages. Because the weather quickly turned stormy, we did a short loop around riding easy dirt trails which made a tad slippery by all the flash floods.
"There's a little Inca trail over there, if you'd like to give that a go?", – Sebastian asked me mid-way, pointing at a hillside.
The little Inca trail turned out to be a barely visible muddy footpath littered with boulders and rocks. I pondered it for a minute: this dirt biking business was ridiculous fun, and the light, powerful KTM could to tracks much gnarlier than this. Still, as the rain poured down, I remembered my no-broken-bikes-or-bones policy and, I confess, chickened out.
"Haha, no worries! It is a bit slippery right now", – Sebastian said, and we got back on the main dirt track leading towards Arequipa.
As we rolled back onto tarmac, I was shivering from the cold, but inside my soaking wet helmet, I was grinning from ear to ear. So that's what this is about!, I giggled to myself as I followed Sebastian through busy city traffic.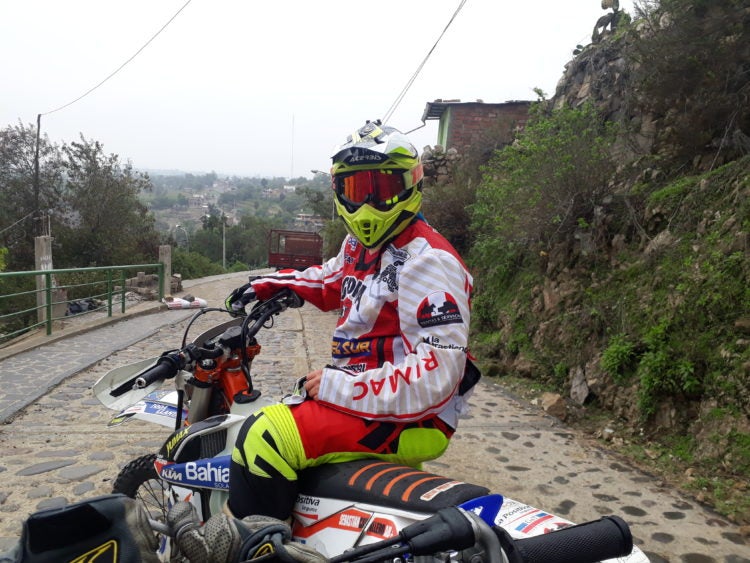 As if to guess at my thoughts about the awesomeness of dirt bikes, Sebastian promptly decided he'd had enough of traffic, jumped on the curb, and stopped on the edge of a little alley leading down four flights of narrow, steep steps.
"You'll be fine, just lean back a bit!", – Sebastian laughed and leisurely rolled down the flights of steps.
I wasn't so sure about the "fine" part, but, I figured, if a Dakar rider has confidence in me, I should just follow said Dakar rider, and, taking a deep breath, off I went.
The urban enduro stunt was a perfect finish for an awesome ride, and when we got back to the MotoMarket shop, I had to practically peel myself off of the KTM. Lucy, my DR650, parked safely among the orange beauties, suddenly looked unusually large and heavy.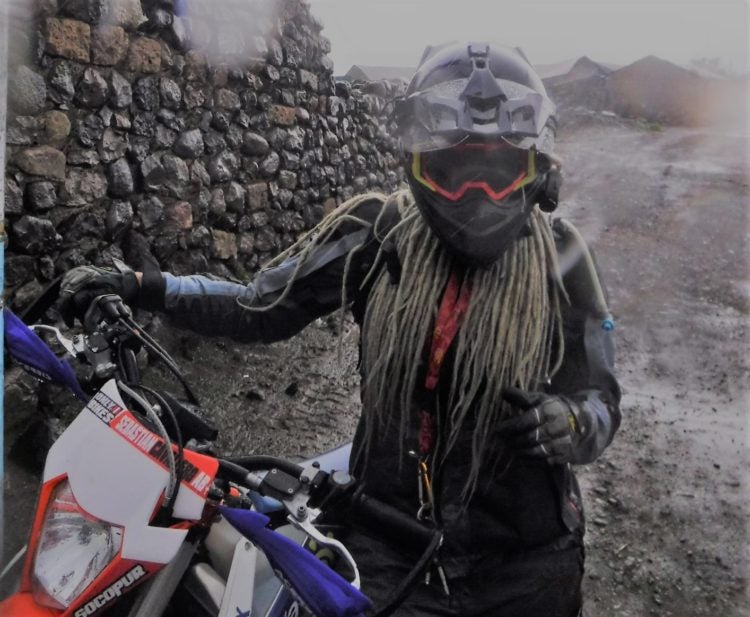 Before heading back to dry our gear, Sebastian and I chatted about what's next for him, and whether he'll be racing the Dakar 2020.
"You know, each year, when I finish the Dakar, I tell myself: never again. I never want to go through this hell, be this exhausted, this hot, this beat up. And then each year…
I find myself at the Dakar start line again".