After watching Baldy interview Joey Evans, a South African rider who suffered a horrific crash and was paralyzed from chest down only to make an incredible recovery and finish both Rally Dakar and the Africa Eco Race, I knew I just had to talk to him myself. Joey doesn't just have an amazing story of overcoming trauma and racing in the world's toughest rally; he's also got some unique and inspiring insights on motorcycling, racing, and life in general. So without further ado, here's the first part of Joey's interview where we talk about dealing with pain, managing fatigue and exhaustion during a rally, and how this applies to everyday life.
-Joey, you've seen more pain up close and personal than most. Is possible to prepare for the pain?
-Absolutely. But the thing is, just like with everything in life, resilience builds slowly. If you're just starting out on a motorcycle, chances are, you won't make it around the world immediately, you'll need to do day rides, weekend rides, and so on first before you can embark on a long journey. It's the same with racing. During my first off-road race, I was hurting real bad real soon into the race – my quads and hamstrings were cramping, my hands hurt, it was really tough going and I was a mess. And it was merely a three-hour race. Fast-forward fifteen years, and I'm racing the Dakar. You learn to manage and endure the pain: with any sport that's about endurance, you need to manage the suffering and push past the pain.
But the most important thing is your "why". My "why" of doing the Dakar was huge, and it was bigger than the pain I had to go through it to achieve it.
-There are certain kinds of pain that you just can't be prepared for, however, like your accident. How did you deal with that?
There were different kinds of pain that I had face. Obviously, there was a lot of physical pain involved. But I think the mental and emotional part was very tough, too. Before, I was a good rider who would win regional championships, and now, after the accident, I suddenly became the rider who kept dropping his bike, other guys were getting annoyed, trying to get past me, and I just struggled so much, falling further and further back in the race. It was hard and humbling to accept this new body and this new person that I've become.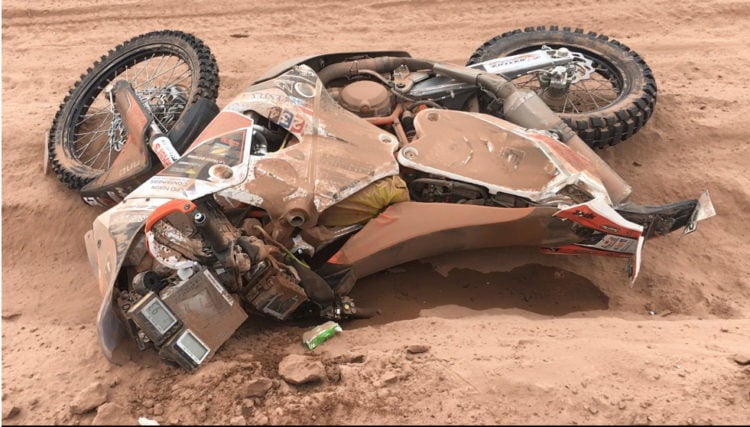 Naturally, in this situation, you're hurting, and you're angry with the world, but you have to work through that. For me, it was the realization that the only person I was racing was me. It also taught me a lot about empathy. Before the accident, I was very competitive, I could excel at a lot of different sports, and I guess I used to feel sorry for people who were frail. But then you look at someone like that, or someone old, for example, and you realize, maybe this guy has had some crazy adventures, or gone through something like the WW2, and although he's now trapped in this less capable, weaker body, it's still the same person inside. It was the same for me – I was so used to be fit, active, and fiercely competitive, and now, I was sitting in a wheelchair wearing a nappy with half my teeth missing, a urine bag strapped to my leg, and at first it was hard as hell because in my mind, I wasn't this person. I was the off-road racer, the marathon runner, the tough guy. And so that's a very palpable pain, the emotional and mental part.
I think what helped me the most was realizing that I was only competing with myself. Yes, I wasn't as good after the accident, I wasn't as good as the other competitors, but I began looking at it another way. When I recovered enough that I could ride, I stopped comparing myself to all the other racers, I simply told myself – I was paralyzed and in a wheelchair, and now I'm riding a bike on a mountain somewhere, this is awesome! If you take my Dakar result, I came in 94th out of 97 finishers. So, third last. It's terrible in terms of a sporting achievement. But in terms of my life, of where I was back in the hospital, broken and unable to walk, it was incredible.
So it's about what you measure yourself against. There's no point comparing yourself against other people, because all that is relative; instead, compare yourself to where you were six months ago, two years ago. That's what matters. That's the big race.
-When it comes to rally racing, especially after an accident like that, how do you know which type of pain is a valuable sign, and which pain should you push through?
You don't want to damage yourself, but you can't just give in, too. It comes with experience, though. The more you ride and race, the more you learn to distinguish which is which.
But in a rally like the Dakar, if you're looking for pain to be a reason to stop, you'll find it on day one. It's there. If you want to come home and say, look, I made a smart decision, I didn't want to hurt myself and decided to pull out… I mean, if you're going to do the Dakar, you will hurt. Most riders will tell you that it takes about six months to recover from racing the Dakar. It's not just your muscles, your wrists will be hurting from that much hammering, your shoulders, so much of your body will be in pain, so you need to get your headspace right, you need to know that you're OK with paying that price.
In the end, pain can be a healthy thing, too. It helps us grow. When I was this guy who could do any sport, who never faced any major challenges in life, I think the way I viewed the world and other people was very skewed. But once I've gone through a very dark period, a lot of it changed, and I learned a lot about gratitude. I think we need this rollercoaster, we need to go up and dive down, we need to live fully. Just take adventure riding – we want to get stuck in a desert or a blizzard on a mountain, those are the stories that you remember and those are the stories that you tell. You need that full journey, and you need that pain if you want to grow.
But again, it's all about mindset. I actually talk to myself a lot when I'm riding, like, "come on man", "what's wrong with you", and I also try to get into this "bring it on" mentality, too. I remember riding through the night in South America during the Dakar and just yelling at the race in my helmet, "is that all you got?", "you've picked on the wrong guy!!". It probably sounds kind of nutty, but it helps to flip the switch in your head and instead of being a victim of those harsh conditions, you become the one who's so comfortable in this hostile environment that you're asking for more. You become the hunter instead of the hunted: instead of thinking, what's out there in this pitch black darkness, what are the dangers in this environment, you start thinking, I'm the one who's the danger out here. The perspective changes, and all of a sudden, you're riding very differently.
If you want to check out Joey's book, it is available on Amazon in Paperback and Audible Audiobook. Joey also graciously is allowing a free MP3 audiobook download for inmates. The details are here.