There are dozens if not hundreds of articles and videos about Astrophotography, it is a popular form of photography and a lot easier than it looks.
Generally, the Milky Way is not easily visible to the human eye. Find a location with minimal to no light pollution and sit to let your eyes adjust and you do have a good chance of seeing it.
…but where is it? I use a phone app called 'Photo Pills', around $10. It is a very easy app to use, good information and instruction, and is always rated #1 for this kind of photography.
It has the options for you to add your Camera, make, model and the same for the lens. Add to that, it will help you with the setting you need on your camera, the duration of the shot, the best time to take said shot and much more.
The most important thing is to be in an area with minimal light pollution, not so easy these days in some areas. You could get other free apps that can help with this -search for apps like Dark Sky Finder
Before this app, it could be a guessing game exactly where it was and when the best time to see it was, like this shot, Big Agnes asked me for a nighttime shot of a new tent they'd released so I snapped this cropped test shot, sent it to them first to confirm on the angle…they responded with 'can we have it without the Milky Way sneaking in the top right corner, haha!'
The next question is to edit or not edit, that is a choice you will have to make, sometimes the unedited version is just as great without light pollution to ruin them.
Below is an unedited shot from a few weeks ago near the Devils Tower Wyoming, with Jupiter very dominant to the right of the Milky Way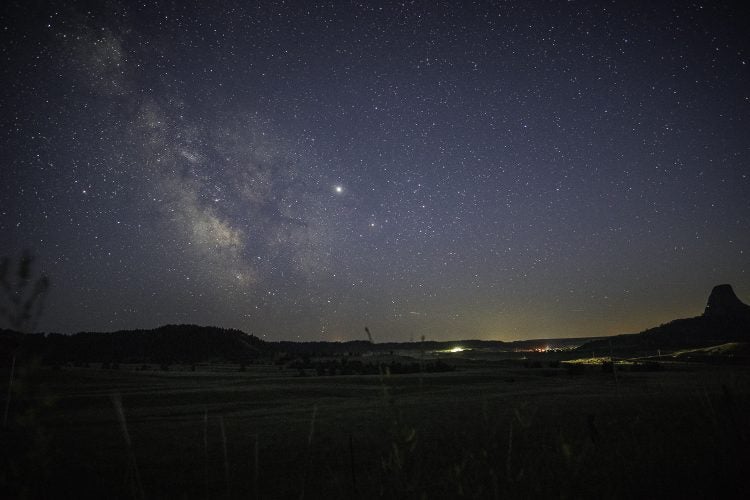 but to show the difference, unedited again, about 4 miles down a dirt road the Milky Way is a lot more visible because of less light pollution, an edit to this would make it pop out even more. All personal preference
I purposely didn't do this as a how-to, but if this is something you are interested in please let me know in the comments and I will put something together