This weeks featured image (above) is by @Peter640 who took the photo last month while riding his 2014 BMW R1200 GS (affectionately known as "Bison") on the Faroe Islands (Kingdom of Denmark). He writes …
The frosty shot is taken in the Icelandic high country travelling with Chris From Explore 360. The waterfall (Mulafossur) is in the Faroe Islands. A short bike from the village of Gasadalur, this blew our mi da in the first day of travelling here! The road shot is dropping down into the Village of, Nordradur, again in the Faroes! Amazing riding, beautiful scenery!
@Aratinga submitted the most joyful photo of the week. She writes …
This photo was taken in Oregon in front of Mount Adams. I'm the jumper, the photo was taken by Brad RIngstmeier. I was in Saint John, NB on my way to a conference in LA, then a ride from Sacramento back to Saint John. To shorten the time, I booked a flight from Montreal to Vancouver. I rode from Saint John to Montreal and got a rock in my radiator on the way. Poured some stop-leak in… and tried to order a new rad. Turns out there were none in the USA, but 6 in Germany would take 2 weeks to get here). So I called around in Canada and found the only Rad in North America happened to be in Vancouver. My plane arrived late, but the guy at the shop in Van stayed open for me, so I could retrieve my bike from cargo, and ride with the new Rad to Brad's place in Seattle, where we installed it!! This photo is the joy of a woman who knows how lucky she is! Brad has given me open permission to use the photo for my business as well as allow others to publish it.
Thanks for sending this in! Bike pictured is a 2004 BMW F650 GS Dakar.
@Mike Nesbihal took this photo last month of his 2018 Royal Enfield Himalayan on a trip with two other inmates from the Bitterroot Valley of Montana to Hungry Horse, Glacier National Park and Lake Koocanusa.
ADVrider's The Bear sent us this photo of a Suzuki V-Strom 650 rental from MotoQuest taken in the Columbia River valley just east of Portland OR. He says "I really liked the light.".
@jonbu writes …
Last January my wife and I made our 5th trip back to Big Bend National Park (our favorite NP) and our first on our dual sports. This was taken after a very rainy morning when the sun was just beginning to come out on River Road. My wife is there enjoying the view and the great expanse and isolation of the Chihuahuan desert. This image was captured on traditional black and white film, Kodak TriX 400 on a Nikon L35AF w/ yellow filter. Developed at home and digitized on kodak pakon f135+ lab scanner.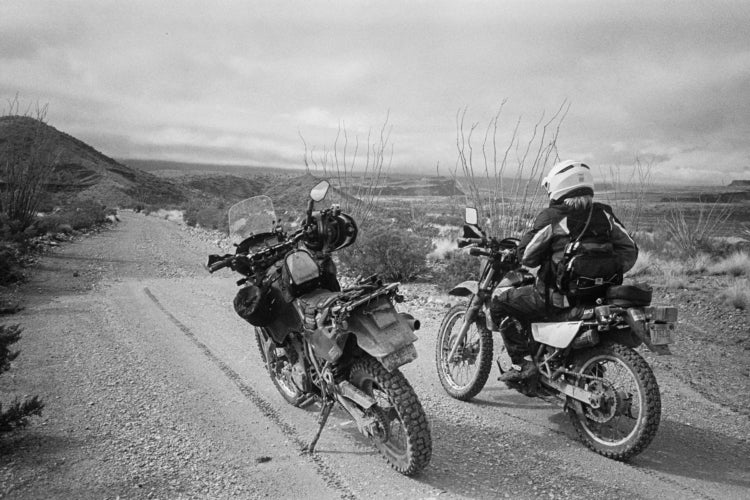 Jon is riding a 1999 Kawasaki KRL650 and his wife is riding a 2006 Suzuki DR200.
@bwanajames sent us this photo of himself and his BMW 1150GS (2000) at a hitching post at the Gracious House along the Denali Highway in Alaska….
@Strongleftleg took this photo of his 2007 KTM 525EXC  along the Fraser River near the Big Bar reaction ferry during "a week long ride through some of British Columbia's best riding areas".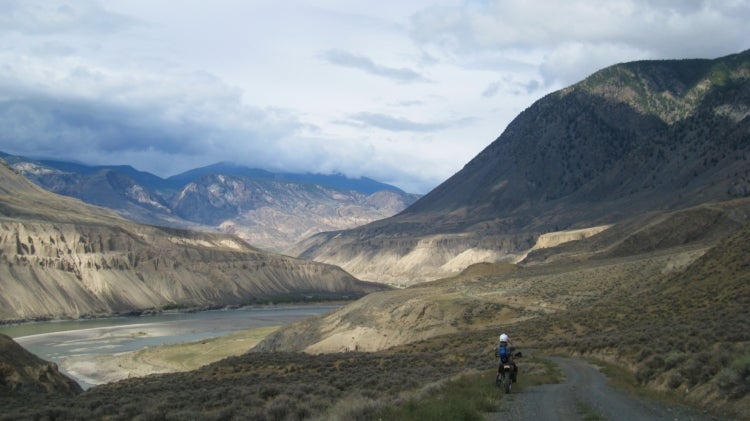 @Kahoona writes ….
Photo of my girlfriend Cyn on a recent ride in the southern Berkshires in MA. She is not comfortable riding on dirt roads, and this day decided to follow me on my search for some Tags. Super proud of her as she navigated a sketchy rocky down hill, and was actually telling me to speed up. Hoping someday to get her on a dualsport bike!
Good job Cyn!
@whizzerwheel took this photo on the beach by Playa Huatabampito, Mexico. He says "It's a long lonely stretch of beach where we had stopped, and we were just soaking up the isolation of the spot.".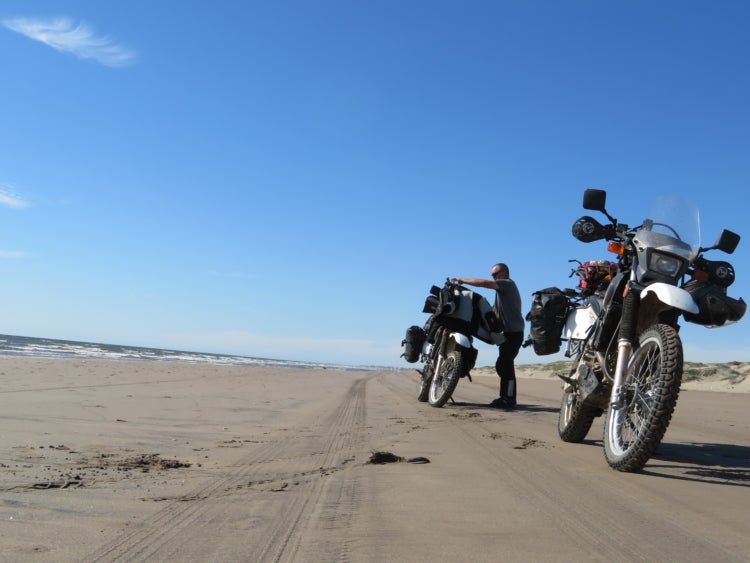 @Hamamelis sent us this photo of 2017 Honda CRF250L Rally bike at Chesapeake Bay taken in the past couple of weeks …
Stopping to watch the seabirds before crossing the 18 mile-long Chesapeake Bay Bridge-Tunnel in Virginia. This was my return trip from a weekend camping on the Eastern Shore of Maryland. Atop the bridge I felt like I was flying alongside the passing seagulls and pelicans!
@garr2 writes about the road untravelled ….
Went passed this turn off on my way to Broken Hill in western NSW. Vowed to return one day to see where it went. Never did.
@mb300 writes …
Here's my girlfriend Wafer looking alien-esque on the surface of Mars, aka the Grand Staircase-Escalante National Monument in south central Utah.
It does indeed and the silver helmet only adds to the effect!
Vonjobob sent us a photo of his 2003 Suzuki DL1000 ….
In Georgia, I was coming up hwy 348 out of Helen and took shortcut road over to the Georgia Dragon (129). It turned into dirt and rock. It even had a couple of small creeks to cross.
@ishirock took this photo last month of "My navigator and steed along the Road to the Sun in Glacier National Park, MT".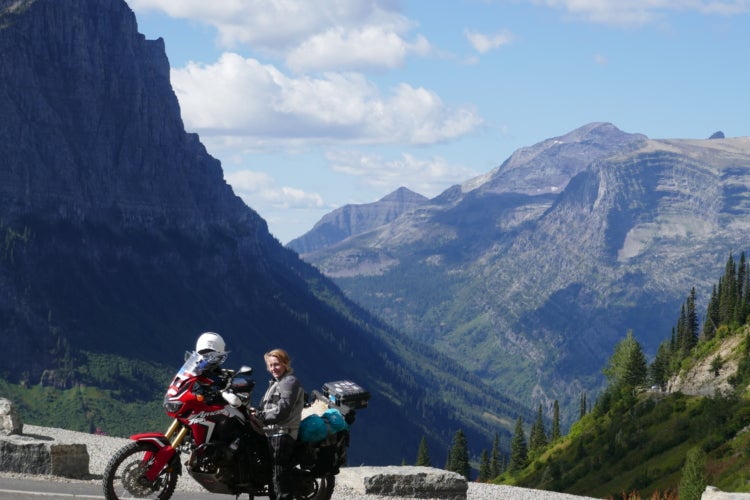 The steed is a 2016 Honda Africa Twin.
@KennyBooBear sent us these beautiful photos of his 2019 Royal Enfield Himalayan. He writes …
Taken just outside of Sattley, California. The sun was dipping behind the peaks quickly, bringing with it the cold mountain air. I stopped for a quick stretch and a drink before wrapping up what would end up being a 350 mile day. The smoke in the distance was a result of the Walker fire burning outside of Quincy, CA on the Eastern slopes of the Sierras. Earlier in the day while en-route to Lassen Volcanic National Park, I took a moment to stop on the shores of Lake Almanor. The smoke from the aforementioned fire made seeing the opposite shore nearly impossible, but it also gave me a view of the lake I had not yet witnessed until then.


A big thank you to all the inmates who submitted these epic photos. See you next week!