Welcome to the second POTW (Photo of the Week) post. It never ceases to amaze me what a wonderful community we have here and what incredible adventures inmates are embarking on around the world. If you want to submit a photo, a link is at the bottom.
This week's Featured Photo (above) was taken by inmate @Erwin P in Morrocco last June. He wrote …
This shot was taken in the Erg-Chebbi dessert in Morrocco last June. This was our first Adventure trip so it was time for some sand practice. We took our big ADV bikes to see how far they would go up a dune. This is the result of the first attempt on my 990 Adventure.
What a stunning photo!
Inmate @Bultaco206 sent us these two photos of a trip Michigan Upper Peninsula. "Pavement Ends. Life Begins". What more needs to be said?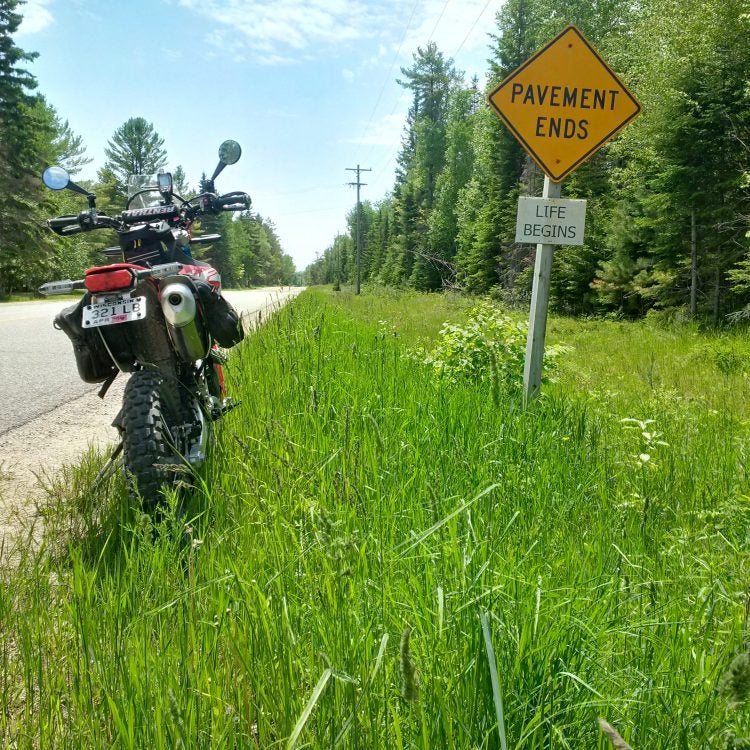 He also sent in a photo taken in the last week in Vilas County, in the Northwoods of Wisconsin.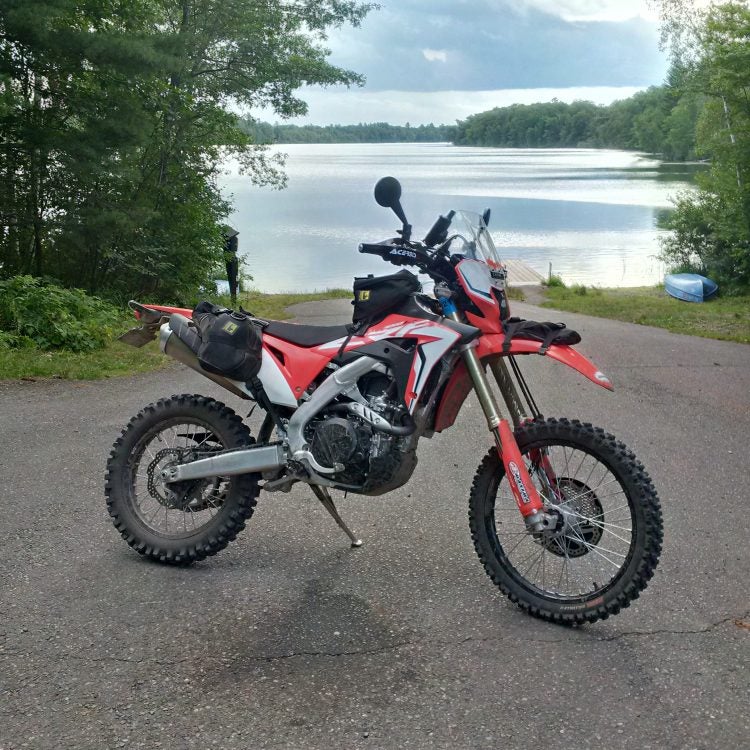 @strongleftleg sent us this beautiful photo taken of him and his heavily modified Suzuki DR650 on Mt. Cheam, British Columbia earlier this year.
@Trip Hammer writes …
I took this on Movie Road in Lone Pine, Ca a couple of months ago after setting up camp. Easy to see why this is a filming location for hundreds of movies.
Such dramatic scenery. I had not heard of movie road before, although I must have seen it in films. I Googled it and according to Wikipedia over 380 films have been filmed there since the 1940s!
@fredharpua wrote about his pee-stop in Vermont last year …
A fall ride in Vermont, one of my last before I had to move to TN. Took a stop here not for the picture but to take a pee….on my walk back to the bike I noticed the great photo op and grabbed it with the perfect lighting. I sure do miss Vermont!
Inmate @Zeder took these photos in the last couple of weeks in British Columbia. He wrote …
I spent a weekend in Invermere, British Columbia, Canada exploring the area with a group of friends. Riding my heavily modified 2006 F650GS, one of the riders in our group suggested we take a trip up the backside of a mountain to get to the Paradise Mine. "Lets go!" was my response.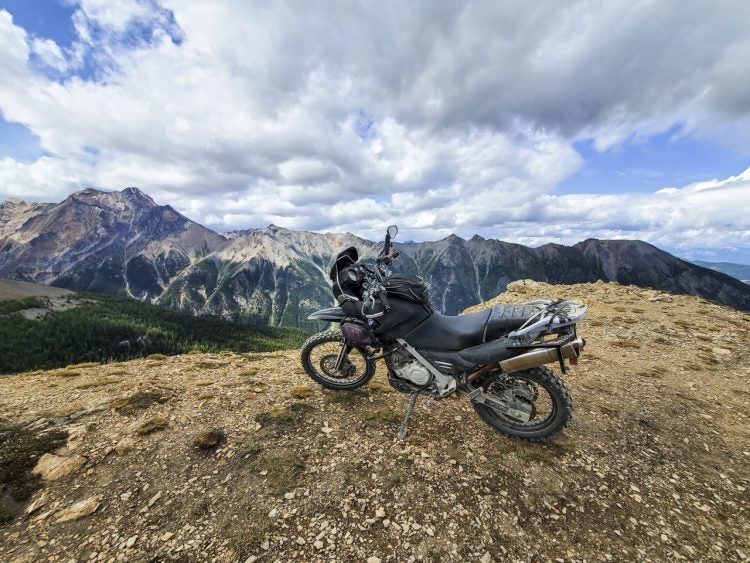 Paradise Mine Summit, Located adjacent to the Purcell Mountains in British Columbia. This summit was accessed from the town of Wilmer. The town is at 2800 ft and the 35 minute climb, much of it in first gear, will take you above the treeline to the summit which is at 8372 ft. Its a fantastic ride with a spectacular view!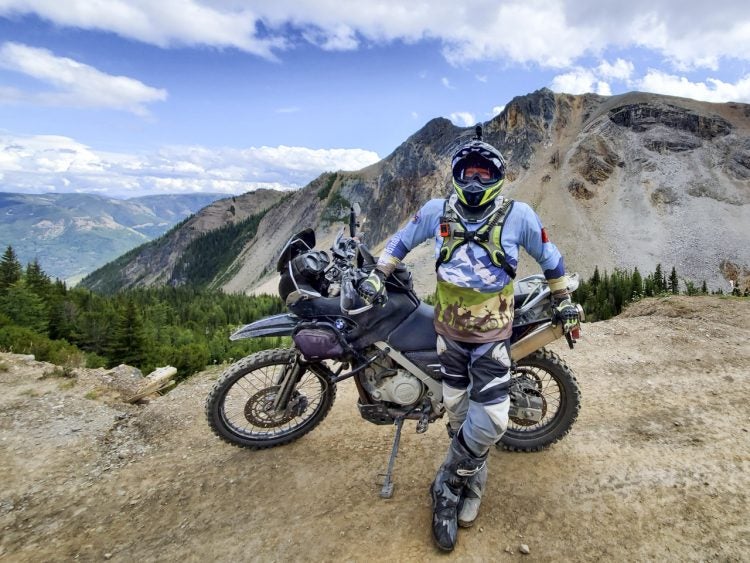 Descending from the summit to 7800 ft via the front side trail on the mountain takes you to the Paradise mine shaft plateau. This image was taken directly across from the entrance to the Paradise mine.
Here is the Paradise mine shaft entrance.
The next day we took a 120 km highway ride to the town of Golden, British Columbia. About 30 km past Golden we turned off the highway to follow Black Water creek to McNaughton Lake. It is a very triply location! A number of large trees were harvested many years ago when the Mica Dam was created. The original, smaller Kinbasket Lake was named in 1866 after Kinbasket, a chief of the Shuswap people. The completion of the Mica Dam in 1973 formed this a new lake and it was called McNaughton Lake.

Its was a fantastic weekend of dual sport riding in an absolutely breathtaking area.

HIGHLY RECOMMENDED!
@nuuskamuikkunen took this photo at the top of the Col d'Izoard in France last month. He tells us about the clever hacks to had to do in order to make it there …
Took this photo on top of Col d'Izoard while heading south on the legendary Route des Grandes Alpes. Great twisties and magnificent views all the way down to the city of Menton.

The bike is a 2010 Yamaha TDM 900 that I've fitted with R-MG center stand and engine bars, MRA double bubble screen raised with a Palmer Products adapter, and a pair of Barkbusters Storm handguards.

If you look close you'll note the mod that I'm most proud of, poking out from the side faring. The second ignition coil was shorting in wet conditions so I cut up a sprite bottle to better protect it. It might not be the most aesthetic mod, but I've had zero problems since.
Well done @nuuskamuikkunen!
@pago cruiser sent us this nostalgic photo he took at the AMA Tucson Flat Track circa 2012. He wrote "Wish they would bring them back!".
@akupnt sent us photos from a recent Nevada > Canyonlands > SW Colorado he took and which he documented in the Ride Report forum. The photos below are from Colorado, but the full Ride Report can be read here. Thanks for sharing!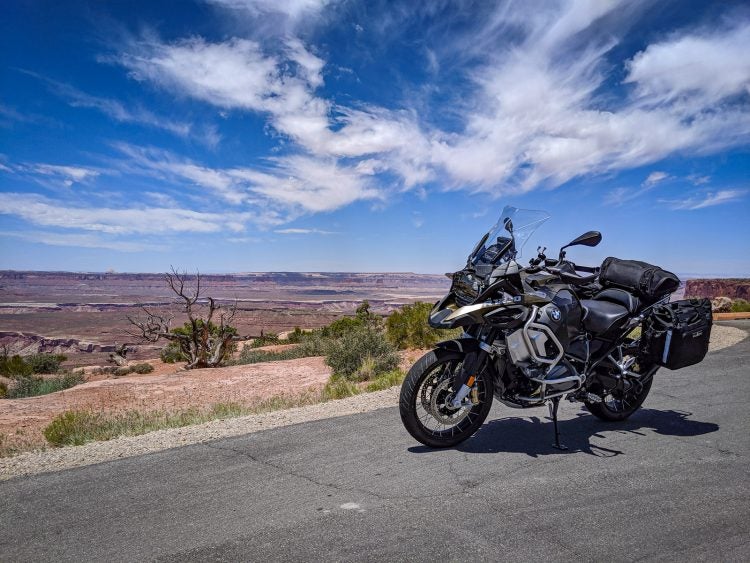 @elbeardo sent us this epic sunset he photographed last month while on a ride. He wrote …
On the way home from work on my 08 drz400, awesome sunset worthy pic even tho it's on the 3 miles of slab I had to take to get to the next backroad
Inmate @Torqilla sent us these photos taken in Oregon, his home state. He wrote …
Taking the 640 out for a spin in Sunriver Oregon. I bought the KTM last fall and I am getting up to speed on adventure riding.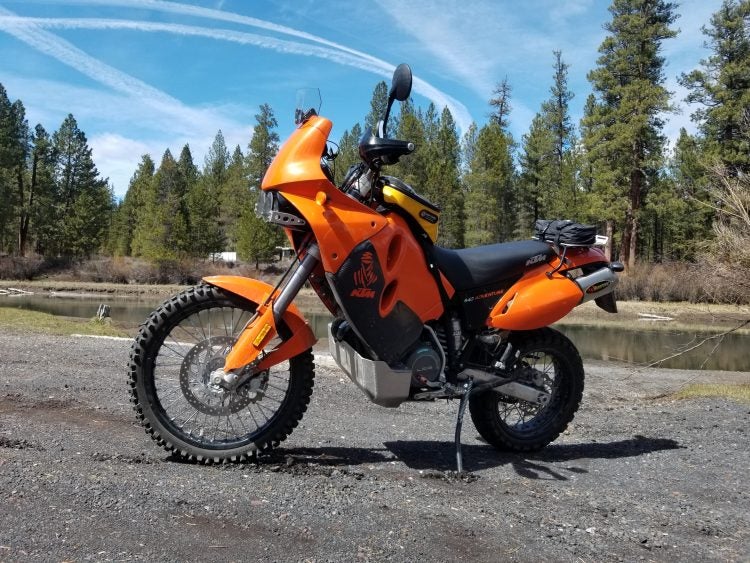 @GoAWOL sent us this photo from Baja. He wrote …
Taken in the Valle De los Gigantes, a special place in Baja where the environment supports cactus growing upwards of 60ft tall for over 300 yrs. This massive specimen was swaying with the wind when I snapped this shot…amazing.
Inmate @Pantah sent us this photo he took in 2016 soon after he purchased his Africa Twin.
This photo was taken in September 2016. I had just purchased my new Africa Twin in Rhode Island and was riding it to Scottsdale for the winter. I had ridden a KTM 950 on this route in 2005, so this trip was to recapture that ride with my new Adventure bike.
@klutzonwheels sent us this photo he took last month in Rocky Mountain National Park, Colorado. He wrote …
My 2010 Street Triple 675 R near the top of Trail Ridge Road in Rocky Mountain National Park, Colorado. It poured down rain all day except for this moment.

Thanks to all the incredible folks who shared photos with us. I can't want to see what is sent in over the next week.