This week's featured image (above) is by @HairLipDog who shared this dramatic photo of his 2012 Yamaha Super Tenere a week ago near Stevensville, MT. He wrote …
The weather had been a bit rainy in the morning but later in the afternoon it cleared enough and the skies were filled with wild clouds. I set out for a couple of hours of riding and headed for a favorite road near my home. Normally this road southeast of Stevensville, MT is almost impassible when it rains but it was not that bad this time. It turned out to be the right move and presented a great opportunity for photos.
The photo was taken with a Fujifilm X-E2 camera and 18-55mm zoom lens. Thank you for sharing @HairLipDog.
@Spokan sent us a photo of his 2001 Aprilia Caponord taken earlier this month in Washington state. He wrote …
This photo was taken in the Selkirk Mountains of NE Washington. Riding when you have little kids is hard to squeeze in, but my lovely wife told me I had to get one more ride in before the snow flies.
@ScotsFire has been riding the Washington Backcountry Discovery Route (WABDR)  on a 2014 BMW F800GSA through the snow and writes …
This was while riding Section 1 of the WABDR Nov 7 (yesterday). I had ridden the northern sections in September but had to cut that trip short. Took advantage of the (relatively) good weather to complete the route.

The highest elevations did have some snow on Sections 2 and 1, with this being the worst of it. It has been cold enough that the stream is frozen solid, though was only a few degrees below freezing whenI came through.

One of the best parts of this ride was the confused and surprised looks from hunters as I rode through.
This photo was taken on a Nikon D3400.
@Erwin P sent us this great photo of his girlfriend and her Kawasaki Versys-X 300 in Morocco.
My girlfriend just after kicking my arse in a hillclimb contest between the two of us. After a few days riding in and around the Erg-Chebbi dessert (Sahara, Morocco) we thought is was time for a little play time. So what choice do you have but blasting full throttle into the first sand dune you find…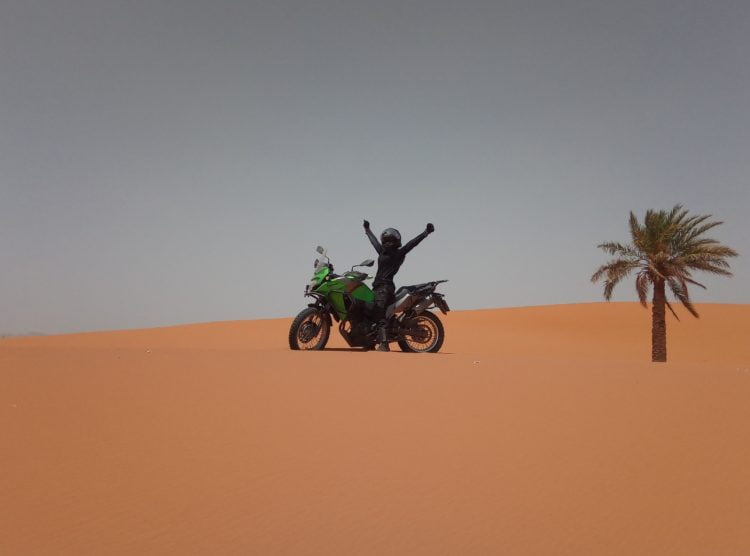 Serial contributor @Peter640 sent us a selection of some of his favorite photos from his 4-month adventure. He wrote …
Back home going thru pics from the trip these ones are some of my favs. Love the shot of Pauli and Chris side by side in an Icelandic stream. And it was nice to see some pictures of the flying banana in action! All shots in Iceland with Chris Wilthius and Pauli Jørgensen and the Explore360 Crew. A wonderful trip and high point of an amazing 4 months travelling from Canada to the UK.
]
]
]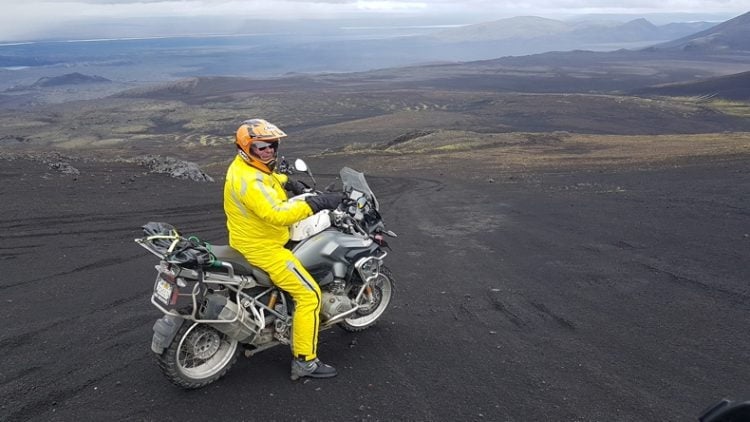 "katana750" sent us this beautiful photo of his "two loved ones" (his wife and his Australian registered 2012 Suzuki DL650) and the Austria alps. He did not mention if his wife is also Australian.
I love this photo sent in by Christian & Sharon taken last month in Chile. The couple writes…
We stayed at this beautiful beach, Pan de Azucar Lodge, Chile on our trip through South America. It was low season and we travelled two up. We asked the lovely hosts (Miguel & Rosario) if they could provide us with food, which they happily did. And it did save us a trip back to town on dirt. And so we spend the days relaxing in this beautiful place.
It looks idyllic! The bike is a 2007 Moto Guzzi Breva 750.
@deguoren has been riding Italy on a BMW G650 Xchallenge. He said …
One week of riding on the Italian island of Sardinia. The bike gave me some grief this time, throttle cable frayed on the first day, then 3 days of occasional starting issues before identifying a relay as the issue. But when the X runs its awesome 😉
Now, this is something a little different, photographed by myself. Not long ago Peter "The Bear" Thoeming sent me a Lego Harley-Davidson Fat Boy set. I had a lot of fun putting it together and photographed it next to a real H-D Fat Boy.
Aside from the wheels, tires, and decal stickers, the rest of the model is made from standard Lego pieces. Internally it has a working chain (not belt), crankshaft and pistons. The designer of this set did an amazing job capturing the curves and angles of the real deal using standard Lego pieces. If you are looking for a Christmas gift for a motorcycle enthusiastic in their teens, I highly recommend this model.
@Stevidx has been riding his 2016 Yamaha Tenere 250 through Peru. These photos were taken within the last few weeks. He wrote …
These photos were taken on day 207 of our South American odyssey, which was yesterday as peck out this description on my iPhone. It is the road to Túnel Punta Olimpica, "supposedly" the highest tunnel in the world. The road travels through the Cordelia Blanca range and tops out at 4736 m.s.n.m (15,538 ft) and, as you can see, affords some very spectacular vistas. Upon exiting the .8 mile long tunnel we found ourselves in heavy misty freezing rain for about 14 miles. The views before the tunnel were worth every second spent in the rain.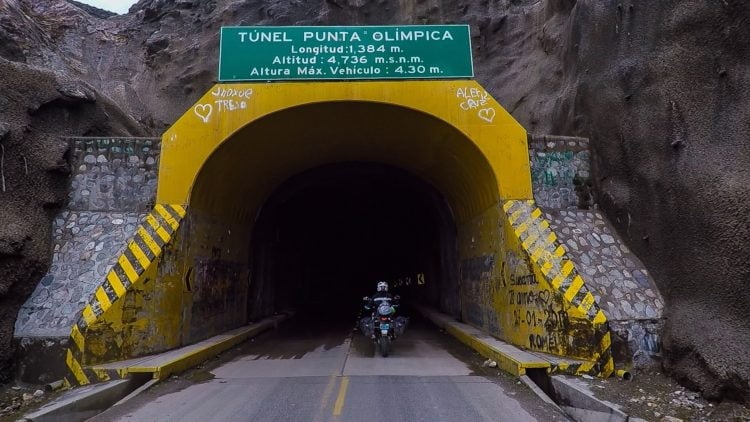 @elbeardo sent us another beautiful sunset and his Suzuki DR-Z400S. He said "Most likely the last ride of the year here in southern Saskatchewan, Canada. Old man winter is on the doorstep. ".
@Antikid shared some dramatic images of his 2015 KTM 1190 Adventure R at the Grand Canyon taken earlier this year. He wrote …
After about 1800miles of highway from Ohio, with flats, intense heat and icy cold, rain, and several other delays, we made it to the Grand Canyon! We got lucky in the middle of the Texas panhandle after the last flat of the trip. We were stranded ~50 miles each way from any town when some ranchers happened upon us, and trailered the bike the 50+ miles, one way, to a shop! The pic with only my son (12.5yrs old), is my favorite of the entire trip, so I had to include it. It was taken here: 36°24'26.0″N 111°55'02.8″W When we left the area to head to camp, we went through rain and then snow, had to backtrack and detour around fallen trees, and just made it in time to catch the sunset.
@Pundy sent a photo of his KTM 250 XC and Husqvarna 501 riding. He wrote …
The first photo was taken on Railroad Ridge in Idaho, just to the west of Stanley. It had been a stormy day and that's a snowstorm moving through in the background. The second photo was taken on the Little Boulder trail in Idaho.
Ron sent us this photo of his 2017 KTM 500 EXC a couple of weeks ago. He said "Taken below Dunderberg Peak on Kavanagh Ridge dueing a dual sport ride between Lee Vining & Bridgeport in late October."
Thanks to everyone who sent in a photo. I thoroughly enjoy seeing them and sharing them with our community.