This week's dramatic featured image (above) was taken by William in Quebec earlier this year. He writes …
Photo at the Casey airstrip in Quebec, during an epic ride around the Gouin reservoir. The first of many adventures with a couple of my best friends from high school.
William's bike is the 2017 Honda CRF1000L. The photo was taken with a DJI Mavic Air drone.
@fredbenz sent in this photo of his wife riding through beautiful fall colors of Vermont on a 2018 BMW F750. He writes …
Picture taken of my wife as we made our way through the White Mountains of Vermont. Captured during 9 day self-guided tour during first 2 weeks of October (courtesy of MotoVermont) through New England (Upstate NY, VT, NH and Maine with wife and another couple (all four on separate bikes). As evident from the photo, the fall colors were in their full glory. Mellow, but no less an outstanding ride made that much better by being able to do it with close friends and my lovely wife.
@fredbenz also sent in these two photos of him and his riding partner's 2017 Husqvarna TE300 last month. He writes …
Both photo's taken of my riding partner (Claudio) during 2 days of riding in early November on roads and trails in and around Downieville Ca. (Sierra Buttes area/Tahoe National Forest). First picture is from day 1, having climbed the Lavezzola Creek trail up to the "A Tree" and then along the ridge to the point where you're looking down onto Wades Lake. Second picture is early morning the next day above Goff's Ravine making our way up to the Empire Creek trail (and beyond that the Chimney Rock trail). Spectacular landscape and extremely challenging riding. Doesn't get any better in my book.
@SPKR sent us a photo of a BMW GS towing another GS. He explains …
There were 4 of us riding off road heading to the north rim, just East of the Kaibab National Forest. We were working our way around ravines and washes that eventually connected with the Grand Canyon. One of the bikes was an older GS with a few miles on it. We stopped to review a map and the rider noted that his seat would not close properly after he retrieved the map. We stared up again and 5 minutes later, his bike died. Inspection of the bike revealed the top tubes of the frame developed a fatigue fracture and broke apart. This placed tension on wires to black boxes and literally pulled them apart. 50 miles from nowhere, we had to find civilization. Fortunately, we were prepared and took turns towing him to pavement, then on to the next town. The lesson was be prepared for the unexpected.
Being prepared is the hallmark of an Adventure rider!
@JamesHTrotter sent in this beautiful photo of hig 2008 Honda CRF230L. He writes …
Left New York with the CRF230L. Minimalist on an air-cooled single. Three weeks on the road from New York to Charleston SC, to Saint Augustine FL, eventually to Utah. approximately 3,500 miles. This was taken in Big Bend National Park, in Texas. Full ride report ( https://advrider.com/f/threads/cross-country-crf230l.1371217/ ).
This photo was not submitted to POTW but was posted by @Michnus in his epic ride report a few days ago. If you have not been following Michnus & Elsebie Piki-Piki Around the World ride report, I highly recommend it. More photos from the Cordillera Blanca mountain range in Peru are here.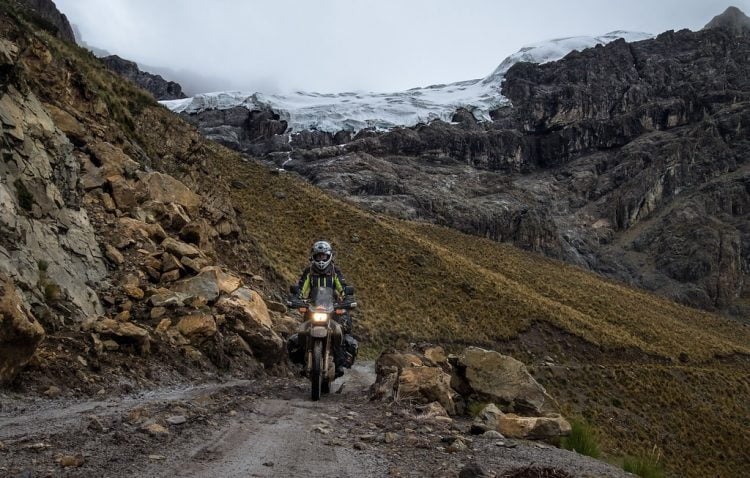 @Busy bob, who rides a 2015 Suzuki DL650A Adventure, has been busy and sent in six photos …
Pics 1-4: Beaten by slick mud on the Dempster highway and forced to make an unwanted off road stop. The DL motored along without complaint, but minus its beak.
A cold morning in Eagle Plains and realization that reaching Tuktoyaktuk is out of the question (made it to the Arctic circle in blowing snow)

Pic -5: A view southbound over Atigun Pass (Alaska). More cold and snow on the menu.

Pic-6 Off road at the base of the Salmon Glacier (British Colombia)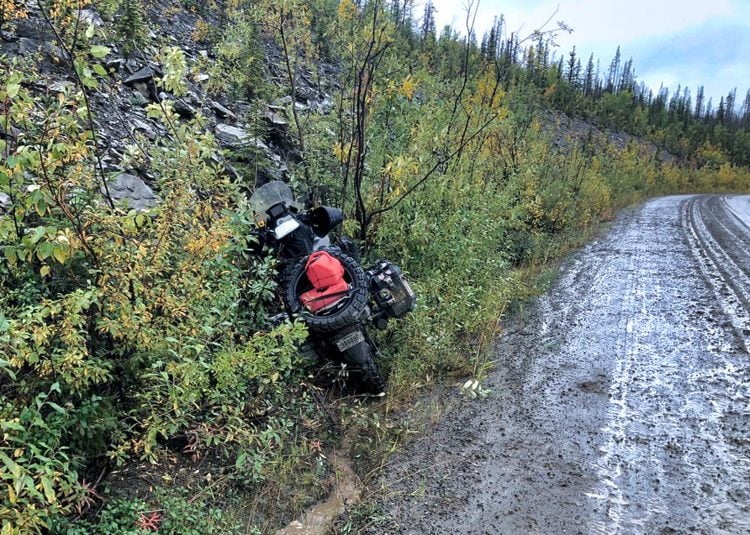 Thanks for the beautiful photos Bob!
@Gurm690 sent us this photo of his 2018 KTM 690 Enduro R in the Black Rock Desert, NV.
Black Rock Desert, NV. Site of the current land speed record (not made by me although I was hauling ass out there!)
"Flyfish" sent in a photo of his 2018 KTM 350 excf and Yamaha TW 200 in rural Iowa on a gravel ride. He says "Cold but beautiful in its own way!".
POTW regular @whizzerwheel sent us a photo of the fourth annual motorcycle meet-up in Banamichi, Mexico. He writes …
Nope, that's not Sturgis… nor is it Laconia. It's the fourth annual motorcycle meet-up in Banamichi, Mexico. About 40 like minded, and some crazy motorcyle travelers get together to share stories and some cerveza's about traveling in and about Mexico. We also bring some items to benefit the local schools and enjoy a weekend of fun and frolick. Sponsored by our own Turkeycreek and Los Arcos Hotel.
@r80gseric has been working on a father and son project. He writes …
After my son and I rebuilt my own college bike, a 1970 Honda CL350, my wife suggested we get a basket 1970 Honda SL350 to continue the 'father son' project. We just finished it, 100% stock other than ignition. Here it is at Hollister, California, on the 'vintage motocross track'. What an awesome bike!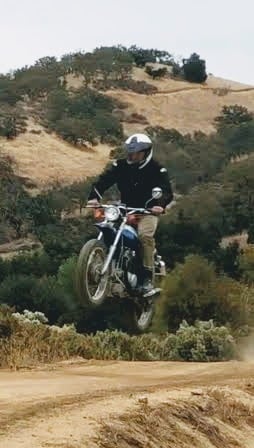 A big thank you to all the photographers who shared their photos and stories.