This week's featured image (above) and the photo below was taken by @Kerschbaumer on a "private" Ferry ride in Chile earlier this year. He writes …
This was a favorite from our trip to South America in 2017-2018. Part of the Careterra Austral had been closed by a landslide and a ferry been running to bypass it. We had to camp the night before and when we arrived at ferry next day us and 2 french men were only ones on it – the road had apparently opened a few days before and we didn't know – we were only ones one whole boat – a private cruise!
Taking the road less traveled is what adventure riding is all about! @Kerschbaumer and his friend were riding a 2012 KTM 690 Enduro and a 2015 Honda CRF250L.
@Ruinedone took his 2016 R1200 GSA to the Artic Circle earlier this year. He writes …
Took my bucket list ride to Alaska in June this year. Made it to the Arctic Circle Deadhorse will have to be another trip. It was 80 degrees that day, and three days later in Faro (Yukon) it was rain, 48 degrees and heated gear time. go figure.
The Arctic Circle is on my bucket list and every time I publish a photo from an inmate who has made it there, I want to go just a little more.
@jojofett writes about the need to get out, ride and "reset" perspective …
"I wasn't even planning on riding today. I had every reason not to (over doing it, feeling worn out, need sleep, the heat……etc, etc). Well some of those reasons where exactly why I need to ride and this morning at 6am it more like a moral imperative, than necessity……………I had to get out of my head, time for a factory reset. So no alarm, no meeting place, no "kickstands up", no route, no idea, NO NOTHING. I just grabbed my helmet, jacket and snapped up my boots and headed out the door."
Well done Joe. The bike is a 2018 Suzuki DR650.
@SanDogDewey took this photo of his 2019 Honda 450L last month in Oregon. He writes …
Spent 10 days in central Oregon riding the Oregon Backcountry Discovery Route and many trails in between with two good friends. This was taken the last day of riding in the northern most point of the Deschutes National Forest.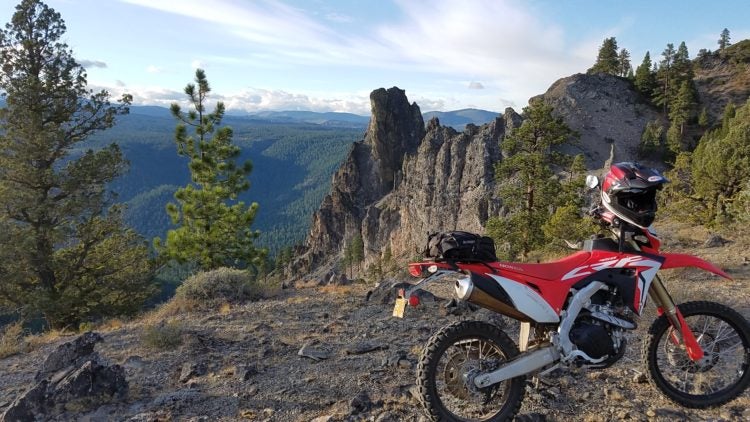 @R1250 GS Adv Rider sent us a photo of his 2019 BMW GS Adventure by wind turbines last month, I really the framing of this photo. He writes "This photo was taken on a nice ride down Happy Jack road outside of Laramie, WY.".
@drfrisker sent us this panorama taken in August a few days before he finished the Oregon portion of the TAT. This photo is best viewed in a higher resolution. If you click on any of the photos in this post, they will increase in size.

He writes …
I took this in August 2019 about 3 days before finishing the TAT in Oregon. Coming up on China Hat in Deschutes National Forest, I ventured off the main trail looking for any excuse to make my journey longer, even if only for a few extra minutes of riding. Sam's route through Idaho and the start of Oregon were quite relaxing (compared to Kevin's route), so I was looking for a few challenges, anything to bring some extra difficulty into the day and found a few downed trees to skirt around / hop, with a nice view, among many others that day.
@drfrisker was riding a 2013 Suzuki DR650.
@KennyBooBear sent us 5 beautiful photos of  2019 Royal Enfield Himalayan.

He writes…
The second photo (below) is a grove of Aspens heading back North on a trail just beyond Mono Lake. Third is looking back at the peak that rises above June Lake.The above photo was taken outside of Bridgeport, looking out toward Sawtooth Ridge. The fourth shot was the next morning overlooking June Lake. The fith was shot next to Bodie, an old ghost town sitting on the California side of the Great Basin Desert at right around 8500ft.

I woke up early Saturday and decided I wanted to ride to Bodie and enjoy some of the fall colors along California's Highway 395. I reached the site at about 4:15 in the afternoon as I tend to stop and explore random tracks and forest roads far too frequently. Once I got back to 395, the sun was getting low on the horizon and the temperature was plummeting. Instead of taking the 200 mile ride home and freezing my digits, I headed up to Mammoth Lakes for the night. I was up early the next morning and had breakfast at a spot I frequent in Mammoth and shortly after set off for Obsidian Dome and then the June Lake Loop. I sat on the West beach of June Lake for a good 40 minutes and, once I decided I wanted to cram more into the day, I set off down toward Mono Lake. After burying the bike in a couple feet of sand and subsequently recovering it, I gradually made my way back north and eventually to my home. 48 hours and about 585 miles, roughly 100 of which were various trails.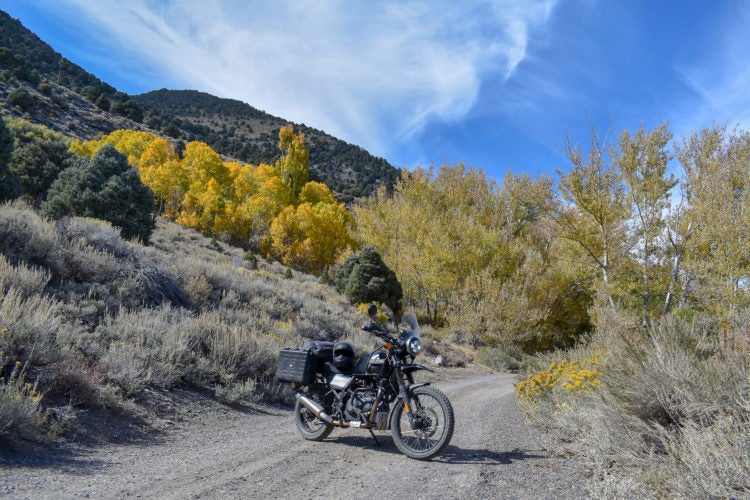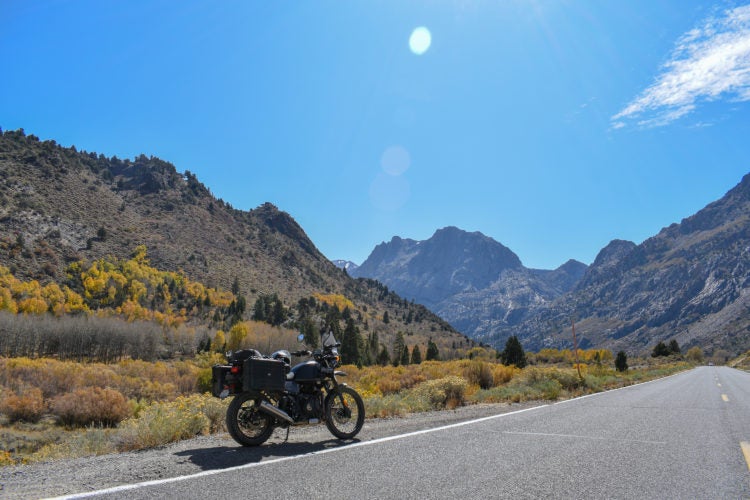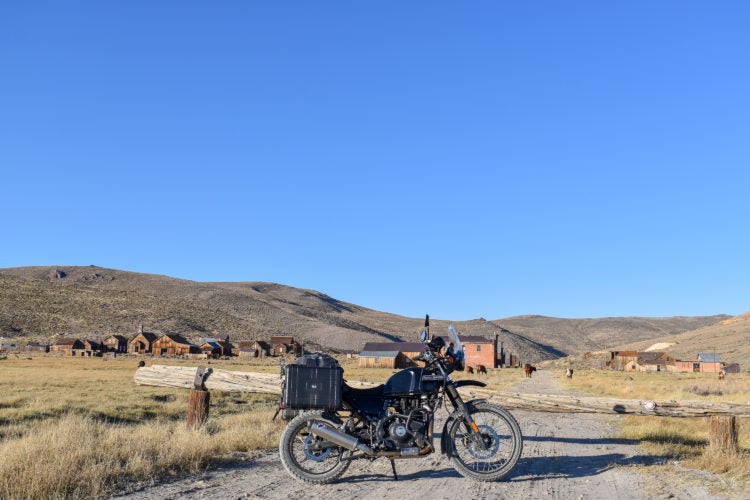 Thanks for sharing your adventure with us!
The next two photos were taken by @MtRainier of his Yamaha WR250R. He writes …
The first photo shows an abandoned railroad trestle peeking through the canopy near the ghost town of Lester, WA. The second photo is from the same ride, taken high above Lester on what was a beautiful summer day in the Cascade Mountain foothills.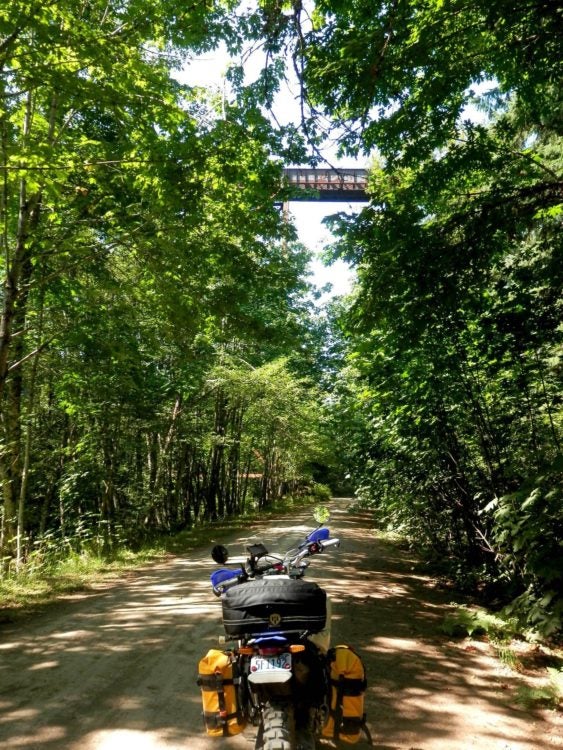 @satchmo3 sent in this photo of his 2017 KTM 450 450 EXC-F Six Days. He wrote … "SE Oregon, headed for the Alvord Desert, Steens Mt. in the background.".
@Guruvy sent us this photo of his Kawasaki KLR 650 2018 taken last month. He writes …
This photo was taken at the Pine Tree overlook on my way to Overland Expo East last weekend riding north on the Blue ridge Parkway in VA, Mile Marker 95. I met a older couple traveling the US east coast from Scotland just before the photo whom regaled me of stories riding all around Scotland for many years on and off road, wife as pillion. Great moment!
@Guruvy also offered some advice for prospective photographers …
Pay attention to your light angles and take a basic photography course, you'll love it!
Good advice!


@firemanblackburn was riding the  BDR trail last month on his 2018 Honda Africa Twin Adventure. This photo is just south of Moab.
@Dread sent us this photo of his Yamaha SCR950 2017 taken a couple of weeks ago. He writes …
This picture was taken on the Camas Prairie in Idaho. I was passing through on probably my last ride of the year and parked for a rest. Then I thought the view would be a neat one to share with other inmates from my beautiful state.
I agree, a beautiful state.
Thanks for all the inmates who contributed photos this month. Thank you for the inspiration.