This weeks featured image (above) was taken by @Tgoranson of his 2018 Africa Twin on Montana Mountain, just outside Carcross, Yukon, Canada.
People keep telling me I'm crazy for trail riding a 500+lb bike, but I just can't get enough of it. This weekend I had the chance to go ride some trails on Montana Mountain, just outside Carcross, Yukon. I took this picture with the peak just before I tried (and failed) to climb a loose, rocky ascent that was just too much for my limited riding ability. It ended up costing me a turn signal, but that's a small price to pay for a great day of adventure.
The camera, lens, and settings were Olympus E-M10 w/ 25mm f1.7 Image shot at f5.6 1/640s ISO200. Another Micro 4/3 fan like myself.
@safischer took this photo earlier this year of his BMW F800GS Adv 2015 25 miles north of Hyder Alaska.
He writes …
Up on a ridge overlooking the Salmon Glacier about 25 miles north of Hyder Alaska. Visited this location as part of a month long motorcycle trip through western Canada and Alaska.
The photo was taken on a Canon EOS 70D with EFS 18-135mm lens.
@firerider took this photo of a beautiful Californian sunset and his 2017 KTM 1090R …
Two friends and I on the last day of a camping trip through the Eastern Sierras in California. We were planning on camping just north of Crowley Lake but with the storm coming our way we decided a room in Bishop might be a more comfortable way to spend the night.
@MUDHWY took this photo last month of his Honda VFR1200X 2016 in Northern Idaho on his way to Canada. Lovely fall colors.
Traveling up to Canada in extreme Northern Idaho this fall and took a 30 minute 'detour' around a smallish lake I had seen on the maps but never previously visited just 20 miles south of the border crossing. With the sun quickly setting this fall scene in the thick pine trees just begged for a pic, so I stopped for a moment and took the shot. It's become one of my faves.
@Thirsty has just completed a 9300 mile trip ending in Yukon (Canada is very popular right now).
Completed a 33 day 9300 mile trip down and up the West coast of N. America. I made it up the Dempster Hwy, Yukon Territory after attending Dust 2 Dawson. A highlight of my life!!! Simply Beautiful in the North when the sun never sets.
Congrats on making it to the Arctic Circle!
@ScottFree took his 2004 Harley Road King Fall River Road in Rocky Mountain National Park last year. He writes …
Riding up the Fall River Road in Rocky Mountain National Park, summer of 2018. That's a heck of a drop on the left side of the road. All Harleys are dirt bikes, some owners just don't know this. If you look real carefully you can see my friend on his Buell Ulysses in the rear view mirror.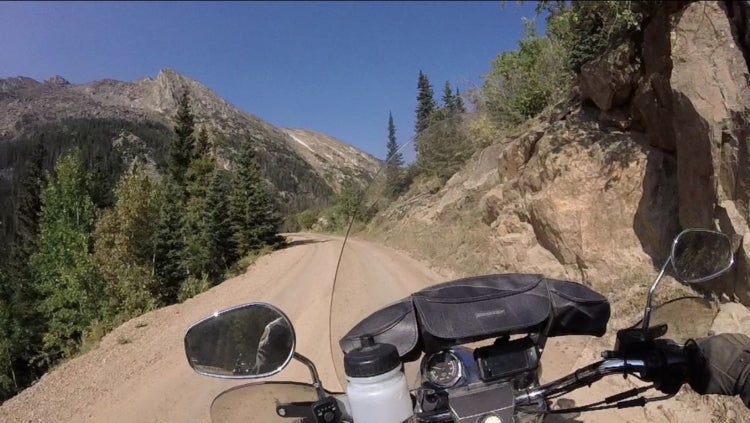 @Hutch81 took this spectacular sunset in North Idaho, riding up to meet a buddy to do some archery hunting.
@ericmblum sent us this photo of his 2016 Africa Twin and his friend's 2000 Cagiva Gran Canyon. He writes …
This summer my old friend JC and I took a 12000 mile trip from Utah to the east coast, up to Nova Scotia and back, with a lot of tent space camping and adventures mixed in, almost all on backroads. Here we are taking a slot canyon exploration break on our way out to Utah's Burr Trail. The red rock amplifies the colors of the setting sun.
I agree the light and colors are fantastic!
@ericblum also sent us this photo the same 2016 Africa Twin taking a break on Rte 115 in Effort, PA during a cross country ride.
The photo's title is "Fixer Upper".
@Uly_dude sent us this photo of his 1986 Honda XR600 …
He writes  …
After a long day of riding up the Shafer Canyon Rd. near Moab, I descended back into the Colorado River valley via Long Canyon Rd. I came around the corner of a very steep trail/road and found this blocking the way. As I approached I could tell that only a motorcycle could get through there and barely at that. It's almost like a higher power was saying, no cagers allowed! Thanks to my trusty XR600 which can go anywhere(yes, I also do multi day rides with it) no back tracking was needed. Awesome day, awesome scenery!
@Mauser556 took his photo in the last few weeks in Western North Dakota near Grassy Butte…
Fall in Western North Dakota near Grassy Butte. The Theodore Roosevelt National Park, North post, is near here. I ventured for a rural county road (McKenzie Country Rd 50) to work on my off-road skills and struck gold with canyons of the North Dakota Badlands.
@toowoomba sent in this photo at Teton National Park outside of Jackson Hole Wyoming taken about a month ago. He says "Perfect weather, perfect day".
@Gr8adv did not say where this photo was taken, he just said "Windshield therapy".
Does anyone want to guess the location?
@Teflon77m took this photo of his 2004 KTM 525exc a couple of weeks ago at White Rim Trail in Utah canyonlands.
Les is exploring Australia on a 2019 Africa Twin. He writes …
Last week a group of 5 of us explored the Gammon Ranges in northern South Australia on Africa twins. This a view down into Welcome Pound, a challenging track deemed suitable for 4wd with high clearance but with spectacular gorges and lookouts.
We finish off this week with more spectacular photos from @Peter640 who is currently in Norway on his 2014 BMW GS1200 (aka Bison!). These photos were taken a little less than two weeks ago. He writes …
Riding around Geiranger under the virtual guidance or inmate @NorseXL. This was a beautiful day visiting an amazing lookout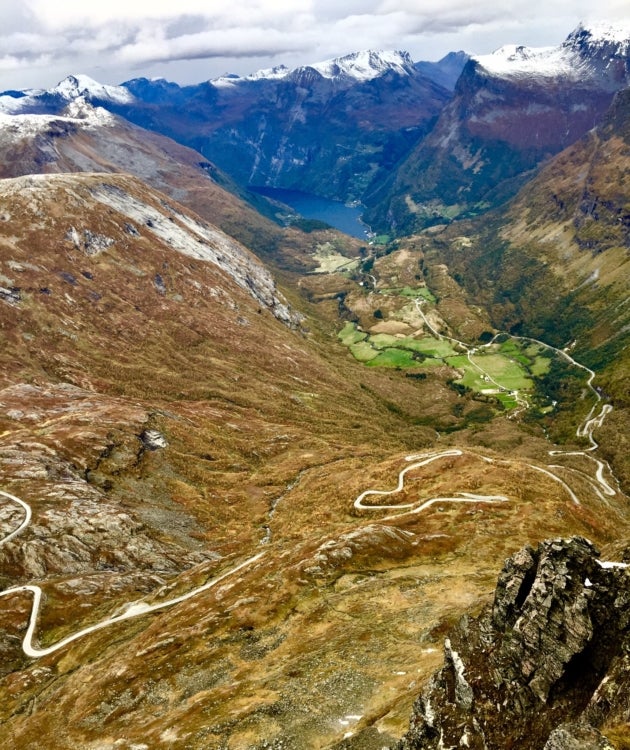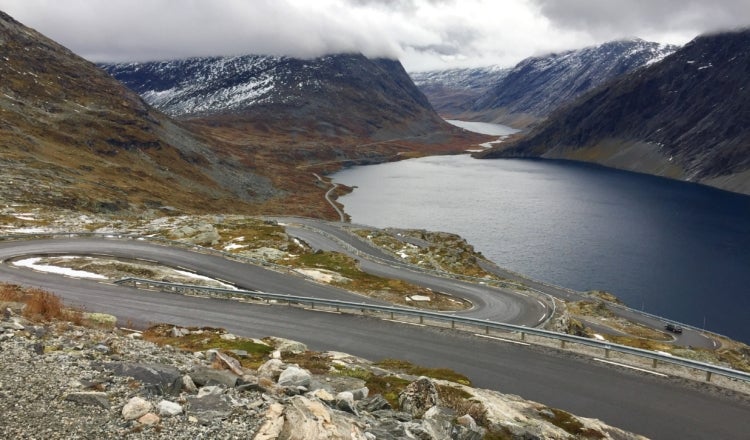 Peter please keep sending us photos as you continue your trip.
Thank you to all the intrepid adventurers who sent us photos. I have gotten lots of positive feedback from inmates about the Photo of the Week posts, and it is all thanks to you.