Welcome to the 3rd ever Photos of the Week post. I wonder if there is another community online as large as ADVrider with as many members simultaneously doing so much adventuring. Given a random country, region or state I am sure you can find one inmate currently traversing it. This weeks photos is just a snapshot of this incredible community.
@bwanajames took this week's featured photo (above)  just oozes adventure. He writes …
This fascinating cabin speaks volumes about Alaska frontier life. Though I'd hunted Alaska before, this was my first trip by bike. It was magical – a life event that will forever be in my top 10 moments.  The bike: 2000 BMW R1150GS.
The photo was taken on a Nikon D80.
@madcowracer took this photo of his BMW R1200 GS. He wrote it was taken on a "Oklahoma lazy Sunday evening at the end of a great day in middle America.
@KennyBooBear took this photo in the last week. He writes …
Snapped this on Labor Day Weekend at D L Bliss State Park, located on the shores on Lake Tahoe. We had a new moon and clear skies, so it was simply impossible to resist taking advantage of the photo op. Managed to catch a glimpse of the Milky Way in the top, too.

The bike is a 2019 Royal Enfield Himalayan. I've fitted a Termignoni Slip-On, and a Homebrew pannier setup made from Harbor Freight Apache 4800 cases. In the weeks I've owned the bike, I have managed to clock 2400 miles on the odometer.
This photo is very technically challenging. He shared his camera settings with us:
Nikon D3500, ISO 12800, 10 second exposure, auto white balance, f/3.5 (I don't have an astrophotography lens…. Yet)

Light pollution from nearby lanterns helped explode the photo with light and color.
@flatlandmoto's photo of his girls riding on thier South Dakota farm. He writes …
They love hearing about my adventure trips and made their own adventure memories that day. AGATT! Special memories for me.
Future members of ADVrider?
@Peter640 from Australia is traversing Iceland. He wrote "Iceland on the Central Highlands this week! 4 C and loving it!".
@strongleftleg took this photo in the last couple of week of his new 2019 KTM 790 Adventure at the Monastery in Mission, BC, Canada.
@alpina took this photo of his faithful DR650 at Little Bear Creek Rd. in Colorado.
@Shaggie took this photo on my home turf. He wrote:
Lake Rotoiti, Nelson Lakes National Park, South Island, New Zealand. 1999 Honda VTR1000F, one owner from new.
Beautiful photo (even if I am a little biased)
@LewisNClark writes:
North of Salmon, Idaho on the Lewis and Clark Trail. William Clark and 12 soldiers on horseback camped beside these scenic rock formations in 1805.
That looks like adventure country.
@jonbu send in one photo taken last year …
Our first "official" dual sport ride as a group (

Let's Take a Ride

) from last summer at an overlook in the South Cumberlands in Tennessee.  All sorts of bikes from a crf230 up to an ktm 1190 and all things in between.  Our group though is partial to KLR's.
And one taken more recently:
Right before an all day group ride with our crew exploring the backroads and dirt roads in the upper cumberland region of middle Tennessee.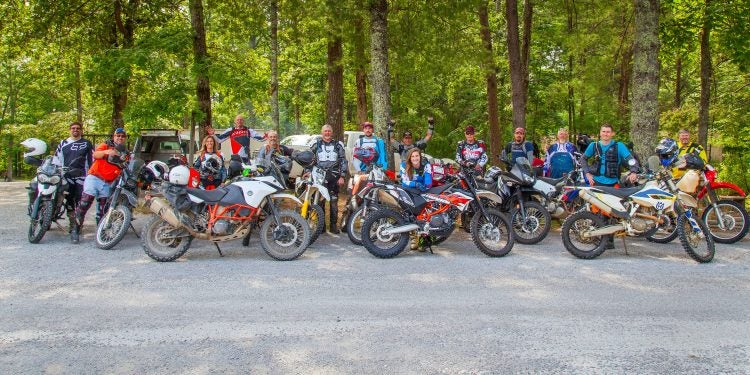 Looks epic!
@PackinDirt  sent us this photo on the TransAmerican Trail (TAT) with this 2016 Honda XR650L "carrying too much crap as usual..". Exact location: "Utah maybe? Beyond Moab certainly"
@Rufus sent us this photo of him on his KTM 500 exc Between death Valley and Big Pine California. The photo was taken by This Pic was taken by @Highfive.
@AzMtnThumper sent us a photo of his 2016 KLR 650 along the Arizona Backcountry Discovery Route with the Sierra Ancha mountains in the background.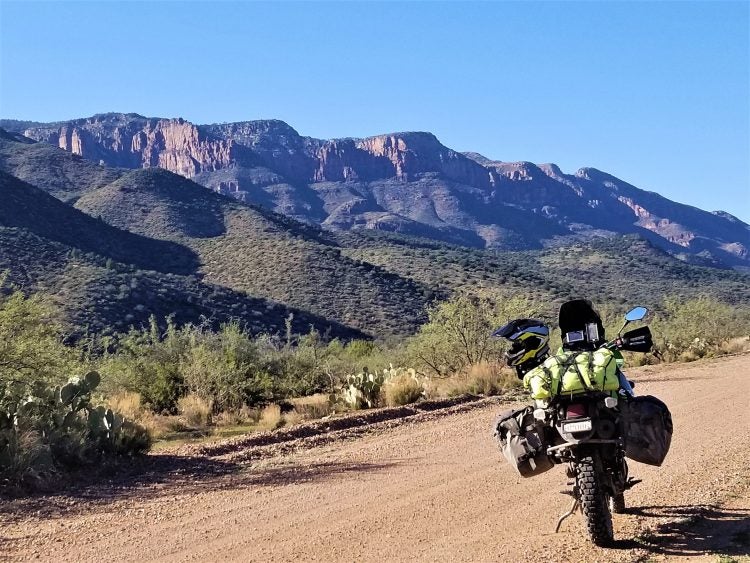 @captain lew took this photo of his 2018 BMW G310GS last month looking west from the Wycliffe prairie in the Rocky Mountain Trench. Between Cranbrook and Kimberley, BC., Canada.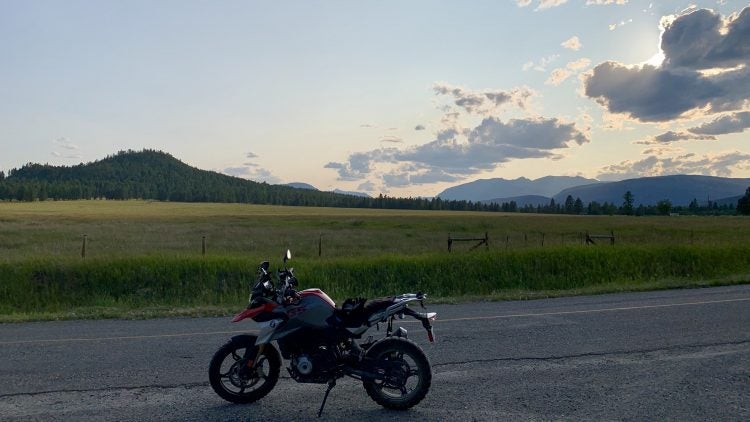 @Night Falcon took this photo of his bike at Te Mata Peak, Hawke's Bay NZ (not quite my backyard).  He writes …
The bike is my old Adventurized 2010 KTM EXC530.

It was bought as a replacement for my KTM690 which was written off after a collision with a sheep at 112kmh. After the accident I didn't think I'd be able to ride again, This picture was taken on my first solo ride after I finished building the bike. It reminds me never to give up.
@mb300 took this photo of his Africa Twin. He wrote …
2016 Africa Twin Photo taken on Swansea – Cerro Gordo Road , headed up to the Salt Tram.

The Salt Tram carried salt out of Death Valley from 1913 to 1930, the remains of the towers are still there. More info on the Salt Tram here.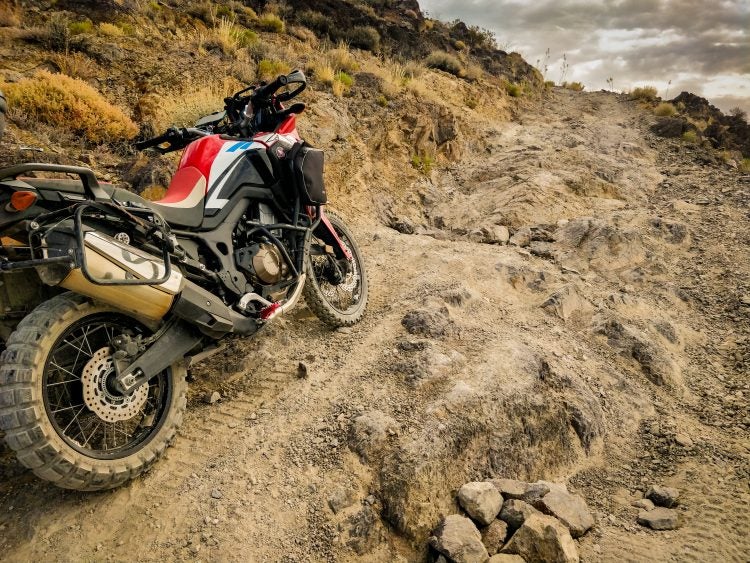 Looks like a truly epic ride!
Thanks to all the inmates who shared their adventures with us this week.