A HUGE thank you to all the inmates who responded to our request for photos last week. Many of you responded and I look forward to publishing your images. I had almost run out of images, so I am very grateful. But please do not stop sending photos in, keep them coming folks!
This week's featured image (above) was taken by @Devo46 of his 2015 KTM 500 XCW while crossing the Diablo Dry Lakebed in Baja California, Mexico on the last day of an 8-day ride.
He also sent in these two photos taken in Urique in Copper Canyon Mexico while spending 10 days exploring the area this Christmas. The photos were taken on Chrismas Day. What a way to spend Christmas! He bike is a 2015 KTM 1190R.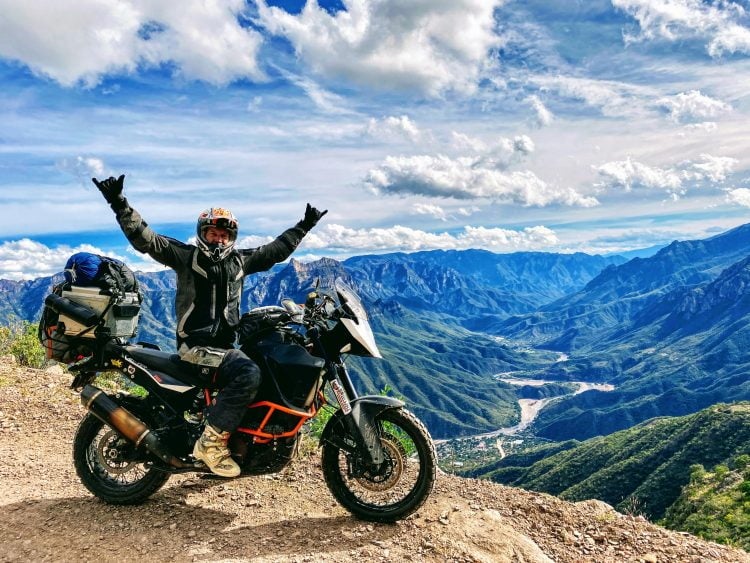 Argentina, Chile & Bolivia
@Ogrish has been exploring South America on a 2018 Tiger XCX. He writes …
First picture was taken in Paso Jama (Argentina – Chile) the background is Licancabur Volcano (the volcano is inside Bolivia). Second picture was taken in Paso San Francisco (Argentina – Chile) the background is an amazing beautiful lake close to Argentina Border.
Falls Lake, Raleigh/Durham, NC
Daniel wrote …
Taken in October of 2018 just north of Raleigh/Durham, NC at Falls Lake. Sometimes the best way to blow of steam is to create a little heat with the 2018 BMW R1200GSA.
50 Degrees Celcius (122°F) in South Africa
Tinky has been riding through some hot African weather on a 2019 KTM 790 Adventure R …
Top of Swartberg Pass in South Africa. It lies between Cape Town and Port Elizabeth. It was nearly 50 Degrees C. The gravel pass was built in 1881and the scenery is absolutely amazing!
Photos from around the USA
@jjustj writes about the first photo
Bridal Veil Falls ,Colorado from Black Bear Pass. I have forgotten the year ,but will always remember the trip with my best riding buddies Rick and Andy.
And about his trials bike …
Trials bike can go almost anywhere. This was near Black Dragon Wash ,Utah south of I 70. So many places to ride and so little time. Not too far from here is 5 MOH ( five miles of hell trail). When riding it on a trials bike, those on other bikes say you are cheating. Yes it is !!!!
Just 10 miles from home
@MTBRalph is lucky to have some good riding close to home …
Just enjoying a nice day about 10 miles from our home when we lived in Arroyo Seco. This road is just above the Taos junction bridge on BLM lands.
The bike is a 2002 BMW R1150GS.
He also sends a photo of a the same bike camping on in Pisgah National Forest near Brevard, NC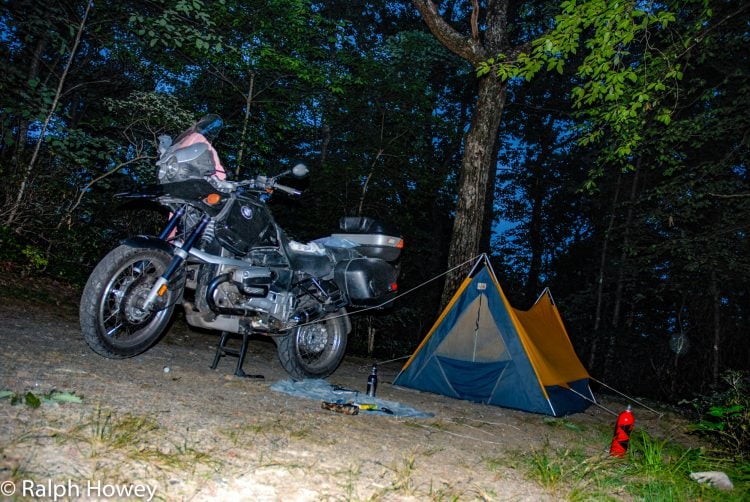 A break from the rain in Chile
@amboss87 sent us three photos from his Chile on a 2016 Kawasaki KLR 650 trip …
A nice break spot on the southern part of carreterra austral in Chile on the way back north from Villa O`Higgins. This spot is located between Puerto Yungay and maybe 20 miles south of Cochrane. Had finally nice weather after four days driving in Patagonian rain.
Wild Camping Spot in National Park Patagonia close to the Chile/Argentina Border Crossing via Passo Roballos.
Wild camping on the Pacific Coast north of Lebu in Chile on my way back to Santiago de Chile after riding the Carreterra Austral.
Ophir Pass, USA
@Easyrider 58 wrote …
Just summited Ophir Pass from the Silverton, CO side. We're on the way down to the Telluride Side. My wife was an outstanding passenger and I rewarded her bravery with an excellent lunch break in Telluride.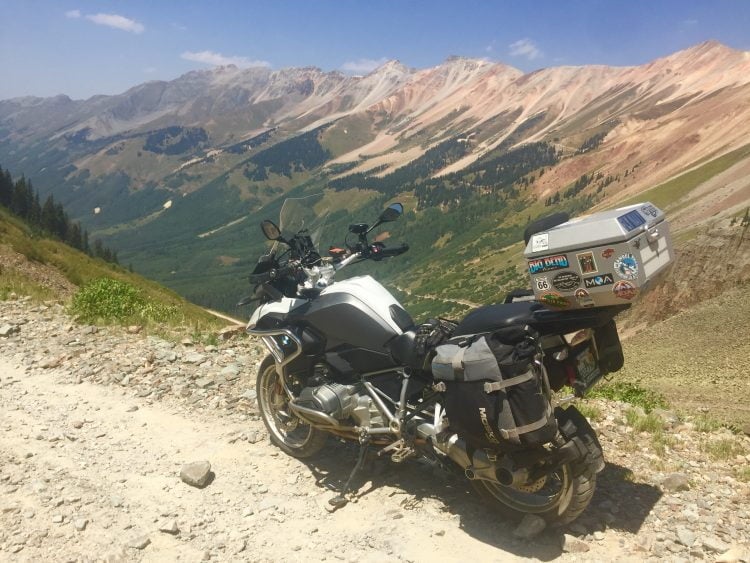 Costa Rica
@Taylorcraft writes …
Taken at Tecate airfield, a remote airstrip on the OSA Peninsula in Southern Costa Rica. It sure beats Boston in January.
A fleet of Honda 450X's
Bruce sent us a photo of him "cruising with a group of guests down the Baja peninsula to Cabo San Lucas".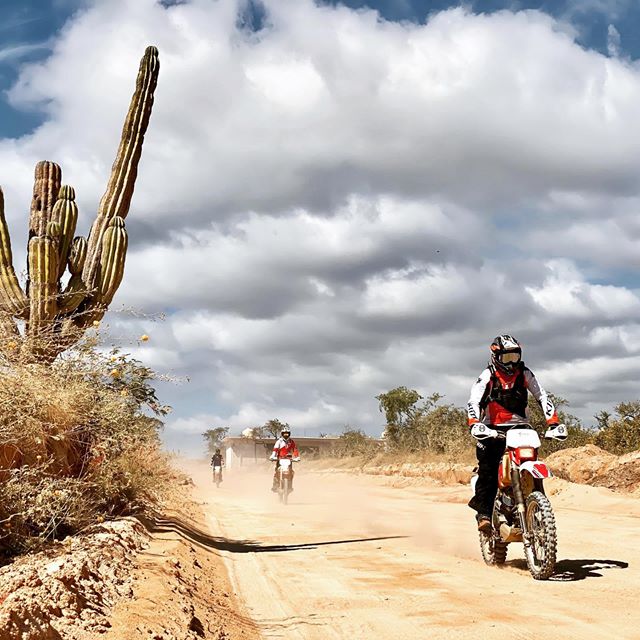 COBDR
@bemiiten sent us this photo of his 2011 BMW GSA taken on the Colorado Backcountry Discovery Route.
Thanks to everyone who sent in a photo this week. Please keep them coming!