This week's featured image (above) is from Burt aka. The story of B who took this snowy photo earlier this year in Kyrgyzstan he wrote …
This picture was taken a Peak Lenin Basecamp in Kyrgyzstan. The peak is 7134m high. I wanted to do some summer camping with a view and set up camp a bit further than the basecamp. It snowed the whole night and was surprisingly cold! (Around -5°C). I Woke up with this gorgeous view!
Burt was traveling on a modified 1998 Honda Transalp 600. The photo was shot with a Fujifilm XT-3, a 18-55mm f/2.8-4 lens at 18mm f/18.
Last year @Sparky Lee traveled to the deepest hole on earth, the Kola Superdeep in Russia.
He wrote …
This photo was taken in June 2018 on the deserted site of the Russian scientific drilling project called Kola Super Deep, to date it is still the deepest man made hole on earth. I is about 20 Kilometers South East from the town of Zapolyarny. The coordinates for the site are: 69°23'46.3″N 30°36'31.9″E The site is not easy to find or reach as most roads have been dug up by mining companies. This is also the challenge if you want to get there, you have to find your own way trough bogs and a totally deserted landscape. The buildings on the site once housed more than 350 people, now deserted. The drilling tower is gone and the borehole is capped and welded shut. The final depth reached drilling was 12.262 meters. My Honda XR650R proved very reliable, on returning home my trip counter nearly touched 14.000 km I estimate that about 60 percent of these kilometers were gravel roads or trails, on the White See from Kandalakscha I even rode about 120 km on the beach.
@Sparky Lee also vlogged about his visit here ….
@AzMtnThumper took this photo last month. He wrote …
Here AZAfricaTwin blasts off to the south on Beef Basin Road in Southern Utah. This was on the second day of a four day trip to southern Utah earlier this week. He had a get off the day before in some soft sand and badly bruised his leg, but he carried on and completed the trip. Way to go!
Well done Brett.
@Archie took this photo in Alaska. He wrote …
This photo is take in July on slopes of the Atigun Pass (elevation 4,739 feet). This is where Dalton Highway crosses the Continental Divade. We where on way back from from Prudhoe Bay riding to Cold Foot base camp. As day light was over 20 hours and weather and road condition where good we rode to and back from Prudhoe Bay in same day. Crossing highest pass in Alaska was unforgettable experience.
@Greavik took this photo of his 2014 KTM 500 at a mountain lake near Breckenridge, Colorado.
@DutchOne sent us this photo of his 2017 BMW R1200GSA …
He wrote …
"Darla" enjoying a quick break along the Old McKenzie Highway (Hwy 242) that connects Bend to Eugene through the Willamette National Forest. This route takes you though 80 miles of lava beds, forests, curvy roads, and a wonderful view of the Cascade Mountains.
@
sibyrnes
went on a trip in Spring to southern Utah. He writes ….
Hauled the bikes out from Pa in my Chevy van and did about 800 miles of trails and country side touring. This photos taken in Valley of the Gods campsite on a

Pentax K1 Digital SLR with Zeiss 25mm Distagon lens.
Funnily enough, the next photo submission we received was from @AZGeek who was at the same location in the past couple of weeks on his 2020 Moto Guzzi V85TT.
When @Erwin P's photo came through my subconscious immediately wen to the photo rotate tool, then I took a closer look at his 2007 KTM 990 Adventure.
He writes ….
I thought it would be nice to show the "other side" of ADV riding. This picture was taken after a putholes that where a bit steeper than expected. After hitting the second one iIbounced off a 3meter high dyke and the bike did two front rolls while coming after me. When I stood back up I was looking at what became this picture. After a few sour laughs, we continued onwards to the next crash (more later).
Ha, nice of you to share Erwin.
@
MarkM
sent us this great photo of his 2013 BMW R1200GS at the Onion Creek Trail near Moab, Utah take last month.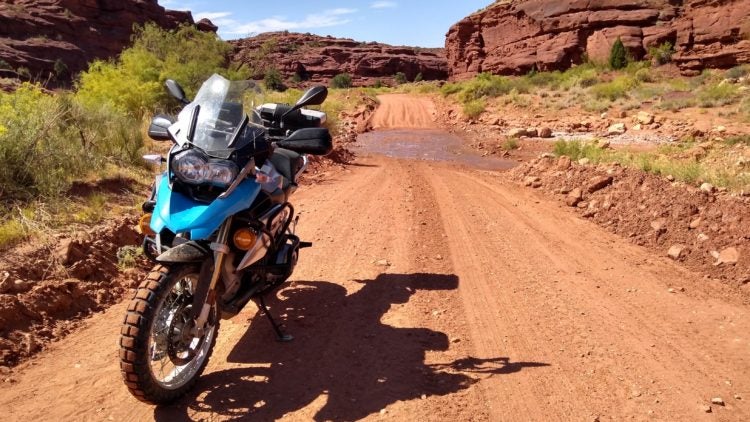 @Numbercruncher sent us a photo taken of him and his 2018 R1200GS – Lupin Blue MEtallic in the French Alps last year. He writes …
Not an image taken by me but of me in the French Alps in September of 2018. I am re-reading my blog and the awesome trip that was as the trip ended almost exactly one year ago. So much scenery to take in over that seven week odyssey. I hope everyone gets to do that someday.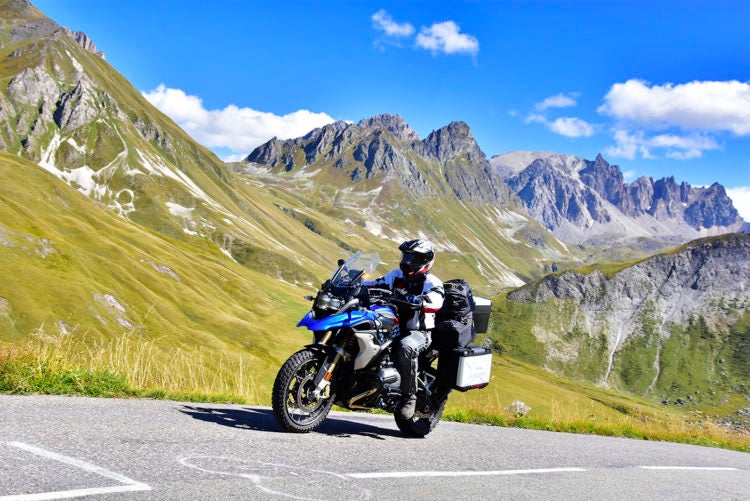 @jehu has been using the Tent Space forum …
Tent space paradise in northern NM. While on my return trip to AZ from Cape Breton on my Cagiva Gran Canyon (11589 round trip) I lucked on this fabulous little deck from another tent space member on the next to last night before arriving home. Thanks Chris!
@erikhorton sent in this photo of his 2011 KTM 450 EXC Engineer Pass last August during a trip down a portion of the Continental Divide Trail.
@whizzerwheel sent in a photo of a Honda Africa Twin, a Yamaha Super Tenere and @EvilClown in Canada earlier this year. He writes …
Evilclown taking in the ocean view from the isolated north coast of the island of Grand Manan off the coast of New Brunswick and Maine…right betwixt the two countries of Canada and the U.S. Visiting the island is like stepping back in time a couple of decades
And the same EvilClown in the dunes of Playa Huatabampito on the Pacific Coast of Sonora, Mexico along with twp 2015 Suzuki DR 650s.
@BOOTLACE sent in this great shot of his 1995 BMW R1100 GS in Austria. He writes …
That's my Lucy, overlooking the road we've just traversed. Including weaving through the stalactites in the tunnels…. Probably NOT the best time of the year to be on the Grossglockner! But heaps of fun.
Thanks again to all the adventurers who sent in photos. I love receiving them and I love sharing them with the community.