Welcome to our 4th Photos of the Week post. This week's featured photo (above) was taken by @Menatodd who took the photo in the last month riding his 1996 BMW R1100GS. He writes …
First ADV ride with "The Crow", my (New to me 1100GS). Photo was taken on day three in the Black Rock Desert of NW Nevada the morning of our 18 hour leg into Las Vegas.
Congratulations on your first ADV ride! The photo was taken on a Nikon D75.
@alpina writes about a stunning, but lonely ride, on his 2016 Triumph Tiger earlier this year near Denver…
I was supposed to ride with a few friends this day, but when they saw the rain they stayed home. I still went and had an amazing day. It never rained hard, the temperature was perfect and beautiful on Squaw Pass Rd just west of Denver and south of Idaho Springs.
The photo was taken Canon 60D.
I love these stormy photos of @rfk76's 2005 BMW F650GS. He writes ….
Recently, I've been exploring areas close to my home city (Warsaw, Poland) and that turned out to be quite nice. I was happy to find so many off-road tracks with great views. This is one of them.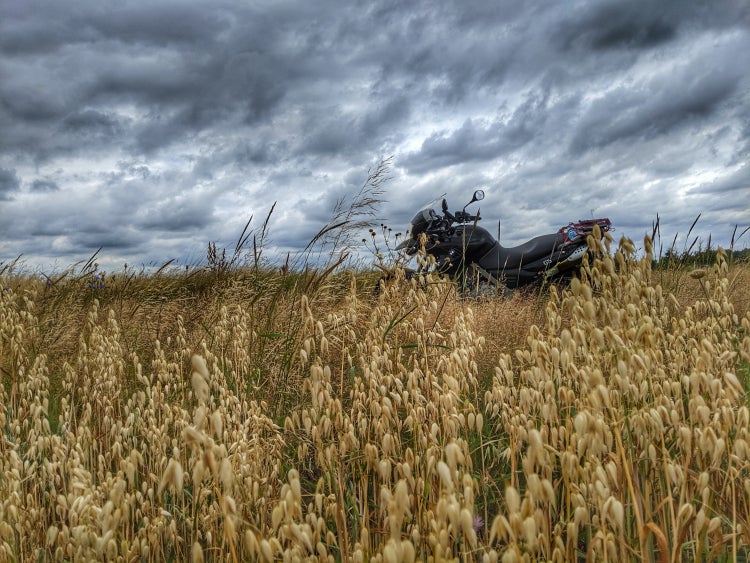 @Hobibill took this photo of his 2002 BMW R1150RT in Alaska. He writes …
An adult-life long dream had been to ride Alaska on a big BMW GS. Alas my timing and budget did not coincide so I had to dance with the partner I had. The RT did a wonderful job, even on the Top of the World Highway. This is the road to Haynes, Alaska this July. The rest of the state was pretty much covered in smoke but this view was pretty clear. There is a GS still in my future for a redo, this time two up with my wife.
@SWILL took this photo was while on a 2017 "Pyrenees Extreme" tour with Edelweiss. The ADV ride report is here.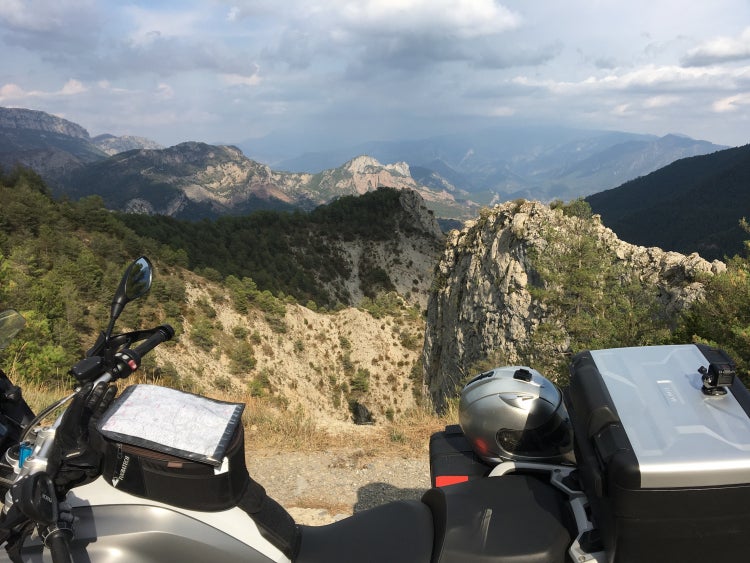 The video dairy from the ride …
@stlskybob took this photo of this 2017 Suzuki DR650 on a Fall ride in Missouri.
@Corneel took this photo in Spain on his 2009 KTM 990 Adventure …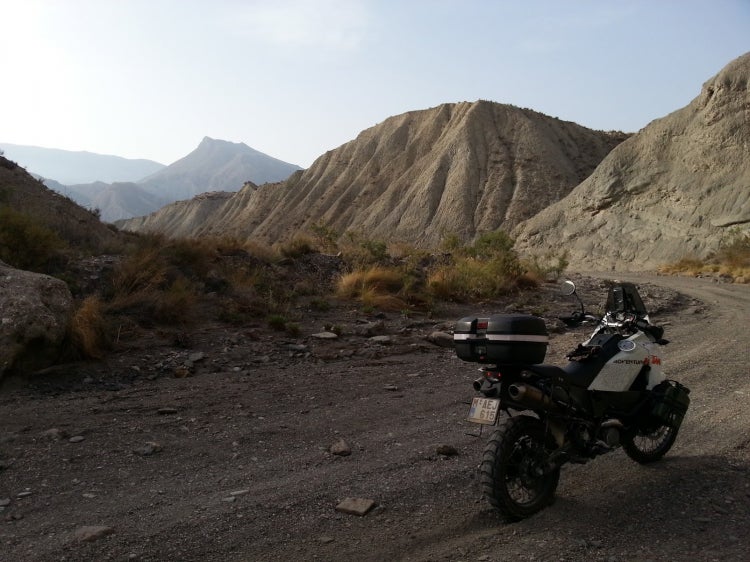 Summer 2016, South of Spain, just north of Almeria, in the desert where Idiana Jones & Laurence of Arabia were recorded. (the tank scene from 'the last crusade') It was a blazing 45°C. Actualy, this the last pic before I got over confident (and fast) and had to do a last second 1,5 meter drop. While landing I hit a 20cm boulder with the front wheel. Luckely I was uninjured but the fork seals were done for. Since this was my single day of offroading in a two-up 4 weeks trip my girlfriend wasn't really thrilled when I broke the news. However, two days later – the next monday – I was waiting at the door of the local KTM dealer and they patched me up in a few hours. (glad to work on a KTM instead of having to rebuilt jet another jet-ski engine) Luckely we could continue our round-Spain trip. The Karoo tires work well in the hard packed sand, but are very dangerous on wet tar. (2 times the front gave way without warming). Now I use scorpion STR tires.
@azdesertdog took this photo of his 2018 KTM 1090 Adventure R in Utah earlier this year …
He wrote …
This was just off John's Canyon Rd near Mexican Hat Utah. I had left Canyon Lands National Park and was looking for a camp site. This is an epic place to ride and camp.

Taken on a Samsung S8. Pro Tip: keep your fingers away from the lens.
@MotoSpen took this stark photo in Scotland earlier this year …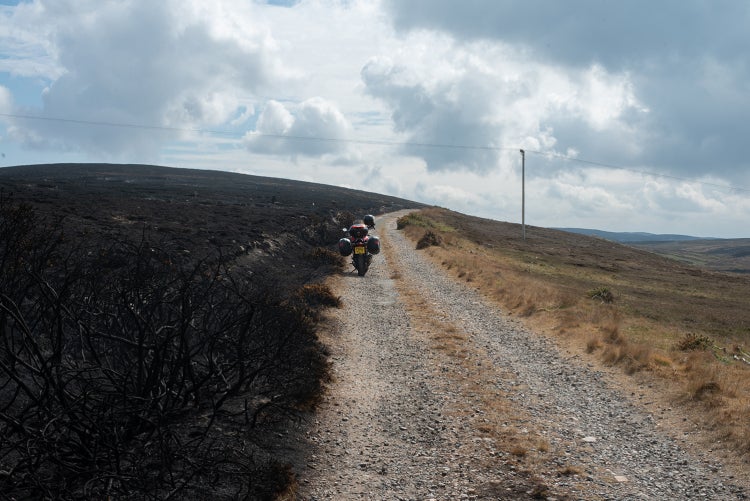 This image was taken during my solo trip around Scotland Highlands last May. The trip was 9 days and was a total of 2,000km. I came across this aftermath of a wildfire along the Northern Coast, following the famous NC500 route. More on my travels here.

Camera used: Nikon D800 Many photographers, myself included, give the advise that "the best camera is the one you have with you". Shoot lots, experiment often, and you will see improvements over time. Like any other skill, practice makes perfect.
Good advice!
@1oldsickle sent us photo of an Ultimate Coast to Coast Ride (2019) he did on a 2017 Harley Davidson Adventure Series.. The first photo is "2am in dead horse Alaska and the other is on the way: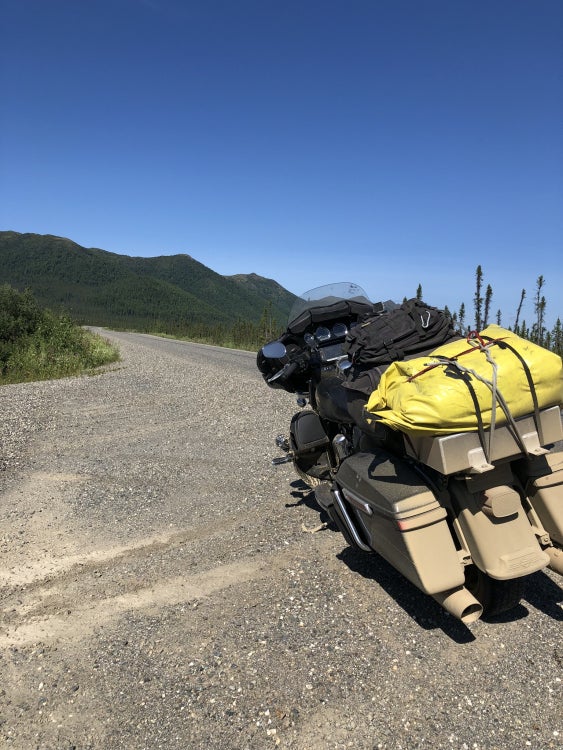 @Peter640 has been traveling through Iceland on a 2014 BWM GS 1200 in the last couple of weeks and sent us a bunch of photos from the trip:
Thanks Peter!
@bungerman took this photo of his 2008 KTM 990ADV on Labor Day at Glacier National Park. He said, "Going to the sun road is a heavenly ride".
@Ohio_Danimal has been riding through Ecuador on a 2011 Suzuki DR650.  He writes "From 13,300 ft riding the base of volcano Cotopaxi, to see level along the coast in Ecuador, in only a few days"
@rrittner writes "First week of April this past spring, I did a week long loop thru Arizona from Colorado [on a 2004 BMW R1150GSA]. This photo was taken halfway up the Burr Trail on one of the switchbacks. "
@Baynes Lake Hank write …
This photo of me was taken by my son Cody. We were on a cross Canada trip from British Columbia to Newfoundland. Photo taken in Southern Saskatchewan. [2018 Triumph Tiger 800 XCa]
@Spkr sent us this photo of his 2008 KLR diesel conversion with D902 turbocharged Kubota motor and Christini AWD front end. The photo was taken when "Trying to get lost heading north in Idaho".
@Ron Burgundy sent us this fantastic photo of his 2016 KTM 1190 Adv R taken at Cable Beach in Broome Western Australia. He wrote, "Taken last year on a trip around Australia The perfect spot for a sunset beer!".
Thanks to all the incredible adventures who contributed photos for this weeks post. Collating your photos is one of the highlights of my week!