These weeks featured photo (above) was taken by Peter on a Compass Expeditions tour of Kyrgyzstan in June earlier this year. He is riding a Yamaha XT 600. Thanks for the beautiful photo, Peter. [I could not find Peter's ADVrider profile]
Inmate @Busy Bob made it to the Arctic Circle earlier this month on his 2015 Suzuki DL-650
Failed attempt (August 2019) to reach Tuktoyuktuk [Editors note: A very isolated Inut village at the top of the Northwest Territories, Canada] ! Made it to the Arctic circle before snow made progress impossible. A water laden Dempster highway becomes a muddy bike eating monster. The chemical used to suppress dust (calcium chloride?) permeates everything, especially brake pads. Almost new pads reduced to nothing in under 2500 kms. The road surface morphs into inches of mud (I dare you not to "dab"). A butt puckering, shoulder cramping ride. Love it!
Good job Bob!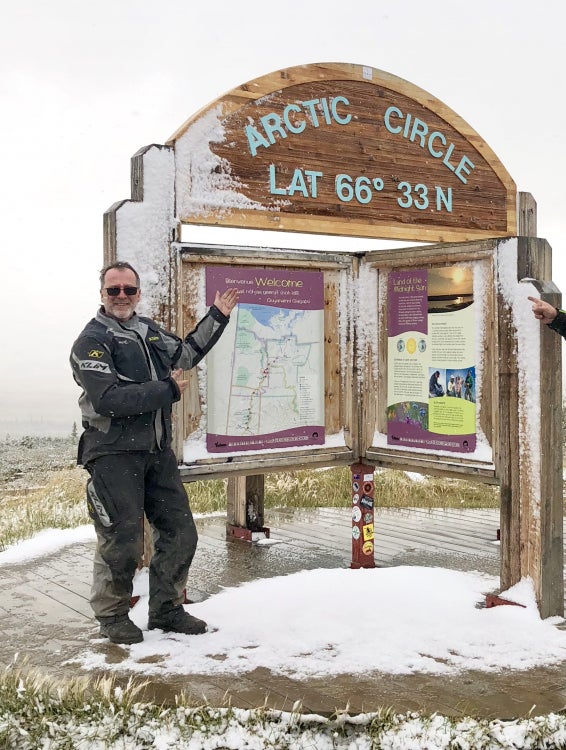 @Reverend writes about his 2005 950 Adventure …
These two pictures were taken on or near the Burr Trail through Capitol Reef NP. The morning light was hitting the rocks as I headed down to the Bullfrog – Hall's ferry. Later, a little spill in soft sand…
@decinois took these photos of his 2017 BMW F800 GSA in the last month while traversing the Hautes Alpes, France.
@Tshusband took these photos in Kenya on a trip from Lesotho (Southern Africa) to Cairo, Egypt earlier this year.
These photos were taken on a 6 month, 12,000 mile, 11 country ride up east Africa from Lesotho to Cairo. I was trying to convince the soldier that I could take a photo from that bridge. The one photo is just a classic shot of east Africa with ever present Acacia, or umbrella tree as the locals call them. The photo showing me riding by 3 women was taken by riding buddy Mark Hammond, AKA @ridethere on ADV. We were on the eastern edge of Lake Turkana in northwest Kenya.
@bigjohnbundy sent us photos of his Death Valley trip in 2008 on a 1999 Triumph Tiger 955 …
A little trip to Death Valley in Nov 2008 along with a bunch of ADV Riders. Powering through a major talcum powder section on our way to the great crater. No one was more surprised than me, I actually made it through shiny side up. (well, it was that shiny after.)
@F_period writes about this photo of him and his 2009 BMW F650GS (Twin)
Took this on a ride from Oakland, CA to Santa Barbara, CA on Hwy 1 last spring. I did the entire 370 mile route in one day, which I would not recommend. It's far too beautiful of a trip and far too long for a single day. That said, it was an amazing experience, one I'll never forget. Especially the last 50 miles when I got caught in a rain storm completely in the dark on a CA Hwy 154. I could barely see, and was running low on gas when I eeked over San Marcos Pass and dropped into Santa Barbara & safety.
@PvtPts took this photo of his 2016 Honda Africa Twin CRF1000L in the last month in British Columbia.
Taking the long very long way home to Vancouver British Columbia – this photo taken somewhere in the Suislaw National Forest Oregon. Never ending dreamy curves, wish I could have stayed longer and will certainly be returning!
@Mainestate  writes about last winter and his 2014 BMW R1200 GSA …
This past winter my brother and I rode our bikes from Tucson, AZ to Key West, FL and back. We rode 2-lane blacktop all the way to Key West, then blasted back to Tucson, primarily on the interstates. On our last day, with 5600 miles behind us, we got caught in this freak snow storm, just 40 miles from Tucson. It drove us off the road for the rest of the day; but we made our final ride in the next day without incident. This picture is in front of a Denny's restaurant, not a Starbucks. 🙂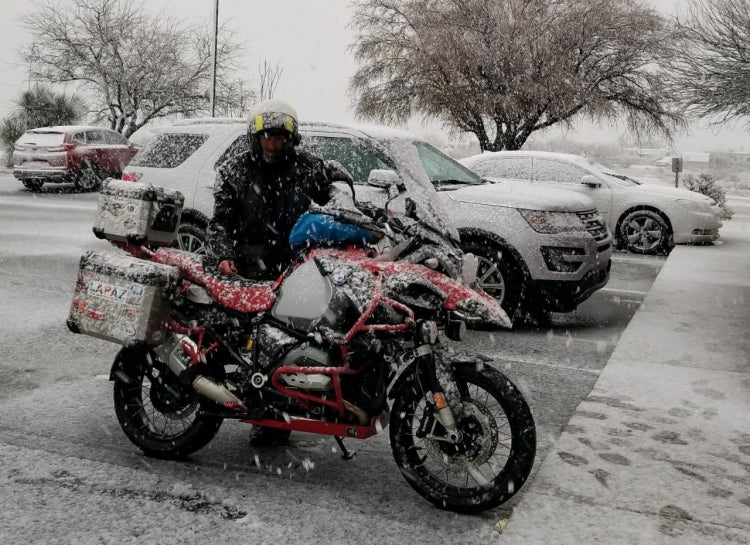 @Dwest650 send these photos taken on the "long, lonely stretches" Nevada roads on a trip from  California to Colorado. Read his full ride report here on the forum.
@fredx took this photo of his 1996 Yamaha TW200 in the last couple of weeks. He writes …
After re-jetting the carburetor for high altitude, I took the TDub up Rollins Pass here in Colorado to see how she runs. Better than ever! This photo was taken around 11,300 feet elevation on the Rollins Pass Road on a spectacular afternoon.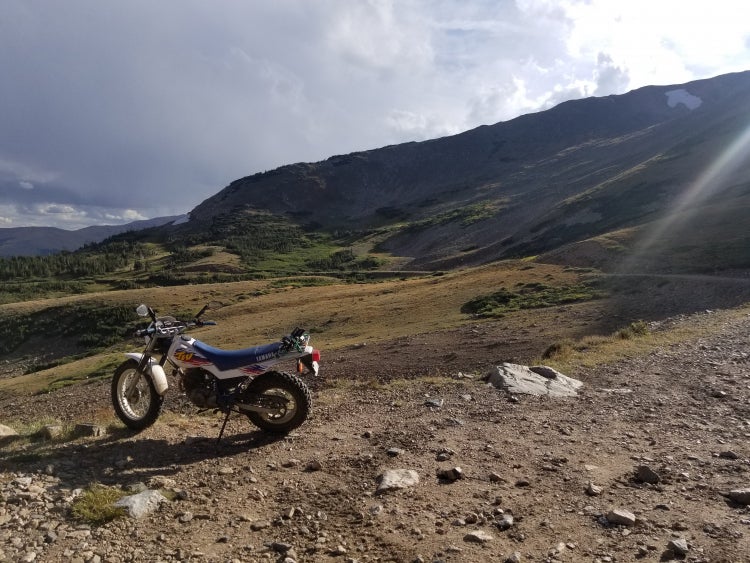 @rockaholic took this photo of his 2004 KTM 640AdventureR earlier this year in Georgia (the country)…
The photo was taken in the Caucasus mountains in Georgia during my Around The Black Sea trip. It was midway through the 9000km 6 week journey. The bike, being a KTM, is actually orange, but the picture was taken using B&W infrared film and filter, making the bike appear white due to a lot of IR-wavelength light reflecting off it.
@Rapturee writes about a trip on his 2012 Honda NC700x …
After I installed a pair of Shinko 705's I just had to go break them in. I road several miles up to a mountain peak off of the 4th July Pass just east of Coeur d'Alene Idaho, USA.
Thanks to all the adventures, explorers and riders who contributed photos for this weeks post. Collating your photos is always one of the highlights of my week!