Happy thanksgiving inmates! I am perpetually thankful for this wonderful community and the incredible adventures inmates share with us each week. It has bee a while since we published a photo from Africa. Today's featured image is from Stephen who took the photo earlier this year in the small enclaved country of Lesotho, which I have been told is quite beautiful. He writes …
The top of Mafika Lisiu Pass in Lesotho at 3090 metres above sea level last August. Lesotho is a small country land locked by South Africa. Very mountainous and cold, hence the beanie hat! Decent riding evey where with tremendous scenery. I've ridden down the west coast of Africa and now heading up the east coast as the first part of my solo round the world journey on a 2017 Honda CRF250L. https://BikingOverYonder.com/blog/
@FormerOilhead has been exploring the Ridges and Coulees of the Wisconsin Driftless area on his 2012 BMW K1600GT.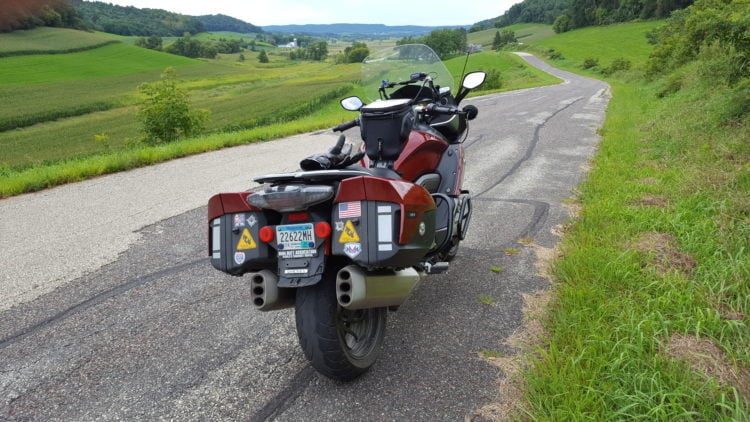 He explains …
Called the Driftless area because it wasn't filled in and reshaped by glaciers. The driftless area has deep cut river valleys, such as the Kickapoo, and rugged rock bluffs near La Crosse. The lack of glacial drift and the ancient landscape here are clues that the glaciers somehow missed this area, yet surrounded it. This picture was taken on August 25th between Steele Valley Road and Gilman Valley Road, northeast of Urne, WI. Some of the best motorcycling roads in the midwest are in this area and are affectionately referred to as the "Alphabet Roads"
@Massabusa sent in the below three photos of his 2019 BMW R1250GS taken in September in Utah and Montana. He writes …
Being older and wiser than I used to be- well older anyway- I put the GS in my van and drove to MT and spent a week riding all over the state from a motel in Lakeside MT, on Flathead Lake. Visited Glacier National park and the Road to the Sun Highway, Route 14, and a whole lot more. When the weather turned ugly,(low 40's and rain) I changed my second weeks plan from central ID to central UT! I stayed in Fillmore, UT and rode from there to Great Basin NP in NV, Scenic Route 12 and the Devils Backbone, Mt Nebo, and Red Rocks, and more. I'm planning my ID ride for next year now.
@Toddv sent us a photo 2019 Yamaha Tracer 900 GT  in the Arkansas Ozarks National Forest at a dispursed campsite outside of Mountain View.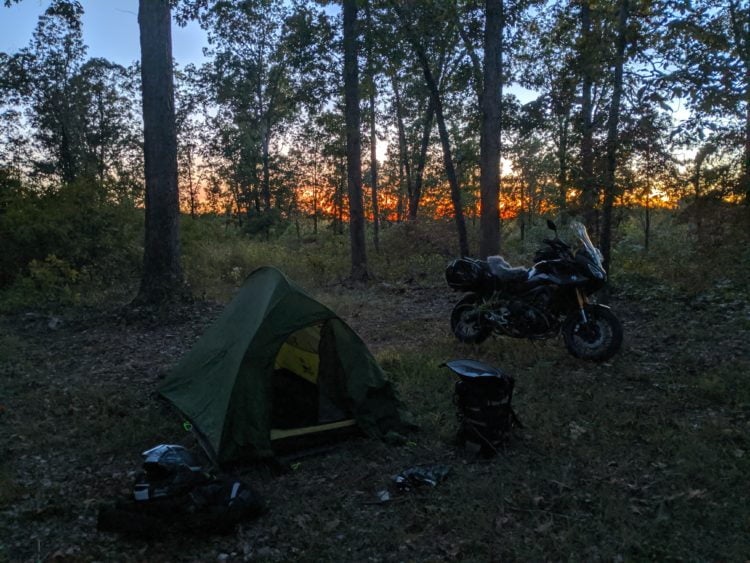 @Toe is doing his first solo and offroad trip …
First solo bike trip, first bike trip off road. I considered it a shakedown for future trips. South UK doesn't offer much adventure riding and you need to look for it but it's worth it to find the green rolling hills that the area is known for. This was taken on the TET just south of Newbury on my way home.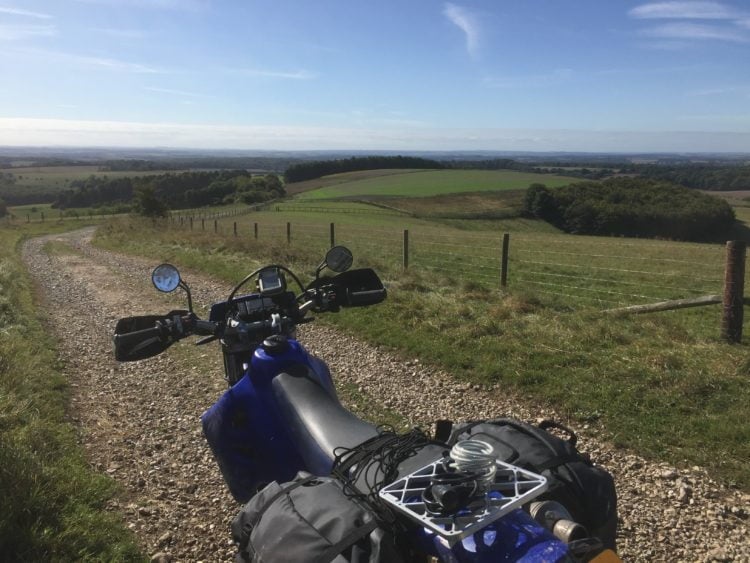 Well done!
@HairLipDog never stops adventuring! In his latest submission, he and his 2012 Yamaha Super Tenere are near Stevensville, MT.
The weather warmed up and the rain stopped for a bit this afternoon. Skies were wild with clouds and I decided to go for a ride for a few hours. This road can be impassible after a hard rain but it was perfect when I went. This is Rosemont Loop Road east of Stevensville, MT. It's one of the worst maintained roads in the county and I like it that way. Nice to be able to find a place like this just a few miles from home.
The photo was taken with a Fujifilm X-E2 camera, 18-55 Fuji zoom lens on f/9, ISO 800.
@wfelix describes riding in the Plurinational State of Bolivia (yes, that is the official name) as being "magical". The photo was taken at the salt desert in Uyuni and he was riding the BMW R 1200 GSA.
@drfrisker did the TAT earlier this year ….
In-between Kossuth and Ripley Mississippi, (I've heard TAT riders skip this whole state) I watched my friend AK head straight for a huge puddle on a county back road, Rt 638? Spitting image of The Dude with his rather large girlfriend roll up in a convertible Mitsubishi Eclipse watch AK get stuck in the middle, and then me in some of the stickiest Mississippi Mud I've ever had the pleasure of wrestling around in.

Ten seconds later, The Dude, shirtless, buzzing hard at 12 noon, walks straight into the puddle to help AK. This picture was taken while we were catching a breath getting AK's DR out of the big puddle, which was easy compared to the sticky mud swallowing my bike here. Someone get Jack Ian (Eaton?) a 12 pack for us if you see him (I'll EFT/ACH you), because he asked for a beer or doobie at least a dozen times while helping out and we only had more mud to give away and kick up.

You'll meet the most inviting, genuine, willing to lend a hand folks on your TAT trip.
Last month @GAS GUY was doing an American Iron Adventures ride in Southeast Ohio on his 2016 Harley Davidson Ultra Classic
…
This fabulous road is Ohio Route 260. This was an October ride and I was heading west from the Ohio River back towards Route 26. The sun was starting to set from its already low autumn angle, which illuminated the suspended clouds in a spectacular manner, while simultaneously projecting an appealing sheen on the motorcycle and asphalt.
He also sent us a photo entitled "Entering the Enchanted Forest" of his 2004 Honda ST1300 …
This is a spectacular forest road just off of M22 in Leelanau Peninsula near Lake Michigan in Northwestern Michigan. Taken in October as the leaves were changing.
And a photo of his 2011 BMW 1200 GS Adventure …
This is the railroad grade cut through a rocky outcropping on Section 1 of the Mid Atlantic Backcountry Discovery Route.
@Zeder was riding in Canada hear Rocky Mountain House, Alberta, Canada earlier this year …
So… earlier this summer I was on a trail ride with a couple of buddies near Rocky Mountain House, Alberta, Canada. It was a fantastic day weather wise. Conditions where muddy and slick, not my favorite on a +400 lb bike.  Along for the days ride was an Africa Twin, KTM EXE 525, a pair of KTM EXE 350's, my YZ650GS and a 1974 CB125! The guy on the CB125 was a very experienced MX rider who looked like a Shriner on a clown bike but man could he fling that little thing around. At one point I was chasing the CB125 through some muddy single track. It was like a wolf chasing a rabbit. Following his lines through the banked muddy single track proved to be a mistake. A little too much throttle on the top of a right handed berm and I lost the rear of my bike over the top of the track. I then proceeded to do a complete 180 into the sticks. While I was picking my bike up my buddy snapped this photo. In the shot my bike is pointed left, my original direction of travel was to right. No damage to me or the bike because of the soft grass landing. My buddies behind me had a good laugh at my experience though.
If it's not mud, its grass, but it is all part of the fun! A big thank you to everyone who sent in photos!