Visiting my friend Aleksandra in Warsaw, I got an unexpected invite to join her on an off-road training weekend aimed at large-capacity ADV bike owners. While Lucy is hardly a big bike, I'm never too cool for school, and I'd never pass up an opportunity to brush up on my skills. Besides, I'm always curious about how different schools and instructors around the world approach training; although some of the key elements overlap, everyone's got their unique way of teaching. And so, on a fine Saturday morning, Aleksandra and I rolled up to Pro Enduro base just outside of Warsaw, ready to be wowed.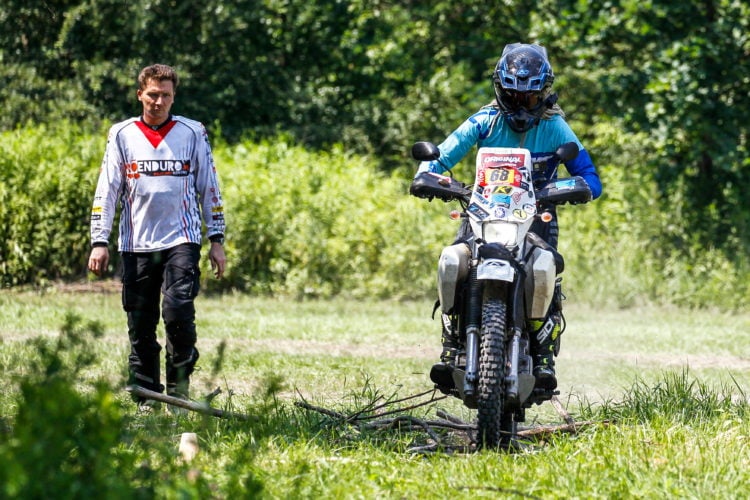 Off-road Basics
Before the action began, I had a quick chat with Mariusz Lowicki, founder of Pro Enduro Poland. "I think there's a lot of confusion about these big ADV bikes. People buy them, then realize riding them off-road isn't exactly a walk in the park, so that's where we come in. It's all about getting to know your bike, being comfortable on it, and enjoying those trails", Mariusz said. "You don't have to be a professional skier or snowboarder to enjoy the mountains, and it's the same with bikes, you don't need to be a highly-skilled motocross racer to enjoy riding off-road and have stupid fun on your big adventure bike. And a little training can go a long way". Coming from motorcycle media and racing background, Mariusz had assembled a team of coaches with motocross, rally, and ADV experience, and Pro Enduro has been going strong since 2018.
Before jumping on the bikes, we had a quick theory intro chatting about how bikes behave differently on and off the road, grip vs balance, and just how much of your body position affects your steering and your control. Next came some balance and steering exercises, and as the roar of engines filled the training course and the forest nearby, I found myself swept up in the ensuing organized mayhem. A lot of the drills and exercises felt familiar to West 38 Moto's training back in New Mexico and Colorado, and I liked the layered approach when each new exercise builds on and cements the last.
The best part, however, was heading out to ride the local trails after the drills. Poland is a surprisingly off-road friendly country, and even just outside the capital city, there's no shortage of both graded dirt roads and gnarly single track and forest trails. Having put our newly acquired skills into practice, we finished Day 1 with a quick sightseeing tour to the majestic Modlin Fortress nearby, a nineteenth-century gargantuan straddling the convergence of the two major rivers, Vistula and Narew. The view from its bastion citadel is nothing short of breath-taking, and Pro Enduro has obtained special rights for private access to the grounds allowing us to ride right up to the fortress on off-road tracks.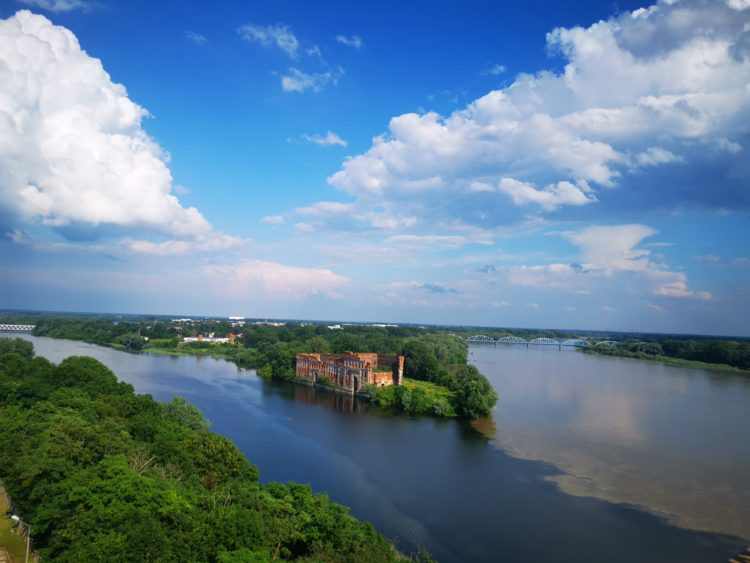 The Art of Acceleration
Day 2 kicked off with another theory-heavy morning, but this time, the focus fell on…vision. I found myself fascinated by Mariusz's take on how to find that perfect focus point when you're riding, especially when there are multiple obstacles  around (for example, riding a narrow twisty forest trail and avoiding the trees). "When you quickly look from object A to object B, everything between those two objects is a blur because our brains cannot scan and register all of that information in between and only registers what we focus on, in this case, object A and object B. So when you're riding a single track in the forest, if you'll try to focus on everything at once – the trail, the terrain, the trees – you'll probably hit a tree. Whereas if you just focus on one single thing – the trail unfurling in front of you – and completely block out the trees, you'll have much better success going on that trail faster and without hitting anything". To illustrate the point, Mariusz had everyone jump on the bikes and follow him at a close distance as he wove in and out of the field doing tight figures of 8. We were told to focus on nothing else but the rider in front; from the outside, it looked like absolute chaos, yet nobody hit anybody.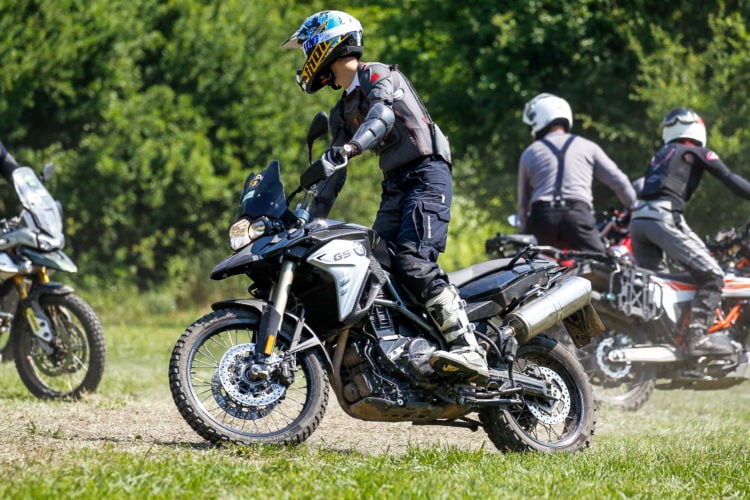 "Even though you're only focused on the rider ahead, your peripheral vision is still active and you're still very aware of your surroundings. So whatever trail you're tackling, don't stare at your front tire, the trees, the boulders – just focus on the trail and ride", Mariusz explained. And sure enough, after taking our bikes across a short single track section in the forest, we managed to avoid the trees without much effort.
Next came the rock garden, the sandpit, narrow beams and trenches, and some loose logs. "When in doubt, throttle out" motto became my undoing on the logs – I wiped out at the second try and crashed, ripping Lucy's front fairing and brake fluid pump off, but that's just part of the adventure. Aleksandra clearly loved the deep sand, flying over it like it was smooth tarmac, and it was wonderful to see riders go from barely feeling comfortable on graded dirt to tackling the sandpit, rocks, and beams like they'd been doing it for years.
Finishing off with another short ride on the trails nearby to cement the skills, we left Pro Enduro feeling a lot more sure-footed. For me, the peripheral vision exercises and Mariusz's advice on how to position your body when accelerating fast and how to speed up in corners were the most valuable, as I'm still struggling with my speed at rallies. I'm hoping to put all that new knowledge into practice soon,  and in the meantime, I'm grateful to have had the opportunity to connect with local Polish riders, explore the local trails, and improve my technique by leaps and bounds in just two short days.
Pro Enduro does training, training tours, and off-road motorcycle tours in Poland, and it's a big and beautiful country to experience on a bike. If you're into fly and ride adventures, check out their social for upcoming events – Mariusz and his team speak English flawlessly, and riding with them feels like a great mix of healthy challenge and ridiculous fun. They've also got some bike rentals available, and they'll definitely put you through your paces while discovering Poland's off-road trails and single track.
Images: Egle/Kamil Lowicki