You may or may not have heard of Pursang.  Pursang was the motocross model from the Spanish motorcycle manufacturer Bultaco.  From 1967 to 1984 Pursang bikes did well in off-road competition.  Eventually, the Pursang's abilities won the Bultaco model a sort of celebrity following.  The model gained even more fame when Peter Fonda rode one in the movie Easy Rider.
In a tough economy, Pursang met with financial difficulties and eventually folded.  That could have been the end of Pursang.  But in 2018, a Pursang concept motorcycle made an appearance at EICMA.  Then, in 2019, Pursang revealed a more advanced prototype model at the Barcelona Auto Show.
And now, Pursang is revealing its two new models.  The Pursang E-Track and the Pursang E-Street.  As you may have guessed, the "E" moniker at the beginning of each model signifies that both machines are electric.
Pursang E-Track
The E-Track is Pursang's scrambler model while the E-Street is obviously destined to street riding.  So let's take a look at both models.
The E-Track sports an 11 kW (14.75 hp) continuous-rated mid-drive electric motor.  It is connected to the powertrain with a primary belt drive and a final chain drive. Pursang claims a range of 160 km (100 miles) from three non-removable 2.4 kWh batteries (7.2 kWh total) and has a top speed is 120 km/h (75 mph).  "Loading time" (i.e. charging time) is six hours although Pursang's website presently doesn't specify charging level or additional charging data.
The first 60 E-Track bikes should be available by September of this year and you can now reserve your E-Track online.  You'll have to fork out €13,700 ($14,800).  That's not an insignificant chunk of change.  But the first 60 units get some unique features such as carbon fiber body panels.
Pursang E-Street
The E-Street bike is somewhat less powerful than its sibling.  It has a smaller 8 kW motor and is powered by two removable 2.4 kWh batteries (4.8 kWh total).  That's different than the E-Track whose batteries are not removable.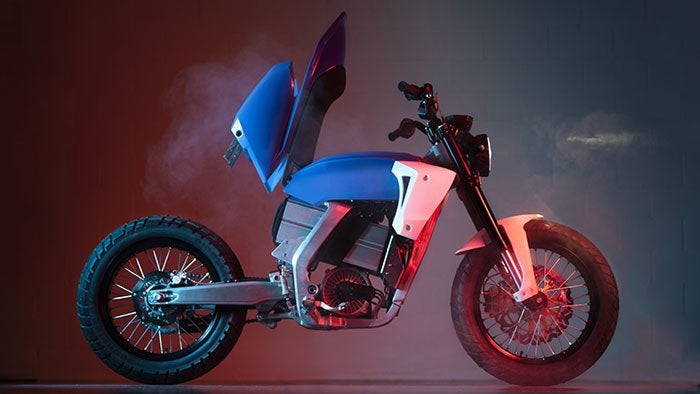 The batteries in the E-Street are removable whereas the batteries are fixed in the E-Track. Those two batteries give the E-Street a range rating of 100 km (62 miles).  As you would expect from its smaller motor, the E-Street's top speed is rated at 100 km/h (62 mph).  The retail price for the E-Street is €8,700 (approximately US$9,400).
While there are differences between the two models, there are also similarities.  Both models feature tubular chromoly frames, inverted front forks, rear monoshock suspension, JJuan floating caliper hydraulic disc brakes, Morad wheels, and Pirelli Scorpion tires.
So soon, you will have two more electric motorcycle options.  What do you think of the new machines?  Let us know in the comments below.
All photo credit: Pursang