Qooder, formerly called Quadro, is a swiss company that showcased its new range of revolutionary electric tricycles and quadricycles at this year's EICMA show. Quadro HQ, is in Vacallo, Switzerland, not far from the Italian border. The company went through a rebranding process few years ago and now has a new logo and a new name: Qooder.
The new face of this brand is reflected in its new logo and name. The Qooder logo features a Steinbock, an animal that is agile, strong and has incredible stability even on complex surfaces. Qooder also started a collaboration with the Californian company Zero Motorcycles, for the production of electric tricycle and quadricycles which will be available on the market from next year onwards equipped with the powerful Zero electric motor, capable of 110Nm torque.
I had the chance to try the QV3 electric and their four wheeled electric Qooder.
Allow me to say this first: When I was told that I was given the chance to try a three wheeler scooter, I wasn't, to be honest, the most ecstatic man alive. I usually ride a KTM 1190 Adventure with 150 hp and WP electronic suspension so, you can probably imagine, what kind of expectations I had.  Scooters, especially with 3 or 4 wheels, aren't associated, in the general motorcyclist mind, with "fun" or "performance". They are usually vehicles that are mostly used for commuting to work or to zip around the city for errands. They cannot be a substitute for the excitement you get when you ride a proper 2 wheeled motorcycle. At least, this is what I thought.
I got to test the QV3 electric first.
The tricycle moves fast, thanks to the electric engine; It is very responsive and reacts accordingly to the 3 driving modes that the user can choose on the fly while riding with a single button press. Battery consumption is determined also by riding modes. Matteo, the Head of Product at Qooder, gave me some tips about the maneuverability of the vehicle since I was coming from a big adventure bike and send me up the nearby mountains to try some sharp turns.
Boy, oh boy! Did I had fun? I write this sincerely, once I returned back to the facility, my face was the pure expression of joy! I was completely blown away by the versatility and the response of this new vehicle.
The vehicle has 3 wheels and a groundbreaking suspension system called HTS (Hydraulic Tilting System) which independently manages each shock absorber; the 14″ front tyres have a small differential too, which is a good addition in terms of traction control.
One big advantage these new kinds of electric scooters have is that you don't need a motorcycle license to drive one; your car license will suffice (depending on your country's laws, of course).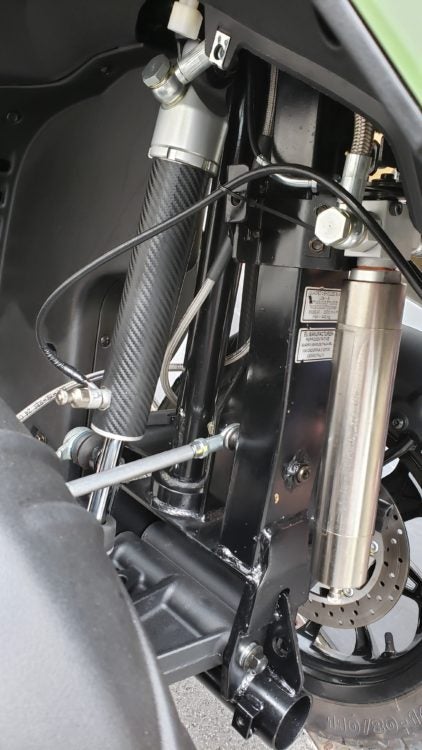 The potentials of this tricycle are absolutely incredible; there is no limit about how much fun you can have with these vehicles. It felt like being on one of those motorcycles with a little trolley attached to the rear wheel, that is used to teach you how to wheelie. I was able to tackle corners with simplicity and speed that were surprising "for a scooter"; the extra wheel allows you to expand the range of entry and exit speed in any kind of corner or maneuver; It is basically impossible, in fact, to loose the front end and slide. The tricycle leans as much as a 2 wheeled machine and, on uneven surfaces, the differential plays a crucial role to increase stability.
I also had the chance to try the QV3 on a little stretch of graveled road. I was shocked to see how great and how in control I was on this 220 kg machine, without the risk of coming off.
This is not a scooter and it's neither a motorcycle. It's a hybrid that brings the best of both worlds together, removing the hastle of the unpredictability that is typical of the two wheels, with the comfort and stability of the three wheels.
No longer do you need to worry about riding on some gravel left on a turn by some trucks, or the slippery railroad, or the pedestrian crossing lines or even having one of your boot getting stuck on a peg and coming off the bike.
After the QV3, I had the chance to try the Qooder electric, which has instead 4 wheels and is 2WD. The difference in weight (almost 290kg compared to the 220 of the 3 wheeler) and suspensions is radical, so even the riding feels slightly more complex, compared to the QV3 which was instead like riding a normal 2 wheeled scooter.
The resistance that the hydraulic suspensions gives you is just slightly annoying at the beginning; you can sense an immediate stiffness while riding zig-zag at low speed but I guess necessary to increase stability and comfort. At speed, the riding feels normal and, again, very fluid for a quadricycle. It certainly gives a sensation of immense control over the machine and the extra wheel at the back allows the rider to feel completely safe on potentially any surface.

To complete my test ride experience, I had a bit of rain poured on me, so I could just confirm the surreal sensation to lean on sharp turns, with basically my knee out, without fear.
I could seem over-excited about these machines but trust me when I tell you that the only gap you have to fill, to feel excited too about these vehicles, is to get out there and try one yourself. I came with very low expectations and left with a smile.