This guest post was kindly contributed by Nathan Baron from The GenZ Biker Blog.
Like many riders, I tend to notice unique and coolly designed helmets such as the Ruroc Atlas 2.0, Icon Airflite, AGV K6, and Scorpion Covert X. But as a 22-year-old moto-vlogger who cares about safety and wants to see more young riders on the road, I care most about technologically advanced quality lids.
Let's set the scene.
It's February 2020 and I'm honored to be on the media team for the International Motorcycle show in Chicago. I walk the show googly eyed over 2020's hottest bikes like the Kawasaki Z H2 and custom builds such as the turbocharged Triumph Rocket 3. But it was when I visited the boutique vendors at the back of the convention center that I stumbled upon what I believe to be one of 2020's greatest innovators in the powersports world.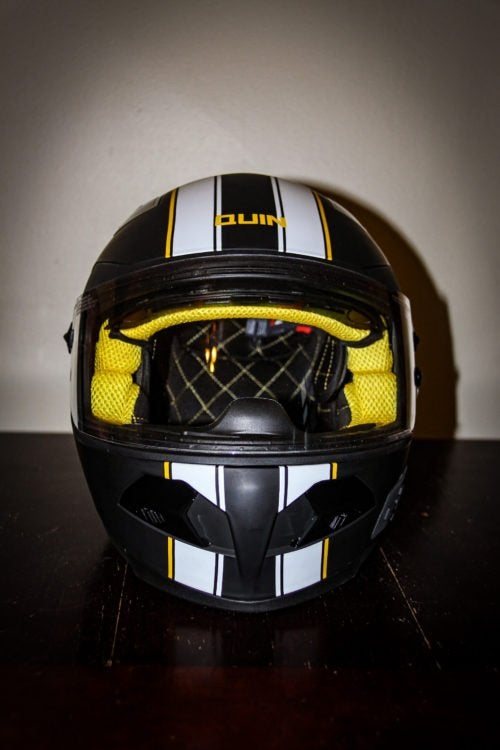 Meet Quin Design Helmets. After taking a peek at their line of helmets and striking up a conversation with owner Anirudh Surabhi I knew this was a company and helmet I had to learn more about.
Fast forward to now. I was asked to give you, the Adventure Rider family, my review of the Quin Design Spitfire Nero Full Face Intelligent helmet. I couldn't have been more thrilled for the opportunity. Check out my video review of the Spitfire Nero here!
I was given the opportunity to ride with this helmet for just over a month. From highway travel to cruising around Cream City (Milwaukee, Wisconsin), the Spitfire Nero delivered. Overall, I give the helmet a solid 8.5 out of 10. Here's why.
The Spitfire Nero is the latest and greatest when it comes to the "smart" helmet world. This helmet packs a serious punch. It weighs in at just 3.3 lb with integrated Bluetooth 4.2, dual homologated with DOT/ECE ratings, a polycarbonate outer shell and crash detection technology. All for under $400. To put things into perspective, I paid nearly $500 for my Shoei RF-1200 that weighs 3.55 lb (not including my Cardo unit or my GoPro) and does not have any crash detection features. And plan on a couple hundred dollars more if you want to add a Cardo. Don't get me wrong, the RF-1200 is a great helmet that more than does the job, but the focus of this review is technology, weight, and the future of the sport. With the Spitfire, you're getting a significantly lighter helmet that already has much of the basic Bluetooth technology that many riders require, on top of crash detection technology that provides riders with a level of peace of mind lacking in everyday helmets.
Quin's Spitfire Nero is like everyday helmets with its vents (four dual-position, multi-hole, rubber-sealed vents), a conehead EPS liner, a fully removable memory-foam-like diamond-stitched interior, a ratchet system as opposed to a D-ring, a drop-down tinted visor, an easily removable outer visor with optional smoked lens, pinlock 120 lens, and transitional lens on the way (rumored to cost less than the competition). But what else does it have?
Let's talk safety now. The average amount of time between a motorcycle crash and the rider getting to the hospital is about an hour and a half. Paramedics arrive at the crash scene, need to figure out who you are, assess your injuries, get you in an ambulance and to the hospital. So how can this crucial time be reduced?
Enter the Quin Design Arc chip.
Quin helmets have a chip integrated into them that tracks the speed at which you're traveling, at how many g's you hit the ground, if you slide or tumble and if you are moving after that crash. Immediately following the detected crash, your helmet will then send this information, along with your GPS location, to your emergency contacts via the Quin app that your helmet is connected to. This allows your emergency contacts to choose to call you directly through the speakers in your helmet if you are conscious, relay the crash report to emergency services and come to your exact GPS location. Wondering what happens if you accidentally drop your helmet off the bike? The Quin Arc chip has a minimum threshold that differentiates between a drop and a crash in hopes of preventing any unnecessary heart attacks by family members or friends.
On top of the Quin Arc chip's angelic life-saving crash-detection features, the helmet is also outfitted with an SOS beacon. If you find yourself riding up against some sort of a life-threatening occurrence such as a road-raging driver, a malfunctioning clutch cable or even a bad storm, simply tap the Quin button located on the lower left cheek of your helmet and the Quin app will automatically send your emergency contacts your real-time live location as you ride, once again allowing them to call you directly through your helmet.
Now that you know the specs and features, let me explain why I gave the Quin Spitfire Nero a score of 8.5. The design of the helmet is second to none: it is minimalist yet provides all the features you might want, plus some. The helmet's polycarbonate shell provides greater ability to spread impact across the entire shell over fiberglass helmets that often crack even with a low-level drop from a bike in a parking lot. If you want the interior of your helmet to look and feel like the interior of an Audi RS7 and the memory-foam pillow on your bed, you're in luck. In comparing the speakers to that of my Cardo PackTalk BOLD JBL, the max volume is right on par (even at highway speeds) although the quality of that sound is slightly less clear. That said, rumor has it that Quin might be hashing up a partnership with one of the major players in helmet audio. When it comes to the Bluetooth interface, it takes some practice finding the location of the buttons upon first wearing the helmet but over time you'll get accustomed to reaching for the right spot. The helmet's lithium ion battery will last through about six to eight hours of continuous use or a claimed 60 hours of standby time.
In future renditions of this helmet, I'd hope for more notchy buttons to avoid fiddling when searching for the slightly small volume up/down buttons (especially with gloves on). My biggest and only real issue with this helmet is that it is a bit noisier than I would have hoped for with wind noise. While I'm not a helmet designer, I suspect this may be due to a slightly shorter chin curtain compared to my Shoei RF-1200. Or maybe a slightly imperfect seal between the visor and the outer shell.
Overall, job well done, Quin Design. I look forward to more cutting-edge technology that will attract and keep young (and old) riders safe. I also hope to review the Ghost Umbra next!