After a spontaneous decision to leave South America and head for a bright new tomorrow in the shape of European enduro rallies, I needed to get to Chile prontissimo – a friend of mine was shipping a container of bikes to Europe, and I needed to make it to Arica within a few days to be able to send Lucy homeward. I figured it was no big deal: I'd just hop on the Panamerican highway and cross the Chilean border in no time.
Little did I know I was going to deal with quite a few detours.
The rainy season in Peru is technically between November and April, and the rains are very different across different regions. January and February, though, are generally the worst – especially in the South.
Leaving a little village of Chala, I stopped at a gas station to fill up. The gas attendant asked me where I was headed, then shook her head. "You may not be able to pass – a river is heavily flooded near the Pescadores village, so it may be tricky", – she told me.
Still, there was only one straight road South, and I wasn't going to detour just because there might be a flood. What's a little water, I figured, rolling happily along the Panamerican.
And then this happened.
As I came out of a bend near Pescadores, I realized the flood really was bad. The river had risen so much it covered the road completely, and although the water wasn't very deep, the current was so strong even cars were getting towed or helped across.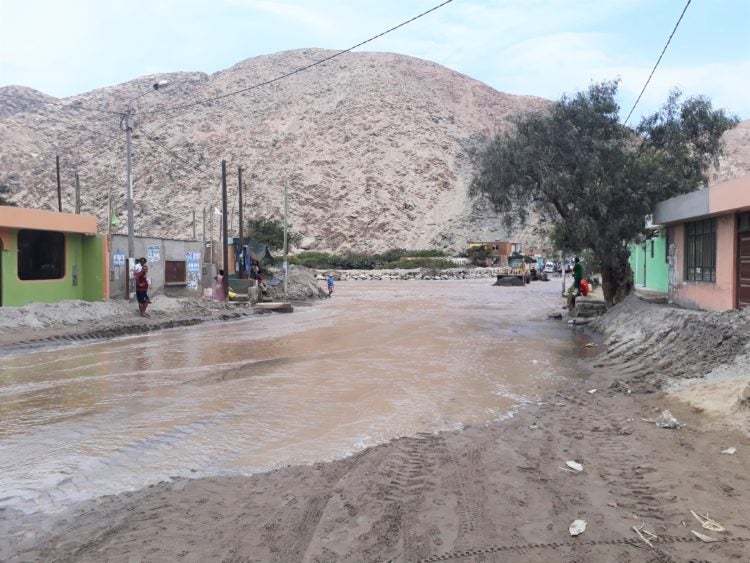 "Can I just ride through?", – I asked the locals, hopefully.
"Sure, but you'll end up in the sea", – they said.
Very much wanting to get to the other side of the river, and not in the sea, I agreed to take an excavator ride. Lucy was put in the front end loader:
And I dangled off the cabin door while the driver safely made it across.
Chatting to the locals after the crossing, I watched car drivers getting out and wrapping their car doors in plastic to avoid water getting in.
"It's like this every year. For about a week, the river gets out of control, and this happens", – a local woman told me.
The villagers treat the flood as a business opportunity: for my excavator ride, I had to part with 70 Peruvian soles. Locals offer tow services to cars and trucks, sell snacks and drinks,  and help bikes and cars across the water.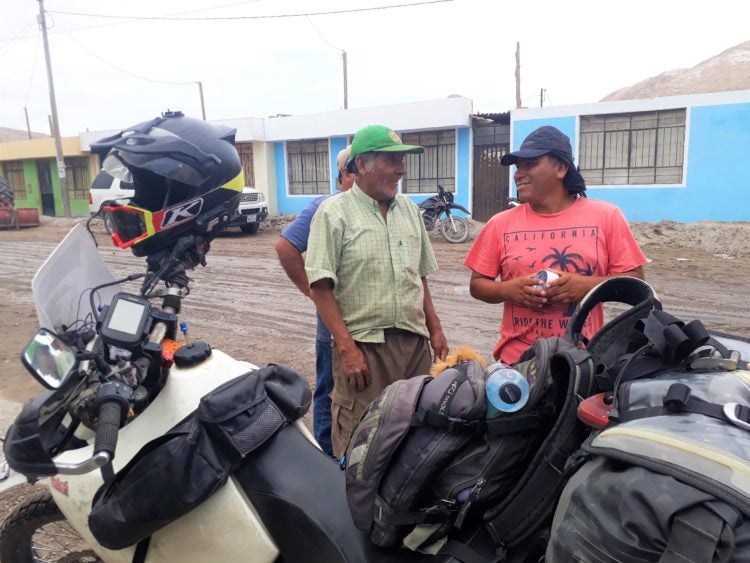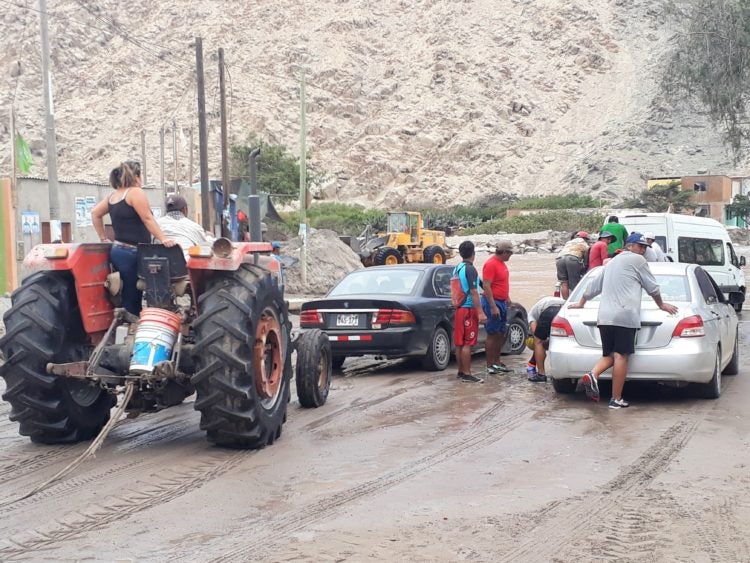 If you are currently riding Peru, be extra careful: floods cause severe landslides, wash outs, and destroy bridges, so even if you're on the main roads, always talk to the local police and ask about the road ahead.
And if all goes wrong, there's always someone with an excavator around!