Having decided to kick off the European riding season with the Hispania Rally race, I realized I needed to figure out which gear would work best in a five-day endurance racing event. While I'm insanely happy with and grateful for my bulletproof Klim Artemis riding suit, which I've been practically living in for years now, I know that ADV gear just isn't working very well under rally conditions. If that's all you've got for now, by all means, it is doable. However, I figured motocross/enduro gear would be my best bet to stay as protected as possible but also have enough freedom of movement on and off the bike.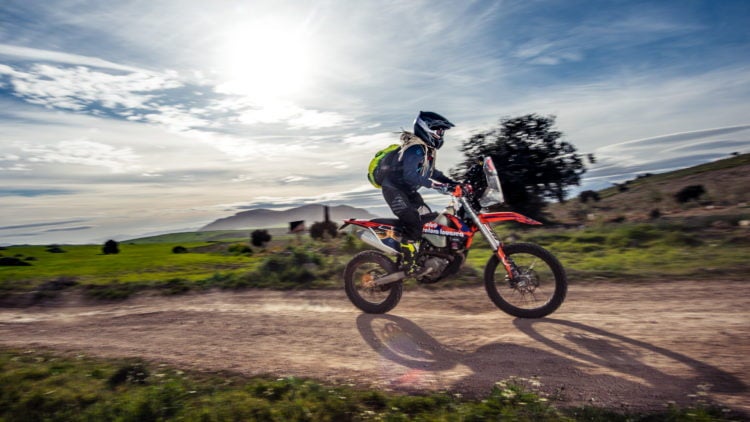 I already had a Leatt chest and back protector, a neck brace, and knee braces, but I was concerned that my hips and elbows were left completely unprotected. For women, finding a full body armour set with not just chest and back but also shoulder and elbow protection is still a near-impossible mission, so I figured I'd just assemble a different kind of set up. Here is what worked for me best and what I'm planning to keep for the next rallies, training, and just general off-road riding and trails.
Leatt Elbow Guards
These things are so featherlight and comfortable and fit so well that I completely forgot I was even wearing them – until I landed on sharp rocks and the guards absorbed the impact so well I didn't even get so much as a bruise.
Easy to pull on and off, these elbow guards do the job perfectly, and you don't even feel you're wearing them. They're flexible and comfy, but incredibly tough when it comes to absorbing the impact force. Plus, they're compact and light to pack up if you're flying to a rally.
Impact Shorts
When I first laid eyes on the Leatt impact shorts, they looked seriously bulky to me, and I was a little worried about comfort. However, just like with the elbow guards, the impact shorts are so comfortable you're not even thinking about it once you're riding. The protection is impressive, too. Here is a photo of a large and painful bruise I got when I crashed on some sharp rocks in a dry riverbed:
As you can see, my hip, where the shorts' padding is situated, is perfectly fine, as is my knee and shin thanks to the Leatt knee braces.
I have a feeling my leg would have been a lot worse off if I hadn't been wearing the impact shorts; needless to say, the knee braces did an amazing job of keeping my knee and lower leg protected. When I crashed on the rocks, the bike landed on top of me twisting and pinning my leg under, and I don't want to think about what my leg would look like if I'd only been wearing regular knee pads instead of the braces.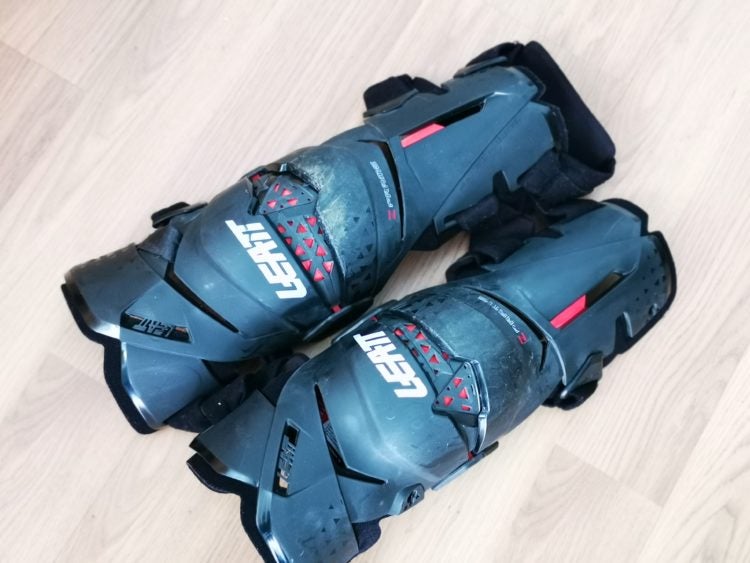 Leatt Windproof Jacket
Here's a thing about rally racing: liaisons usually suck, especially at the end of the day when you're coming out of the trails hot and sweaty and then have to travel 40-70 kilometres on a highway or main road as the temperatures are cooling down, and you're shivering in your gear. I always had my Leatt DBX jacket with me – it's light and packs very small but is completely windproof when you've got to do your liaison back to the bivouac. It's also water-resistant, so if the weather turns, you're still much better off than if you're just wearing your jersey.
Leatt GPX 5.5 Enduro Motocross Pants
For a rally race, in general, any type of in-the-boot motocross pant will do. However, for cross country rallies, the key is endurance which means you're spending 8+ hours on the bike daily, and that's when small and seemingly insignificant details start to matter. Leatt GPX 5.5 Enduro over-the-boot pants have two large pockets at the front, which is incredibly useful if you're carrying energy gels, a little bit of gas money, and your timecard. It's not crucial, but again, in a multi-day rally race, every small detail can help. I was very happy to have these big pockets, especially as you don't want to be carrying a heavy backpack during a race. I had a backpack for hydration, but everything else had to fit into those useful pockets. Another great thing about these pants is that they're water-resistant, so if you're doing a lot of water crossings or if it starts to rain, you don't get soaked through immediately as you would with regular thin motocross pants. At the same time, the GPX 5.5. still allows for comfortable movement even on the more technical trails. Essentially, it's a combination of both ADV and MX gear merging the best of both worlds: protection, freedom of movement, and comfort.
What's your favorite racing, rally, or simply long-distance off-road riding gear? Let me know in the comments below.
Featured image: Actiongraphers