Departure: London
Destination: Vancouver
Cost: £795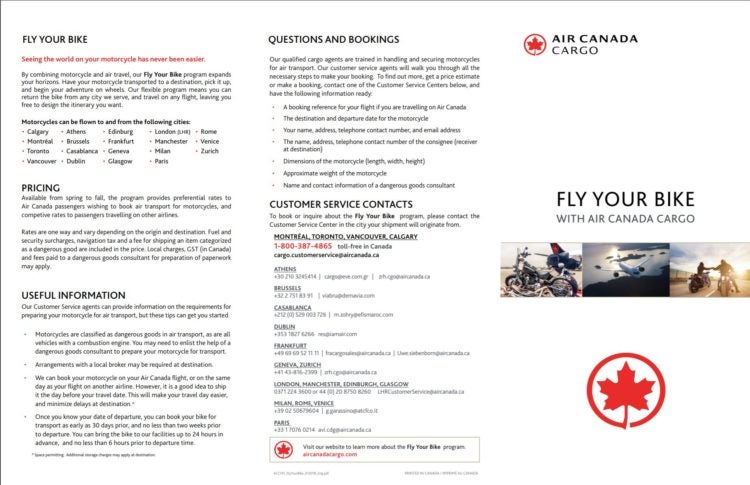 During my travels I opted to use Air Canada's "Fly Your Bike" program for transporting my bike from England to North America. After taking into consideration the ease of preparation, time, and cost, it was an obvious choice for my needs. Here is my review of the service and the overall process involved.
Dropping Off
Reading up on the requirements and a simple email to the ground staff at Air Canada Heathrow, I had a quote back based on my motorcycles weight in less than an hour. Confirmation that it would be transported as priority one cargo was another positive point in using this service. With little time to spare on the remaining leg of my journey, the option of waiting needlessly for days or even weeks for my bike to arrive wasn't an option.
After emailing through my booking, I was instructed to obtain a Dangerous Goods Certificate, for which I given the details of an agent to use. Again, it only required an email (no in-person inspection), payment of £50, and with less than a quarter of a tank of fuel, the bike was good to go.
This is a roll on roll off service, so no expensive crating is required. You simply ride your bike to the cargo depot, go through the paperwork with the staff, and leave the key in the ignition. The crew were incredibly helpful and within an hour, the process was complete. You are able to leave the bike with the cargo depot up to 48 hours prior to departure, which is also a bonus as it means you don't risk missing your own flight if flying on the same day as the bike. I sent mine ahead by 2 days to ensure no hiccups, although this probably wasn't necessary.
Picking Up
Arriving in Vancouver I headed straight from the airport, 5 minutes down the road, to the cargo depot. With my consignment note from London in hand, I was informed I needed to attend the customs office before I could pick it up. I had incorrectly assumed it would all be handled in the same place. It was not a big hassle though as the customs office is only a 2-minute walk away. The customs official asked for my registration papers and asked how long the vehicle would stay in the country.
No visual inspection was undertaken, however I can only assume that is down to luck on the day. I was questioned as to how clean it was and if there was any foreign soil on the bike. If you were subsequently inspected and didn't meet the level of cleanliness, cleaning (at a fee) would be required before the bike is released. I had thoroughly washed the bike prior to leaving London.
Heading back across to the depot, the bike was released and brought around to the loading dock, strapped down to a pallet. The staff removed all tie-downs and assisted with the removal of the pallet and in less than 20 minutes I was able to ride it away.
Overall
My experience with Air Canada was a very positive one. The process was simple and with almost no preparation required for the bike, it made the daunting prospect of transporting easy for a first-timer. The lack of crating was a huge bonus both from a cost and time perspective. All staff that were involved in the process, from booking to handling and ground crew were incredibly helpful, and it is obvious this is a regular occurrence, which gives you confidence. Having my bike ready as soon as I hopped off the plane was without doubt the biggest drawcard for me. Not having shipped a motorcycle prior to this, I found it stress free and reliable. I would recommend them if you are short on time and want to ensure your bike is where it needs to be in a matter of days.
Air Canada offer this service between Europe and Canada. See below for the ports they fly in and out of.